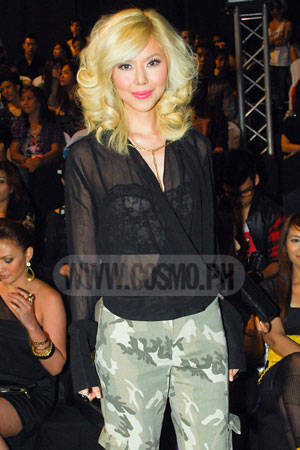 Twitter question from @VessaMay: "What should I wear to fashion events like Philippine Fashion Week this May 2012? I'm 24 and it's my first time to see a fashion show...I'd like to prepare for it and don't want to appear underdressed or out of place."

Thanks for your question, and what a great question it is now that Philippine Fashion Week (PFW) is coming up! I'm sure there are tons of people out there who are invited to certain events and are probably wondering the same thing: "What should I wear?"

Events like PFW are much-awaited by both regular attendees and first-timers like yourself. So don't worry; even so-called fashion event veterans still find themselves fretting over what to wear.

Here are a couple of things to consider:

1. Which show are you invited to? Is there a certain theme?

Is the brand or designer known for a specific aesthetic? (Ex.: Grecian goddess, utilitarian, minimalist, etc.) Check the invite!

2. Is it a day or evening show?

Treat this like any occasion. Night is always dressier than day.

3. Is it couture or RTW?

It would certainly earn you some fashion brownie points if you patronize by wearing an item or ensemble from the specific brand or designer's show (only if you can). Needless to say, if you're attending a Bayo show, for example, it's not recommended you wear something from directly competing brands.

4. Is the show venue at SMX or Mall of Asia Atrium?

Understandably, the SMX Convention Center calls for a dressier ensemble as opposed to the mall.

5. Are you a VIP or a regular guest?

VIP guests are often photographed a lot during the event, so it's best to look more dressed up than the regular Jane. Sometimes, VIPs even wear creations from the show's designer or brands for added prestige and highlight.

6. Are you a fashion risk-taker or do you just want to fit in sensibly yet fashionably? 

Since it is PFW, as they say, there are no rules in fashion. With all the press and bloggers gathered in one place, everyone's got their own "dress code" to proclaim to the world. If you're a risk-taker, then by all means, treat this as a chance to strut your personal style because, ironically, your unique style will make you "fit in" with the rest of the fashionable attendees. But if you wish to stay more on the safe side (understandably), this leads me to the last factor to consider...

7. Are you willing to spend on a new outfit, or are you working within a budget? Can you work with what you already have in your closet?

Don't ever feel pressured to spend unnecessarily or make drastic changes to your look just to attend one event. Consider first what you already have in your existing wardrobe and work from there. The best and most affordable way to pull off an updated look is through accessorizing. SM Accessories has a great selection of trendy styles at affordable prices.

It may sound daunting, but as with most events or parties, you need to consider certain factors to help you decide what is most fashionably appropriate. You want to look fasyon without looking like you tried too hard. You want to look effortlessly chic and not like an obvious fashion novice, so to speak.

More importantly though, rather than being on-trend or looking like you stepped out of a high-fashion magazine, fit and comfort should be your main concerns. When your outfit fits you like a glove and you carry it comfortably, it shows in your stance, your stride, your overall confidence--and in press photos! So, don't be caught dead committing any fashion crimes!

Lastly, have fun! This is an experience worth remembering, so bring a camera. Arrive on time to get great seats, and you may even get to hobnob with your favorite celebrities!


Got more questions for me? Follow @Bianca_Valerio and @cosmo_ph, and tweet me your queries. I just might answer one of them next time!
Continue reading below ↓
Recommended Videos