Do you still remember the things you got to do and the places you got to visit before the lockdown was announced? For me, I clearly remember getting a helix piercing before the quarantine started. The process was painful, but it was all worth it because there's nothing quite like a *pretty* blinged-out ear. TBH, I eventually wanted to get more because I'm so into multiple piercings, but unfortunately, the pandemic happened. My plans of getting piercings have been put on hold for now (but I'm still adding inspo to my Pinterest board). 
PIERCING INSPO, RIGHT THIS WAY:
But one Pinay recently got her ears pierced at a local tattoo studio. And because I'm *still* dying to get more piercings, we asked Sofia Trinidad for all the details of what it was like to get a piercing in the new normal. Read on to know more about her experience.
(Editor's note: Before getting a piercing, make sure the studio complies with the safety protocols as stated in the IATF Guidelines.)
What made you decide to get a piercing?
"I've always wanted more piercings, even pre-COVID but I just never had the time or opportunity to get 'em. Given the work from home set up and the less busy schedule, I finally had time to squeeze in a visit to a studio. Of course, I definitely had worries about getting a piercing during the pandemic. But a friend did point out that even before this time, tattoo parlors were one of the most sanitary places, even more so now with the extra precautions, so I finally decided to go for it."
ADVERTISMENT - CONTINUE READING BELOW ↓
Where did you get your piercing done?
"Arte Tattoo Studios, at their Poblacion branch. They also have one in Malingap, Quezon City for those who live in the North."
What kind of piercings did you get?
"I got two types: lobe and cartilage. On my left ear, I got one helix piercing (cartilage) and two lobe piercings done. On my right ear, I got one lobe piercing."
How much did it cost?
"Arte Tattoo usually charges P2,000 for lobe piercings and P2,500 for helix piercings. However, when I visited them, it was the last day of their buy-one-take-one promo for piercings. I paid a total of P4,500 for the four piercings I got, instead of the P8,500 it would have originally cost me."
What was the process like?
Before going to the studio
"I contacted Arte Tattoo through an Instagram DM to ask them what their appointment process is like. They're really easy to contact and very responsive. Initially, they encouraged me to set an appointment by asking for my available dates. To set an appointment, you must pay a fee of P1,000, which will eventually be deducted from your total bill, whether you're getting a piercing or a tattoo. However, since I wasn't sure about the date I could visit, they allowed me to just walk in. I personally think walk-ins for piercings are much easier to do since the process is generally quick. But for safety purposes, I would recommend everyone to set an appointment. No documents were required of me before heading to the studio, but I was asked to fill up a health declaration form before I walked in."
Upon entering the studio
"Since I did a walk-in session, there were other clients in the studio when I arrived. I wasn't allowed to enter until the clients left, to ensure that the studio isn't overcrowded and that proper social distancing measures can still be observed. As soon as I was allowed to enter, I noticed that the studio was very clean and spacious, which allowed me to keep my distance from the other clients that were also there."
My piercing appointment
"I first waited for Cyndi, the artist who would do the piercing, to finish sanitizing all her materials. I felt at ease since I was able to see her clean all the tools she'd be using on me. She also put on personal protective equipment (PPE) before meeting me. Soon after, we started the process of getting my piercings done which was very quick and lasted less than 30 minutes. After that, Cyndi talked me through the after-care process and also encouraged me to contact her through Instagram DM should I have any questions or concerns. As for payment, the studio allows online bank transfers to BDO and BPI to encourage less contact, but they also still accept cash payment.
I think it's worth noting that a few days after I got my piercings, my helix started to swell (which is completely normal!) but I contacted Cyndi through Instagram and she responded right away. Everyone in the studio was very friendly and helpful!"
ADVERTISMENT - CONTINUE READING BELOW ↓
What are the studio's guidelines and safety protocols?
"The studio encourages clients to set an appointment before making a visit. Even if I did a walk-in, I think setting an appointment would lessen the hassle and be a safer option for everyone overall. Before entering the studio, you are also asked to submit a health declaration form."
What similarities or differences are there in getting a piercing before the pandemic vs now?
"Pre-pandemic, little to no documentation would be needed before making a visit. Now, you have to submit a health declaration form before you can proceed with your appointment. And of course now, face masks and face shields are to be worn at all times."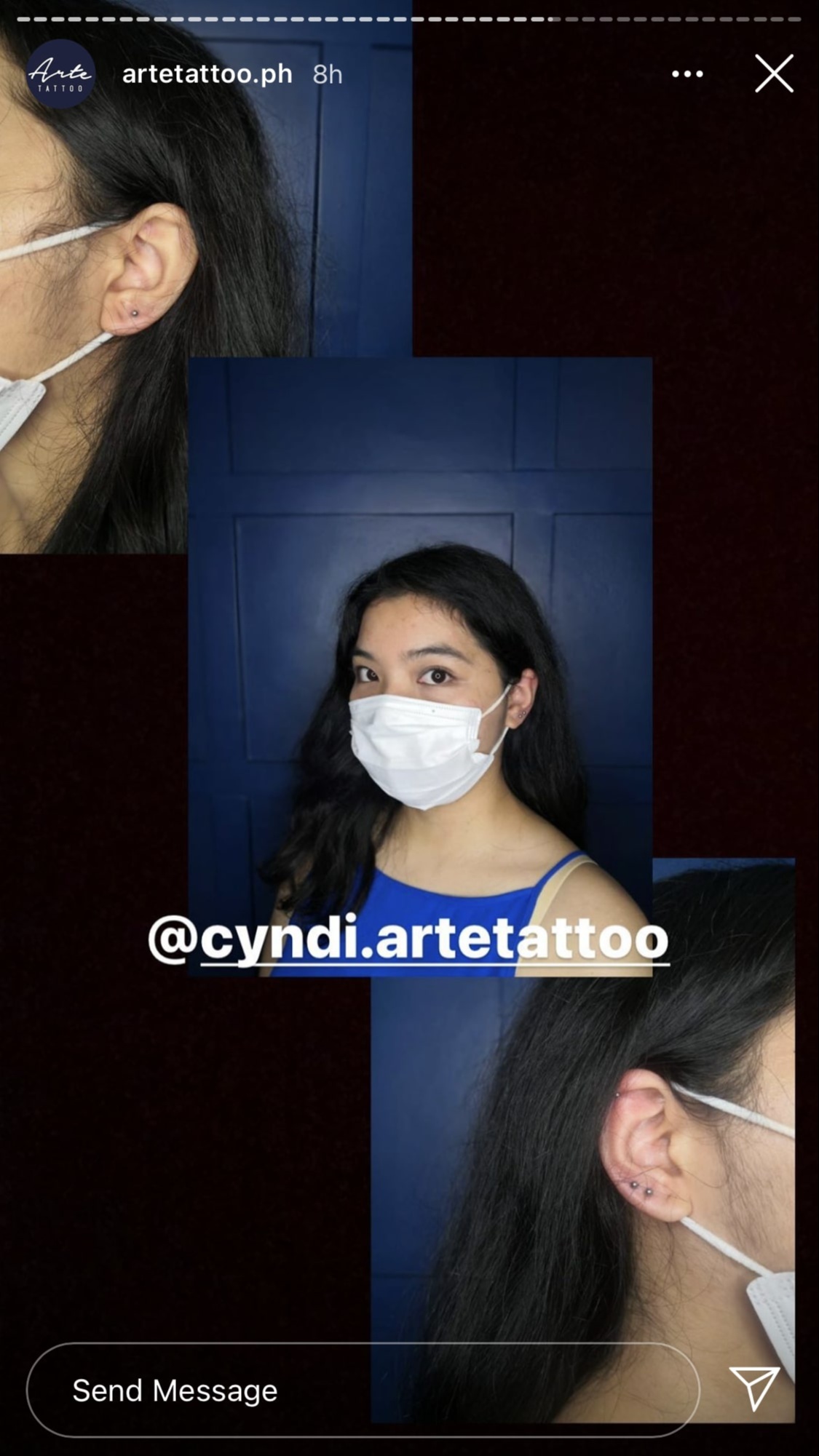 PIERCING INSPO, RIGHT THIS WAY:
***
We're officially on Viber! Be part of our growing community and subscribe to Cosmopolitan Philippines now!
Follow Lou on Instagram.