The presence of a kikay kit in your bag is ~v important~, as it is comforting to know that you'll never be caught in an emergency without your trusty essentials. Need to present before big bosses? A bold red lip will make you feel in control. Want to freshen up after a long commute? Baby wipes and cologne will save you. Are you uneasy and uncomfortable during the few last days of your period? A pantyliner is the answer.
Since we all have different needs and personalities, we decided to spy on other Pinays' emergency kikay kits. Maybe we can learn a thing or two from their stash! Check them all out below:
Lily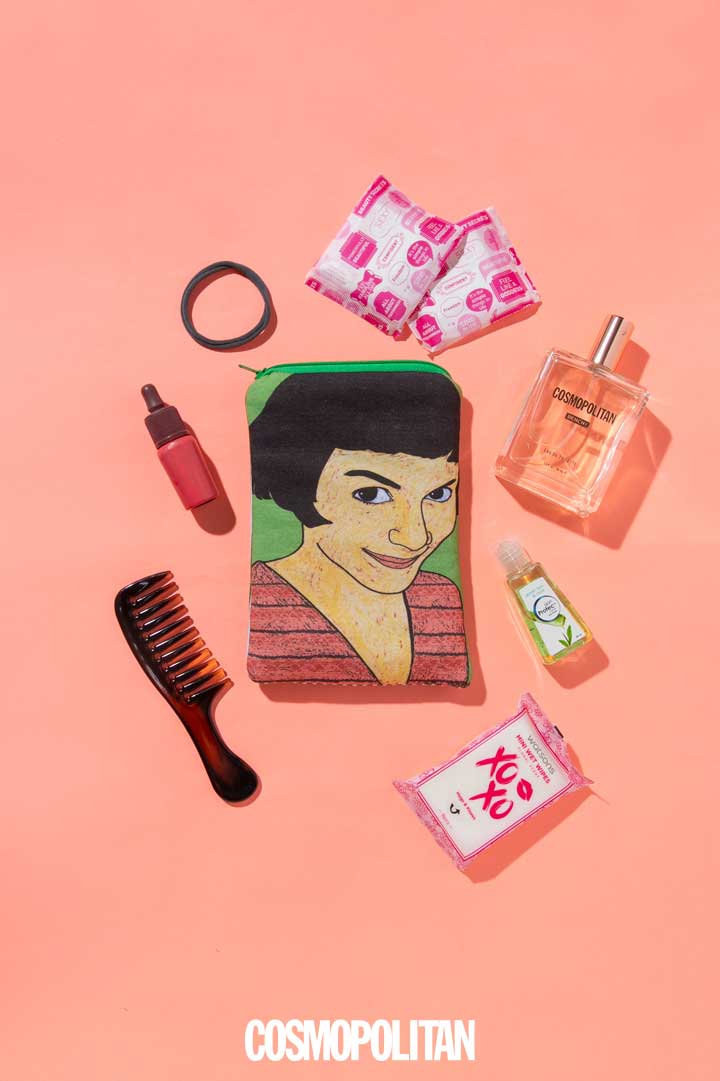 What's in her kikay kit:
Comb and hair tie, lip tint, hand sanitizer, Carefree pantyliners, Wet wipes, cologne
Why are those your kikay kit essentials?
Like all girls, I tend to lose hair ties at an embarrassing rate, so bringing an extra one has become a habit. I always have a lip tint because it's a multipurpose product AND it doesn't take up too much space. TBH, I never leave home without a pantyliner and I also bring extras just in case! I prefer wet wipes over normal tissue paper because they smell nicer. I commute a lot, so cologne and hand sanitizer are must-haves. Anything to get rid of the stressful and smoky remnants of my morning commute, I got to have it.
Continue reading below ↓
Recommended Videos
Ysa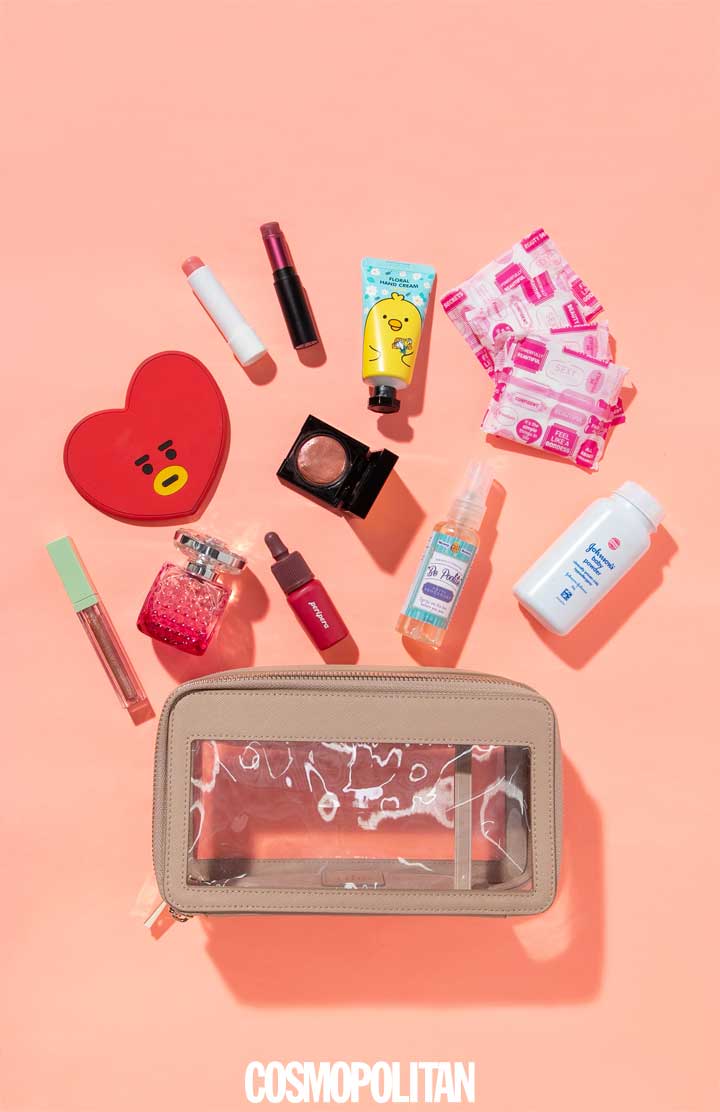 What's in her kikay kit:
BT21 Tata mirror, Jimmy Choo perfume, Messy Bessy potty deodorizer, Vaseline Lip Therapy, Freesia hand cream, Peripera Ink Velvet, Clio Mad Matte lippie, Pixi by Petra glitter eyeshadow, Clio Prism Air glitter eyeshadow, Carefree pantyliners
Why are those your kikay kit essentials?
Because I commute, I try to limit the amount of stuff I bring with me—essentials lang talaga. As in yung 'di ako makakatiis na wala. For instance, I have baby powder with me because I sweat easily. Using it brings me a lot of comfort; plus, it smells good. It's also why I have perfume. I'm naprapraning when I have to run to a meeting or go to an event without a quick spritz. This is also sort of why I carry poop spray—it's my version of public service, really. 
Hindi ko rin kaya na walang pantyliners—everyday talaga yung paggamit ko. Gets ko rin why some women don't use 'em, but nakasanayan ko na kasi talaga na laging meron. 
Lip balm is a must for me because I drink more coffee than water, so I'm severely hydrated. I'm not proud of it, but this is my temporary fix for chapped lips. My current makeup essentials involve some sort of color (either on my lips or cheeks) and a whole lot of glitter. Ok na yan for emergencies 'cause I was blessed with thick brows. 
My Tata mirror naman just makes me happy. Also, I feel awkward about checking my face with my phone's camera, lol. 
Lou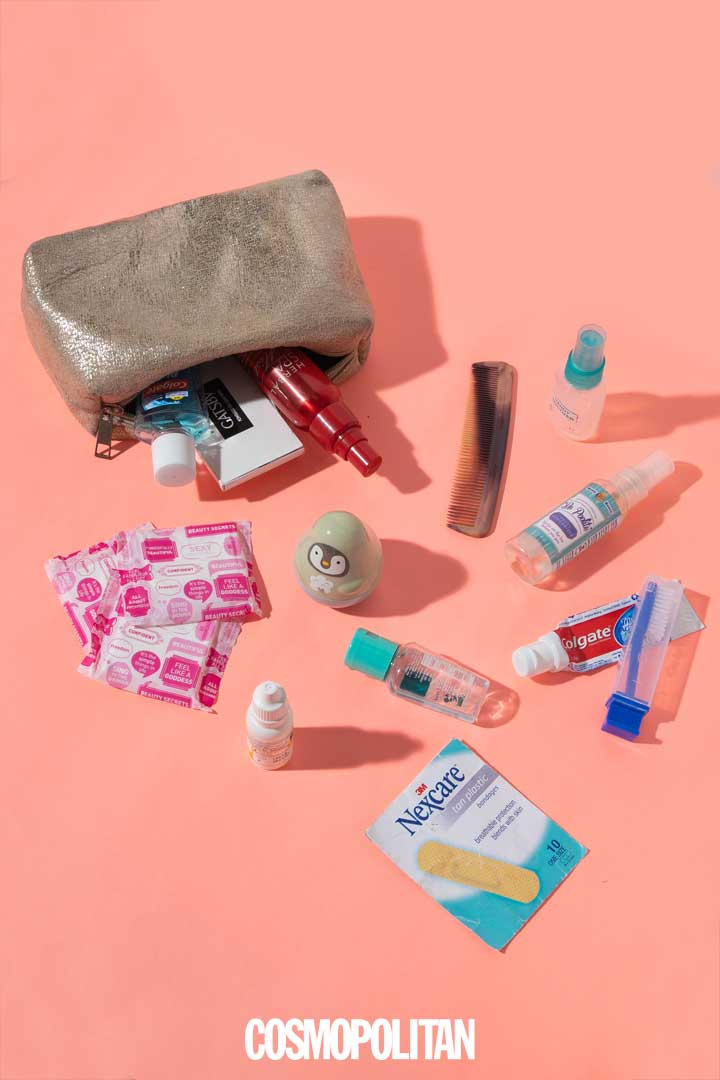 What's in her kikay kit:
Carefree pantyliners, tissue, eye drops, alcohol, toothpaste, toothbrush, mouthwash, poop spray, feminine wash, face mist, lotion, Band-aids, comb, oil film
Why are those your kikay kit essentials?
My kikay kit is all about ~staying fresh~. The most important item is tissue, TBH. It's really a habit of mine to bring a roll or a pack wherever I go (mostly when I need to go to the bathroom)! I'm also very pawisin so it's important that I have something to wipe my sweat off.
Aside from tissue, I make it a point to always have oral health care products. Having minty fresh breath is a big deal for me, especially after a good meal! If I'm out and brushing my teeth isn't really feasible, that's when I use my mouthwash. Keeping my face and hands sanitized and moisturized is another thing I'm very particular about, so it helps that I always have alcohol, face mist, and lotion in my everyday pouch. But if there's one other thing my kikay kit cannot live without, it's got to be a stash of pantyliners. Wearing one makes me feel clean, fresh, and comfortable, ready to face the new day. Plus, I can't always rely on my period tracker app, so it's best to be prepared! 
Jillian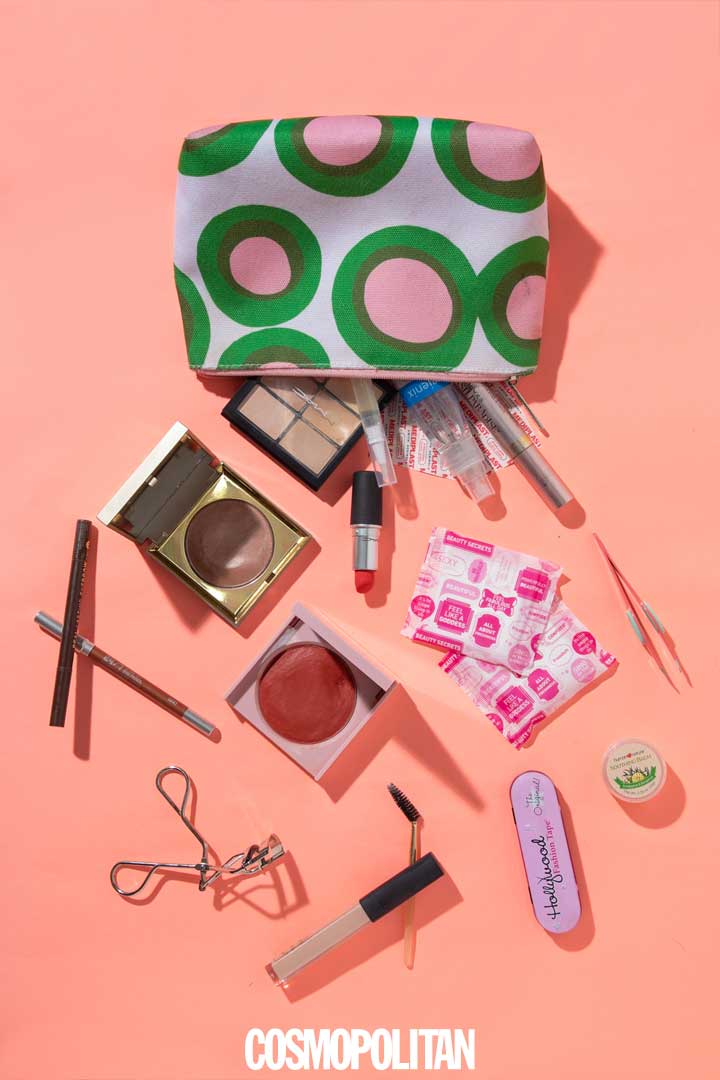 What's in her kikay kit:
Fashion tape, eyelash curler, alcohol spray, Human Nature Soothing Balm, Carefree pantyliners, MAC Studio Conceal and Correct Palette, K-Palette K Palette 1 Day Tattoo Lasting Lip Tint Stick, Dr+wonder Nail Essence Pocket Pen, NARS Radiant Creamy Concealer, MAC Powder Kiss Lipstick, Stila Heaven's Hue Highlighter, Happy Skin Easy Glam Multi Use Mousse, K Palette Real Lasting Eyebrow, Urban Decay 24/7 Glide-On Eye Pencil, Tweezers, Band-Aid strips, L'Oreal Voluminous Lash Paradise Mascara
Why are those your kikay kit essentials? 
I always, always carry fashion tape (a double-sided tape that adheres to both your skin and clothes) with me to fix any wardrobe malfunction. As you can see from my kikay kit, I love using long-wearing, multiuse products that I can apply with my fingers—from my highlighter to my blush. On busy days, I just conceal my undereye area, color my cheeks and lips, and that's it!
I also keep my Human Nature Soothing Balm with me at all times for when I'm stressed or for those ~random headaches~. I carry a nail essence stick as well, because I have a bad habit of picking my cuticles. Tweezers are a must since I groom my own low-maintenance kilay, and Band-Aids are useful for occasional blisters from wearing heels. Finally, I always gotta have pantyliners with me because I panic if I don't have any extras for emergencies!
Retty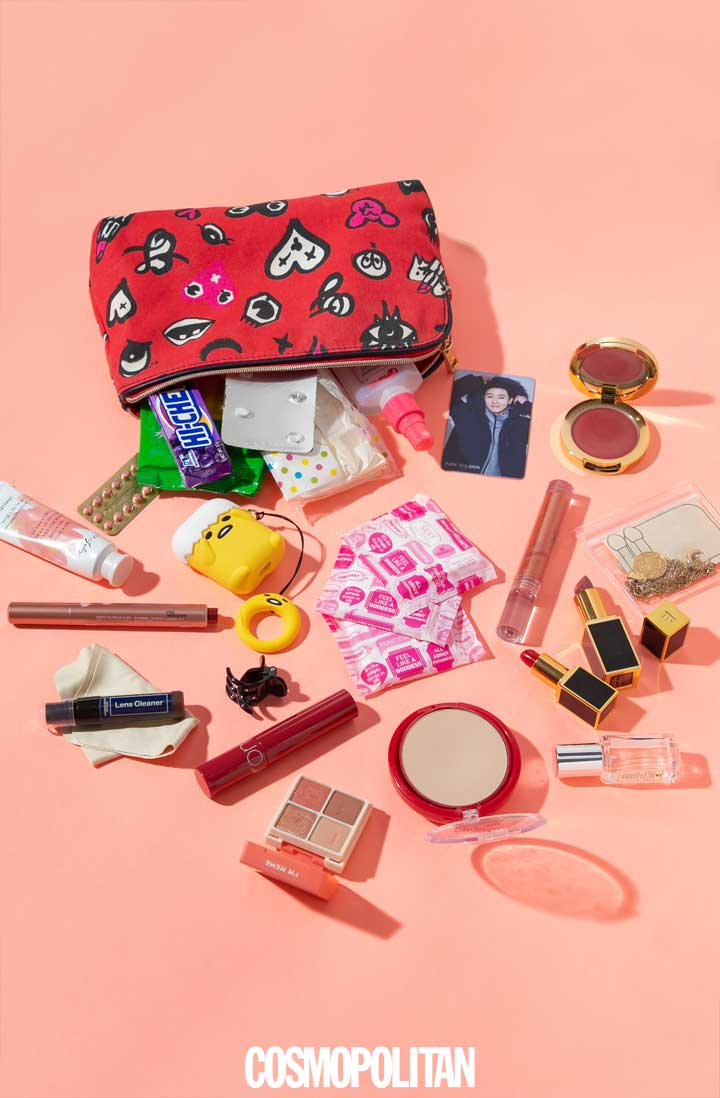 What's in her kikay kit:
Five lippies, I'm Meme Multicube, 3CE Multi Pot, alcohol, Wet wipes, tissue, perfume, Carefree pantyliners, antihistamine, Airpods, birth control pills, hand cream, extra jewelry, candy, pocket mirror
Why are those your kikay kit essentials?
Ira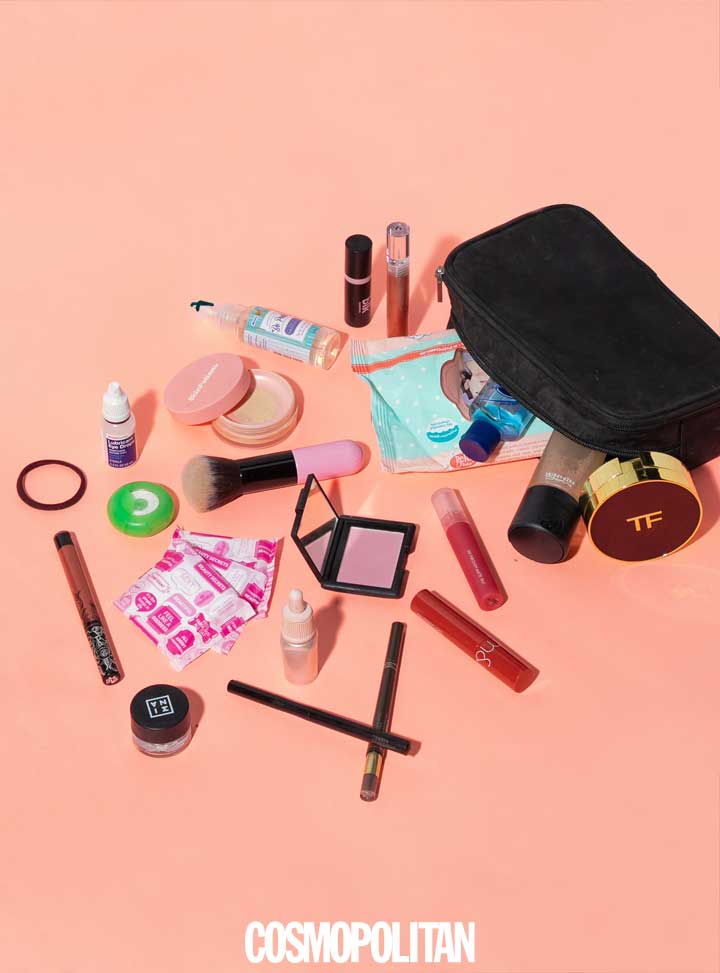 What's in her kikay kit:
Belo Baby Wipes, Messy Bessy Be Poolite Deodorizing Spray, hand sanitizer, hair tie, dental floss, eye drops, Carefree pantyliners, MAC Prep and Prime Fix+, K-Palette 1Day Tattoo Lasting 2Way Eyebrow Liner 24H, Maybelline Line Tattoo Impact Pen Eyeliner, 3ina Waterproof Cream Eyeshadow, Peripera Liquid Highlighter, Tom Ford Traceless Touch Foundation Cushion Compact, Skin Potions Glowdust, NARS blush, Romand Juicy Lasting Tint, Romand See-Through Matte Tint, Kat Von D Everlasting Liquid Lipstick in Lolita II, BLK Creamy All-Over Paint in Candy Cane, BLK Birthday Sparkle Gloss in Confetti
Why are those your kikay kit essentials?
From the looks of it, I am a lippie addict! I can't get by knowing that I only have one lipstick option for the day. I have oily skin, so I always make sure my complexion is free from shine—face powder is a must! Lately, I've been into the winged liner look, so I never leave without my eyeliner pen. As for my toiletries, as TMI as this may be, I am always armed with restroom essentials. When nature calls, you have to be READY. Pantyliners are non-negotiable. I have to feel and stay fresh down there. Otherwise, I'll be uneasy the whole day.
Cheska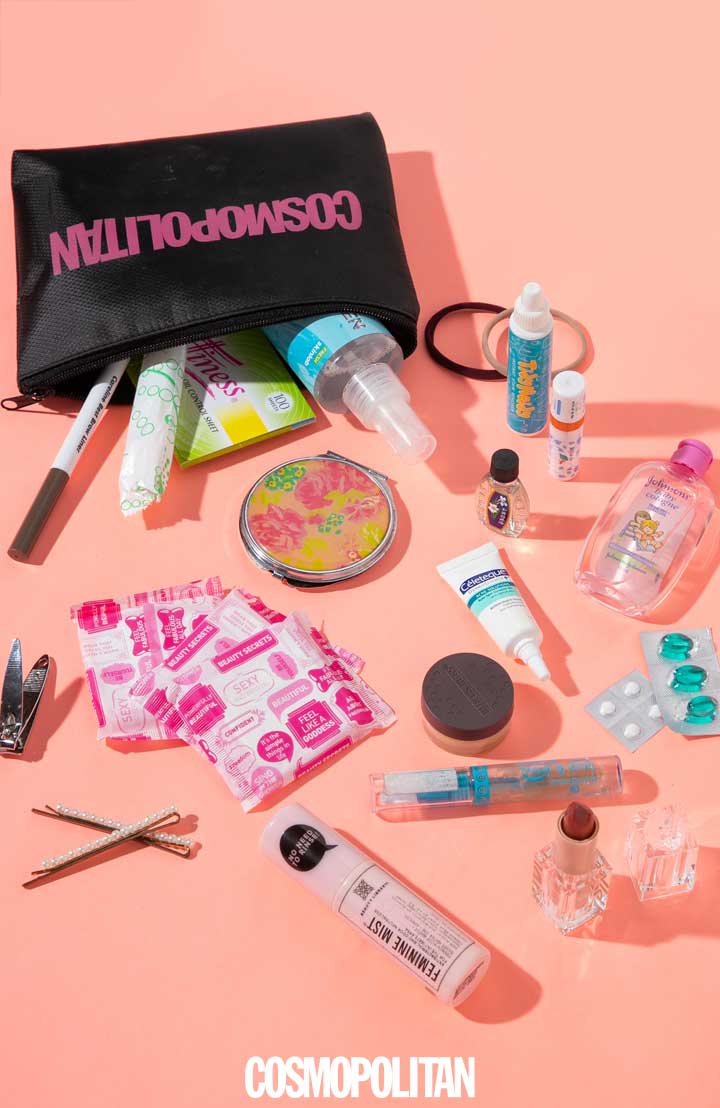 What's in her kikay kit:
Pocket mirror, Burt's Bees Overnight Intensive Lip Treatment, Careline Best Brow Liner, Essence Clear Lash & Brow Gel Mascara, BLK MLBB lippie, tampon, sanitary napkin, Carefree pantyliners, Beauty Library feminine mist, nail cutter, hair clips and ties, medicine, White Flower, baby cologne, oil blotting papers, face mist, Celeteque Acne Spot Corrector Gel, Tiny Heidy Instant Stain Remover
Why are those your kikay kit essentials?
The contents of my kikay kit can be divided into three categories: sanitary care, beauty, and "Girl Scout" needs. For the first category, I always have an extra tampon, sanitary napkin, and pantyliners so that I'm prepared in case my period creeps up on me. (Also for when other girls need it! #sisterhood) 
My beauty essentials include my BLK All-Day Matte Lipstick—an MLBB shade that I know will look good on me no matter what my OOTD is. Burt's Bees lip balm and face mist are needed for that harsh, unforgiving office aircon air. My holy grail eyebrow pencil and clear mascara will never be absent. I also have a spot corrector gel because you'll never know when a pesky pimple will be ready to pop.
Lastly, my "Girl Scout" essentials in case of emergencies include a pocket mirror, nail cutter, hair clips, and ties (because I can finally tie my hair back now, yay!). I always bring medicine for sudden headaches while commuting or if I've been hard at work in the office all day. White Flower oil and peppermint inhaler—these tita products are a must for commuters if you get easily nauseated while in public transport. A stain remover is always handy when you're wearing white. I also have baby cologne to keep smelling fresh.
Andie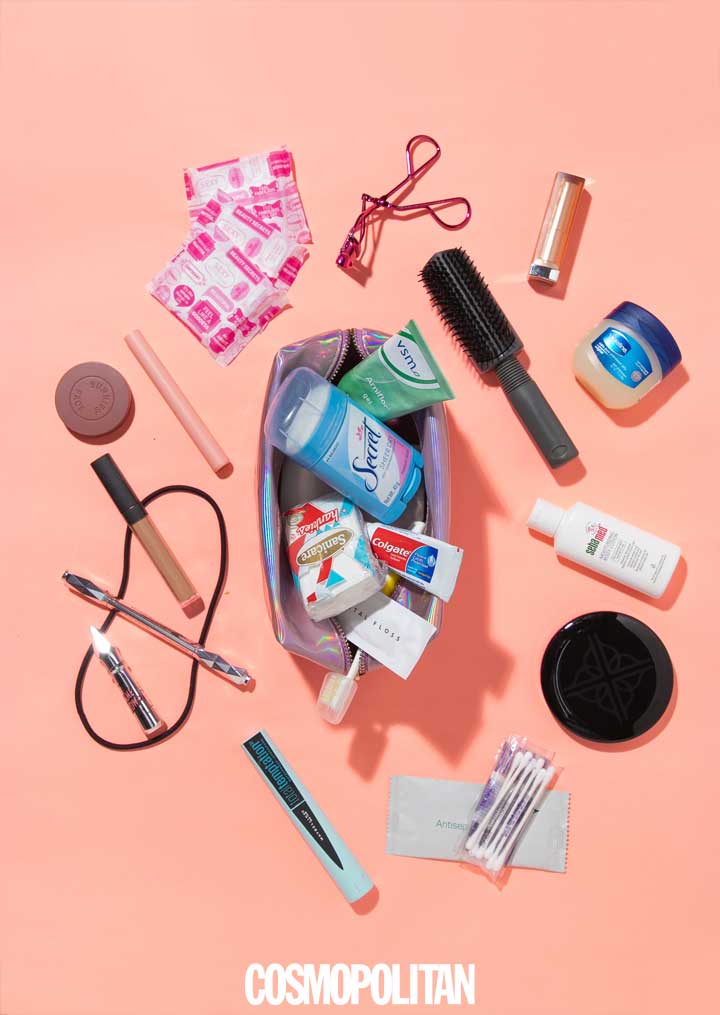 What's in her kikay kit:
Concealer, cream blush, brow products, waterproof mascara, nude lippies, Vaseline, pocket mirror, Wet wipes, Q-tips, toothbrush and toothpaste set, deodorant, mini lotion, muscle relaxant gel, Carefree pantyliners
Why are those your kikay kit essentials?
Once a Girl Scout, always a Girl Scout, LOL. My kikay kit is a mix of my go-to makeup products, plus things I think I'd need "in an emergency." My go-to beauty routine is super minimal, as in kayang gawin in five minutes. I have concealer for my dark undereyes (or eyebags when I'm #TeamNoSleep. Other mainstays are the following: cream blush to look cute, brow products because #kilayislife, waterproof mascara because I do not want to look like a panda if I'm caught in the rain, and nude lippies. Yes, plural, because there are different shades of nude, 'di ba?
My reliable small tub of Vaseline is a must, since my lips are always dry. Plus, a pocket mirror for touch-ups, and wet wipes and cotton buds to clean up makeup mistakes. I always bring a mini toothbrush and toothpaste set with me because I never want to be caught with bad breath. I bring deodorant just in case there's a last-minute physical activity I have to attend for work. I never forget my mini lotion because the office aircon vent faces me directly and my hands get suuuuper dry at the end of the day.
To satisfy my inner tita, I also bring a muscle relaxant gel because I get leg cramps if I've been standing the entire day at photoshoots . And since you never know if that time of month will come a day early/late (work stress, amirite?), I always bring pantyliners. Carrying an extra pantyliner also means you're everyone's best friend in public bathrooms, LOL.
That's all for now! You can show us your kikay kit in our fun and fearless Facebook group, Cosmo Mixers. We guarantee you'll enjoy chatting with the Cosmopolitan Philippines team and your fellow CGs.