When I was offered a chance to try a saltwater float at Float Manila, I immediately said yes—even if I only had a vague idea of what the treatment was. The words "saltwater float" conjured up an image of myself lying in a pool reminiscent of those Instagrammable spa locations with relaxing music playing in the background. But is that what it's really all about? Keep scrolling to learn more about my experience!
What is a saltwater float?
A saltwater float is a sensory deprivation experience that involves enclosing yourself in a pod (think Star Wars and other futuristic movies) filled with 400 kilograms of magnesium sulfate or Epsom salt. It's known for soothing physical and mental stress as while inside a pod, you have no sense of gravity and there are no light, sounds, electronics, distractions, or drama. 
Various studies have found sensory deprivation via floating can help your body and mind relax, easing both physical and mental strain. In fact, a study found that a "floatation-rest"—when a person is floating inside a dark, quiet tank filled with salt water—helps manage General Anxiety Disorder.
Another study that researched the effects of floatation found it resulted in varying states of altered consciousness—from "profound relaxation" and altered time perception, to more extreme ones like out-of-body experiences. Other benefits include giving you a nice, deep sleep, helping your mind focus on specific goals, and enhanced creativity.
Continue reading below ↓
Recommended Videos
How much is a saltwater float treatment in Float Manila?
Saltwater float sessions at Float Manila are 90 minutes long and are not exactly cheap.
P1,950 for 90 minutes - first-timers rate
P2,250 for 90 minutes - regular rate
P5,250 for a three-session package, valid for two months
P9,600 for a six-session package, valid for five months
Where is Float Manila located?
While Float Manila doesn't have a full-fledged saltwater spa facility, they are currently located within Saddle Row. Here are the locations of Saddle Row's two branches:
Saddle Row R3 Level, Power Plant Mall, Makati City
Saddle Row 2F Central Square Mall, Bonifacio High Street, Taguig City
Experience:
I walked into Float Manila at Saddle Row, Rockwell straight from a particularly busy day at work. The float room is off the main hallway, which includes a sink, a mirror, and a shower. The toilets, however, are located at Saddle Row's communal bathroom.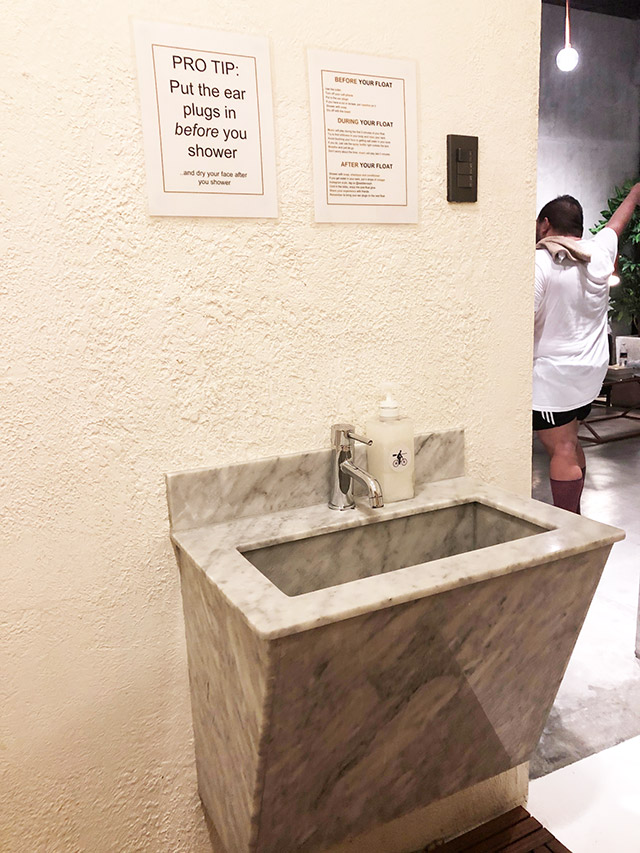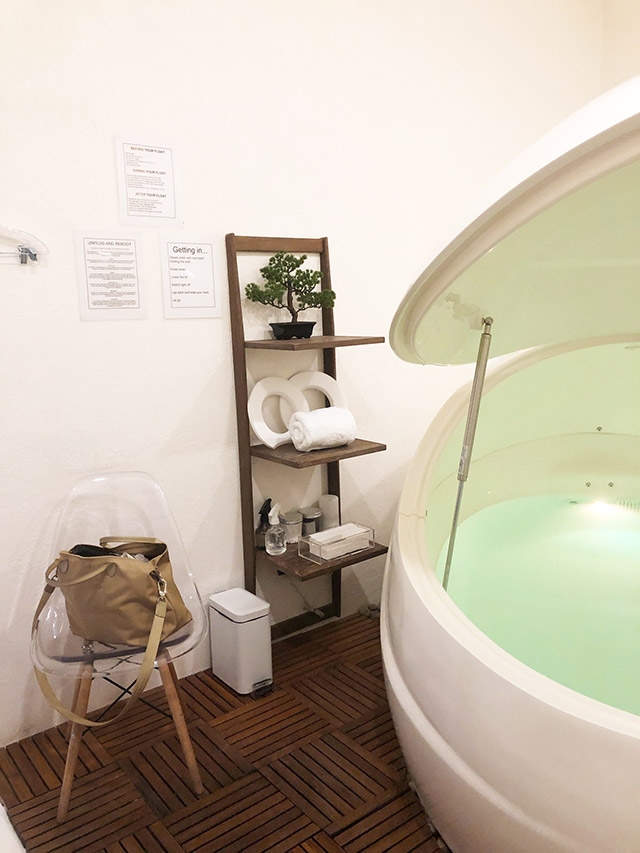 They provided towels, soap, and shampoo because floaters are advised to take a shower before and after the float. I was given earplugs to avoid getting water in my ears. They informed me that floaters should "quiet their mind" beforehand, and do the float with an empty stomach. Once I settled in the float room, Sky, the Saddle Row staff on-duty, gave me a quick overview of the experience. (Ed's Note: Those who are on their period, are pregnant, or have any open wounds aren't recommended to do this treatment.)
The pod itself was a bit bigger than a twin-sized mattress. It opens and closes like a chest, with a handle for you to open and shut as you go in and out. Floaters are advised to go in the pod fully naked to get the full experience, so I was relieved the pod operated manually. I didn't like the idea of being inside and totally vulnerable in an automated machine.
The whole 90-minute experience would be unmarked by time, except for when the music played and trippy lights were switched on during the first five minutes and the last five minutes of the session. The pod also had two buttons inside—a green one to change the color of your lights and a red one for assistance.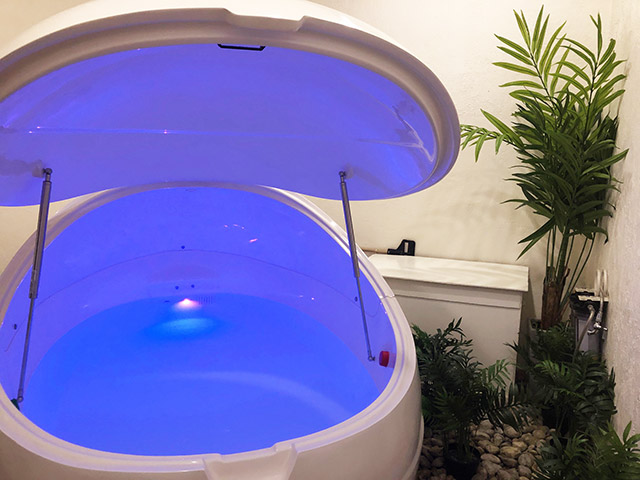 What happens during the saltwater float treatment?
The experience was unnerving at first because I was naked and enclosed in a pitch-black pod filled with salt water. Fortunately, I'm not claustrophobic. However, before I got in and closed the pod, I also tested the cover's weight to make sure I could easily open it in case there was an emergency.
Now back to the saltwater float! It took me a lot of effort to relax (both physically and mentally) because I never realized how noisy the voice in my head was until that moment. Once I turned off the lights in the room and in the pod, I lied floating on my back like a rubber ducky in a bathtub. I marveled at how buoyant the water made me. I also wondered how on Earth I was going to get through the next hour and a half.
I was looking to reach a mentally-relaxed state, more than anything. During the session, I thought I would come to some sort of eureka moment and figure out all of the problems in my life or hallucinate something life-altering. According to other reviews I read, some floaters had hallucinatory experiences. Neither happened, which was disappointing. 
As I couldn't properly get my mind to calm down, I focused on relaxing my body instead. I practice yoga, so I opted to do the Shavasana pose (where you lie on your back with legs spread wide and arms relaxed on the side). After what felt like 30 minutes, the music suddenly came on, and I realized the 90 minutes were just about to start!
As my body floated, my mind started to wander: I went over whatever I had going on at work, I thought about what I was going to do in the upcoming weekend, and other random things. Weirdly, I couldn't hold a thought long enough to really think about it—everything felt like it was just fleeting in and out of my mind!
In the midst of all the thinking, I suddenly felt a rush of nausea (which was surprising because I'm not easily nauseated). I was relieved I didn't eat a lot prior to the float, but I spent at least five to ten minutes trying to settle my stomach and wondering about the logistics. Would I rush to the sink? Or run out half naked to get to the toilet on the other side of the studio? Would I just sit up, open the pod, and wait out the rest of the session if it got too bad?
Somewhere in the middle of all those thoughts and my nauseous feelings, I fell into a deep, relaxing sleep. I was roused when I slowly became conscious of the music that seemed to come from some far-off distance. As I regained my senses, I felt like I just came from a long vacation before remembering I was in a pod.
As I woke up, the feelings of nausea returned and persisted as I showered and got ready to leave. It was odd how I felt deeply relaxed and my mind seemed weirdly blank! My friend, who was waiting for me outside, noticed this and asked me why I looked kind of lost and out of character. LOL, I attributed it to a super relaxed mind, which was a success for me!
Is the saltwater float worth it?
Overall, at a price of P1,950, the whole experience felt like an expensive nap in a bathtub. I didn't come to any lightbulb or eureka moments during the float, but I definitely felt extremely relaxed after (despite the nausea). I can't imagine spending that much on a regular basis just to nap, but it's something I can recommend when one is feeling particularly stressed out and unsettled.
Would I get a saltwater float again?
I'd probably prefer a traditional spa session with a hilot, oils, and cheesy spa music, but that might also be due to my unwillingness to spend almost P2,000 for what felt like a glorified nap. However, if you have a physically- and mentally-demanding (and high-paying) job, it's worth going to, to reset your body and mind.