If you consider hair care just as important as skincare, listen up: There's a new professional hair care shopping website in the Philippines, and it can get you all those A-grade stuff you can only find in salons. I'm talking about Kérastase, Davines, TIGI, L'Oreal Professionnel, Olaplex, Lakme, and more! I used to panic whenever I'd run out of purple shampoo for my faux blonde (extremely high maintenance) pixie cut, but with HairMNL (not affiliated with BeautyMNL), I don't even have to go to the salon to buy my stash. 
HairMNL founder Julie Ortuoste shares, "We keep our portfolio well-curated so as not to waste our customers' time and money going through these products." This is apparent when visiting the website: You'll see products categorized by hair concern, like "For Fighting Brassiness", "For Dandruff Control", or "For Damaged Hair". If you're clueless about what to get, HairMNL also provides consultation services via Facebook Messenger (click the link to launch the bot), or via email (send your questions to hello@hairmnl.com). If you prefer a Q&A IRL, pay a visit to the HairMNL brick-and-mortar studio at Brixton Street, Pasig, Metro Manila for face-to-face free consultations.
Continue reading below ↓
Recommended Videos
Products are shipped nationwide, and you can expect your delivery within one to four working days (three to five if you live in the province). Shipping fees range from P100-P250, with a little extra if you opt for COD (cash on delivery). If you don't have a credit card, HairMNL also accepts bank deposit, GCash, ATM cards, and OTC (Over The Counter) payments at partner locations (visit their FAQs here). 
To test their products and services, I had an online consultation of my own and was recommended five key products to address my hair concerns.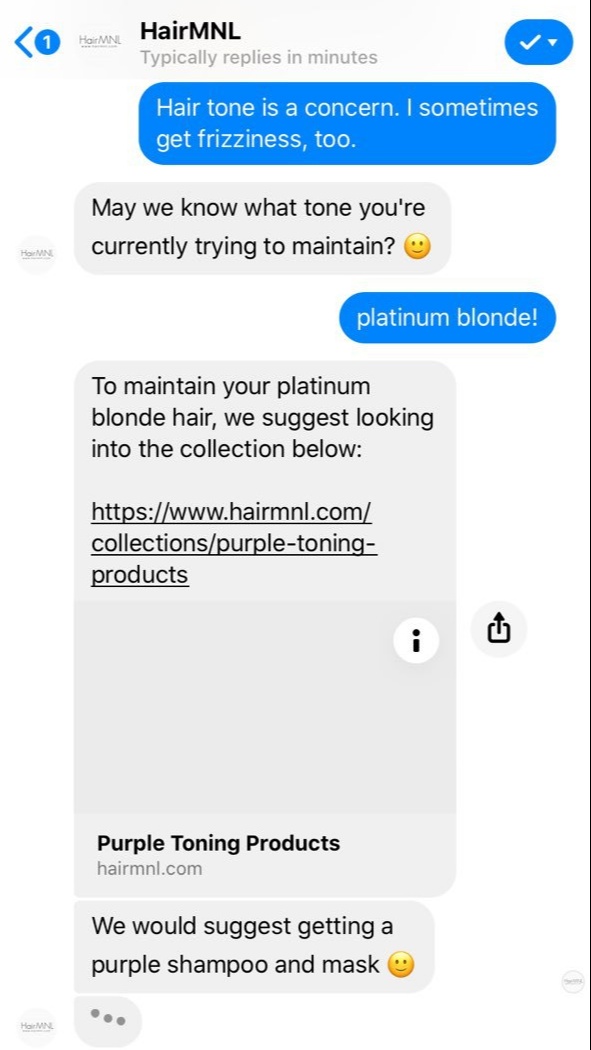 I was delighted to see a complete "instruction manual" delivered with the products to explain how to use each item and how often. If you're a haircare noob, I'm telling you, this is foolproof.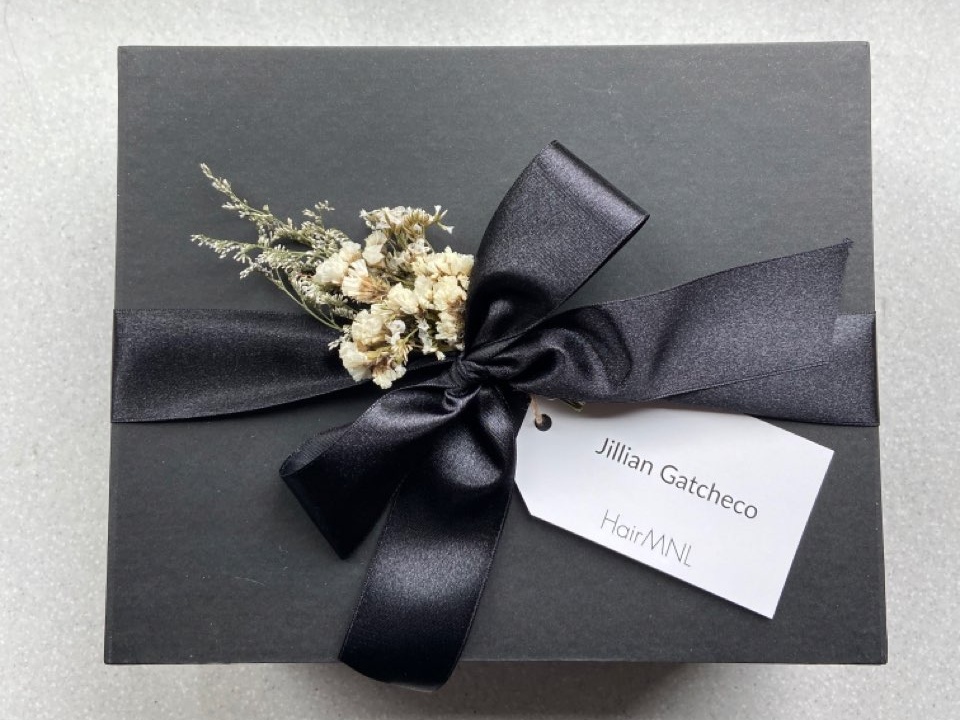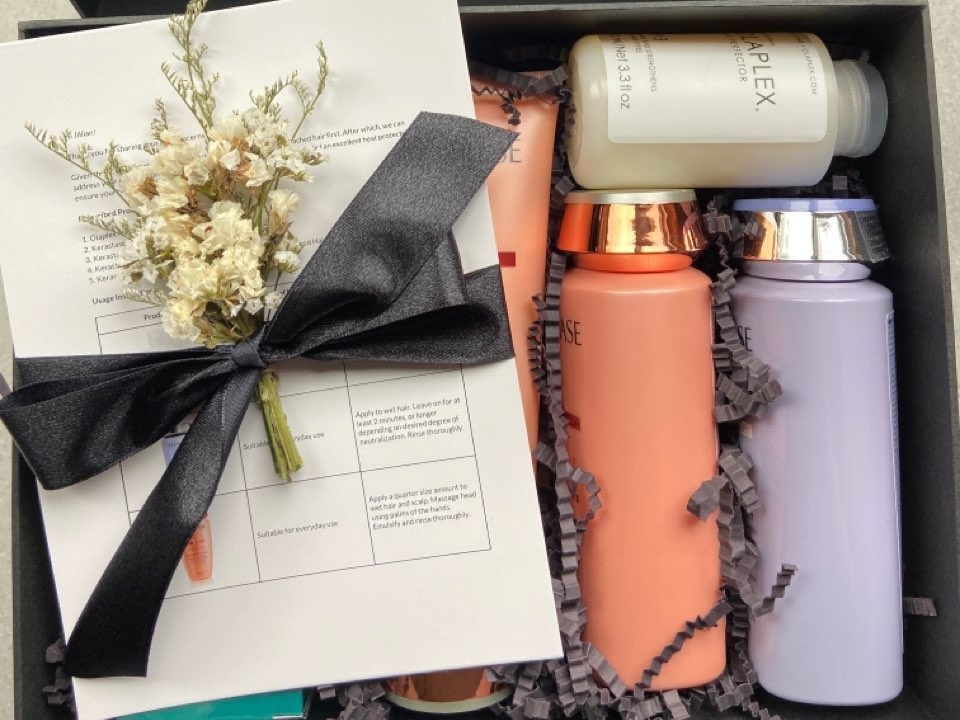 These were the products HairMNL recommended:
Olaplex No. 3 Hair Perfector, P2,300

Olaplex No. 3: Use once a week (apply to clean, damp hair and leave on for 10-40 minutes) to rebuild hair bonds. Shampoo and condition after.


If your mane has been excessively dyed and bleached like mine, it tends to become brittle and prone to breakage. You're bound to find little pieces of hair breaking off and flying around while you brush and blowdry at the same time. The strands usually break mid-shaft from the slightest tug; that's your hair's cry for help! To counter this, you need to "rebuild" the structure of your hair follicles with a "bond builder" like Olaplex. Consider this a once-a-week treatment to keep your strands strong and preserve your in-salon treatment until your next visit.

Kérastase Blond Absolu Ultra-Violet Shampoo 250ml, P1,750

Fight brassiness with this purple shampoo! I leave it on for 2 minutes or longer before using conditioner.

"Brassiness" happens when your faux blonde hair gets hints of warm tones like red, orange, or yellow over time. Asian hair naturally has reddish and orange undertones, so it's actually more high-maintenance for a Pinay to go blonde vs. an American brunette, for example. Good thing there's purple shampoo to the rescue! On the color wheel, purple is right across yellow, meaning they cancel each other out. Using purple shampoo regularly (I use it daily tbh) will maintain your blonde hair's cool tone and prevent it from becoming rusty.

Kerastase Discipline Fluidealiste Shampoo 250ml, P1,750

This sulfate-free, frizz-fighting shampoo is safe for daily use on colored hair.

I alternate the Kérastase Blond Absolu Ultra-Violet Shampoo and this one, and always with a mask or conditioner. With its sulfate-free, frizz-taming formula, you can rest assured that your dye job won't fade quickly.

Kérastase Discipline Fluidealiste Conditioner 200ml, P2,050

Leave this conditioner on for 2-3 minutes before rinsing.

Your unruly and buhaghag hair will meet its match when you use this conditioner. It has a steep price, but a little goes a long way—think of it as your Oleo-Relax treatment at the salon, but right in your shower! Leave it on for two to three minutes to let the formula work its magic. 

Kérastase Resistance Extentioniste Thermique 150ml, P1,900

Prevent breakage from regular heat styling by coating towel-dried hair with this leave-on cream.

I blowdry my hair every single day, so you can just imagine the toll my tresses take from bleaching AND heat styling. This leave-on cream "seals" my strands so breakage is reduced and I can have stronger hair despite the routine damage I inflict on it. I use it post-shower, after toweling off. I find my hair stronger and less frizzy when I blowdry with this product.
I'm a regular user of items 2, 4, and 5, so I'm really happy to know I won't be worried if my favorite salon runs out of stock. I've also been wanting to try Olaplex for the longest time, and now I know where to get it (aside from Sephora). Would I order everything HairMNL sent over based on their recommendations? Maybe not all five items in one go (I added everything—P9,750 is no joke!) but I'd definitely reorder Olaplex and the purple shampoo. I think more than anything, what HairMNL offers is convenience, especially to those based in provinces or women like me who can't find certain products in salons. My stylist always tells me that it doesn't matter how good your haircut or hair color is if the wrong products are used after you leave the salon. And since I spend SIX HOURS of my life sitting on a chair for a bleach + dye job every two months, I'm doing whatever it takes to make that waiting time worth it!
Follow Jillian on Instagram.