"If you can eat it, you can also wear it." That seems to be the philosophy in mind with the hair trends popping up in the last few years. Cotton candy tresses, anyone? And how can anyone forget PB&J hair? However, there seems to be a new player in the game. Enter, milk tea hair.
Milk tea has been around forever, but it's been enjoying a resurgence in popularity; the long lines people are willing to wait in are a testament to that. Something that is also gaining traction across Asia is the milk tea hair trend which started in Japan and Singapore, when clients would tag their new colored tresses on Instagram with #milkteahair. This coveted hue is typically a mix of warm and cool tones to achieve the "milk tea" and "pearls" effect.
I'm admittedly a huge hair dye fanatic, so when I was asked if I wanted to get my hair dyed the trendy hue, I was game!
Name: Cheska Santiago
Hair type: Dry, frizzy, and dyed rose gold which faded into orange
Hair care routine: Shampoo, Conditioner, Hair spa treatment (3x a week)
Current hairstyle: Grown out pixie cut grazing the nape
Salon: Piandré Salon in G/F Greenbelt 1, Paseo de Roxas corner Legaspi Street, Makati City
Price: Hair coloring services start at P1,800; Bleaching/Hair Lightening services start at P1,700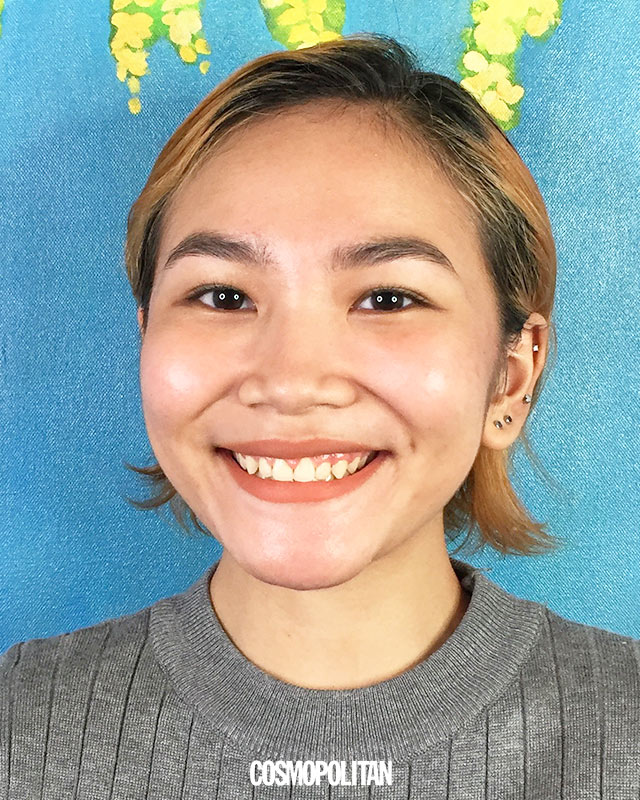 Continue reading below ↓
Recommended Videos
Experience
My appointment was set for 9 a.m. because bleaching and coloring usually take up a few hours to over half a day. Once I was seated, Tiara Duenas, the colorist assigned to me, examined my hair to see if it would be able to handle the bleaching process to get the color I wanted. For reference, this was the hair color I wanted to get (Let's call it Cream Cheese Milk Tea!):
Since my hair was damaged from the multiple bleach jobs and hair colors I've had in the past, Tiara applied scalp protector on my scalp to ensure that it wouldn't sting as much during the bleaching process. 
Afterwards, she sectioned my hair, started applying bleach, and covered each section with aluminum foil. According to her, this is done so that the hair bleaches faster, compared to having no foil and just letting it air-process. She was also careful not to apply bleach right on my scalp so that the roots won't be further damaged. Then she would check my hair periodically to see if it's light enough or already at level 8 (light blonde). Even though bleach normally has a distinct smell, I was surprised that the bleach they used didn't really smell bad.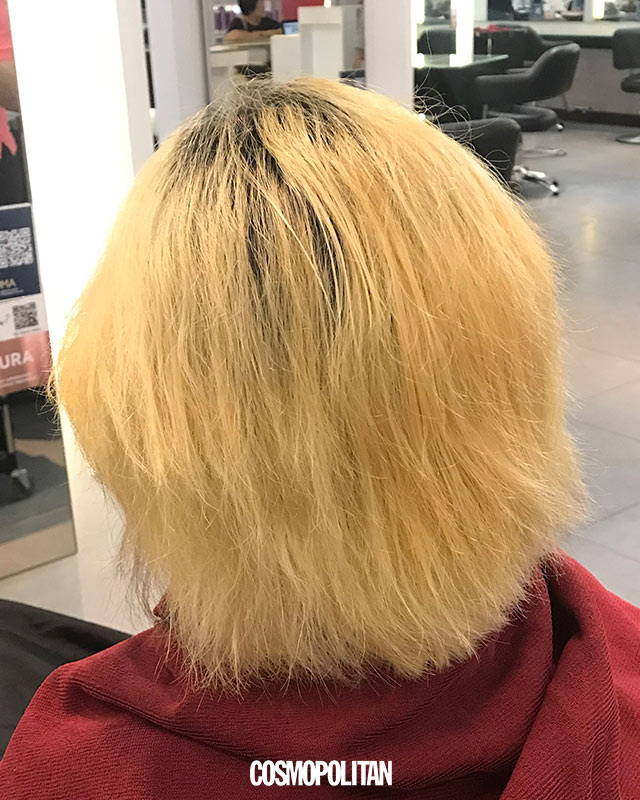 After about an hour, she started removing all the foil from my hair and the entire removal process also took an hour. (That's how carefully she put my hair into little sections to really ensure that each strand was covered with bleach!) Then she rinsed it all off using sulfate-free shampoo.
Finally, it was time for the part that I was really waiting for: the coloring! When I first showed Tiara my peg, she said that for my hair to be able to get the cool-toned hue, it would have to be bleached even more. (I could hear my scalp crying at this point, TBH.) We finally agreed on dyeing my hair a warmer hue but without compromising the style and ombre effect that was in the original peg.
She first dyed my roots chestnut, which symbolized the ~*pearls*~. She said that it would be nicer to look at vs. leaving it black; the transition to my natural hair color once it starts growing would be a lot more seamless. After being left on for 15 minutes, she got to work on the rest of my hair. She mixed three colors to achieve the milk tea color: brown, chestnut and violet (to neutralize any yellowness) and left it on for 15 minutes as well.
Afterwards, she rinsed the dye off with Color Stay sulfate-free shampoo and conditioner. After blowdrying and styling my tresses, I asked if she could trim it as well because it was already in the weird, mullet phase when growing out a pixie cut. Pro tip: Although it may seem counterintuitive, getting regular trims actually help grow out your hair!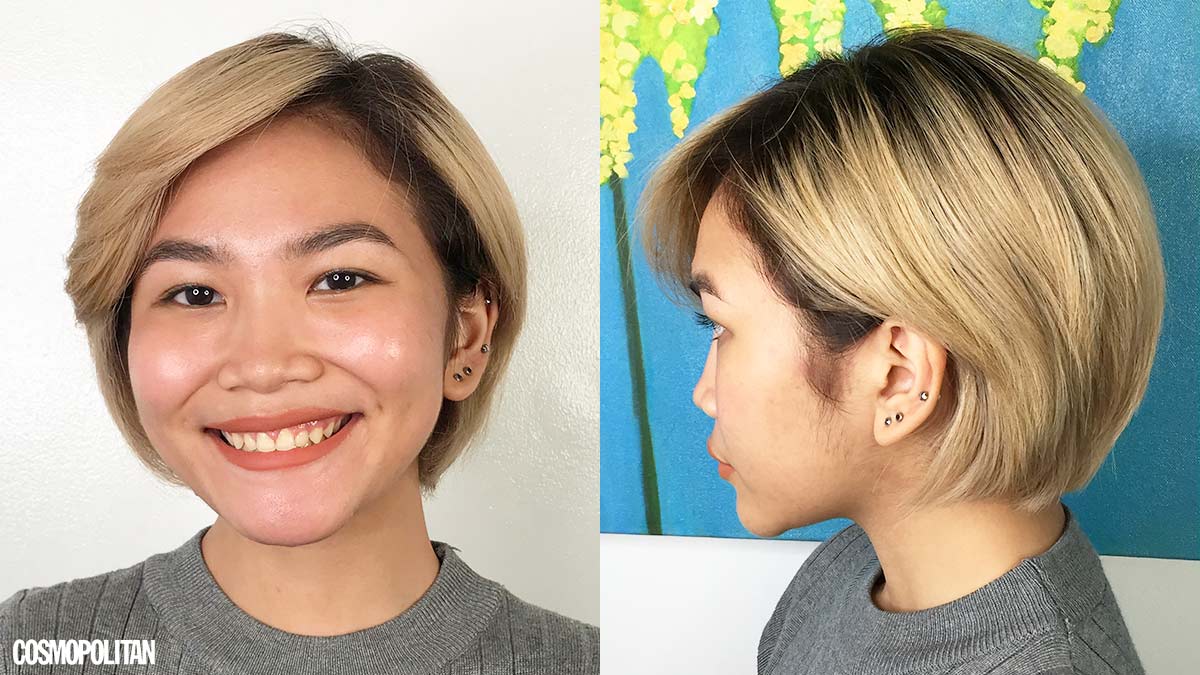 Aftercare
In the past, I was used to using purple shampoo to care for my newly bleached hair, but according to Tiara, there is no need for purple shampoo for this hue. A sulfate-free shampoo will do and preferably it should be Lakme Teknia Color Stay so that it's compatible with the dyes used. She also warned me to stay away from swimming pools as they can turn blonde hair green. (A lesson from the past that I had to learn the hard way, unfortunately.) 
A good thing about this hair color is that it's relatively low maintenance compared to having a pastel-hued 'do. You don't necessarily have to go back to the salon every month, because every three months is okay for color retouching.
Would you try this hair color again?
While my new warm-toned 'do is relatively tamer compared to my past hair colors such as pink and purple, I would definitely try it again! I think this milk tea hair trend is definitely a win for morenas because it complements our warm skin tone very well.