Hair sanitizer? Such a new concept, right? But with all the changes the pandemic has done to our lives, any product that offers germ-killing abilities is much, much needed. Tokyo Posh, the celebrity-favorite hair extensions studio, sensed that Pinays would love to have a hair sanitizing product in their possession. They just released Hair Shield, the first FDA-approved hair sanitizer in the Philippines.
Think of it as a fragrant mist that can kill 99.99 percent of germs within five minutes of spritzing it on the hair. Plus, it doesn't have alcohol content so it won't dry out your locks.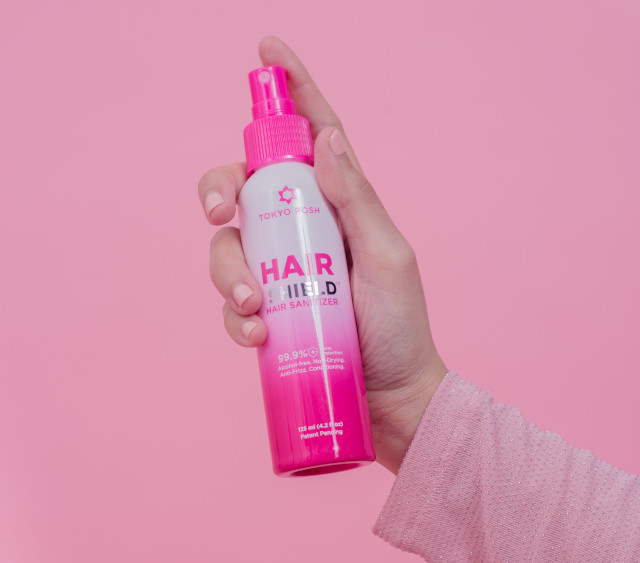 We got curious and tried the Tokyo Posh Hair Shield Sanitizer ourselves to see if it's worth buying! Check out our ~thoughts~ about it below:
(Have you tried and tested this product? Share to the community what you think! Leave your review in the comment section below.)
Jillian
Hair type: Pixie cut with natural texture
Continue reading below ↓
Recommended Videos
What were your first impressions?
When I first heard "hair sanitizer," my initial thought was, "Is it going to ruin my hair color?" I have a long history of bleaching and coloring my tresses, and I stay away from drying products (read: alcohol content) because my hair will end up looking frizzy and buhaghag. But at the same time, I knew I needed the product. Because of the pandemic, I found myself taking a bath multiple times a day (which takes up my time) when I go out or get stuff from the lobby of my condo. I just don't want to risk bringing home the virus in case I come into contact with it outside. During this pandemic, being praning can save your life.
What do you think of it and will you recommend it to others?
I've used it a couple of times already, and it's exactly what it says on the spray bottle: "non-drying," "anti-frizz," "conditioning." My hair didn't turn stiff or greasy, and the scent was light and temporary, which I appreciated. The product didn't affect my hair color, and I actually ended up using it to freshen up in the middle of the day! I find it extremely handy when I go down to the condo lobby for 10 minutes to pick up my deliveries from the guard. When I get back to my place, I remove my clothes, apply alcohol all over, and spritz my hair with the sanitizer. Then I change my outfit and go on with my day. It's really a time saver! Would I recommend it to others? Yes—and your partner can use it as well!
Retty
Hair type: Wavy medium length hair
What were your first impressions?
"Cute packaging!" Lol. But really, the bright pink color really appealed to me. I also thought this product was genius because I've also been struggling with washing my hair often because of the pandemic. It's such a minor thing compared to the bigger problem, but I also want to keep my scalp and tresses healthy, and frequent washing wasn't helping me do that. The is a little strong, but I don't mind it. It also keeps my hair soft and hydrated. Nothing weird, unlike other hair products! Zero stickiness, too.
What do you think of it and will you recommend it to others?
I think this product is super handy, especially for people who have no choice but to go out to run errands or work. My first impressions were all correct: This spray didn't leave my hair feeling heavy or sticky, it actually makes it softer, which I really love. I keep this by the front door to sanitize my hair as soon as I get home. I'd definitely recommend this to those struggling with over-washing their hair!
Ira
Hair type: Long, straight, colored hair
What were your first impressions?
I am careful with anything I put on my locks. I'm hyper-aware that I'm pawisin, plus I am constantly dealing with hair fall probz. I don't want anything that will weigh my hair down or might damage my tresses. When I saw the words "Hair Sanitizer," I immediately checked if it had alcohol or any emollient ingredients. Thankfully, it didn't have any of those.
As for the scent, it reminded me of the body spray I used when I was younger. I was scared it will be too strong, but it dried down into a subtle fragrance after a few minutes. I definitely like using it after a short trip to a non-crowded area (like a bank as soon as it opens).
What do you think of it and will you recommend it to others?
Yes! Sanitizing ~*everything*~ should be our priority right now. The Tokyo Posh Hair Sanitizer will come in handy after a grocery trip or a day in the office—you can spritz it then and there or before getting inside the house! It takes off the paranoia of bringing in germs to your home. I also think it's a great hair mist to mask bad odors.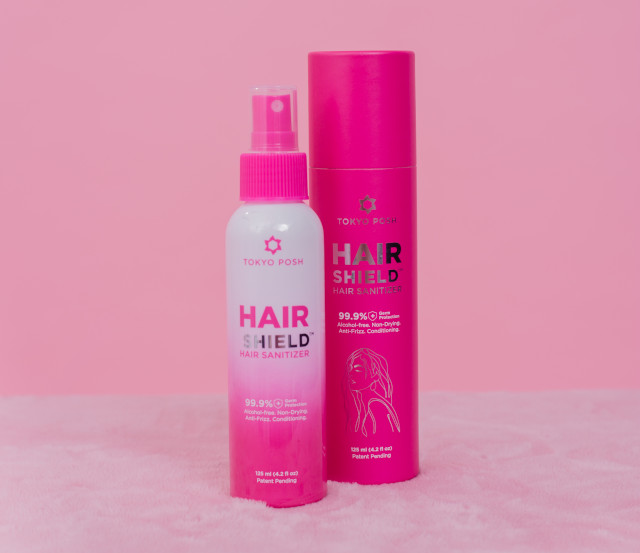 Tokyo Posh Hair Shield Sanitizer 125ml, P295, Lazada
Follow Jillian, Retty, and Ira on Instagram.
Follow Cosmo PH Beauty on Instagram.
Have you tried and tested this product? Share to the community what you think! Leave your review in the comment section below.
***
We are officially on Viber! Be part of the Cosmo Viber Community by clicking here!