There's no denying the impact the Hallyu wave has had on our lives. For me, my daily routine and preferences have changed because of Korean food, K-beauty, and K-drama. These three intersect in one way or another, usually with me craving a certain dish like ramyeon or samgyupsal after watching a series.
I also get curious about beauty products that are used or endorsed by popular Korean celebrities. That said, I tried four different sheet masks that all gave me moisturized and ~*glowy*~ skin.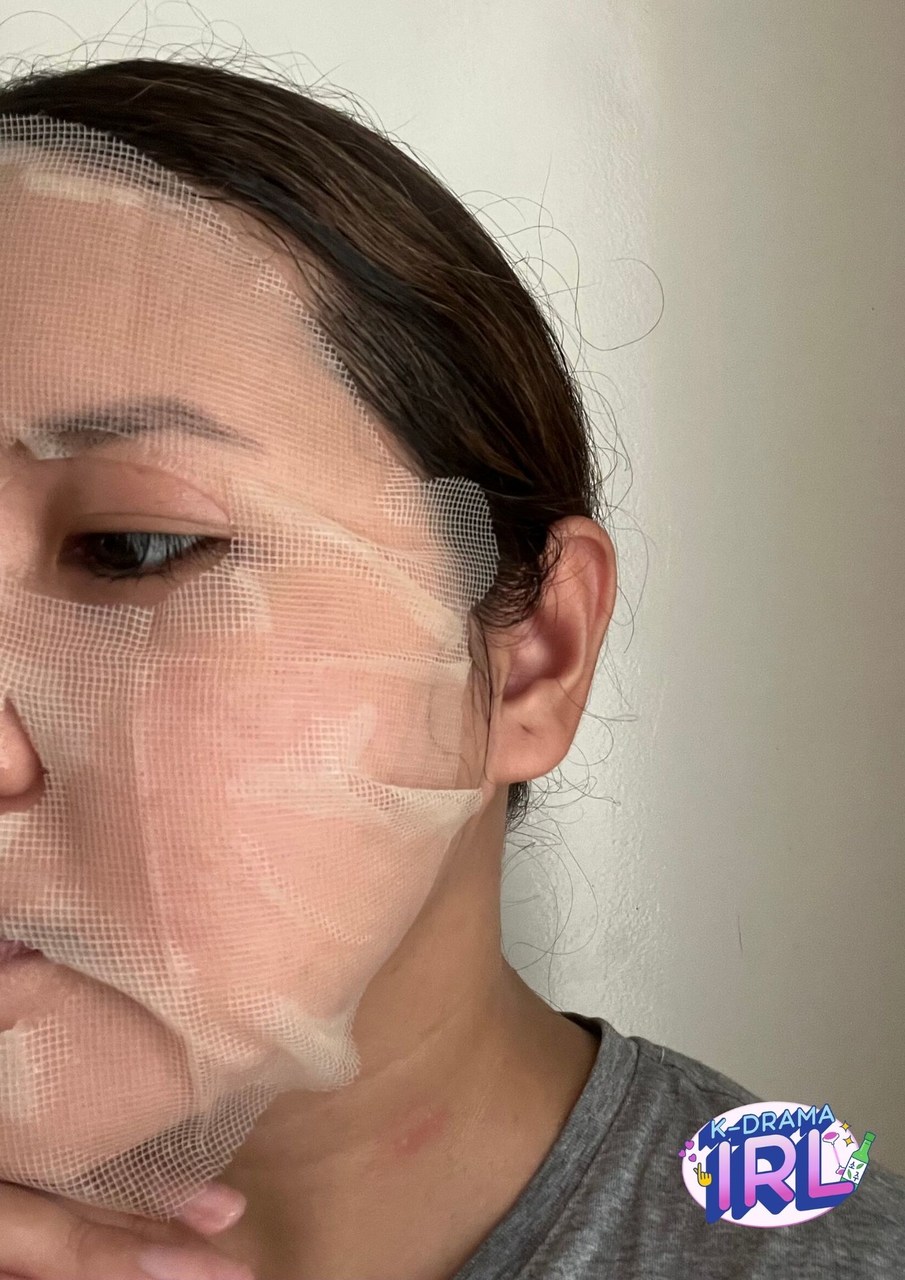 ADVERTISMENT - CONTINUE READING BELOW ↓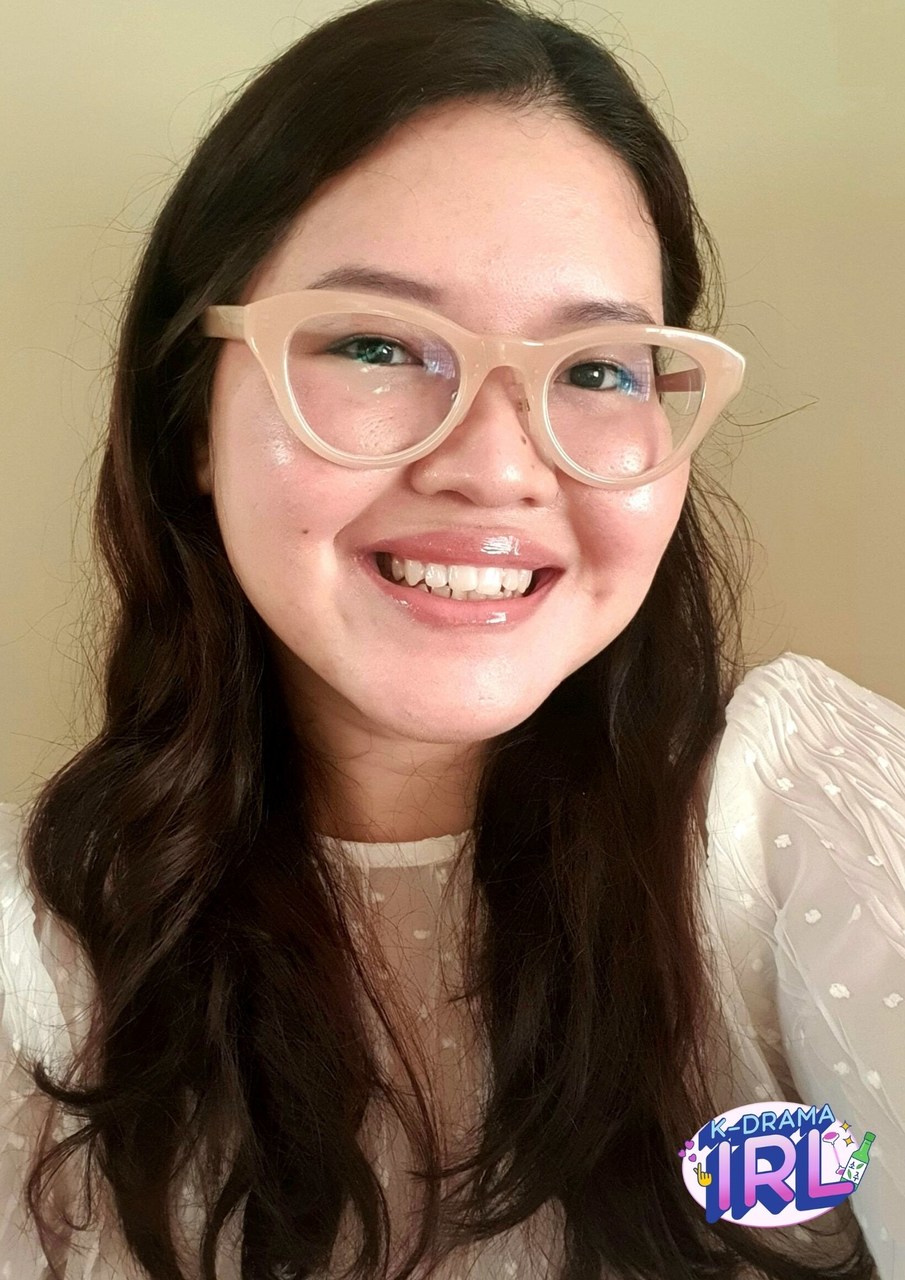 If you're in the market for a new sheet mask to try or are simply a willing beauty budol victim, read more about my experience with these celeb-backed masks:
Must-try Korean sheet masks
1. Sulwhasoo First Care Activating Mask - endorsed by Song Hye Kyo
About the Korean star: Song Hye Kyo has been a mainstay in the K-drama world ever since she starred in the 2000 drama Autumn In My Heart. She followed this with lead roles in the gambling drama All In and rom-com Full House, solidifying her status as a Hallyu star. 16 years after Autumn In My Heart, Hye Kyo rose to international fame when she starred in Descendants Of The Sun.  
ADVERTISMENT - CONTINUE READING BELOW ↓
Recommended Videos
Beyond being an actress, she has also made her mark in the world of luxury fashion and beauty. Hye Kyo is currently an ambassador for French jewelry brand Chaumet as well as Italian fashion house Fendi. She also became the face of the Sulwhasoo in 2018, the luxury skincare brand of K-beauty powerhouse Amorepacific.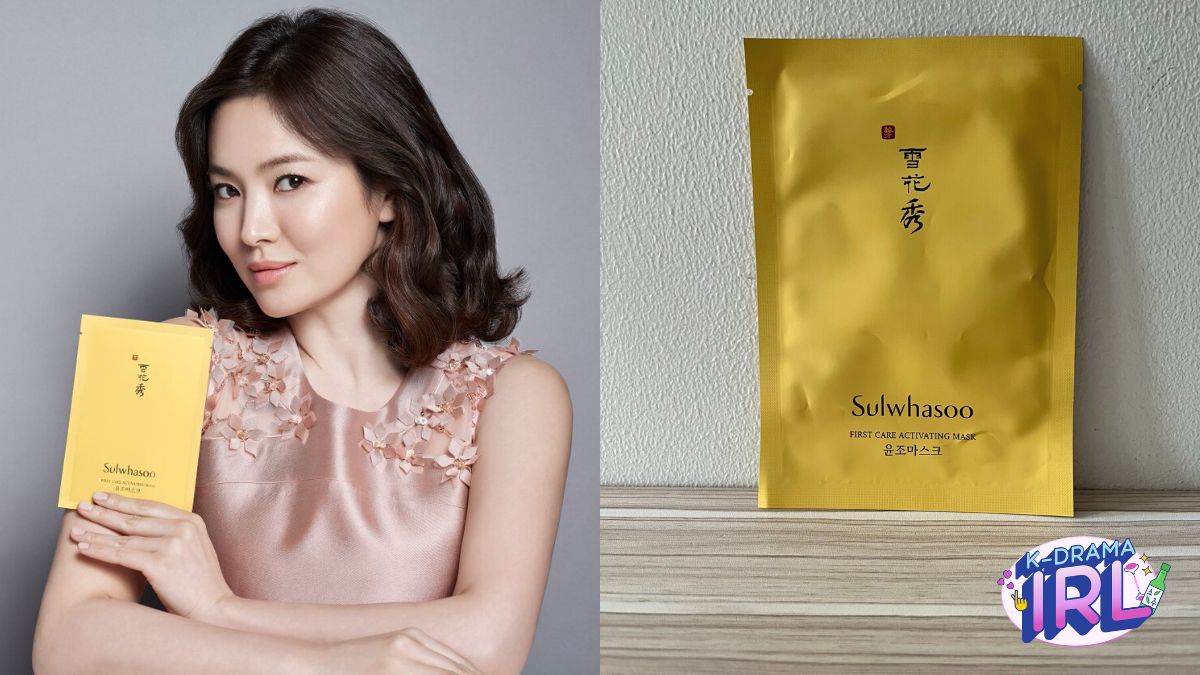 ADVERTISMENT - CONTINUE READING BELOW ↓
What it is: The First Care Activating Mask helps moisturize and improve skin radiance. It features the same nutrients found in the cult-favorite First Care Activating Serum, including the JAUM Balancing Complex designed to help balance the skin and address signs of aging.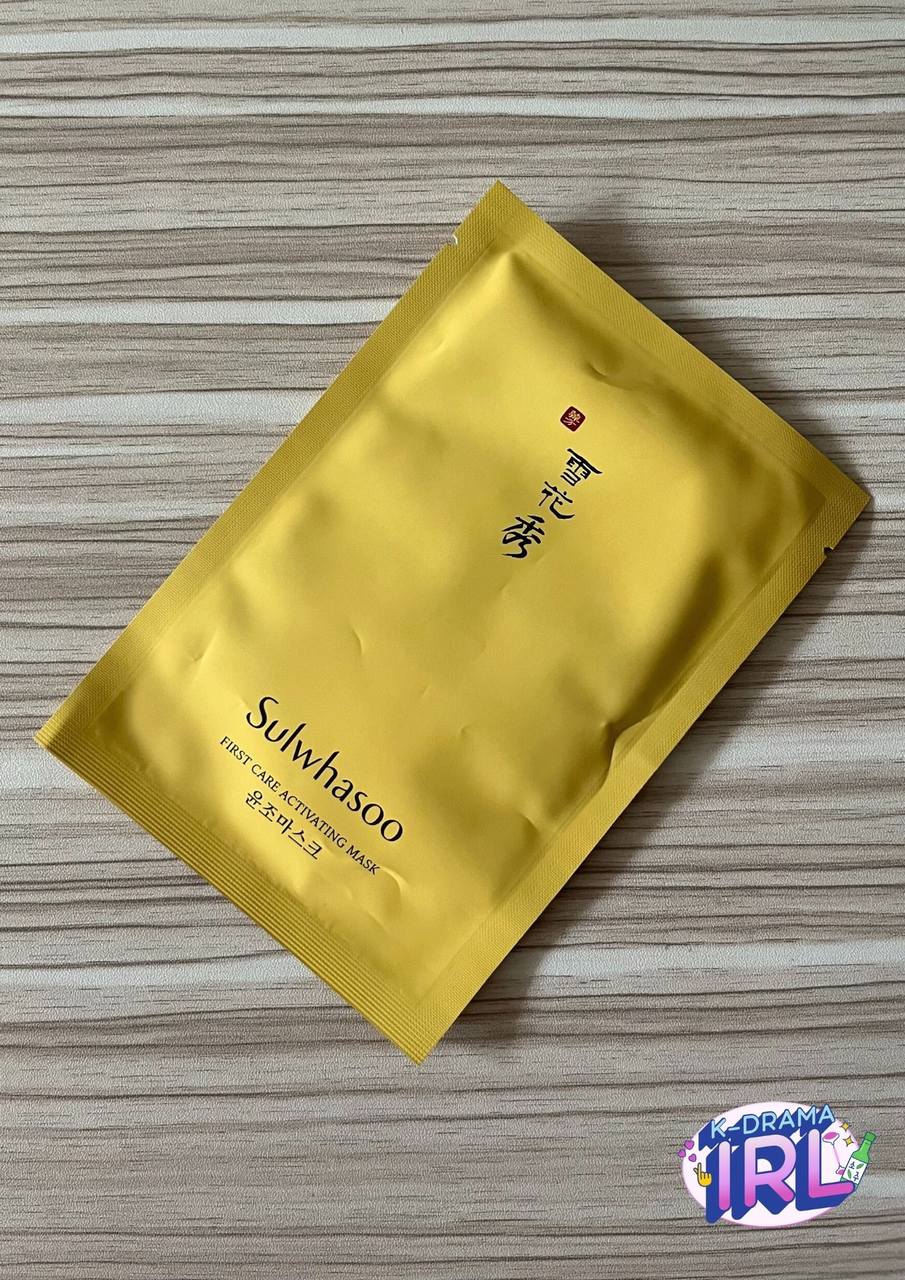 ADVERTISMENT - CONTINUE READING BELOW ↓
My experience with the mask: Right off the bat, I could say that the mask offered a luxurious experience. The first thing I noticed was the light botanical scent—almost like a gin and tonic's minus the alcohol—upon opening the pouch. Apart from the scent, the other thing that struck me was the net that was attached to the mask. I assumed it was there to help apply the mask since it was very thin. Combined with its smaller size, the mask sat comfortably on my face.
After letting my skin absorb the serum for about 15 minutes, I squeezed the mask onto my hand to apply the rest of the serum to my body. I didn't expect it to hold a lot of product because of how thin it was. To my surprise, however, I had enough of it to cover my arms and legs! It also helped that the serum was very lightweight and almost watery. I'd recommend this mask to anyone who wants to treat themselves.
ADVERTISMENT - CONTINUE READING BELOW ↓
2. Dr.Jart+ Dermask Vital Hydra Solution Facial Mask - endorsed by EXO's Sehun
About the Korean star: While Sehun is most known as the maknae of EXO, he's also been growing his acting portfolio in recent years. He started his acting career with a host of projects in 2018, which included the Netflix original variety show Busted and K-drama Dokgo Rewind. Following his fame in China, Sehun also landed roles in a series of Korean-Chinese projects and was announced as the ambassador for Dr.Jart+ in China.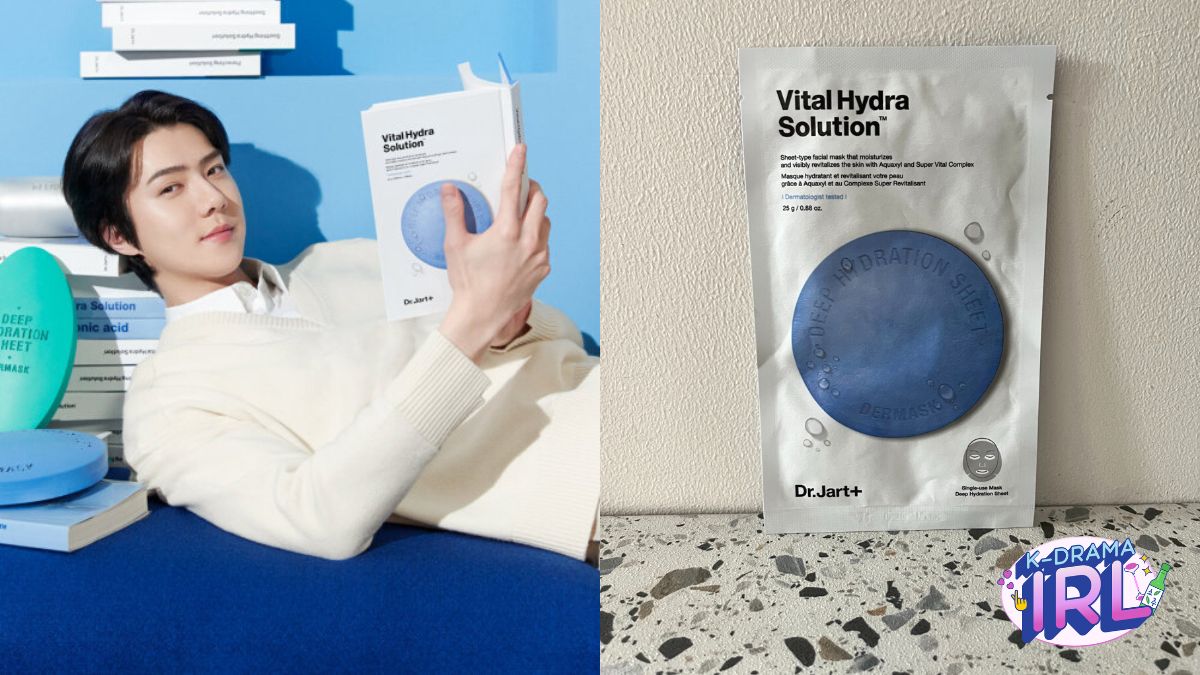 ADVERTISMENT - CONTINUE READING BELOW ↓
What it is: Formulated to help revitalize, hydrate, and soften the skin, the Dr.Jart+ Vital Hydra Solution mask is ideal for any skin type that is experiencing dryness or dullness. It boasts a set of ultra-hydrating ingredients that not only provide long-lasting moisture but also strengthen the skin's moisture barrier.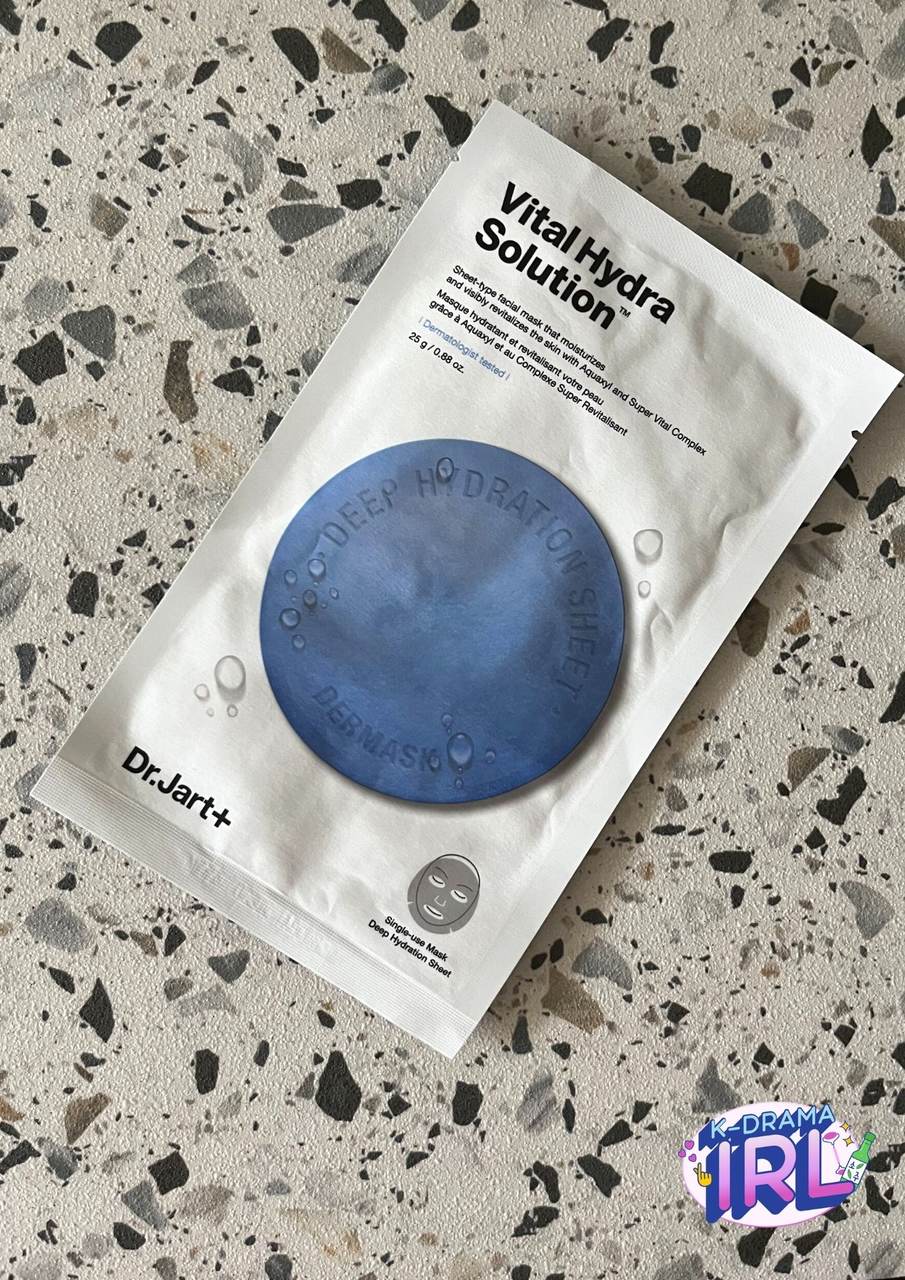 ADVERTISMENT - CONTINUE READING BELOW ↓
My experience with the mask: Not gonna lie, my first impression of this mask wasn't great. It had a thick plastic film that made it look like it was way too big for my face. It wasn't the easiest to handle too since it was heavily soaked in serum. But when I put the mask on my face and removed the plastic layer, I completely changed my mind about the product. The amount of serum made sense to me when I realized how thin the mask actually was. Despite being the thinnest in the bunch, it clung to my face easily.
What really gave this product the edge for me, however, was how it didn't get sticky throughout the day. I unintentionally did a wear test on this mask as I suddenly had to go out after trying it. Since I didn't want to wash off all the good ingredients, I just blotted my face and applied translucent powder over it. My skin still looked okay when I got home, which says a lot considering I have oily skin. If you're looking for something extremely moisturizing minus the stickiness, I'd suggest you try this one.
ADVERTISMENT - CONTINUE READING BELOW ↓
3. KAHI Wrinkle Bounce Water Full Perfecting Mask - endorsed by Kim Go Eun
About the Korean star: Kim Go Eun started her career in theater and film before landing roles in the hit K-dramas Cheese In The Trap and Goblin. She became a household name after these projects, which were followed by The King: Eternal Monarch and Yumi's Cells.
If you're an eagle-eyed fan or beauty lover who saw both of these K-dramas, you probably noticed *that balm* Go Eun used all over her face. The product in question is the KAHI Wrinkle Bounce Multi Balm, which she is an endorser of. While the balm's innovative formula and ~contactless~ benefit ultimately triggered the multi-balm trend, it can be said that the exposure it received through the actress also contributed to its success.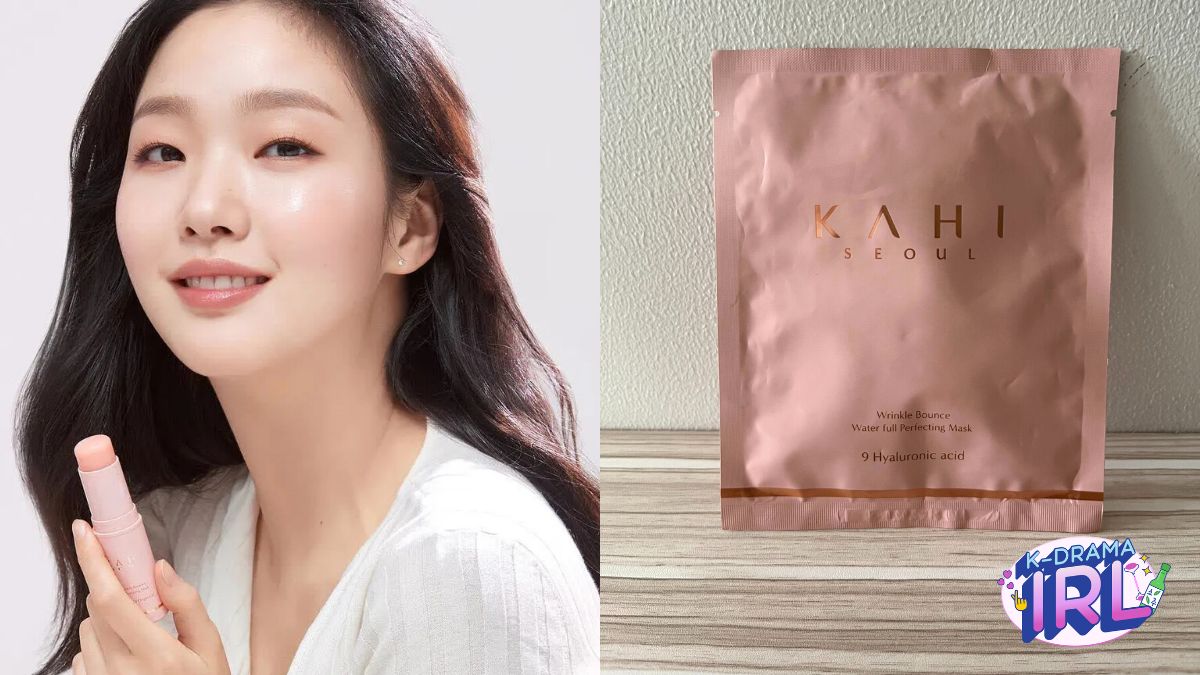 ADVERTISMENT - CONTINUE READING BELOW ↓
What it is: Part of the same collection as the popular multi balm, the KAHI Wrinkle Bounce Water Full Perfecting Mask is formulated to boost skin moisture and elasticity. It claims to have highly concentrated ingredients, namely a *salmon complex* with three different elements that nourish, improve the elasticity of, and hydrate the skin.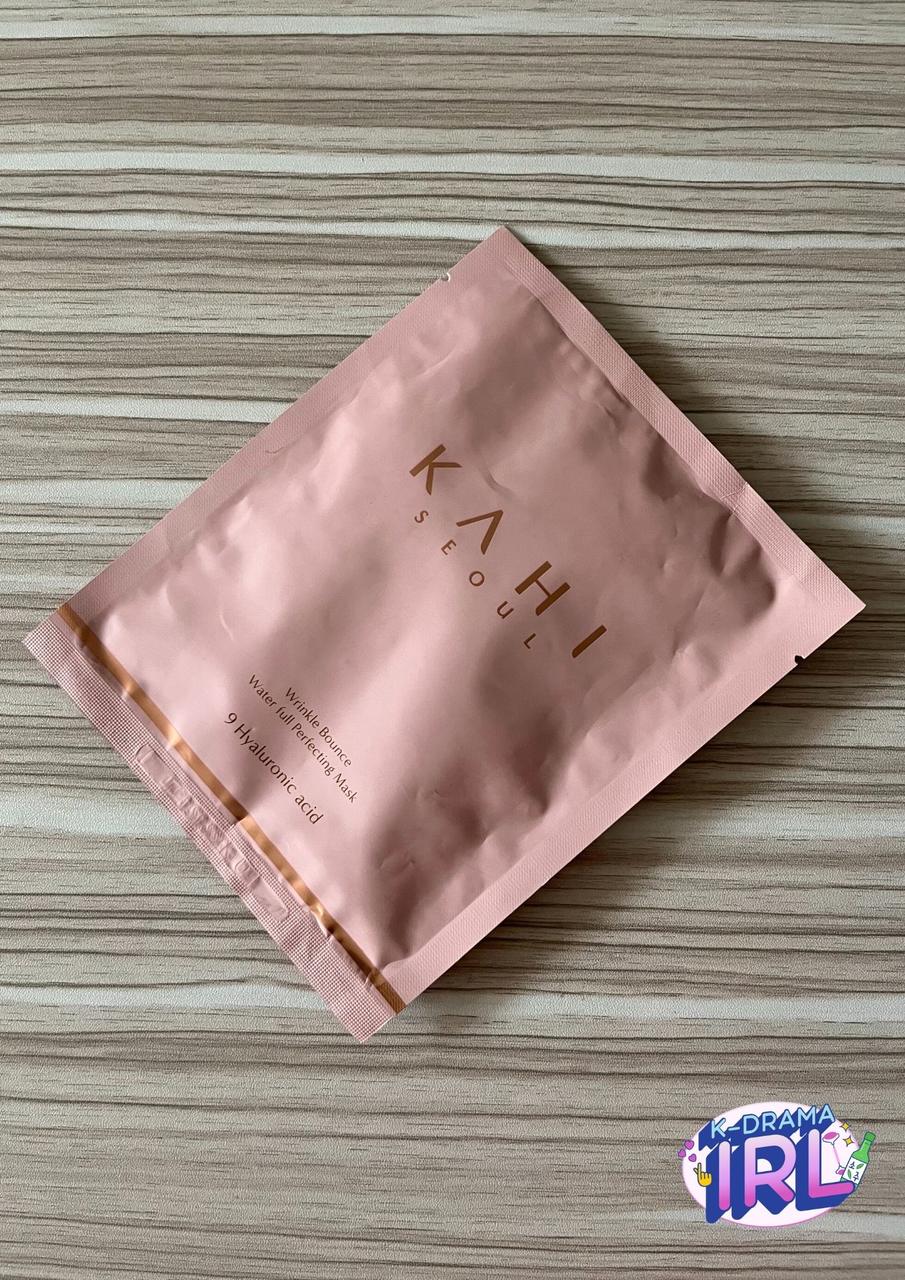 ADVERTISMENT - CONTINUE READING BELOW ↓
My experience with the mask: Out of all the masks I tried for this story, I would say that this one provided the standard sheet mask experience. It had a perfumed scent and the mask itself was quite big and thick. But what stood out to me was how much product was in the mask. I reapplied the ampoule to my neck a couple of times while I had the mask on. Since it was the first one I tried in the series, I also first rubbed the used mask on my arms and legs before thinking about squeezing the extra product onto my hand. To my surprise, there was still so much of it left (like I honestly feel like I could've bathed in it if I tried, LOL). If you're curious about KAHI but are more of a sheet mask type of girl or guy, try this!
4. MEDIHEAL N.M.F. Aquaring Ampoule Mask EX - endorsed by Hyun Bin
About the Korean star: Hyun Bin may be one of the most popular K-drama actors right now, but ICYDK his successful acting career spans decades. He shot to fame (and into the hearts of women) when he starred in My Name Is Kim Sam Soon in 2005. He has since shown off his acting chops through a wide range of roles, from a man with mental illness in I Am Happy to a villain in The Negotiation.
ADVERTISMENT - CONTINUE READING BELOW ↓
It goes without saying that the project that really put him in the limelight is Crash Landing On You, where he starred as Captain Ri Jeong Hyeok alongside his reel-to-real wife Son Ye Jin.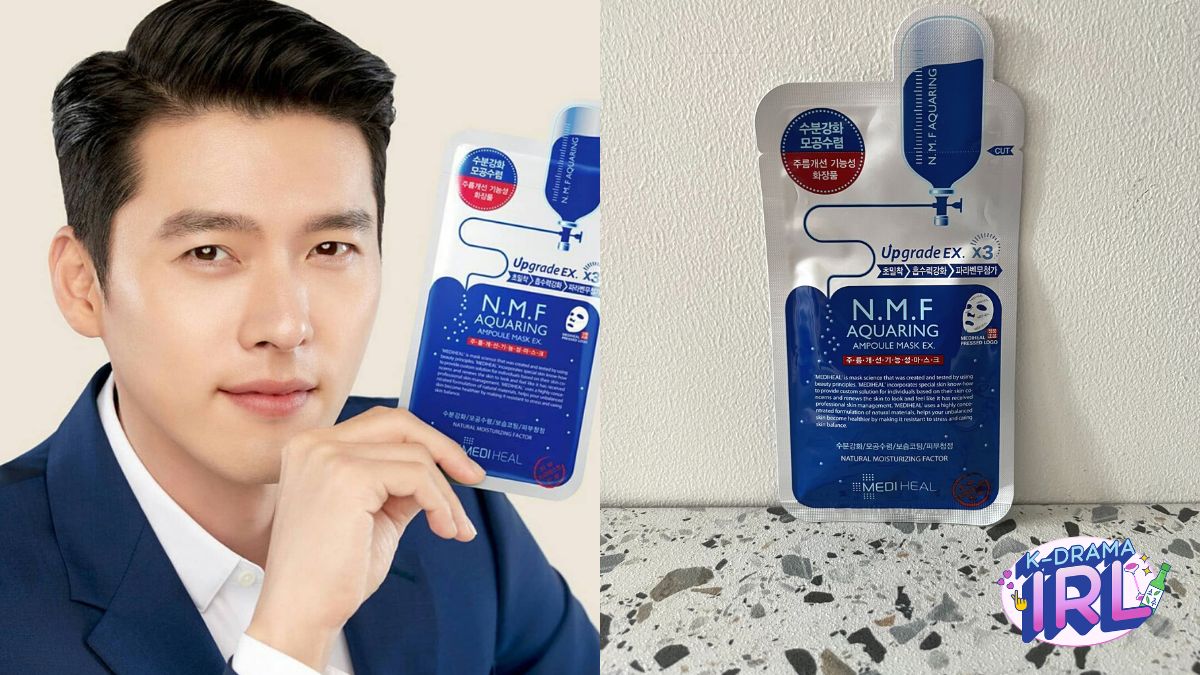 What it is: Ideal for dry skin, the MEDIHEAL N.M.F. Aquaring Ampoule Mask EX provides intense hydration and moisture. While ingredients including N.M.F. (or Natural Moisturizing Factor) quench thirsty skin, the mask also helps give the face a tightened and lifted effect,
ADVERTISMENT - CONTINUE READING BELOW ↓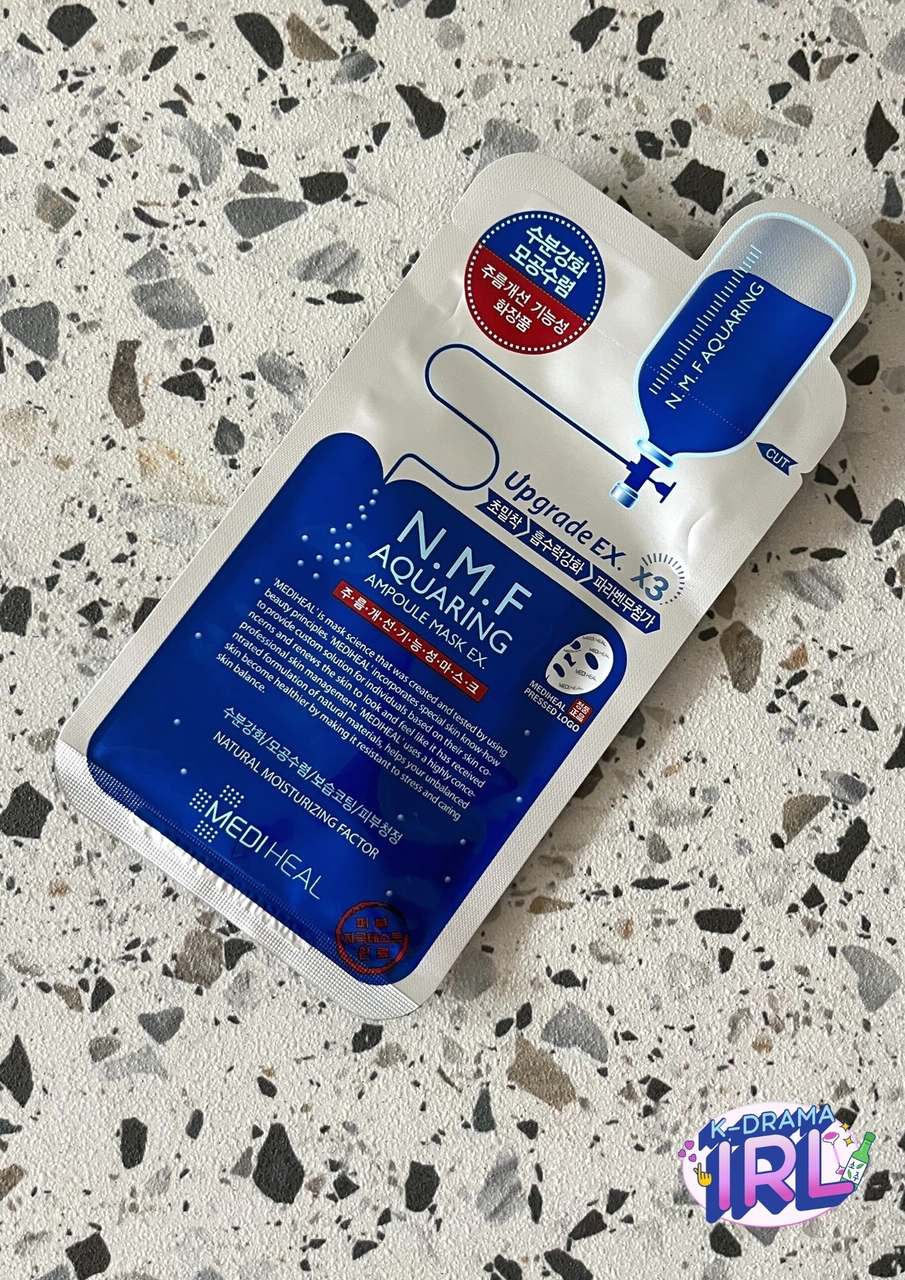 My experience with the mask: This mask was my favorite out of all the ones I tried. Its formula was the least sticky despite the mask itself being on the thicker side. I also didn't have to worry about it once it was on—I didn't fiddle with it as much because it stayed put. As with the other masks, I was able to squeeze out enough serum for my arms and legs. Finally, it was the easiest to find (I was surprised to see this at my nearby Watson's!) and sulit for the price. If you're looking for a mask that you can use a couple of times a week, consider this one!
ADVERTISMENT - CONTINUE READING BELOW ↓
MORE K-BEAUTY STORIES:
17 Of The *Best* K-Beauty Brands You Can Easily Shop For Online
7 Korean Products To Save Your Skin From The Hot Weather
9 *New* Korean Skincare Products We Can't Wait To Try
Cosmopolitan Philippines is now on Quento! Click here to download the app and enjoy more articles and videos from Cosmo and your favorite websites!
K-UPDATES