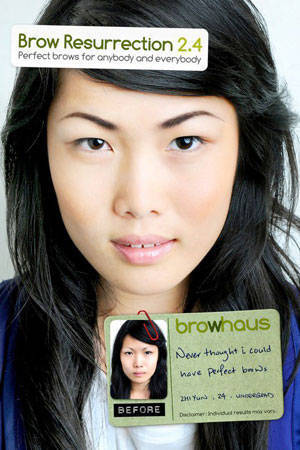 There are just some days when we're dying to reinvent ourselves. Maybe we're going through a breakup and would like to look extra fab. Maybe we're ready to play the field again and snag the next Mr. Right. Or maybe we feel we've outgrown our statement look and we need to give it a little upgrade. Pull yourself out of your rut with a brand new look, starting with your eyes.

1. Uplift Those Eyebrows

Give your face a lift by focusing on your eyebrows, which are key to the symmetry of your face. One place you can try, which is totally devoted to eyebrow primping, is Browhaus at Serendra.

Browhaus specializes in brow construction, threading your eyebrows to suit your face shape. For those with colored hair, go for the Color Tweak, which matches your eyebrows to your hair with safe vegetable-based dyes to achieve overall facial balance. Lightening the brows will soften your features, while darkening them will give your face more definition.

2. Bloom With Lush Lashes

After you have constructed your brows, you can opt to have the Lash In Bloom extensions, which use the finest imported lashes applied in a special technique to lengthen and volumize strands. You can opt to make the lashes dramatic or natural-looking, and they will last for about a month with proper care.

If you happen to be based in the South of the country, like in Leyte, the best place to get your lash extensions and threading done is at Cristina Salon and Spa in Robinsons Place Tacloban. They have Manila-trained experts who can create eyelash extensions that are so dramatic, you won't be needing eye makeup afterwards.

3. Lighten Up Your Eyes

Now that you have perfectly arched brows and fuller lashes, the next step is to make your eyes more striking with colored contacts. Choose a moisturizing variety like Freshlook contact lenses, which adapt to your blinks. Freshlook offers a natural-looking hazel color, but for a more adventurous look, check out their blue, green, and grey options.

As they say, eyes are the windows to your soul, so start achieving a better you with them!


Browhaus is located at 2/f Serendra, Bonifacio Global City. Contact 856-9140 for inquiries. Cristina's Salon & Spa is located at Robinsons Place Tacloban. Freshlook is available at Ideal Vision Center in most SM malls.
Continue reading below ↓
Recommended Videos