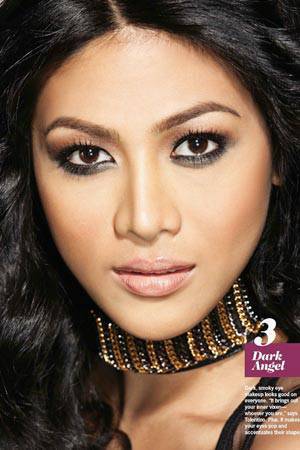 A lot of us want to wear smoky eye makeup but are afraid to try it because it can be quite difficult to do. So, we devoted our November 2011 beauty editorial "Sexy Edgy Eyes" (pp. 172-177) to teaching you exactly how you can achieve bold eye makeup using products you most likely already own (or should at least stock up on this season).

To help you better achieve the beautiful looks you saw on the pages, we're giving you a step-by-step guide in this photo gallery. So prepare your black eyeliners, smoky eye shadows, volumizing mascaras, neutral powders and foundations, and pale lip colors as you click through this photo guide!

Assistant beauty editor Regina Belmonte says of the editorial: "Our theme for the whole shoot is a sexy, smoldering, smoky look. Sexier eyes are in this month and this whole season." With the help of makeup artist Archie Tolentino of Maybelline New York and hairstylist Borge Aloba of L'Oreal Professionnel, our team was able to come up with four scorching hot looks that are perfect for all your holiday parties.

See how Archie transformed model Karina Cabiling's entire look by simply changing her eye makeup. He also shared some of his tricks to perfecting the challenging look in the gallery! Carefully follow the steps as seen in each photo to cop the looks for yourself, and check out p. 177 of the magazine to see Regina's product suggestions!

Watch the video here to see Archie's live makeup tutorial!
Continue reading below ↓
Recommended Videos
1674