Everybody is going gaga over Lady Gaga--and we know you're no exception, Cosmo chick! The pop diva's electrifying and shocking performances never fail to grab our attention and make us all want to dance. Her first single, "Just Dance," off the album "The Fame," has become a certified dance floor staple. She likewise got everyone singing and moving along to other hits like "Paparazzi," "Love Game," "Bad Romance," and her latest buzz-maker featuring Beyonce, "Telephone."

But it isn't just her chart-topping hits and spectacular music videos that got us watching her every move. Lady Gaga also wows us with her bold fashion sense. All her outfits--be it in videos, red carpet appearances, or concerts--leave us in awe. And while only Gaga can possibly rock those outfits (unless you suddenly hold a tanga party!), there's one thing you can definitely follow when it comes to the pop star's style: her choice of lip color.

Lady Gaga currently loves the MAC Viva Glam lipstick she inspired, Viva Glam Gaga (light blue pink, P950). She and music icon Cyndi Lauper have both been tapped by MAC to be the new voices of "From Our Lips," the new Viva Glam campaign. With their influence and style, the female music icons are helping raise two million US dollars to be donated to the MAC AIDS Fund, which supports women, men, and children combating HIV/AIDS. Proceeds from every purchase of Viva Glam lipsticks will go to this fund. So far, 150 million US dollars have been raised for the fund since 1994.

Believing that relationships should be satisfying and safe, charity chick Lady Gaga challenges all women to make a difference with just one lipstick--her choice of lipstick no less.

Lady Gaga says she has been using MAC makeup since she was 10. What she loves about the Viva Glam lipstick named after her is how it's a little bit '80s--a fashion era that suits the superstar's personality well.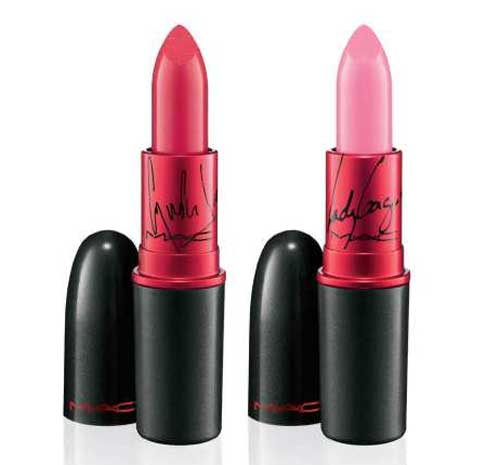 You can also check out Viva Glam Cyndi (mid-tone dirty coral, P950). Due to their popularity, the lipsticks flew off the shelves so quickly, but you may expect them back in stores by end of April or early May, MAC told Cosmo.ph. These shades will only be available for a year in MAC boutiques in Rustan's Makati, Rustan's Shangri-La, Marionnaud Mall of Asia, and Powerplant Mall in Rockwell.

Continue reading below ↓
Recommended Videos