Here at Cosmo.ph, we're always incredibly curious (read: nosy) about the contents of the kikay kits of other Pinays. We just * love* getting recommendations based on the contents of their makeup bags!
Last time, we raided the kits of Pinay BPO employees. Now, we're looking into the makeup bags of nurses! Have a peek through their collection below:
This one only has a few products, but they're all hardworking!
"These are my go-to makeup products. I see to it that everything is long-lasting and suitable for my oily skin. I usually pair the Revlon Colorstay Full Cover Foundation and the Ellana Minerals powder to get a matte finish look that lasts the entire day. I also love multipurpose products, so Blythe Cosmetics' face palette is the best. I can put it in my pocket and use it for my cheeks and lips when I'm in a hurry. For my kilay naman, my all-time favorite is from The Face Shop—the pigment lasts the entire day no matter how oily my skin is!  Lastly, my L'Oreal Rouge Signature Matte Lip Tint is my favorite. It's very lightweight and lasts long even after eating." — Anna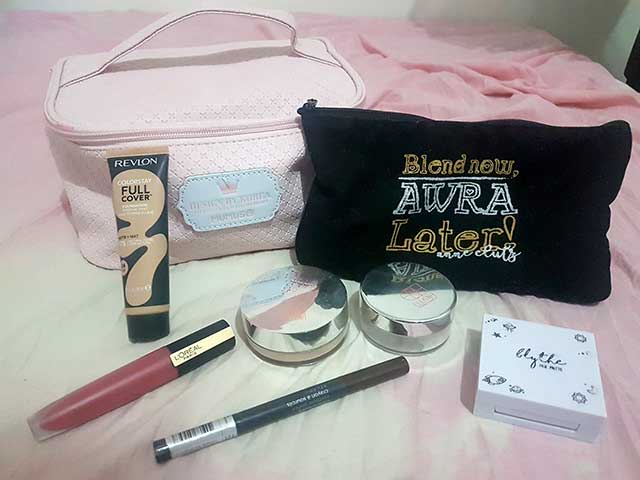 Continue reading below ↓
Recommended Videos
This kit is ready for long AM and PM shifts.
"For my kikay kit, I always make sure to have the All Covered by Anna Cay Skin Saver tinted sunscreen with me. It's my go-to base during my PM shift. In the morning naman, I use the Lights, Camera, Action Cushion from Superface. I also rely on the mineral loose powder from Detail Makeover to keep me shine-free the entire day. I love the EB Advance Face Trio because it already has contour, blush, and highlighter in one palette. I also make sure to have my Bobbie Cosmetics Brightening Lash Liner—it's a white eyeliner that helps me look more awake. I also have mini Real Techniques brushes to help me apply my loose powder, contour, and blush." — Jeneza Arevalo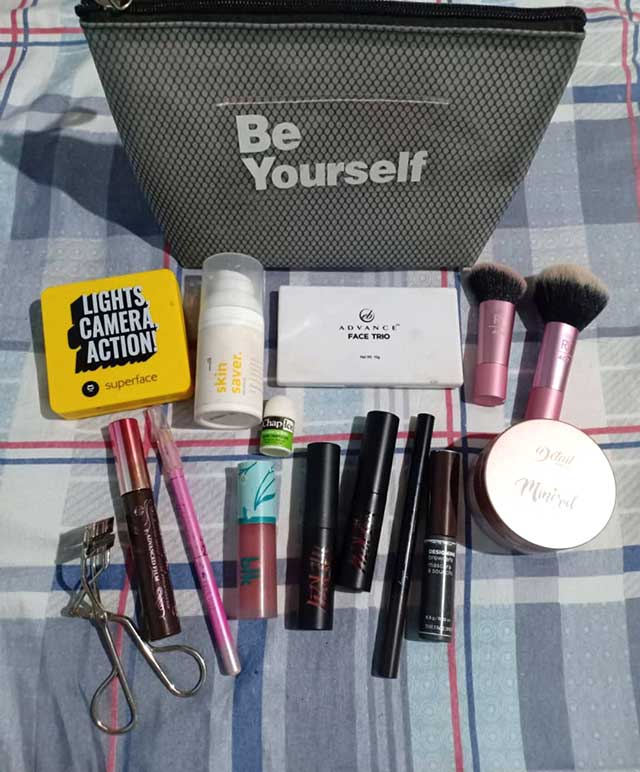 This kit ensures a "fresh lang" look even during long hours.
"I always make sure to have Pond's Magic powder with me because it's the easiest and quickest way I can freshen up during a hectic shift. My eye drops are also a must because I tend to get dry eyes during long duty hours in the delivery room. I also have a compact mirror because I can't always afford to go to the bathroom to check how I look in the mirror so it's better to have a smaller one in my pocket. I always have my lip balm with me because aside from having naturally dry lips, being in a cold room for hours can also cause my lips to get chapped. For my kilay, I use Sunnies Face Lifebrow Grooming Gel in Ash Brow for when I need to fix my brows but don't have enough time because there's a patient waiting for me. For my lippie of choice, I reach for Nature Republic's Triple Meringe Tint in Rose Macaron to bring the color back to my complexion after long duty hours." — Yvannca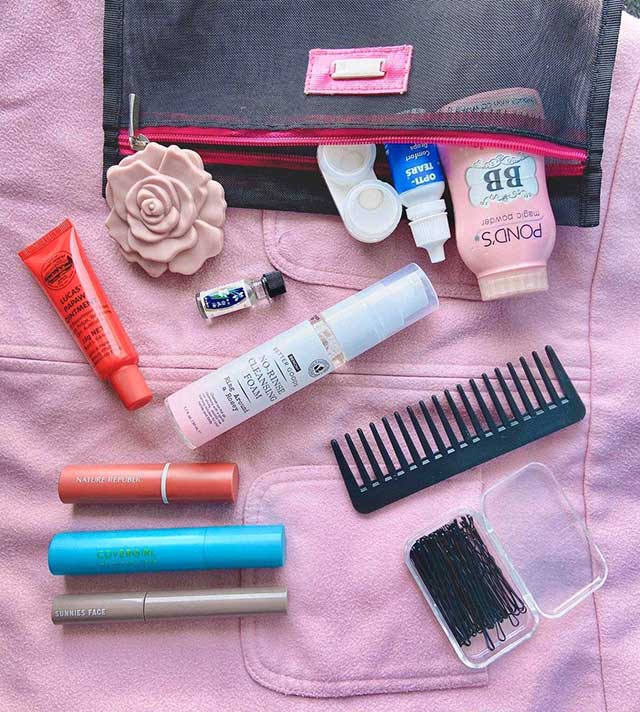 Lippie options are important.
"The following are the essentials that I can use for any occasion—whether it be for work, events, or running errands. I have three lip products to make sure I have options if I need them. I always keep Sunnies Face Fluffmate lipstick in Girl Crush, Ever Bilena Matte Lipstick in Toast of New York, and Skin Genie Lip & Cheek Stain Alive in Burgundy Wine with me at all times!" — Patricia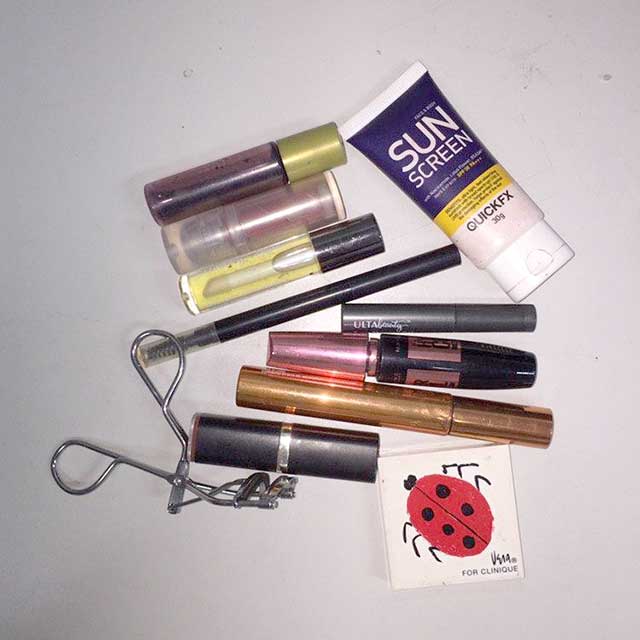 Just the essentials!
"As I'm always on the go, it's important for me to only have the essentials with me so that I don't carry too much. Those are the following:
Bench Baby Bambino Cologne - one of my go-to scents
Revlon Ultra HD Matte Lip Mousse - A long-lasting yet comfortable lippie that doesn't make my lips feel dry
Ever Bilena Matte Color Stick - I have very pale skin, so a multipurpose color stick is a must-have in my kit!
Pocket Mirror with Comb - This is handy because it has two uses.
Hand Sanitizer - It's important for me to always make sure my hands are clean.
Oil control film - I have oily skin, so oil blotting papers really help a lot in getting all the excess oil from my face!" 
— Audrey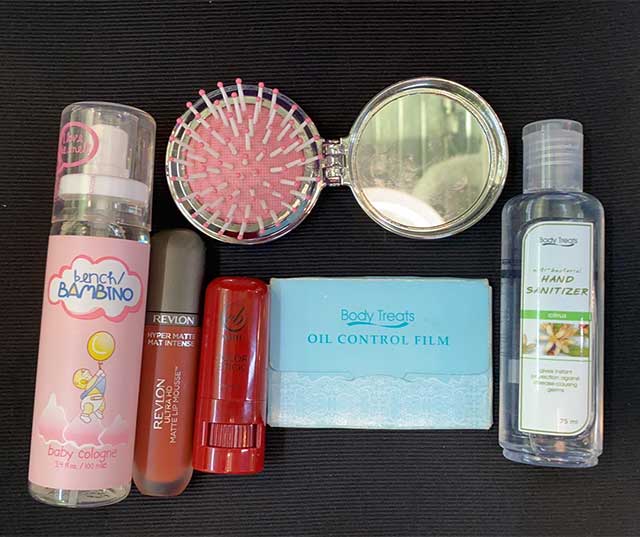 Easy-to-carry items are important.
"These items are the most affordable and easy-to-carry items in my makeup kit, so I bring it with me when I know I'm going to have a long day. They're very practical and work well with my skin type and complexion. I always make sure to always have a versatile lippie that I can use whether it's day or night. Currently, I'm loving the Maybelline SuperStay Matte Ink liquid lipstick in Ruler." — Jan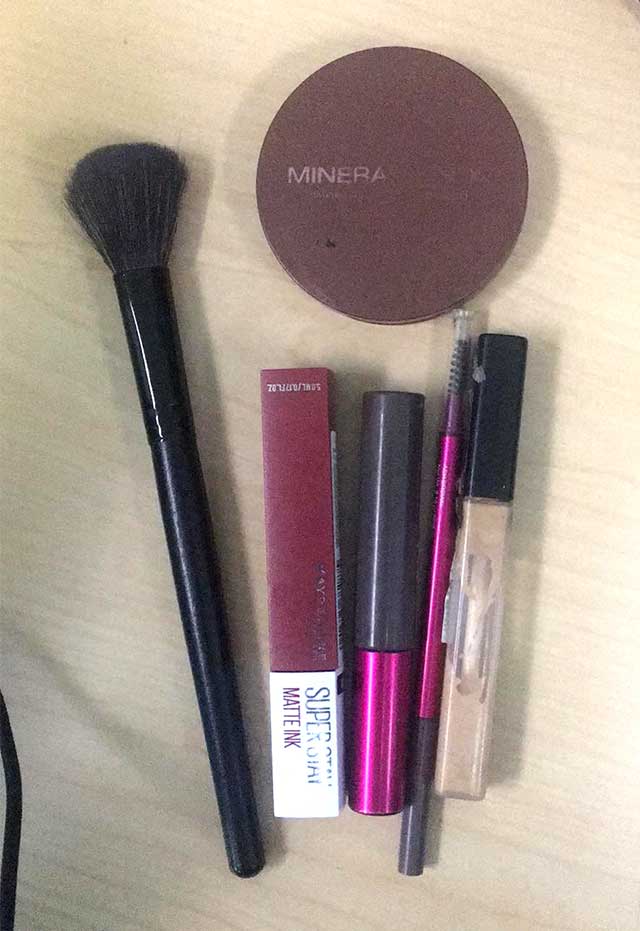 Follow Cheska on Instagram.