Let's face it, there are days when putting on makeup requires more effort than usual. In my honest opinion, it takes up a good amount of your time and every so often, there are just so many products involved. That's why some of the things I'm ever so grateful for are the beauty services that make our lives a tad bit easier. Case in point: lash extensions.
I've always wanted to try lash extensions. Aside from doing my brows and applying cheek tint and lipstick, a part of my everyday makeup routine includes curling my lashes and applying mascara. So when I heard about NÉW Lounge Iash extensions and the beauty of being mascara-free, I looked forward to the day I could try it myself. I think my eyelash curler and mascara could really use a break, LOL. I know friends who have tried lash extensions before and there were noticeable differences. Lash extensions leveled up their look, and I wondered if it would do the same for me.
Even though I've never had lash extensions in the past, I was 100 percent game to try the ones from NÉW Lounge especially after seeing celebrities like Heart Evangelista, Martine Cajucom, Chie Filomeno, and Jessy Mendiola try them.
ADVERTISMENT - CONTINUE READING BELOW ↓
What lash extension service did you get?
I got the Prominent Doll Eye C Curl 8 and 9. NÉW Lounge categorizes their anti-bacterial and sable lashes into three—Natural Volume, Signature Volume, and Summer Volume. Under each kind of volume, there's the option to choose between Natural Eyes and Prominent Eyes. There are also three types of curls—J Curl, C Curl, and Super Curl. According to my lash technician, C Curl is the most recommended for first-timers because it's very natural looking. While the Super Curl is their best-seller, the J Curl is the safest because it can last up to two months!
Where is NÉW Lounge located?

There are four NÉW Lounge branches in Metro Manila.
Quezon City – Courtyard Building, 2nd Floor, SGT. Esguerra Street,
Greenhills – 1503 Connecticut St, San Juan
Alabang – Unit 310 3/F Admirality Realty Corp. Bldg, 1101 Alabang-Zapote Road
Las Piñas – Emerald Green Building Unit E-1 Ground Floor C.V., CV Starr Ave, Philam Village
And just this month, NÉW Lounge launched their "Mobile Eyelash Services." This is for all you ladies out there who want to get your lashes done in the comfort of your own home, office, or even hotel room! As of now, they cater to customers in BGC, Makati, Rockwell, Paranaque, Alabang, and Muntinlupa. Service hours are from 9:00 a.m. to 6:00 p.m.
How much does it cost?
The Prominent Doll Eye C Curl 8 and 9 costs P3,500. Natural Volume Eyelash Extensions cost between P2,500 to P3,000 while Signature Volume Eyelash Extensions and Summer Volume Eyelash Extensions cost between P3,000 to P3,500.
Experience
As a first-timer, I didn't really know what to expect. A few days before my appointment, I just asked a couple of my friends who've gotten lash extensions before how their experience was like. I got similar answers mainly, "It's not painful", "It will take a while" and "You can't get your lashes wet after the procedure." Basically nothing too scary that would make me fear the process or even back out. (Yay!)
When I got to their Greenhills salon branch, I was given a warm welcome by their staff. The first thing I noticed was that it looked very clean and well-lit. Their equipment was stored properly and the reclining chairs where their customers would lie down on seemed very comfortable. Cliché as it may sound, it didn't feel like a salon at all! The place had a very chill and relaxed vibe.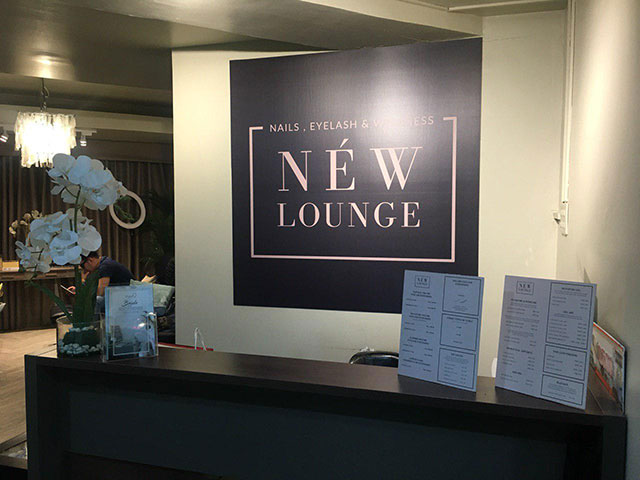 ADVERTISMENT - CONTINUE READING BELOW ↓
To start things off, I had a quick consultation with the lash technician. She first briefed me on all the kinds of lash extensions that NÉW Lounge has. Keeping in mind her suggestion on what would look best on me, I found it very accommodating that I was still asked what kind of lashes I wanted. I mentioned that since it's my first time getting lash extensions, it'd be great if I could just keep it low-key and very natural looking. We then decided that I'd be getting the Prominent Doll Eye C Curl, using a combination of 8mm and 9mm sable hair lashes.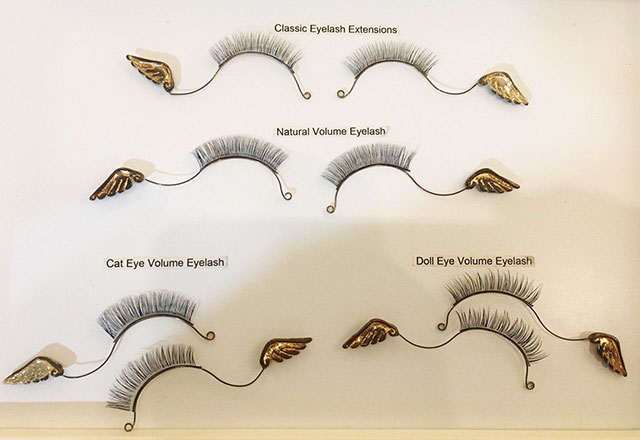 After filling out a couple forms to make sure I didn't have any allergies or other important health concerns, the lash technician guided me to my seat. I was told that the procedure would take about one to two hours and that my eyes would have to be closed for the entire time. It's recommended that customers go for a bathroom break before anything else. (Note: If you're wearing contact lens, you will be asked to remove them.)
The first step was to clean the eye area and make sure that no eyeliner, eyeshadow, mascara, or any other eye makeup would get left behind. Luckily, I went to the salon with a bare face. After that came the nitty gritty part—applying the actual lashes. According to the lash technician, she gets around one to three pieces of hair, dips it in eyelash glue, and attaches the hair to my lash line. This is done repeatedly and carefully until all 80, 100, or however many pieces of hair needed are attached. It's important that you don't try to sneak a peek during this part because opening your eyes could possibly allow the eyelash glue to enter your eye, making it painful once the drying process begins. The last step uses a cool air-dryer that's hovered all over the lash line to make sure the lashes are glued securely and that they stay where they're supposed to be.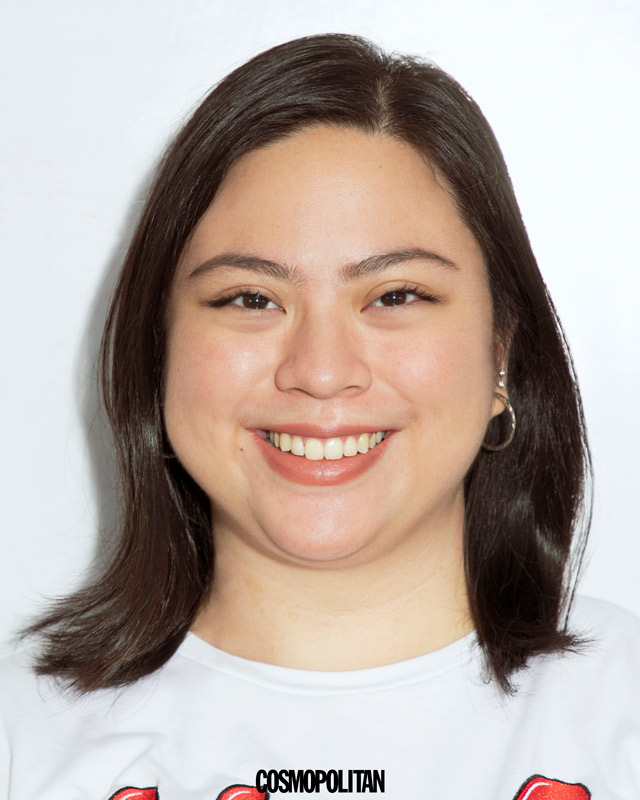 ADVERTISMENT - CONTINUE READING BELOW ↓
As soon as my lashes' glue dried, I opened my eyes and looked at the mirror. I was so glad with how it all turned out. I was told to avoid getting the lashes wet and to steer away from any oil-based products.
It's been almost a week since I got lash extensions and TBH, I've already seen some pieces of hair fall off. From what I learned at the salon, it really depends on the person's lifestyle, but NÉW Lounge lashes usually last for around two to three weeks, some even months. Here's to hoping that they'll last a lifetime instead, LOL.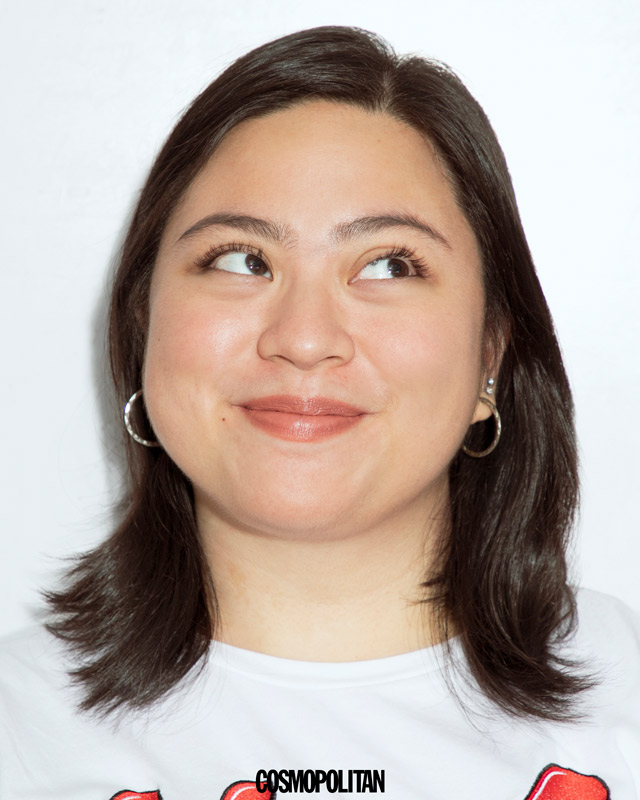 Are NÉW Lounge lash extensions worth it?

Yes! For someone who curls her lashes and uses mascara on a regular basis, I definitely noticed a difference in the volume when I tried NÉW Lounge lash extensions. Thanks to sable hair, my view isn't blocked by thick, "plasticky" lashes other salons use. What I loved most was that it looked like they were my own. The extensions are so light, it's as if I didn't get anything attached at all.
Though I think it's a bit pricey, I do feel like the quality of the lashes is what makes NÉW Lounge special. (It's really a matter of taking extra care of the lashes properly.) I also think this procedure is sulit when I'm attending special occassions like weddings and big birthday parties. Honestly, getting lash extensions has reduced my "Get Ready With Me" time by five minutes! This definitely won't be my first and last time at NÉW Lounge. I would love to go the extra mile (or millimeter? LOL kidding) and try the other curls and lengths! 
Follow Lou on Instagram.