We're always on the lookout for the Next Big Thing, and these days, that usually means spending a lot of time on Instagram and checking out what celebs and influencers are into. In terms of beauty, though, we spotted a huge trend that dominated this year: lash extensions. Everyone—from Heart Evangelista, Camille Co, and even Mimiyuuuh—seems to be super into sporting longer and more luscious lashes from New Lounge.
So instead of just admiring their lashes on Insta, we decided to try them out for ourselves. Cosmo's Associate Art Director Mixi Ignacio and I booked our appointments to get our ~*lashes done*~ at New Lounge Mother Ignacia branch last month, and recorded all our thoughts and feelings about them for four weeks. Keep reading for our full review!
New Lounge Mother Ignacia Branch
We booked our appointments at their Mother Ignacia branch (where a lot of celebrities apparently go because it's near the networks and the location gives them more privacy!). The place was clean, well-lit, and cold. There were comfy-looking reclining chairs (spoiler, they were hella comfy!). They give you pillows and a warm blanket to make sure you're cozy. Tip: Bring earphones and load your favorite playlists and podcasts so you won't get bored! Some services can take up to more than an hour and a half, so it's best to be prepared.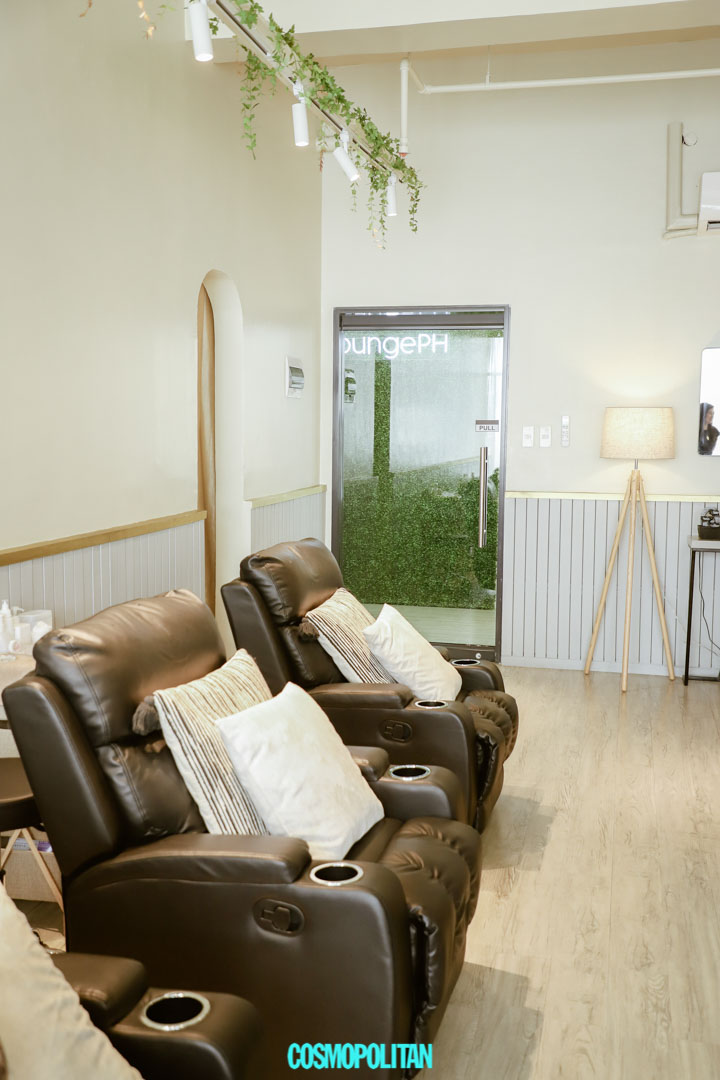 The lash extensions we tried at New Lounge
Note: We're both lash extensions virgins! We've never tried getting our lashes done before, so we listened to what the people at New Lounge recommended.
Retty: The owner of New Lounge, Rachel Bravo, recommended that I get a combo of Brace Lashes and Spike Lashes. Brace lashes is a technique wherein the natural lashes are lifted from the roots, so they blend beautifully with the lash extensions. The effect is semi-permanent, and it's recommended that you do three to six sessions to see the full effect. Spike lashes, on the other hand, is the lash style that gives you ~*volume and drama*~. The lash line looks full and dense, so it looks like you're wearing eyeliner even when you're not. The price for the Brace Lashes + Spike lashes combo is P6,500.
Continue reading below ↓
Recommended Videos
Mixi: I got the signature Natural Lashes volume in C Curl 9 and 10. I was told it was the perfect combo for the "doll eye effect." This is what a lot of first-timers get. The price for these lash extensions is P3,500.
Before getting lash extensions
Retty: I've always wanted to get lash extensions just to see how I'd look like with pretty, long lashes every day. I love falsies, because they instantly make you look good. So what more if you woke up with perfect lashes every day? My natural lashes are stick straight and they grow downwards—very Asian. I'm also super picky with mascaras because only a few work for me. I've been putting off trying lash extensions because I wear contacts. I once inquired in a salon and they told me that I can't get lash extensions if I wore contacts. I've also heard a lot of horror stories from friends whose natural lashes fell off after trying lash extensions. Natakot lang ako. Also, naisip ko rin baka they're high maintenance, because I heard you couldn't get them wet or wear eye makeup. (I love eyeshadow!)
But after seeing almost everyone on my Insta with New Lounge Lashes, I was convinced. When this opportunity presented itself, I took it right after I was told that wearing contacts was not a problem! On the day of our appointment, I didn't wear any makeup just to be safe. I also didn't wear contacts because I was told that the procedure would take a couple of hours with my eyes closed and if you're a contacts wearer, you know it's not a smart move to wear contacts at a time like that.
Mixi: I wanted to try lash extensions because I've been seeing it from celebrities and models that I follow on Instagram. There's also this stereotype on the internet called "ABGs" or Asian baby girls who are known for having lash extensions. Haha! I wanted to try if it will also look good on me, LOL.
Before the treatment, I was kind of worried that the lashes would be high maintenance and feel heavy on the eyes! I also saw some lash extensions on other people before that didn't really look good, so I was having thoughts like: "What if I don't like how I look after the treatment? Paano tatanggalin?"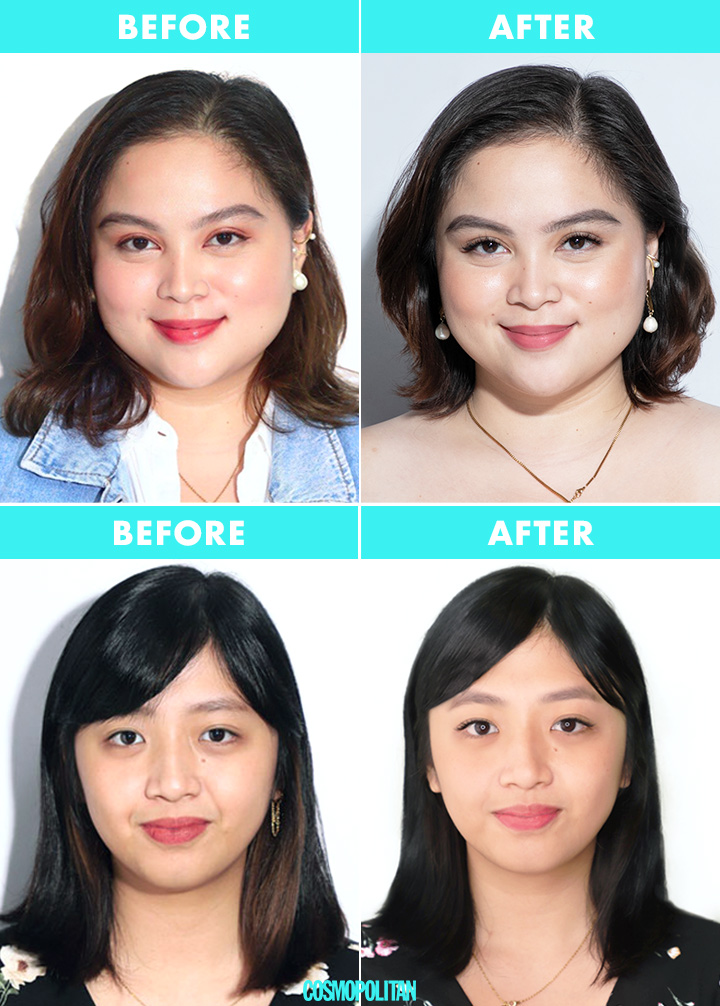 What it was like getting New Lounge lash extensions
Retty: First, my eye area was taped down. Then, my treatment started with an eyelash shampoo, one of the newest services of New Lounge. Even though I wasn't wearing any makeup and I haven't had lash extensions before, they did this procedure just to make sure that the area was squeaky clean. Once my lashes were dry and clean, I had the Brace Lashes procedure done, where my natural lashes were curled and lifted. I felt tiny rods curling my lashes up followed by some heat. It wasn't painful at all. Then, the Spike Lashes were applied. I did feel the individual lashes being applied, and I occasionally got startled when a new lash was placed, but it was nothing uncomfortable. Once everything was applied, a fan was used to make sure the glue was completely dry before I could open my eyes.
The only I thing I wasn't a huge fan of was how looooong it took to get everything done. I finished my whole Ariana Grande playlist. My procedure took about two and a half hours, and I couldn't do much because, duh, my eyes were closed. So, if you plan to get lash extensions, make sure you allot enough time. You can't rush it! Tiis ganda talaga.
Mixi: While I was getting my lashes done, I didn't feel any kind of pain or discomfort. I slept easily for a good two hours on the chair! Two hours felt kind of long, but it was comfortable and I felt relaxed. Also, the whole vibe of the salon was dreamy and soothing.
First impressions after getting New Lounge lash extensions
Retty: My procedure took forever, so I was so excited to finally open my eyes. I first looked at Mixi, who was seated to my left, and I immediately gasped when I saw her lashes—she looked so good. She also said "OHMYGOD" when she saw me and said that my lashes looked amazing. When I finally got a mirror to check the results, I freaked out and said "OHMYGOD" to Alice, the Japanese lash expert who did my lashes. Before the procedure, I jokingly asked her to make me look ~*kawaii*~ and she said she would. My eyes were so bright and wide. I didn't have any makeup on, but it looked like I actually tried my best to look good that morning. The transformative power of gorgeous lashes is AMAZING. I couldn't tell my natural lashes from the extensions! Everything was curled and lifted. It was also very lightweight, like I couldn't believe I had such thick lashes because I couldn't feel anything.
Mixi: After seeing my lashes for the first time, I thought I looked so romantic—I had such flirty eyes! I felt like the lash extensions elevated my look. And even though I was wearing minimal makeup at the time, parang okay na! When I opened my selfie camera, it looked like I was using an Instagram filter, but IRL. #ABG lifestyle achieved! LOL! The lashes also didn't feel heavy like regular false lashes. Wala rin akong na-feel na parang may glue or may something na mabigat sa mata. Parang normal lang, swear! Normal, but waaaay better!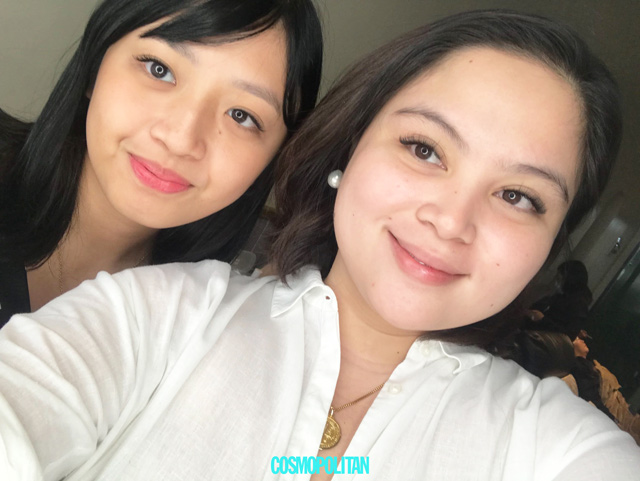 Weekly diary
New Lounge lashes can last for up to a month, so we took down notes every week to see how long they could last given our lifestyles.
Retty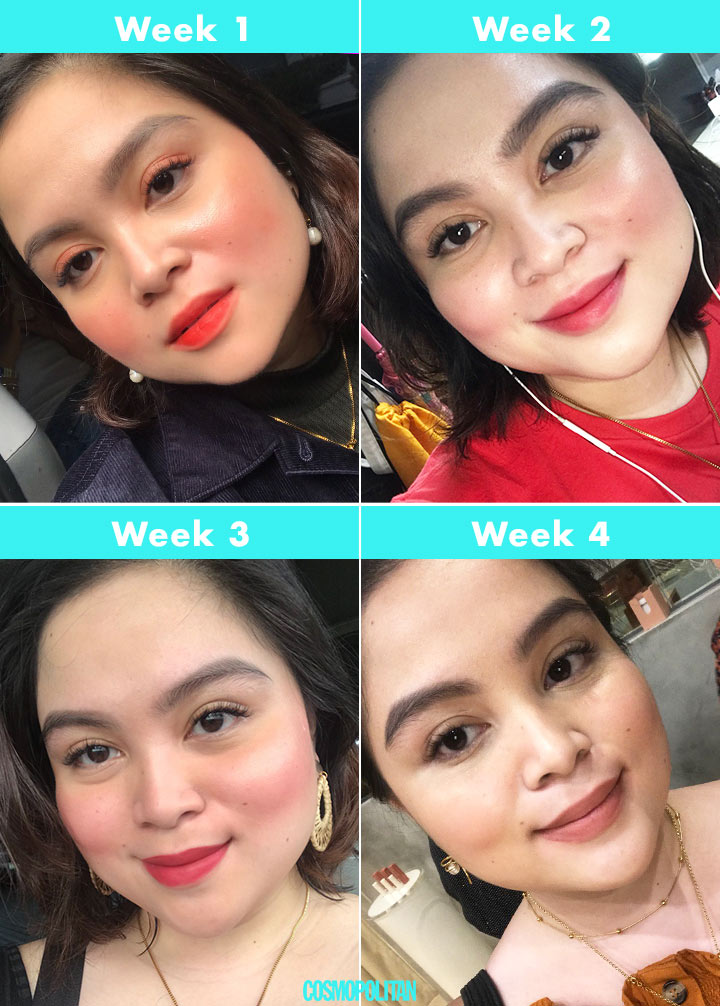 Week 1
I flew to Korea for a press event in Seoul. It was a bit of a struggle for me learning how to wipe my eyes while showering, haha! I religiously brushed my lashes out with a disposable spoolie: once in the morning and once at night. I was a bit scared traveling with my new lashes but honestly, it made my life so much easier! Getting ready was quicker. I just put on a single color of eyeshadow for eye makeup and I was good to go. Yes, you can wear eyeshadow with lash extensions! You just have to make sure that you use powder products. And when you remove your makeup, use micellar water. Steer clear from oil-based cleansers as these could melt the lash glue. P.S. Several Koreans stopped me in a store and stared at my lashes and told me they were nice, lol!
Week 2
I noticed some pieces fell out already, but my lashes still looked gewd. Again, I loved how getting ready got so much easier now that I had one less thing to worry about. I felt more confident with going barefaced because I felt like I still looked good because of my lashes.
Week 3
My lashes were thinning out, but still, it was nothing a little brushing out couldn't fix. I now carry a spoolie in my bag wherever I go, just to make sure that my lashes look good throughout the day. Although I must admit, at this point, I was missing my waterproof liners. You can't wear waterproof eye products because that meant that you'd need an oil-based remover.
Week 4
At this point, I think more than half of my lash extensions are gone. But the curl is still there, so I still look fresh and awake, even when I'm tired, lol. Sulit ang lashes.
Mixi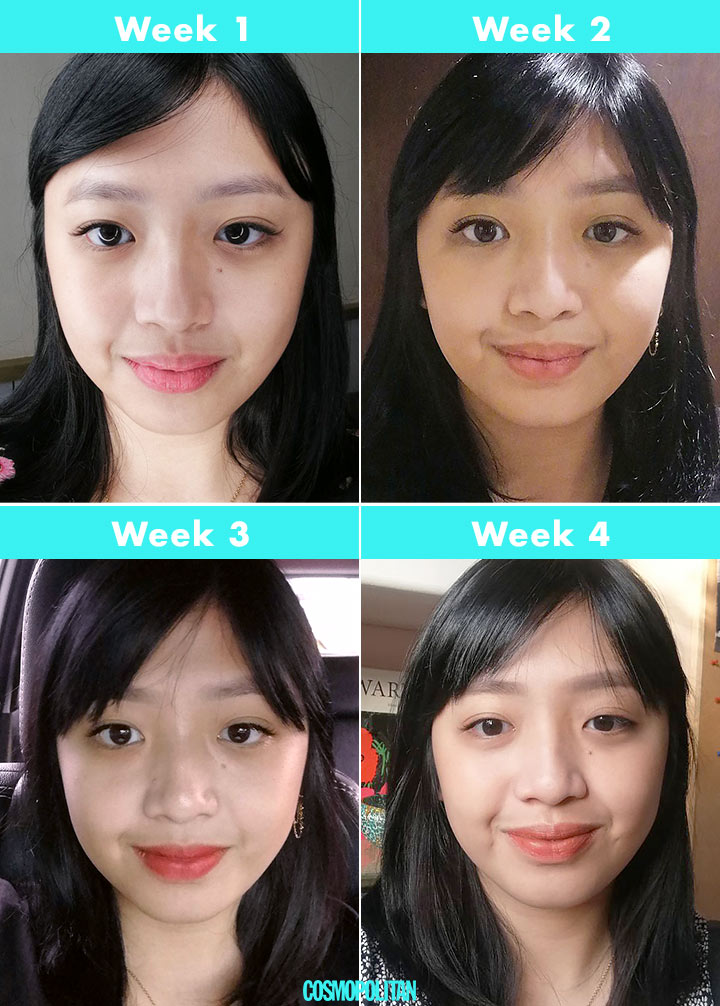 Week 1
This week was a struggle because I never had lash extensions before. I thought the new lashes were very fragile and would fall off easily.  I was scared to sleep because I was warned that if I moved around during sleep, my lashes might fall off easily. I was also being very careful during baths because I was scared that the pressure from the shower would cause my lashes to shed.
Week 2
I noticed 1-2 lashes fell off. I immediately checked in the mirror if it looked obvious that some parts of my lashes were gone. But it didn't! It still looked majestic AF. I've also been rubbing my eyes a lot—it's a habit. But so far, so good!
Week 3
More lashes fell off at this time. The inner lashes were the ones to fall off first. BUT no worries, everything still looks SO GOOD. I'm loving my lashes so much I don't ever want to go back to the no-lash-extensions life. JK. Or not. Everyone's been telling me: "Uy ganda pala ng lashes mo!" Friends, I've had these for two weeks already. It just goes to show that the lashes look even better over time.  I'm. So. In. Love. With. Them.
Week 4
Ito na, madami na ang nahulog na lashes. But, staying true to their promise, the lashes did stay on for a month. They weren't high maintenance, too! It only felt that way on the first week because I was still learning how to take care of them.
Are New Lounge Lash extensions worth the hype?
Yes! Having good lash extensions is life-changing. Prices start at P1,500, but they do last for around a month. What's great about New Lounge lashes is that they don't restrict you from doing a lot of activities. You can swim, workout, wear makeup, and wear contact lenses without worrying about losing your lashes. We also recommend getting lash extensions before you travel so you can save time when you get ready in the mornings.
Here's a price list of New Lounge lashes. You can also book your appointments through here.