While a basic yet consistent skincare routine—we're talking about topical serums and moisturizers—is vital in scoring a flawless, youthful complexion, there are other things you can try to boost up your skin's health. Facials, treatments, and beauty supplements can also help improve your skin's condition. These special add-ons help your products work better, if not faster.
The one we're most curious about? Beauty supplements. We don't really know much about them, but we know they're available almost everywhere. The most commonly available in the Philippines are collagen supplements. We often see collagen supplements as pills and drinks in the market. Are they really effective?
To school us more on this topic, we asked the expert, Vicki Belo, M.D. to explain to us everything we need to know about collagen supplements—from its benefits to its reliable sources. Check out how she answered our most pressing collagen FAQs below:
ADVERTISMENT - CONTINUE READING BELOW ↓
What is collagen? Why is it important to achieve younger-looking skin?
Dr. Belo: Collagen is the most abundant substance in our body next to water. It makes up 75 percent of our skin, and is responsible for keeping it young and firm. It also gives strength and support to our bones, hair, and fingernails. It's like the frame of a house that provides structure to different parts of our body. Without it, [our skin] becomes weak and it loses our form.
Do I really need to take collagen supplements? What can it do for my body?
Dr. Belo: As we age, our bodies produce less amounts of collagen. As babies, our collagen levels are at the optimum level of 100 percent. At age 20, we have 20 percent less collagen; at 40, 40 percent less; and at 50, our body's collagen supply is tapered off by half. Since collagen is responsible for keeping our skin firm, we need to supplement with collagen as we grow older.
ADVERTISMENT - CONTINUE READING BELOW ↓
Recommended Videos
Taking in collagen offers a lot of benefits! It can make your skin smooth, supple, and plump. Aside from that, it can also help also strengthen hair and nails. Unfortunately, collagen is not usually found in our regular diet. We can eat as much chicken or fruits as we want and still not get enough to restore the skin elasticity and smooth out lines.
Collagen must be delivered in molecules small enough to be used by the body for skin rejuvenation. Otherwise, we will just excrete them, as what happens when we eat even popular collagen-rich food.
The only way to increase collagen in our bodies is by supplementation. The best supplementation is marine collagen, which has been hydrolyzed (this form can easily be absorbed and utilized by the body) or pre-digested, like our Belo Collagen Melon Smoothie.
I already have collagen in my skincare routine. Can I still take collagen supplements?
Dr. Belo: Topical collagen does not have the same effects as the oral supplementation of collagen. Collagen is too large a molecule to penetrate the skin, which means topical collagen doesn't stimulate collagen production on a cellular level the way collagen supplementation will. 
ADVERTISMENT - CONTINUE READING BELOW ↓
So if you are serious about maintaining youthful skin, antiaging topical products—even if they contain collagen—are not enough. Collagen supplementation is key.
When can I start taking collagen supplements?
Dr. Belo: I feel like collagen supplements should be taken at the age of 20, because at that point, you've lost around 20 percent of your collagen, which is a big amount already. Collagen is very good for the hair and the nails because it helps your hair grow thicker and your nails get stronger, especially when you expose yourself to all sorts of hair and nail treatments.
If you're between 20 to 40 years old, I recommend that you take one sachet of Belo Collagen Melon Smoothie a day, but if you're 40 years old and above, you need to up your dosage to two [sachets a day] because you've lost a great amount of collagen [in your body] already.
ADVERTISMENT - CONTINUE READING BELOW ↓
When can I start seeing the results of collagen in my body?
 Dr. Belo: Usually, you can start seeing the results in your body in two weeks. If you take two sachets of our Belo Melon Collagen Smoothie every day, you can really see the results in that time frame.
If I'm seeing results in my skin already, should I still keep drinking collagen supplements?
Dr. Belo: Yes! The fact that you can see results when you take it means that you have a deficiency [in collagen], that's why [your skin] got better. If you stop taking it, your condition goes back to its state before you took collagen. This is why it's wrong for people to assume that if you stop taking collagen, you will get older. Collagen doesn't have anything to do with making you age faster; instead, it slows down the aging process.
ADVERTISMENT - CONTINUE READING BELOW ↓
Does taking collagen supplements produce side effects?
Dr. Belo: For collagen, none that I know of. There's no literature that says that there are side effects, especially with pure marine collagen. However, if you take cheaper forms of collagen, there might be side effects, due to the additives that these forms of collagen have.
Is it safe to take collagen while pregnant?
Dr. Belo: As far as pregnancies are concerned, we don't really recommend to take any extra [supplements or medications] when you're pregnant only because we are concerned about the safety of the mother and the baby.
Is it safe to take collagen while on medication?
Dr. Belo: It's okay to take it while you're on medication, because it's a food supplement. 
Are all collagen supplements the same?
Dr. Belo: No, not all collagen supplements are the same. First of all, the best source of collagen is marine collagen, and the best makers of collagen are the Japanese. In fact, our collagen powder is actually made from Japan! It is also important to note that you can't get collagen from food, and that it should be pre-digested. Collagen, on its own, is very hard to digest, and the body cannot utilize it if it's not digested. Our Belo Melon Collagen Smoothie is pre-digested, which makes it easy to absorb in our bodies.
ADVERTISMENT - CONTINUE READING BELOW ↓
Is the Belo Collagen Melon Smoothie safe for diabetics?
Dr. Belo: Yes, it's safe for diabetics, because the sugar is broken down very slowly. The sugar that makes up our collagen smoothie takes longer to break down, which wouldn't spike one's glycemic index immediately.  
***
We know you're probably convinced to include collagen supplements in your routine, and to further push your interest, check out this girl's detailed review here. She shared the beneficial effects of Belo Collagen Smoothie to her overall wellness.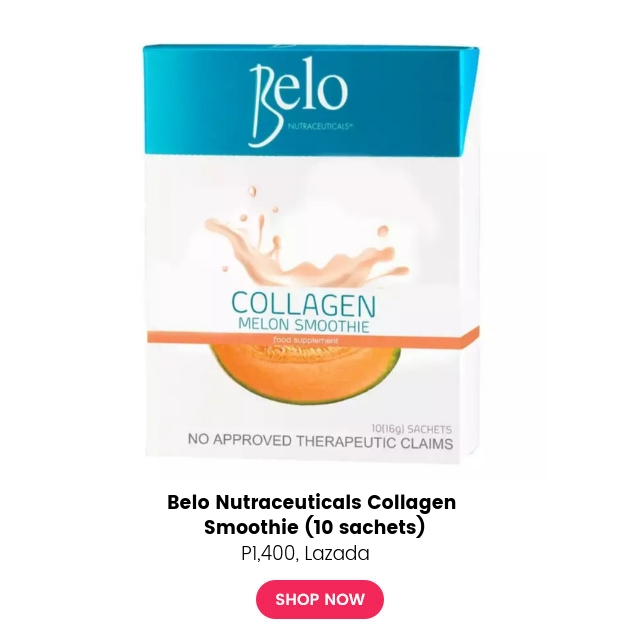 ADVERTISMENT - CONTINUE READING BELOW ↓
***
Don't miss the chance to attend the biggest beauty and wellness festival in the Philippines! Buy tickets to the Cosmopolitan BEAUTYCON on August 31 AND September 1, where you'll find the widest selection of makeup, skincare, hair, and wellness brands with exclusive freebies, offers, and discounts. There will also be sessions with beauty experts, creatives, and celebrity speakers. It's gonna be epic! Get your tix here.
EXPLORE COSMO