We all know that curated ear piercings are still huge this 2021—and will continue to be for a long time—but if you're looking for a unique piercing that makes a statement even on its own, we found the perfect one for you. Introducing: The industrial ear piercing. You may recognize it if you look at ear piercing charts online since it covers a lot of surface area, thanks to the lengthy barbell connecting the two holes.
It may look intimidating, but it's definitely one of the more unique ear piercings you can get. Interested? Ahead, we discuss everything you need to know about it, along with some pictures for inspo:
Everything You Need To Know About The Industrial Ear Piercing
What is an industrial ear piercing?
An industrial piercing is a general term used to describe two holes connected by one piece of jewelry. The traditional version usually consists of piercings made on the forward helix and outer helix and are connected using a barbell. Don't be limited to just that, though. There are a ton of variations you can experiment with—all you need are two separate points in your ear and barbell jewelry! ;)
ADVERTISMENT - CONTINUE READING BELOW ↓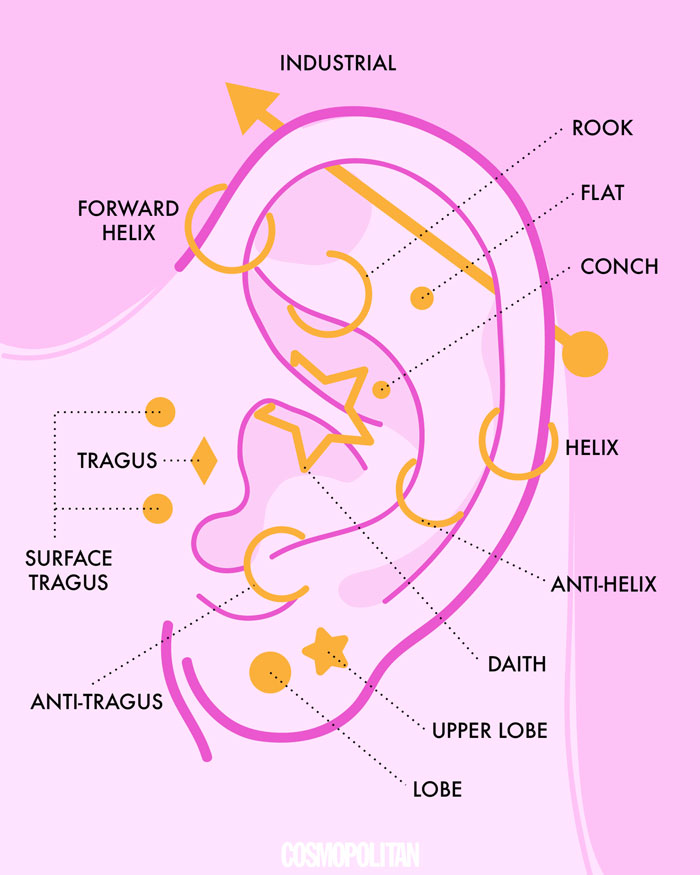 Also, a quick note: An industrial ear piercing is *always* done using a hollow needle and never with a gun. Since this type of ear piercing is very tricky to do, make sure to go to a professional and experienced piercer to avoid any complications and prolonged healing time.
ADVERTISMENT - CONTINUE READING BELOW ↓
Recommended Videos
How painful is an industrial ear piercing?
We say this for every kind of ear piercing, but the pain is completely subjective—what may hurt like hell for you may only feel like an ant bite to your friend. That said, an industrial piercing is made up of two holes in the cartilage and this area is tougher than your lobes. All you'll feel is some slight pressure and two quick pinches, and voila—you're now the proud owner of a super cool ear piercing!
Pro tip: A professional piercer works quickly to ensure you feel as little discomfort as possible, so the importance of going to an experienced body piercer is unparalleled.
ADVERTISMENT - CONTINUE READING BELOW ↓
How much does an industrial ear piercing cost?
The price of an industrial piercing varies on the tattoo studio you go to, but it usually starts at around P1,500. Your choice of jewelry can also bump up the cost. 
How long does it take for an industrial ear piercing to fully heal?
Again, every ear is different, but generally speaking, since an industrial piercing has two holes, expect it to fully heal within six to eight months. You can avoid complications and prolonged healing time by cleaning the holes twice a day using unscented soap or a saline solution and following your piercer's other aftercare tips. Here are some to take note of:
ADVERTISMENT - CONTINUE READING BELOW ↓
Don't sleep on the side of your piercing to avoid any discomfort.
Be careful when letting your hair down—it can get caught in the barbell and irritate the wounds. It's better to leave your tresses in a ponytail or bun.
We know it's tempting, but don't poke, touch, or twist the barbell as it can cause irritation and prolong the healing process.
Make sure to wash your hands before cleaning your piercing to ensure that you're not transferring bacteria onto them.
ADVERTISMENT - CONTINUE READING BELOW ↓
Follow Cheska on Instagram.
Follow Cosmo PH Beauty on Instagram.
***
Cosmo is now on Quento! Click here to download the app for iOS, Android, and desktop and enjoy more articles and videos from Cosmo and your favorite websites!
EXPLORE COSMO