Hi, hello, do you have oily skin? Yes? I have some good news for you: You can actually tame your hyperactive oil glands by using the *right* moisturizer. If you're overwhelmed with taking on the task of finding The One—there are just soooooo many moisturizers in the market today—you're in luck. Below is a brief guide on what you should be looking for when shopping for a new skin hydrator.
Lightweight formula > heavy formula.

Heavy balms and thick creams are not going to be your best friend. Go for lighter formulas like a gel, gel-cream, or cream-to-liquid as the featherweight and breathable consistency will ensure your skin is able to absorb everything and won't just sit on top of your complexion.

It shouldn't leave skin feeling greasy and slippery.

Moisturizers that have this effect mean they're not meant for your skin type because it shows they weren't properly absorbed. The real way to find out if the product works for you is when it leaves your skin feeling moisturized, refreshed, and matte (but not flat)—you know, like it's happy!

It should be able to balance out the skin's sebum production + hydration levels.

One of the reasons your skin is oily is because it lacks moisture, causing the oil glands to go into overdrive to make up for it. But with the right moisturizer, like the Olay Regenerist Whip Moisturizer, it will be able to restore balance for your skin and give it a shine-free and healthy appearance.

Continue reading below ↓

Recommended Videos

It should protect the skin from pollutants.

This is a must for all moisturizers for all skin types because everywhere you go there are germs and bacteria that can wreak havoc on the skin and cause increased sensitivity, redness, and pimples.

It shouldn't contain comedogenic ingredients.

Before purchasing a moisturizer, make sure it doesn't contain ingredients such as shea butter and lanolin. Rich ingredients like those two won't mesh well with your oily skin and can actually end up clogging your pores. No, thanks!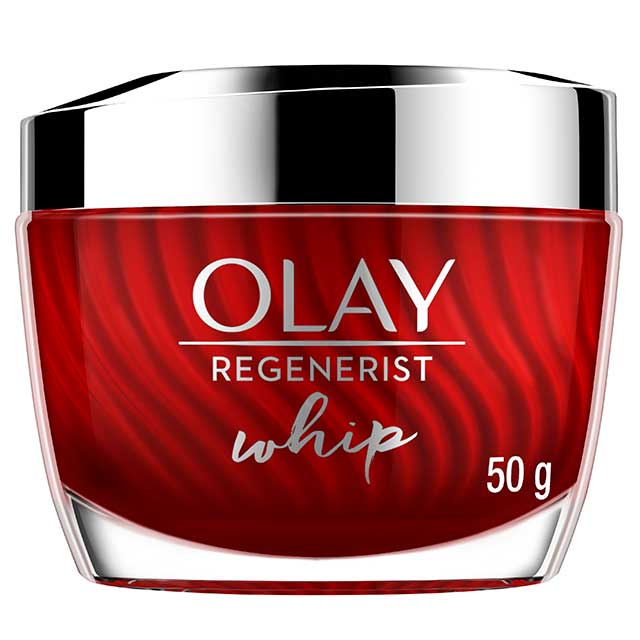 The Olay Regenerist Whip Moisturizer is available in Watsons and Lazada for P1,999/50g. Other variants include the Olay Total Effects Whip Moisturizer and the Olay White Radiance Whip Moisturizer.