For some people, the star of their skincare routine is their cleanser or essence or serum. But for us, it's the good ol' moisturizer. It may seem easy to not care much about your face moisturizer because it's usually the last step of a skincare routine, but it's one of the vital parts of skincare.
Face moisturizers seal in all the good things you've applied to your skin. They help protect your complexion from harsh environmental factors, assist in repairing it overnight, and make sure your skin's hydration levels are balanced. But if you were to use the wrong one for your skin type, it can ruin your complexion. Think excessive sebum production, a rough, dehydrated complexion, or worse—new acne breakouts.
To help you find the best one for your skin type, here's a little guide to all things moisturizer—from the difference in their formulas to what you should look for per skin type! Keep reading below.
How do you apply moisturizer?
Aside from your face, you should never neglect the neck and chest. Be generous and massage your moisturizer in these areas because they need the extra hydration to keep skin elasticity in tip-top shape.
Also, you just don't slap and rub moisturizer on your face. If you're aggressively pushing in the product on the skin, you may trigger irritation and inflammation. Plus, you're accelerating the process of sagging! Here, we've listed down application techniques you can try:
Upwards
This Heart Evangelista-approved technique calls for light hand massages upwards. Since everything, meaning, your skin, is going down (looking at you, gravity), the best way to "fight" it is by massaging your skin up. 
ADVERTISMENT - CONTINUE READING BELOW ↓
The Japanese Way
For the Japanese, they treat their skincare routine as a ritual for self-love. And it's been like this for over centuries. Taking care of oneself is a form of respect for one's body. That said, they are very careful and gentle when applying anything on their face. 
Instead of rubbing, which just moves the product all over the face, they resort to gentle patting. This method allows even distribution and proper absorption of the formula. This also wakes up the blood circulation, removes puffiness, and prevents premature sagging.
The Korean Way
Like the Japanese, Koreans know the best wrinkle- and sagging-fighting techniques to apply skincare products. As the name suggests, instead of massaging the face moisturizer to help your skin absorb it better, this one calls for light, continuous tapping (a rapid range of lighthanded slapping) motions. It's more time-consuming, TBH, but it is ~relaxing~.
Facial Roller
Feeling extra? Apply your face moisturizer using a jade or rose quartz roller. Besides being flatlay-worthy, these rollers provide a relaxing facial massage. Just remember to do it in upward motions, okay? You always have to fight gravity!
What are the different kinds of moisturizer?
Gel
Gel face moisturizers are famous for not having any pore-clogging oils in them. But don't disregard their lightweight texture; they can pack a punch, too. They have hyaluronic acid, vitamins, glycerin, and other humectants that properly nourish and hydrate your skin and keep it that way all day and night. Plus, they give your skin a refreshing and cooling feeling that makes them perfect to use on hot days or when you just want to "wake your skin up!" 
Cream
Chances are, when you hear of a cream-based face moisturizer you immediately think of a rich, thick, and gloopy texture. Well, it was like that before! Thanks to advances in technology, the rich formulas are all easily absorbed by the skin.
This texture is suitable for those with drier skin types. Cream moisturizers work by strenghthening the skin's barrier to prevent environmental aggressors from making your skin sensitive and dehydrated.
Lotion
With a lotion, you get the best of cream and gel moisturizers. Lightweight yet rich face moisturizing lotions are designed to be suitable for all skin types (Yes, even the driest ones.) but have a super lightweight consistency. They're non-pore clogging and can be used in cold or warm seasons!
What are the best face moisturizers in the Philippines for oily skin?
There are no exceptions. Oily skin still needs a moisturizer. Otherwise, the oil glands would be hyperactive and produce more sebum, which leads to breakouts! The right product will balance the oil and hydration levels, leaving a soft healthy glow everybody covets. When choosing a face moisturizer for oily skin, go for a lightweight, non-comedogenic formula with active ingredients that can keep pimples, blackheads, and whiteheads at bay.
1. Clinique Dramatically Different Moisturizing Gel
You'll love its gel texture that feels refreshing on the skin! Plus, you're assured its dermatologist-approved formula won't trigger any skin irritations.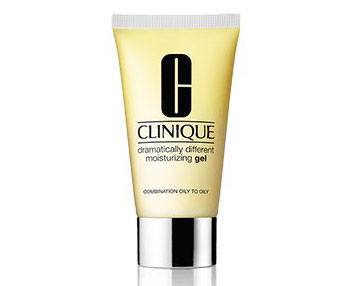 ADVERTISMENT - CONTINUE READING BELOW ↓
Price: P880
Where to get: SM Makati, SM Megamall, SM Aura, Rustan's The Beauty Source
2. Estée Lauder Nutritious Rosy Prism™ Radiant Gel Emulsion
The almost jelly formula leaves your skin soft and bouncy—never sticky! This has pomegranate extract that grants your complexion a radiant, youthful-looking appearance.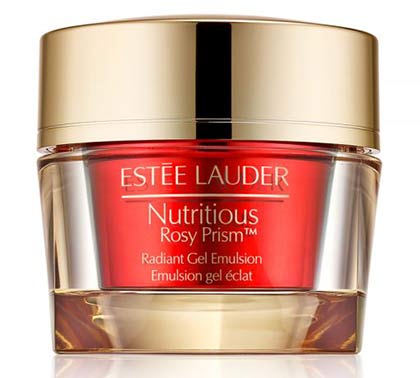 Price: P3,750
Where to get: Rustan's The Beauty Source, SM Aura, SM Megamall
3. Mario Badescu AHA & Ceramide Moisturizer
This face moisturizer is perfect if you're looking for one that has anti-aging and brightening benefits: AHA is known for micro-peeling the skin's surface. It can brighten past pimple marks and unclog the pores of dead skin and gunk. Ceramide, on the other hand, is famous for preventing fine lines and wrinkles from appearing on the face.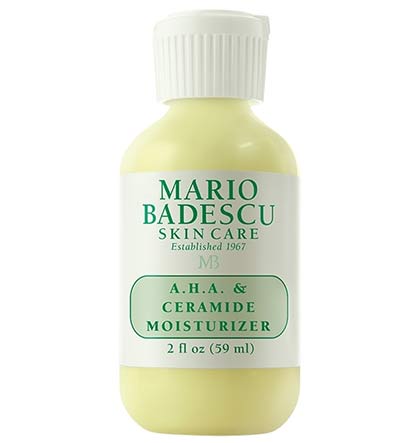 Price: P1,300
Where to get: Rustan's The Beauty Source
4. COSRX Ultimate Honey Moisturizing Mask
While this is meant to be a sleeping pack, its nourishing formula makes it the best product to protect the skin's barrier. It contains propolis extract to heal pimples, and beeswax to hydrate the complexion.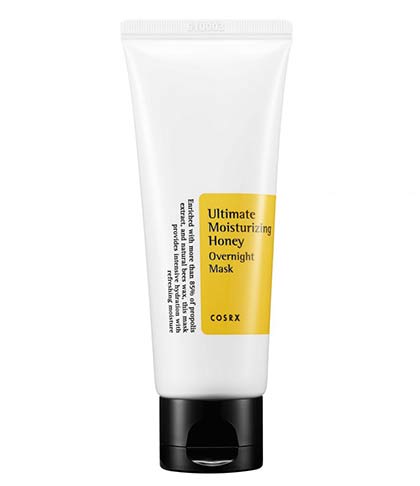 Price: P980
Where to get: Watsons
5. Celeteque Acne Solutions Acne Clearing Moisturizing Gel
The clear gel formula allows easy absorption, calms existing pimples, and feels refreshing on the skin. The salicylic acid clears the pores and Acnacidol™ BG (Celeteque's special active ingredient) stops acne-causing bacteria from spreading. 
ADVERTISMENT - CONTINUE READING BELOW ↓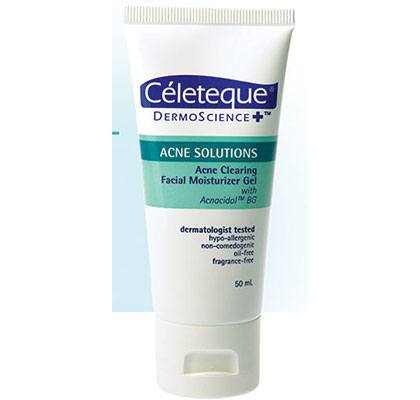 Price: P335
Where to get: SM Beauty, Robinsons Department Stores, Watsons, Landmark Department Store 
Best Face Moisturizer For Acne-Prone Skin
Acne-prone complexions need a moisturizer to balance out the skin's oil production and prevent future pimples from showing up. A face moisturizer for acne-prone skin should be light, yet intensely hydrating, with acne-fighting ingredients like salicylic acid and tea tree oil to nourish and soothe your skin and not leave it shiny! 
1. The Body Shop Tea Tree Blemish Fade Night Lotion
An anti-bacterial, soothing, and hydrating gel-lotion that helps to quickly clear up spots while you catch up on your Zzzs, thanks to its main ingredient: Community Trade Tea Tree Oil.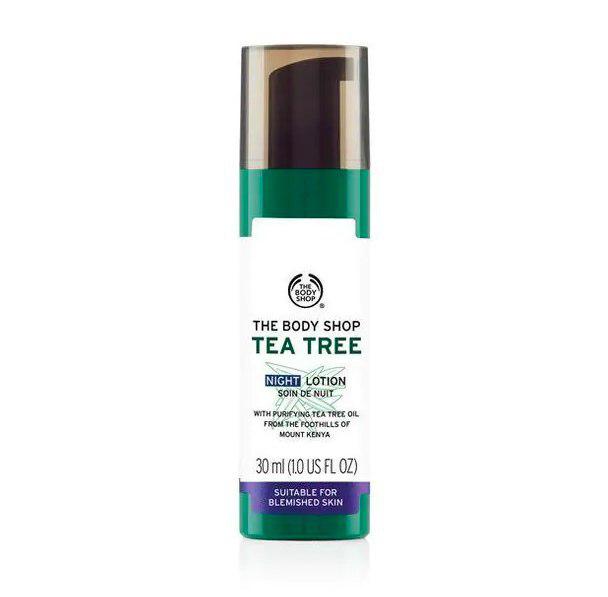 Price: P895
Size: 30 g
Where to buy: Robinsons Galleria, SM Megamall, Trinoma, Eastwood, Glorietta 3
2. Banila Co Hi Bye Soothing Barrier Cream
Got an acne-prone complexion and super sensitive skin? Try Banila Co's Soothing Barrier Cream. The cinnamon, green beans, and oregano-rich formula soothes, fixes, and moisturizes your complexion's skin barrier! By doing this, you can say goodbye to moisture loss, excessive sensitivity, and new zits!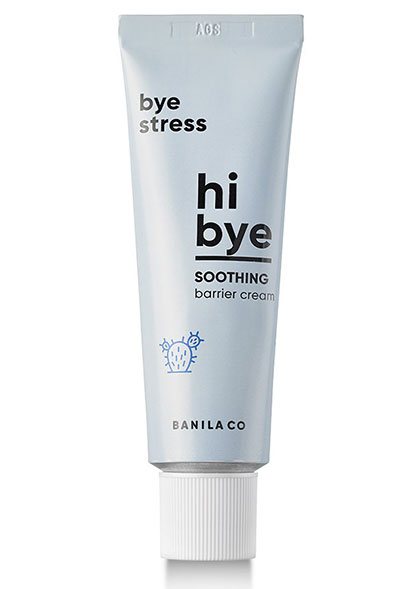 Price: P950
Size: 40 ml
Where to buy: Landmark Makati, Glorietta 4, Trinoma, SM Beauty
3. Herbs And Hyssop The Clear Facial Oil
Announcement: Using a facial oil on acne-prone skin doesn't instantly trigger breakouts. With the right ingredients, it can actually do wonders for your complexion! This one has jojoba oil, rosehip oil, and tea tree oil to soothe acne, fade scars and marks, and fight acne-causing bacteria. 
ADVERTISMENT - CONTINUE READING BELOW ↓
Price: P379
Size: 15 ml
Where to buy: Shopee
4. Bioderma Sebium AKN Fluid
This face moisturizer regulates the quality of your skin's oil production. Meaning, it helps prevent your natural oils from becoming sticky and thick, lessening the formation of new blemishes. It's also formulated with AHAs and salicylic acid to refine pores and keep pimples at bay.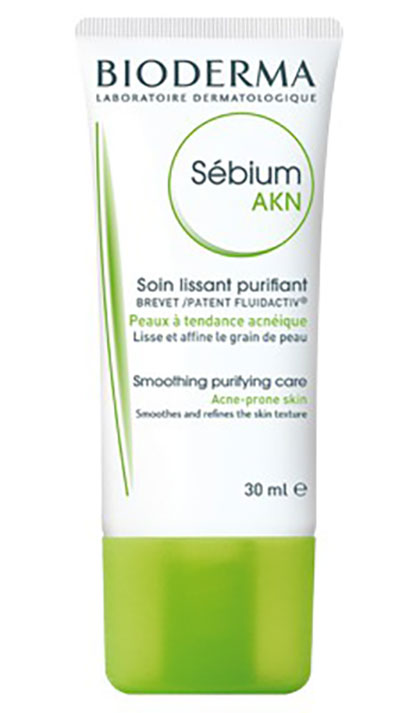 Price: P1,118
Size: 30 ml
Where to buy: Watsons, SM Beauty
5. Alpha-H Clear Skin Daily Moisturizer
With hyaluronic acid, tea tree oil, green tea, and 10 percent glycolic acid, this face moisturizer has the ~*dream*~ combination of combating acne while nourishing your skin. Aside from getting rid of blemishes, it also refines pore size, clarifies skin, and reduces scars and marks!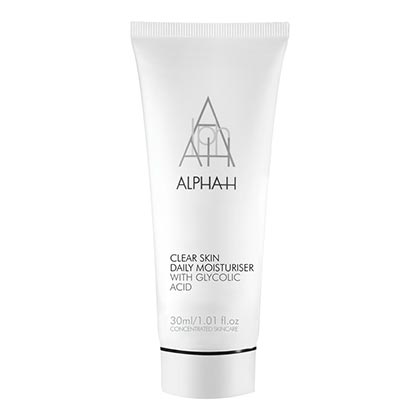 Price: P1,635
Size: 30 ml
Where to buy: Sephora.ph
Best Face Moisturizer For Dry Skin 
Out of all the skin types, dry skin needs this the most! A dehydrated complexion has a weaker barrier, which makes it challenging to keep the moisture trapped beneath the skin's surface. Face moisturizers for dry skin come in rich creams and gels that keep a parched complexion free from flaking and wrinkles.
1. Boscia Tsubaki Swirl Two Part Gel & Cream Deep Hydration Moisturizer
This pretty face moisturizer (who can resist the pink swirls, right?) has Camellia oil, which is rich in  omega fatty acids. This ingredient increases water retention and protects the skin's barrier, making the surface supple to the touch. Rice bran extract plugs in nutrients in the skin, fades dark spots, and treats acne.
ADVERTISMENT - CONTINUE READING BELOW ↓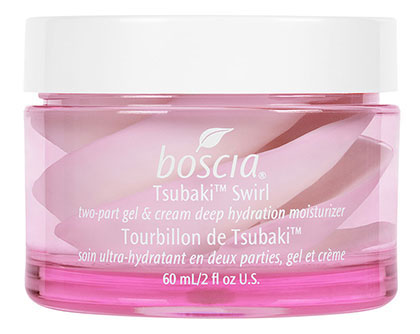 Price: P2,045
Size: 60ml
Where to buy: Sephora.ph
2. Physiogel Daily Moisture Therapy Cream
This product is fragrance-free and hypoallergenic, which makes it suitable for dry and sensitive skin. It contains a powerful trio of emollients: Squalane, shea butter, and lipids. All these three work to keep the moisture in.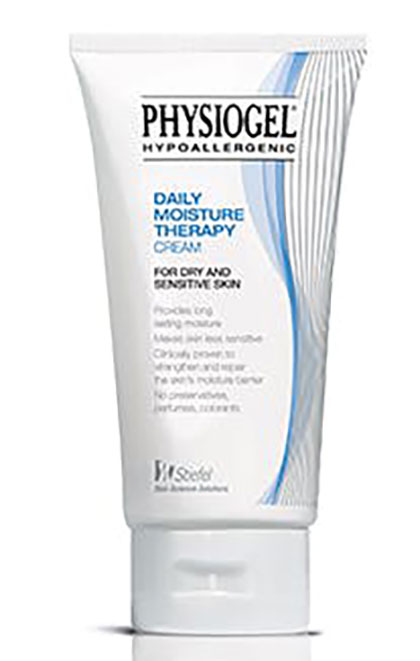 Price: P769
Size: 75ml
Where to buy: Mercury Drug and Watsons
3. Kiehl's Ultra Facial Cream
A customer favorite, this face cream is famous for being the best product that can fight harsh elements such as snow and strong winds. Read: You're in good hands with this product because you'll never experience flaking or tightness! It has Antarcticine, a cryoprotective extract that prevents skin from getting dehydrated. Ingredients like squalane and desert plant extract keeps the complexion plump and nourished.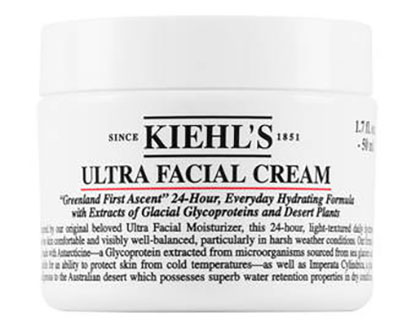 Price: P1,575
Size: 50ml
Where to buy: Kiehl's store branches nationwide
4. Clinique Moisture Surge Intense Skin Fortifying Hydrator
The cream-to-gel face moisturizer provides 24-hour hydration on your complexion! Although it's hydrating AF, it won't ever leave your face feeling sticky or greasy. Plus, it strengthens the skin's barrier, which protects your complexion from environmental irritants.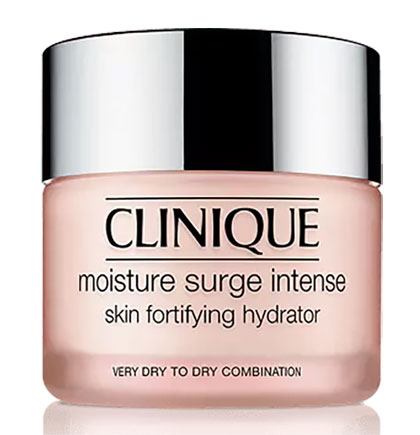 ADVERTISMENT - CONTINUE READING BELOW ↓
Price: P2,650
Size: 50ml
Where to buy: Rustan's The Beauty Source, SM Megamall, SM Makati
5. Clarins Hydra-Essentiel Silky Cream
The unpredictable weather and pollution can wreak havoc on the skin, so using a face moisturizer that's ready to protect your complexion from anything is a must. This one from Clarins was created to improve your complexion's resilience from environmental stressors. It envelopes your face, neck, and decolletage with rich moisture all day.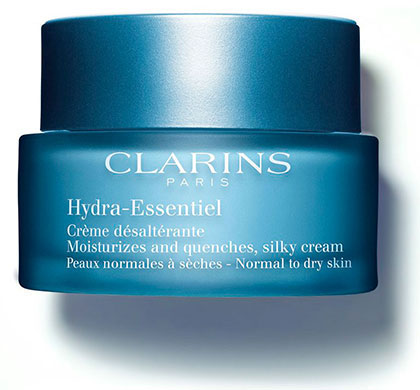 Price: P3,350
Size: 50ml
Where to buy: Rustan's The Beauty Source
Best Face Moisturizer For Sensitive Skin
Sensitive skin types are harder to treat because they're prone to complexion problems like acne, redness, oiliness, dryness, eczema, and rosacea. But the key to finding a face moisturizer for sensitive skin is learning what ingredients and scents you're allergic to, and make sure the moisturizer you're buying is free of them. Or, you can always look for simple moisturizers that are fragrance-free and don't have any added chemicals!
1. Avene Skin Recovery Cream
Usually, skin problems are caused by intolerance to certain ingredients such as fragrances and dyes. If you're ready to splurge for a new sensitive skin-friendly face cream, try this one. It's made with minimal ingredients so even the most sensitive complexions can use it.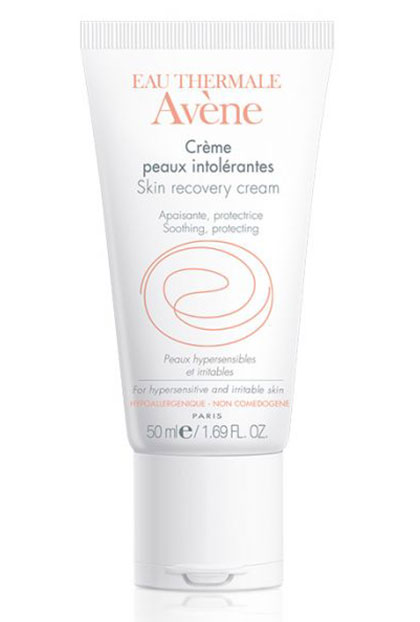 Price: P1,275
Size: 50 ml

Where to buy: SM Beauty, Watsons, Dermatological clinics
2. Burt's Bees Sensitive Daily Moisturizing Cream
The key ingredients of this face moisturizer are Rice Extract, Aloe Vera, and Cotton Extract. All these help the skin replenish its outer layer and protect it from the harsh effects of irritants.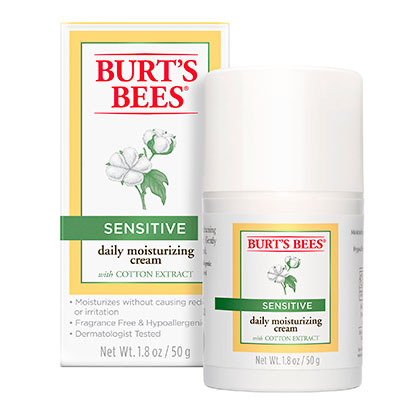 Price: P1,595

Size: 50 g

Where to buy: Zalora, Beauty Bar, Estancia at Capitol Commons
ADVERTISMENT - CONTINUE READING BELOW ↓
3. VMV Hypoallergenics Red Better Daily Calming Moisturizer
This face moisturizer was made for those of you who suffer from rosacea and eczema. It specifically targets common sensitive skin problems like redness, irritation, and flaking and provides instant relief. Plus it won't break your skin out because it contains pore-friendly ingredients!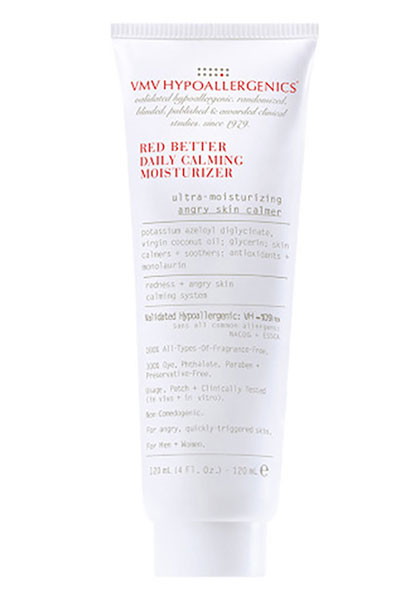 Price: P1,050

Size: 120 ml

Where to buy: Trinoma, SM Megamall
4. Physiogel Calming Relief A.I. Cream For Dry, Irritated, And Sensitive Skin
This Physiogel cream is fragrance-free, hypoallergenic, non-comedogenic, and preservative-free. It's also clinically proven to repair and strengthen your skin's moisture barrier, and relieve skin from dryness, redness, and irritation!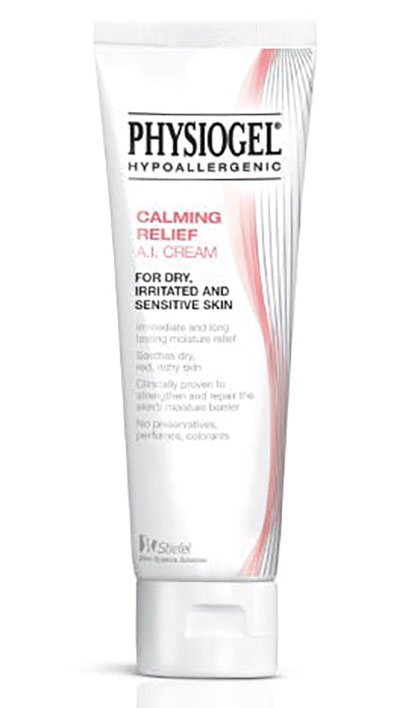 Price: P789 

Size: 50 ml

Where to buy: Landmark Department Store, Watsons, SM Beauty
5. Simple Hydrating Light Moisturizer
A face moisturizer that's affordable and perfect for our weather? What a steal! Simple's fragrance-free Hydrating Light Moisturizer nourishes your skin to help repair its moisture barrier, leaving it soft, bouncy, and hydrated for hours.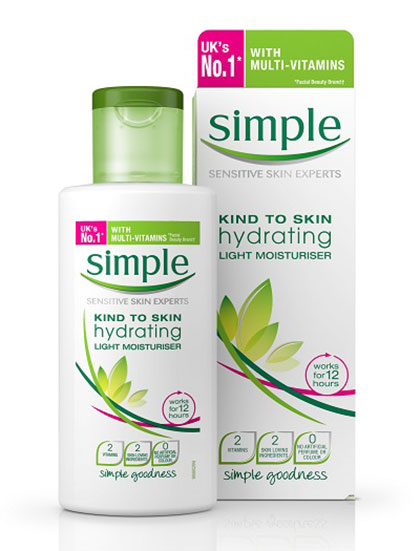 Price: P499

Size: 125 ml

Where to buy: Robinsons Department Store, Watsons
Best Face Moisturizer For Combination Skin
As a complexion that gets the worst of both worlds (dryness and oiliness), you shouldn't give up on trying to find the perfect face moisturizer for combination skin. The secret is finding the right balance between moisture and weight. Try oil-free moisturizers to nourish dry patches and keep pores clear!
ADVERTISMENT - CONTINUE READING BELOW ↓
1. Neutrogena Hydro Boost Water Gel
This one from Neutrogena has Hyaluronic Acid, so it will hold moisture longer, and its gel consistency will help your skin absorb the formula faster. Lastly, it's oil-free so it can also work as priming moisturizer before you put on makeup!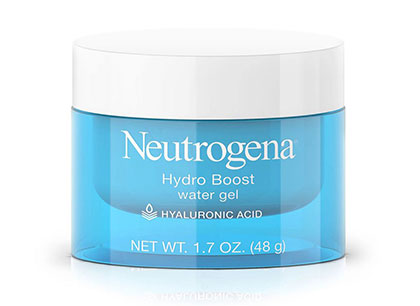 Price: P872
Size: 50 g
Where to buy: Watsons, SM Beauty
2. Clinique Dramatically Different™ Hydrating Jelly
This ~*jelly*~ moisturizer from Clinique gives you the kind of radiance that's only possible when one has achieved a well-hydrated complexion. Oil-free and packed with skin-strengthening ingredients, it aptly nourishes both dry and oily areas! Not to mention, it also comes in a pump packaging, which means less bacteria contamination and more product control!
Price: P1,900
Size: 50 ml
Where to buy: SM Aura, SM Megamall, SM North EDSA, Rustan's The Beauty Source
3. Kiehl's Ultra Facial Oil-Free Gel Cream For Normal To Oily Skin Types
This non-greasy gel-cream by Kiehl's is formulated with Imperata Cylindrica Root Extract and Antarcticine to help your complexion retain its moisture. The result? 24-hour hydration and shine control!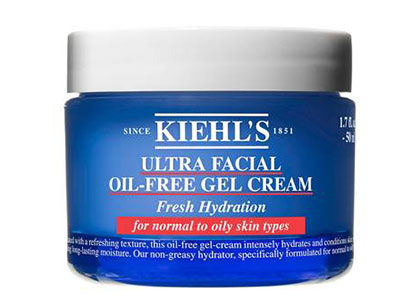 Price: P2,780
Size: 50 ml
Where to buy: Shangri-La Plaza, Greenbelt 5
4. Glow Recipe Watermelon Glow Pink Juice Moisturizer
This famous K-beauty fave has 90 percent watermelon extract, giving you that naturally radiant pinkish glow that no blush can recreate. It's silky, weightless, and oil-free, making it a great moisturizer for combination and oily skin.
ADVERTISMENT - CONTINUE READING BELOW ↓
Price: P2,800
Size: 60 ml
Where to buy:  The Makeup Store MNL
5. iWhite Korea Whitening Aqua Moisturizer Vita
This water-based moisturizer delivers deep hydration sans the greasy and slick feeling, and it leaves your skin cool and refreshed. It also has ingredients that can prevent premature aging and cellular damage as well as maintain skin firmness. 
SHOP NOW
Price: P189
Size: 50 ml
Where to buy: Lazada, Watsons, all leading supermarkets nationwide
***
Follow Ira on Instagram.
Follow Tisha on Instagram.