If you already have some lobe piercings and you're ready to explore more ~advanced~ placements, the rook piercing is worth checking out! Below, we discuss everything you need to know about this unique piercing, from its pain level to its healing time—including some ear-piercing combinations you'll want to take screenshots of! Read on to know more: 
What is a rook piercing? 
A rook piercing goes through the uppermost inner ridge of the ear. It's located right above the daith piercing.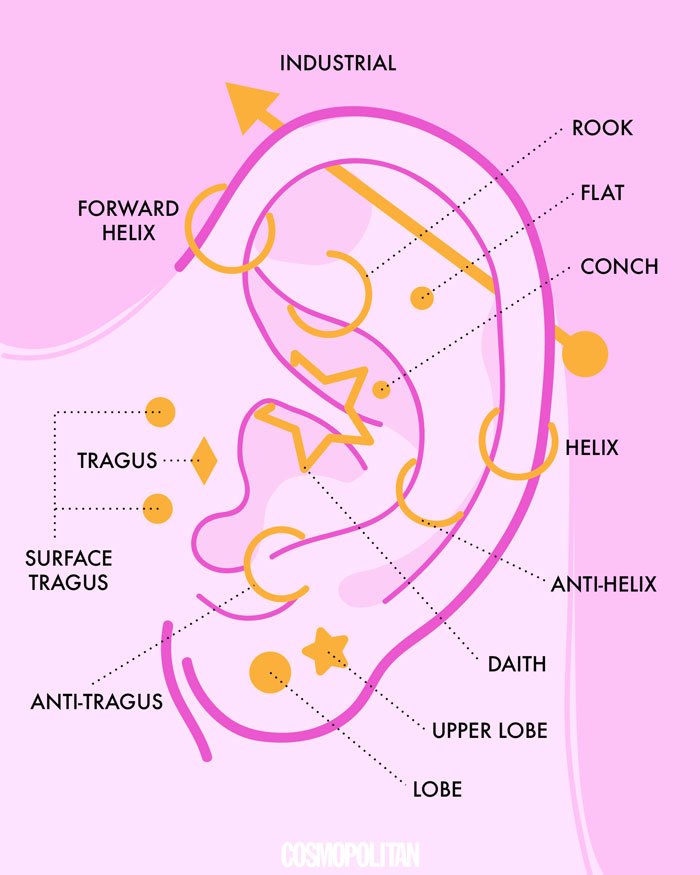 Before getting pierced, your piercer will take a look at the structure of your ear to see if getting a rook piercing is possible. As you know, every person's ear anatomy is different. Your cartilage must have enough depth and width. Otherwise, "there's a possibility of rejection," Cyndi Morales, the main piercer of Piercing Corner, told Cosmopolitan Philippines. This is when your body protects itself by slowly pushing a foreign object like piercing jewelry out of the skin. 
Continue reading below ↓
Recommended Videos
How painful is a rook piercing? 
Pain varies for every person—what may hurt to others may not even feel like much to you. Cyndi explained that it will really depend on your "pain tolerance" and how thick your cartilage is. During the puncture, you may feel a "sharp pain" that will last for a few seconds. 
How long does it take for a rook piercing to heal? 
Generally, it takes six to 12 months for a rook piercing to fully heal, depending on how you take care of it. 
How do I take care of my rook piercing? 
To keep your ear piercing from closing or getting infected, make sure to follow the aftercare guide given to you by your piercer. Here are some of the *best* tips we learned from Cyndi: 
Avoid touching (or twisting) your piercing. This can delay the healing process because when you move your piercing, you're making the dry wound raw again. 
Avoid putting pressure on your piercing. According to Cyndi, you can use ear savers when wearing face masks.  

Avoid swimming. As much as possible, stay out of the pool or the sea while your piercing is still fresh. "Too much salt can irritate your piercing," she explained. If you can't avoid this, you can clean your ear piercing with a mild cleanser after swimming. Just dab the soap on the skin and wash it all off with running water. Scrubbing is a no-no. 
Don't take your earrings out prematurely. This may cause the piercings to close. (READ MORE: How To Make Sure Your Ear Piercings Don't Close Or Get Infected)
Interested in getting a rook piercing? Check out these pictures for inspiration: 
Rook + conch + helix + triple lobe piercing

Opal earrings add a *charming* touch to this all-gold ear party. 

Rook + triple lobe piercing

This combo is perfect for you if you don't want your ears to look too ~crowded~.

Rook + tragus

A rook piercing looks striking on its own, but it'll look even cooler when paired with another unconventional piercing like the tragus. 

Rook + flat + helix

Situate all your piercings on the upper part of your ear for a clean lewk. 

Rook + conch + flat 

This star-themed ear party is too cute. 

Rook + flat 

For something simple yet eye-catching, try this cool pairing! 

Rook + tragus + double lobe piercing 

We're obsessed with the hidden rook piercing. 

Rook + auricle + double lobe piercing

Upgrade your double lobe piercing with these two unique placements.

Rook + tragus + high-lobe piercing + lobe piercing

We can't take our eyes off the heart-shaped hoop earring! 

Rook + conch + tragus + double lobe piercing 

A diamond ear party is always classy.

Rook + flat + double helix + double lobe piercing 

Make your rook the focal point of your curated ear by pairing it with tiny pieces of jewelry. 

Rook

A lone diamond on the rook is definitely hard to miss. 

Rook + high-lobe piercing + tragus

We love how this trio forms a triangle shape! 

Rook + double helix + tragus + lobe piercing 

If you have a minimalist style, you can't go wrong with adorning your ear with tiny diamond studs. 
Piercing Corner is located at 50 Ninoy Aquino Avenue, Sto Niño, Paranaque City. For more information, visit their Instagram and Facebook pages.