As a twenty-something millennial who is usually on the go, I make it a point to always do my nighttime skincare routine, especially after a long and tiring day. It can get tedious, but a girl's gotta do what a girl's gotta do. Luckily, my regimen isn't too complicated. I try to keep it quick and simple with just six easy steps: Micellar water, facial scrub, toner, serum, moisturizer, and lip balm.
Sleeping masks have never really been part of the picture. I've never tried one myself but after reading some articles and asking around from a couple of friends, I learned that they do work wonders while you snooze. It's the product that will save you for when you're sleep-deprived, or for when you just need that extra hydration and radiance.
When I found out that the SNAILWHITE Icy Mask would help me wake up with a natural glow overnight, I knew I had to try it! Plus, this was the time that I was about to go on a cruise to the Bahamas, so I wanted a skincare product that would help keep my face cool down during my days of traveling in the hot, tropical islands.
Continue reading below ↓
Recommended Videos
What is the SNAILWHITE Icy Mask?

It's a sleeping face mask with a snow-like texture that repairs your tired and dull skin to give you an instant glow overnight. The sleep-friendly formula contains Snail Potion and French Silene Colorata flower—powerful ingredients that will refresh your skin and tighten your pores, giving your face a natural, radiant appearance.
One thing to remember about using the Icy Mask is that you're supposed to leave it on while you sleep, and wash it off when you wake up the following morning. You don't need a lot of product to cover your whole face. Trust me. At first I thought one 7ml packet wouldn't last me a week, but surprisingly it did.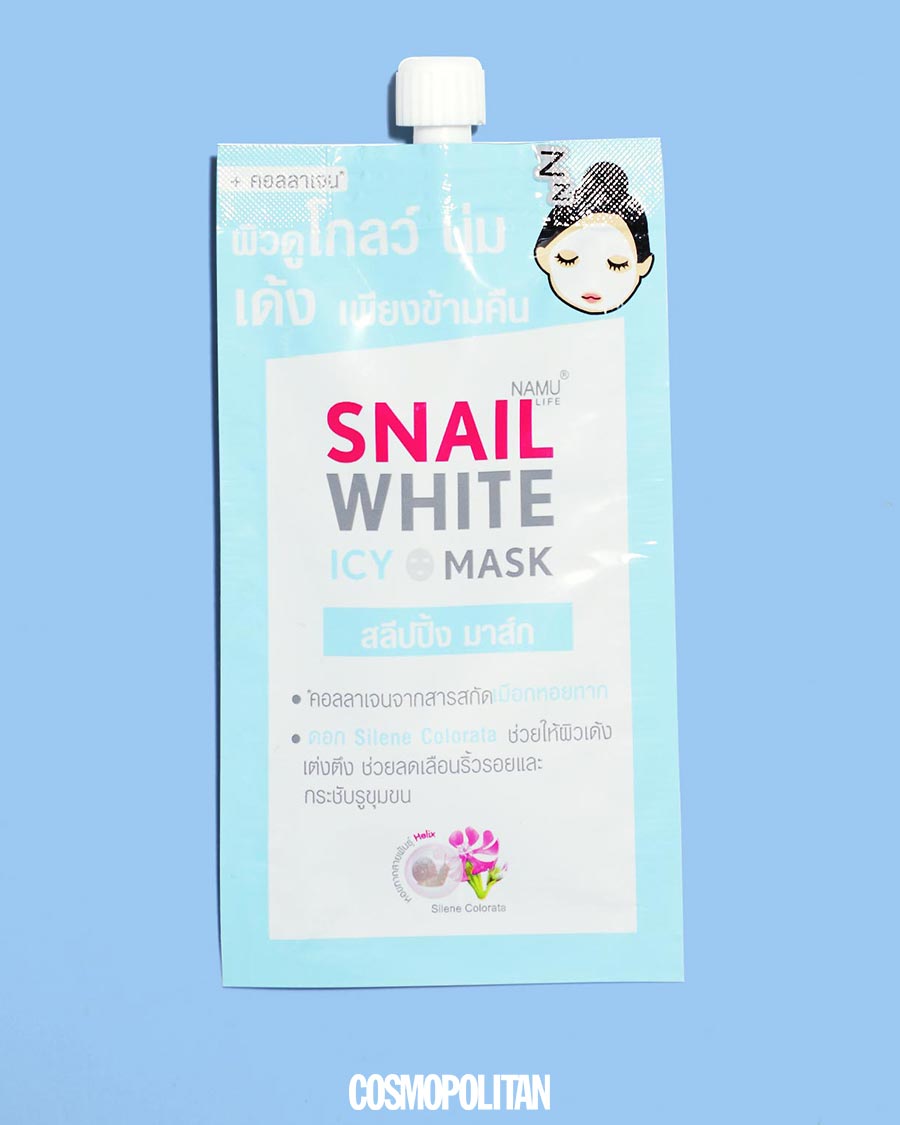 Claim to fame

What made me interested the most about this product was its promise of instant glow. I also wanted to wake up to having the brand's endorser, Erich Gonzales' radiant complexion. She is a glowing goddess and it would be lovely if I could achieve the same for my skin. I mean, let's be real, it'd be nice to start my day by looking at the mirror and confidently say "I woke up like this."
Ingredients

Water, Propanediol, Pentylene Glycol, C15-19 Alkane, Cyclopentasiloxane, Stearic Acid, Glycerin, Glyceryl Stearate, Peg-100 Stearate, Caprylic/Capric Triglyceride, Dimethicone, Hydrogenated Olive Oil Myristyl Esters, Niacinamide, Snail Secretion Filtrate, Titanium Dioxide, Sodium Polyacrylate Starch, Saccharide Isomerate, Disodium Edta, Aluminum Hydroxide, Sodium Hyaluronate, Hydrogen Dimethicone, Hydroxypropyl Methylcellulose, Butylene Glycol, Phenoxyethanol, Fragrance, Pullulan, Alpha-Arbutin, Citric Acid, Saponins, Sodium Citrate, Hydrogenated Lecithin, Centella Asiatica Extract, Cholesterol, Deoxyphytantriyl Palmitamide Mea, Mineral Salts, Porphyridium Cruentum Extract, Ceramide 3, Menthyl Lactate, Caprylyl Glycol, Xanthan Gum, Glyceryl Caprylate, Lactic Acid/Glycolic Acid Copolymer, Phenylpropanol, Palmitoyl Sh-Octapeptide-24 Amide, Polyvinyl Alcohol, Palmitoyl Sh-Tripeptide-5 Norisoleucyl Sh-Nonapeptide-1
Scent

For some reason, I usually prefer skincare products that have little to no scent at all. I'm glad that the scent of the SNAILWHITE Icy Mask didn't come off as too strong. It smelled sweet, clean, and light.
Texture

The consistency of this sleeping mask is great! I've only encountered snow a few times in my life, but I agree with the claim that the icy mask is snow-like in texture. It's not too thick which makes it very easy to spread all over your face. It's smooth and relaxing once applied. One thing you should note though, is that the product does dry up on your face pretty quickly. 
Price

The SNAILWHITE Icy Mask costs P70 for one 7ml sachet and P395 for six 7ml sachets.
Where to buy

You can buy SNAILWHITE Icy Mask at SM Department Store, Watsons, Shopee, Zalora, and Lazada.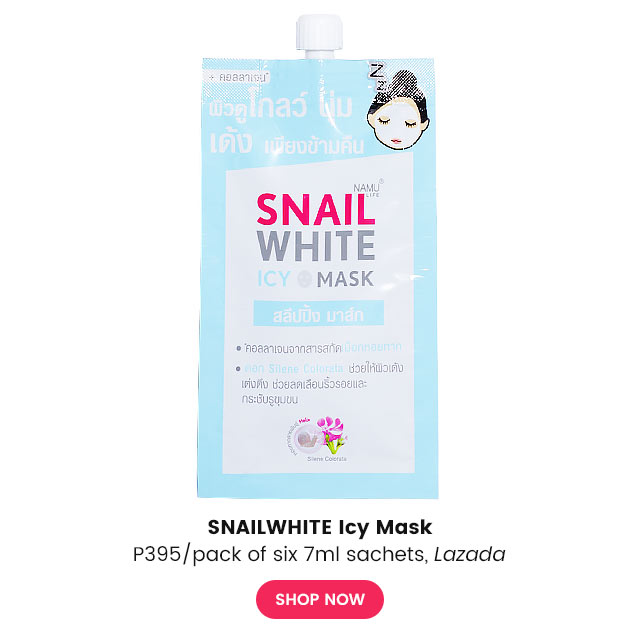 My skin type

I have combination skin. My T-zone can get oily, and my cheeks can get dry. My skin is also slightly sensitive. I turn red so easily! If I stay in a warm place for too long or if some skincare products have strong ingredients, I end up looking all red like the angry emoji, LOL.
My skincare routine

Morning: Facial cleanser, toner, moisturizer, sunscreen
Evening: Micellar water, facial scrub, toner, serum, moisturizer, and lip balm. Read about my P.M. skincare routine here!
Honest Review
Day 1
Let me start by saying that I was really looking forward to trying the SNAILWHITE Icy Mask during my trip. Before the experiment and cruise, my skin was in good condition. It wasn't oily or dry. No pimples, too. (Yay!) Since I was going to a tropical country with intense heat, I was curious to test the product and to actually feel whether or not the word "icy" lived up to its name. But most of all, I was excited to see if I would wake up to glowing, soft, and bouncy skin.
To be honest, the first time I tried the product was on the first night of our cruise. During the day, I was at the beach with my family for almost the entire afternoon. My skin had SO MUCH sun exposure. Though I applied sunscreen, I still ended up getting really bad sunburn. My face wasn't tan at all, it was just red all over. Yikes!
So, I put the SNAILWHITE Icy Mask in action with high hopes. It was by far the best decision I made that day. The product felt cool and light on my skin. When I woke up the next morning, my face was still a few a shades of red. It still felt a bit dry but good news, my sunburnt skin was soothed.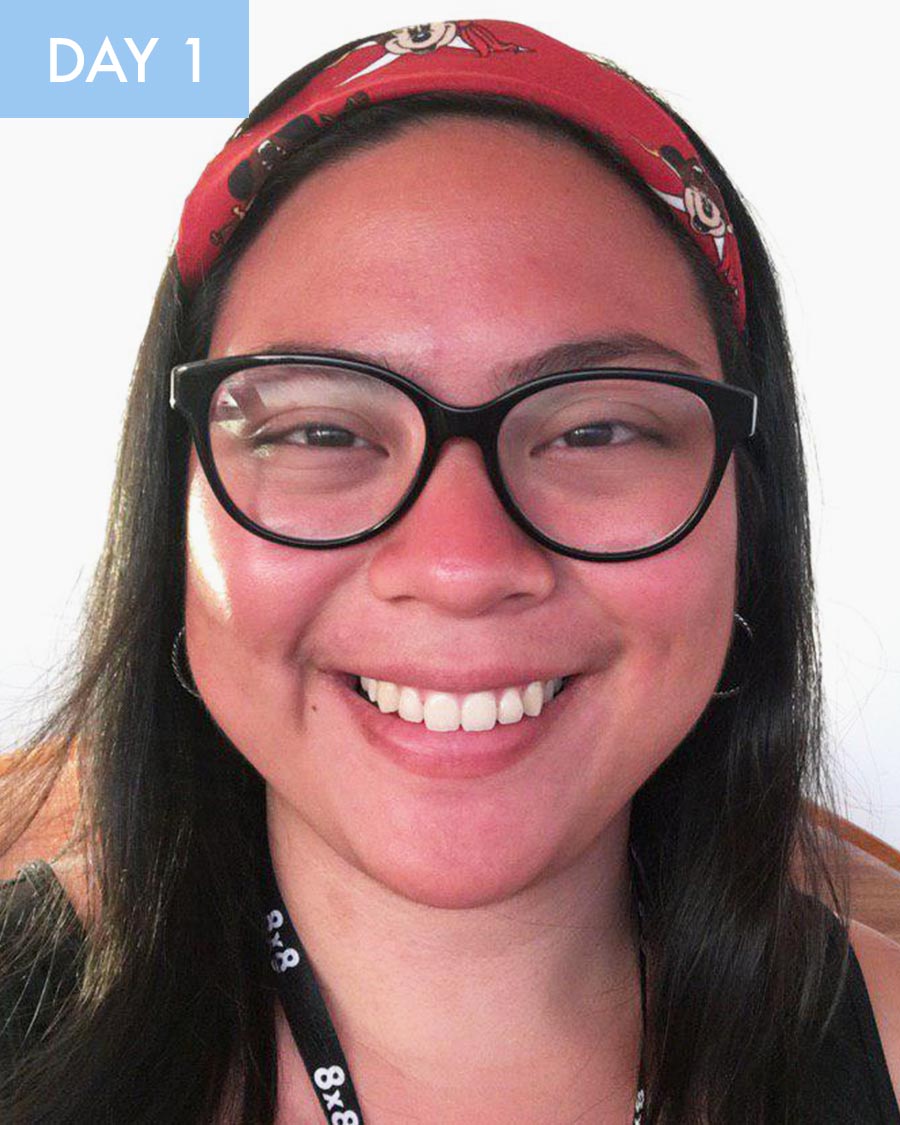 Day 3
I was still on my trip on the third day I tested the mask. The temperature was still high and throughout the day I was outdoors, but luckily enough, my face was slowly recovering from the sunburn. I continuously applied the Icy Mask to at least help repair the sunburnt skin, and I believed the product did some damage control. I would wake up feeling refreshed after a day's worth of tiring activities. In three days, my complexion changed from pinkish red to a light tan. I noticed that my skin was somehow brighter and softer, but I wouldn't consider it a full-on glow just yet.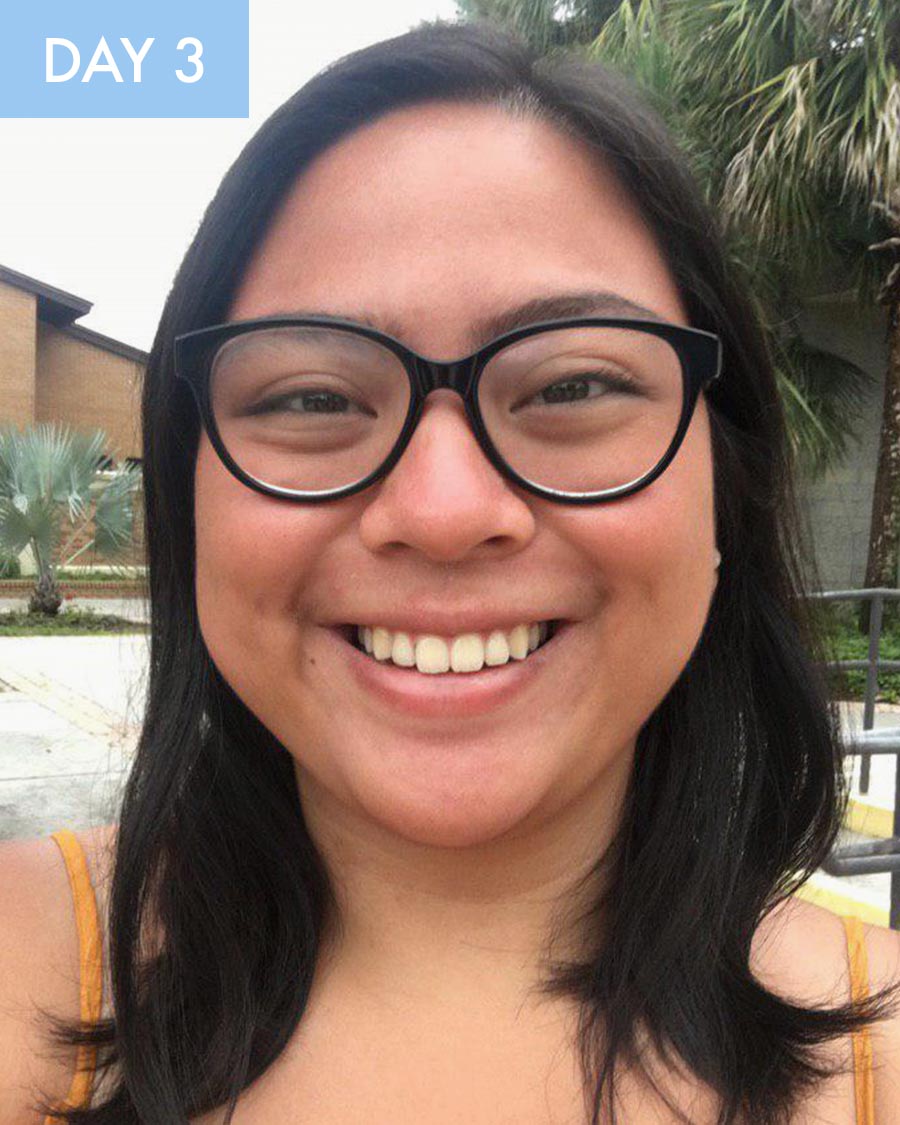 Day 7
It's been a week of using the SNAILWHITE Icy Mask and there have been some improvements with my skin. As compared to Day 1, my skin felt healthier: It became more hydrated and supple. I also noticed that the pores got smaller and my skin was smoother.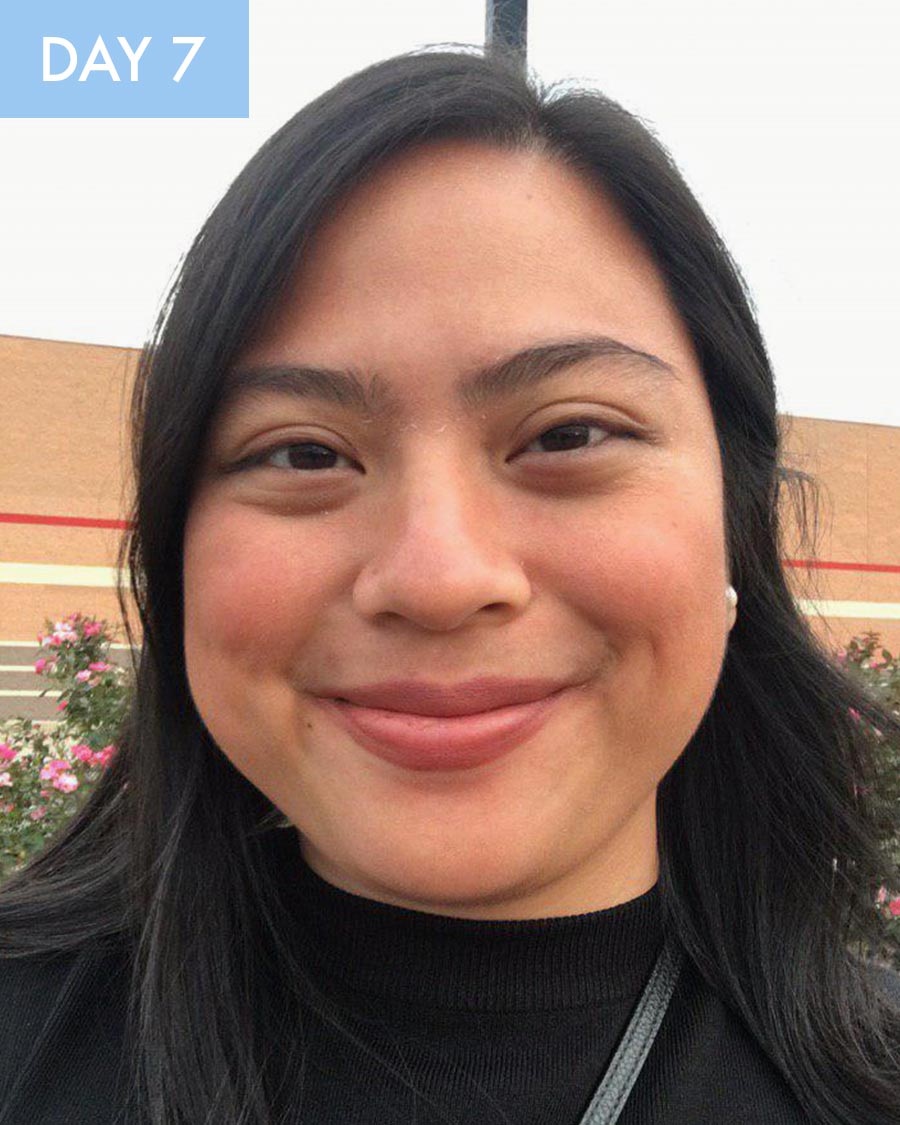 Overall results + rating
On a scale of one to five (with five being the highest), I would rate the SNAILWHITE Icy Mask a four. What I loved most about this product is its lightweight and gentle feel on the skin. I also found it a sulit purchase. For P70, one packet can already last for seven days. And a week is all it took to see if I would end up with healthier and glowing skin.
I also liked how this product not only made my skin softer and brighter, but it also soothed my initially sunburnt face. It did not trigger breakouts during the whole trial, and that means a lot to me, as I have sensitive skin. After trying this product, I now have a deeper appreciation for sleeping masks. I wouldn't mind using more of it, TBH. It's definitely the cherry on top to my P.M. skincare routine!
Follow Lou on Instagram.
***
Don't miss the chance to attend the biggest beauty and wellness festival in the Philippines! Buy tickets to the Cosmopolitan BEAUTYCON on August 31 AND September 1, where you'll find the widest selection of makeup, skincare, hair, and wellness brands with exclusive freebies, offers, and discounts. There will also be sessions with beauty experts, creatives, and celebrity speakers. It's gonna be epic! Get your tix here.