Moisturizers containing SPF may not be an effective way to protect yourself from the sun, reveals a new study unveiled at the British Association of Dermatologists' annual conference.
Using a specially modified camera that only sees UV light, researchers at the University of Liverpool found photographic evidence that moisturizers with SPF were less efficient at blocking UV rays compared to conventional sunscreens. They suggested that it was because individuals do not tend to apply their moisturizers as efficiently.
For the study, participants were photographed on two occasions: after they applied sunscreen and after using an SPF moisturizer. When an area of skin was successfully protected from UV rays, the UV light was absorbed, meaning the area appeared ~black~ in the photographs.
"This research is very visual and fairly easy for people to understand: the darker the image, the more sun protection people are getting", explains Austin McCormick, a consultant ophthalmic and oculoplastic surgeon and one of the researchers.
ADVERTISMENT - CONTINUE READING BELOW ↓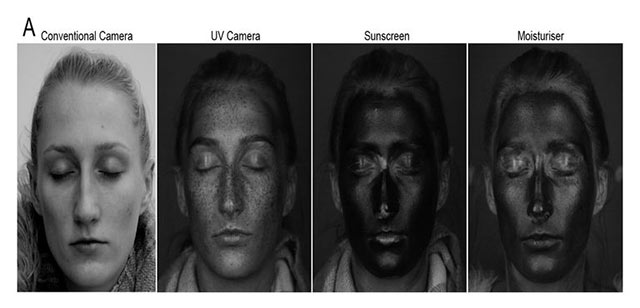 The study found that the images were noticeably lighter when the individuals were wearing the moisturizer compared to sunscreen, suggesting that individuals were less protected from UV rays.
It was theorized that this was because the participants were not applying their moisturizer as thickly as they would with conventional sun protection, comprising the perceived level of SPF protection they were receiving. 
"Unfortunately, moisturizer with SPF just doesn't perform particularly well in real world situations", says Matthew Gass from the British Association of Dermatologists. "Although it may say 'SPF 30' on the box, this study is just further evidence that the lab testing conditions for these products don't reflect how they are used. As a result, although skin moisturizer with SPF does provide sun protection, our research suggests that it's not to the same degree as sunscreen."
Furthermore, the study also revealed that individuals have a greater tendency to miss areas of their face when using SPF moisturizers, leaving them more vulnerable to skin cancer and premature aging. While participants on average failed to cover 11 percent of their face when applying sunscreen, this rose to 16 percent when using SPF moisturizer. 
Most concerning was the tendency for both groups to leave the eyelid—a common site for skin cancer—unprotected. While the researchers expected SPF moisturizers to provide better protection in this area, because of the perception that such products sting less than sunscreen, the opposite was true. Participants failed to protect their eyelids 21 percent of the time, in comparison to 14 percent of the time with sunscreen.
ADVERTISMENT - CONTINUE READING BELOW ↓
These results are likely to be shocking to the 85 percent of participants who reported that they were confident their moisturizer was sufficiently protecting them. That said, individuals reported feeling more confident (90 percent) when using sunscreen, revealing some pre-existing doubt about whether SPF moisturizers are as effective as traditional sun protection.
In light of the findings, doctors are warning individuals not to rely solely on moisturizers containing SPF, especially if they are spending a lot of time in the sun:
"Moisturizers and makeup that contain UV protection are better than nothing at all. But for prolonged periods, we recommend the application of sunscreen with high SPF," McCormick concludes.
The lesson to take away then: Be on the safe side and take the time to apply a dedicated sunscreen as part of your skincare routine. Focus on covering your eye area thoroughly and making sure you reapply regularly. Your skin will thank you for it.
ADVERTISMENT - CONTINUE READING BELOW ↓
***
This article originally appeared on HarpersBazaar.com/uk. Minor edits have been made by the Cosmo.ph editors.