Gone are the days when men and women were shamed for getting tattoos. Today, people have more freedom with how much (or how little) they want to ~*decorate*~ their bodies. Unlike ear piercings, haircuts, and hair colors, though, tattoos can last forever (this, of course, depends on how well you take care of it). There are a lot of factors to consider before you actually get one.
If you're 100 percent sure you want to get a tattoo, we answered a lot of frequently asked questions below. Keep scrolling!
I have no idea where to put my new tattoo. What parts of the body can I put a tattoo on?
The beauty of tattoos is you can put them anywhere—from your head, down to your feet. Check out our full-body guide below which also includes the level of pain you'll feel (we'll get to that topic in a bit) on each part.
ADVERTISMENT - CONTINUE READING BELOW ↓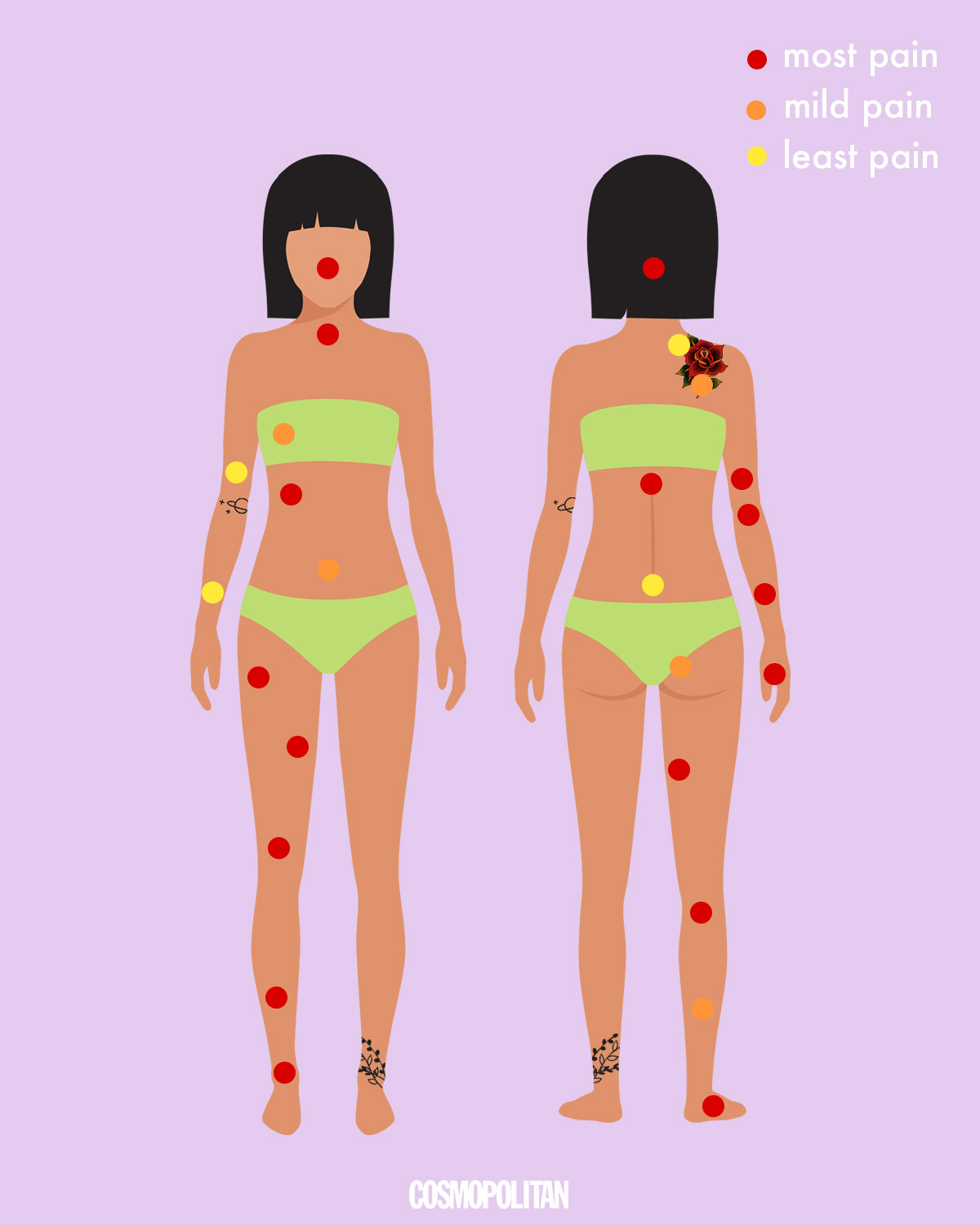 How much do tattoos cost?
It really depends on the tattoo parlor you go to, the artist, the size of your tattoo, and the complexity of the design. A tattoo service can start anywhere between P1,500 and P3,000. The price will increase if your ink is bigger and more complicated to do.
How long does it take to get a tattoo?
If, for example, you plan to get a two-inch wrist tattoo, this will take around 20 to 30 minutes to finish. However, if you ask your tattoo artist to take short breaks in between, it will obviously take longer. Now, if your desired tattoo is big and will take up an entire body part (like one whole arm), one session won't be enough. You'll have to go back for multiple sessions before it can be completed.
Is getting a tattoo painful?
I'm not going to lie to you, it is. I mean, hundreds of tiny needles are piercing your skin and depositing ink onto your skin so yeah, there's bound to be some pain!
As someone with low pain tolerance and who has two tattoos, this is the best way I can describe the feeling of getting a tatt: It can range from tiny scratches to a small tool drilling and slicing you at the same time. Fun, right? Of course, how YOU will handle the experience really depends on your pain tolerance! But it's worth it in the end once you see your beautiful ink. ;)
ADVERTISMENT - CONTINUE READING BELOW ↓
Where can I get a tattoo in Metro Manila, Philippines?
Getting a tattoo is no joke and should be done by a professional. These are some of the tattoo parlors we recommend you check out!
Tips: Before the artist starts drawing your tattoo, check the tools he or she will be using. The instruments should be properly sterilized to avoid getting infections or blood-borne diseases such as HIV and tetanus. Also, be sure you're not allergic to any of the dyes that will be used; you can request a patch test to be done before the session.
How do I take care of my tattoo?
While tattoo artists have different tips for caring for new ink, these are the general rules you should follow if you want your tatt to heal properly:
ADVERTISMENT - CONTINUE READING BELOW ↓
Keep the tattoo's protective cover on.

Most tattoo artists cover a new tattoo with a bandage or tape to protect your ink from bacteria and infection. It's technically an open wound, so leave it alone for a few hours! If your artist didn't cover your tattoo at all, make sure you don't touch it for a few hours. The germs from your hands could transfer to it and cause things you wouldn't want to happen to fresh ink.

Gently wash it with water and plain soap.

You basically have a wound so be gentle—that means no scrubbing or rubbing your tattoo. Use mild soap, one that's preferably fragrance-free. Do this every day for one to two weeks to ensure its proper healing.

Pat it dry.

Having a fresh tattoo means you can't be rough with it. Pat it dry with a clean towel.

Apply a moisturizing ointment.

Whether it's via petroleum jelly, body lotion, or a special ointment, the important thing is to keep your tatt *moisturized*. When the area becomes dry, your tatt could end up with gaps, or "cracks," in the design. You wouldn't want that, right?

ADVERTISMENT - CONTINUE READING BELOW ↓

Don't pick or scratch the scab.

As your tattoo begins to heal, it will form a scab and start to become itchy. Now it's v v important that you don't pick or scratch the wound. Scratching and picking a healing tatt can actually damage the ink and your skin—yikes! To stop the itching, you can always apply a soothing lotion or a cold compress.

Avoid exposing your healed tattoo to direct sunlight.

You should avoid direct sunlight on fresh and healed tattoos to avoid fading.

Avoid swimming in different bodies of water.

If you plan on going to the beach soon, get your tattoo after the trip. The bacteria lurking in the beach's water could get into your tattoo and infect it. No, thanks!
How can I prevent my tattoo from fading?
Simple: Sunscreen! According to tattoo artist Katz Lorenzana, "sunblock is your friend." Whether you got a tattoo with black, white, or colored ink, it's always best to protect it with SPF if you know the area's going to be exposed to dangerous UVA and UVB rays. 
ADVERTISMENT - CONTINUE READING BELOW ↓
Check out these popular tattoo designs for some inspo!
Now that you know everything there is to know about getting a tattoo and taking care of it, you can finally choose a design! Here are some of our favorites:
Who wouldn't want to get a tattoo that looks like a painting?

ADVERTISMENT - CONTINUE READING BELOW ↓

These tattoos of Winnie the Pooh and his friends are just too adorable!

You can get a motivational phrase tattooed on your body to help you through the bad days.

ADVERTISMENT - CONTINUE READING BELOW ↓

We love how delicate this flower tattoo looks!

If you want to go for something outside the box, get a red tattoo!

ADVERTISMENT - CONTINUE READING BELOW ↓

A white tattoo is also excellent if you want it to look more low-key.

For a tattoo that will remind you of the Philippines (aka home), why not get inked with a palm tree?

ADVERTISMENT - CONTINUE READING BELOW ↓

Constellation tatts are gorgeous and you can customize yours to cater to your taste and zodiac sign.

Here's a cute way to combine your favorite quote and design!

ADVERTISMENT - CONTINUE READING BELOW ↓

A watercolor tattoo is guaranteed to look chic and pretty!