As you all know (Or if you don't, surprise!) the vagina is self-cleaning as it contains healthy bacteria. The vulva, on the other hand, which is the outer part of the vagina, is the one that's often subjected to shaving, waxing, pulling, and chafing. It's the part that needs constant tender loving care.
And what better way to care for your skin down there than with a mask, specifically a sheet mask? If you're shocked at the notion of putting a piece of cloth soaked in serum down there, think of it this way: You use moisturizers, cleansers, and various other products to keep the skin on your face healthy, right? Well the vulva, is a part of your skin too—and it's an area that goes through so much, so it deserves to be treated once in a while! 
Lucky for all of us with a vulva/vagina, a sheet mask specifically made for the nether regions is now available in the Philippines! CGs, meet the TWO L(I)PS Blackout Activated Charcoal Mask!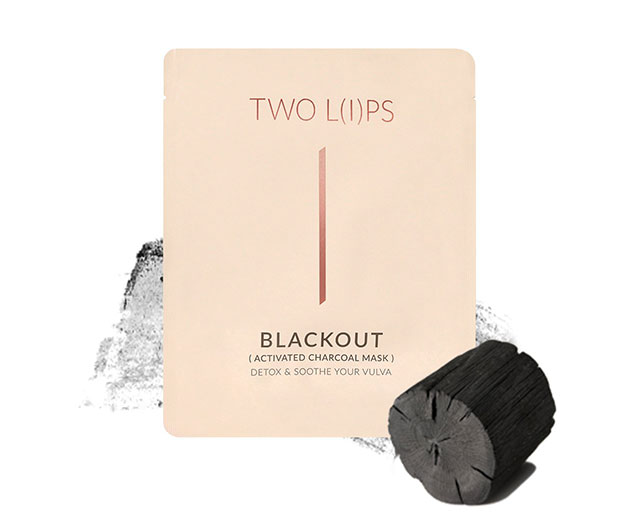 Touted as ~*the world's first vulva mask*~, Blackout claims to detoxify, brighten (!!), soothe, rejuvenate, and moisturize your vulva. It's made with organic ingredients such as Cornflower, Elderberry, Chamomile, Indian Cress, Aloe Vera, White Licorice, and Centella Asiatica to help draw out toxins and reduce redness and irritation. Basically, whether your vulva needs some "me" time or you just got the area waxed-slash-lasered, it's the perfect soothing treatment to use!
If you're wondering how exactly you can use it, it's easy! First you have to wash and dry your vulva. Next, separate the protective sheet from the lace and charcoal mask. Then, place the mask on your vulva (lace side up) and tuck the flaps into your inner thighs. For 15 to 20 minutes, all you have to do is relax and let it to do its magic! Once the time is up, remove the sheet mask and pat in the excess serum. Ed's Note: Due to the sheet mask being really slippery and wet, it's best to either lie or sit down while wearing it. ;)
The TWO L(I)PS Blackout Activated Charcoal Mask retails for P1,280 per sheet mask or P5,400 for a box of five. It's currently available at Strip Manila branches in Greenbelt 5, Serendra, and SM Megamall.
Follow Tisha on Instagram.
EXPLORE COSMO