We all know Arci Munoz for being a loud and proud fangirl of Disney, Sailor Moon, and her latest obsession, K-pop supergroup BTS. For the past months, Arci has gone all over the world to score BTS merch and watch the group live during their various performances abroad. For a lot of ARMYs, she's truly living every fangirl's dream.
But over the weekend, the Kapamilya star drew flak from fans after posting an Instagram Story. While on vacation in South Korea, Arci documented her visit to BTS Jin's favorite restaurant and narrated her experience: "Paboritong restaurant ni Jin. Waaah! Super sasaeng mode." She then showed more of the restaurant and said, "Sorry…Sorry not sorry!"
Arci's "sasaeng" comment didn't sit well with netizens (she even deleted the post before it expired on IG Stories) because of the meaning of the term. For those unfamiliar with the word, sasaeng is the South Korean term for an obsessed fan who oversteps the boundaries of their idols' private lives—like stalking their idols in their own homes, harassing them in airports, etc. The word sasaeng isn't used lightly in the Hallyu world because of the many instances that sasaengs have endangered the lives of their idols.
Continue reading below ↓
Recommended Videos
Throughout their six-year career, BTS has repeatedly spoken up about the dangers of sasaengs. Most recently, Jungkook and V took the opportunity on their separate livestreams to talk about the issue. During a June 2019 V Live, Jungkook received a call on his personal phone while doing the livestream. "This is a call from a fan," he explained. "It's saying, 'You're doing a V Live and I just called to check.' What I do is, I immediately blocked the call. I actually get a lot of calls from sasaeng fans."
In December 2019, V also spoke on V Live about how scary it is when sasaengs follow them on their flights. "We travel separately on a chartered plane. We also want to take a [regular] plane, but when we have long-distance or short-distance flights, some people find out in advance [which plane] we are taking and sit in the seats in front of us or next to us. In a place like that, we can't rest comfortably. It was very uncomfortable. Honestly, I would like for them to stop doing that…It's scary. Yes, it's very scary," he said. In 2017, footage of V in the airport mimicking how sasaengs harass idols surfaced online.
Netizens also took to Arci's Instagram to air their feels about her actions. Arci responded to several comments, and in one reply said that they were making a "big fuss" out of the situation.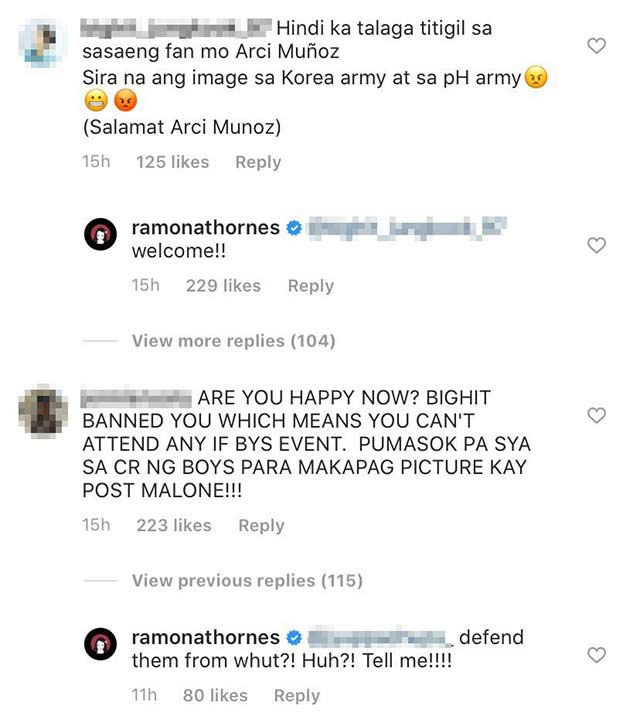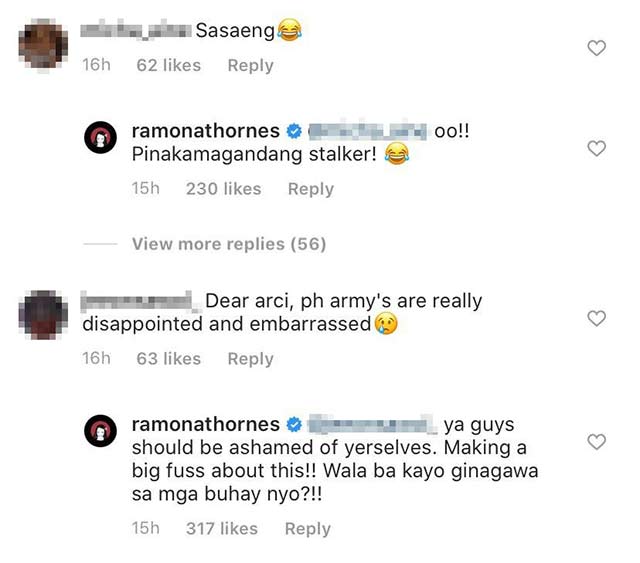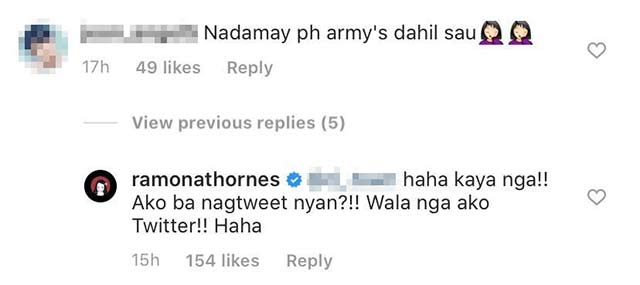 Follow Jacinda on Instagram.