Stranger Things star Millie Bobby Brown isn't your average 16-year-old. At 13 years old, she became one of the youngest Emmy Award nominees, and is currently the youngest person to be appointed UNICEF Goodwill Ambassador. So when the opportunity came for her to produce her own project, she was all for it.
The actress plays the leading role in Netflix's newest mystery film, Enola Holmes. Directed by Harry Bradbeer and based on the book series by Nancy Springer, Enola Holmes follows the titular character's adventures as the precocious younger sister of famed detective Sherlock Holmes (Henry Cavill). The story begins on the day of Enola's 16th birthday, with the young girl discovering that her mother (Helena Bonham Carter) has disappeared without a trace. The game is afoot! Between hiding from her eldest brother Mycroft's (Sam Claflin) attempts to send her to finishing school and turn her into a "proper" young lady, Enola must locate her mother and solve the mystery of a young lord in hiding—Viscount Tewskbury, Marquess of Basilwether, played by Medici star and relative newcomer Louis Partridge.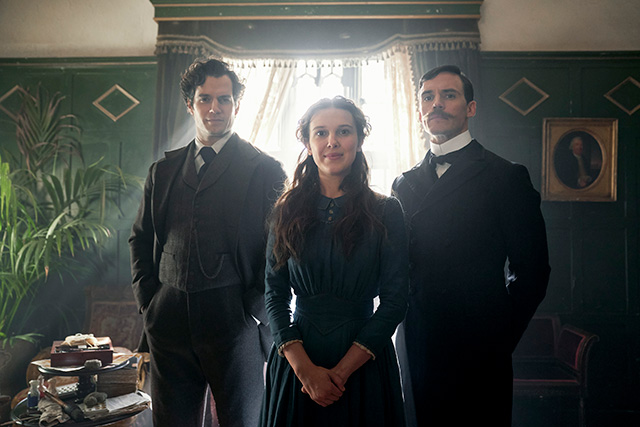 ADVERTISMENT - CONTINUE READING BELOW ↓
READ MORE:
11 Things From Millie Bobby Brown's Charmed Life
8 New Movies We Can't Wait To Watch On Netflix This September
Cosmo participated in an exclusive roundtable interview with Netflix and got to chat with the two young leads. Read on to find out how Louis' audition process went, Millie's perspective on the action-packed fight scenes, and the case of the missing music video:
On what they like most about their character:
Millie: Enola and I share many similarities. Enola is very brave. She's also very honest. Her humor is the exact same as mine. We have a heart. We care a lot, and she values her family and that's the same as me, so we share many similarities.
Louis: I like his innocence. It's easy to see him as this entitled prat at the start of the film, but he's quite soft on the inside. I find it sweet, [because] finding Enola really helps him. He is quite a lonely character without Enola, so his warmth is quite sweet.
On how they prepared for their roles:
Millie: [For the action scenes] the stunts were more fun than anything, because I was the one pressuring everyone saying, "Let me do it, let me do it," and they were like, "No no no no." So I think the stunts for me were just very, very fun and an experience in itself. I was actually never tired while doing stunts. It was more the emotional scenes and the dialogue that would drain me. Enola never stopped talking, similar to me, and I was always very tired at the end of the day; but the stunts were easy, that was the easy part.
Louis: I had quite a lot of time to prepare for it and I had rehearsals with the director. I had the opportunity [to share my own ideas], which really helped me feel comfortable in the part. I think there's a little bit of me in Tewskbury, like some of the stuff he says and some of the looks he gives I do in my own life. *laughs* We adapted the character a little bit [and] brought this sort of warmth to him.
On their chemistry onscreen and funny moments on set:
Louis: I would spend as much time as possible with Millie outside of filming. I think that really helped build this relationship that existed off-screen, that we could then bring onscreen. It was quite surreal at times. I hadn't seen Stranger Things, which helped me because I didn't see her and think, "It's Eleven!"
I celebrated my 16th birthday with Millie. She got me a cake, which was really sweet. [A funny moment?] There is an app called Video Star, you make your own music video sort of thing. And there is one Millie and I made between takes of the train scene, when I'm being hung out of the door. We've got it somewhere and it might surface, we might post it. Maybe. It's completely embarrassing. I wonder if that [video] will ever see the light of day.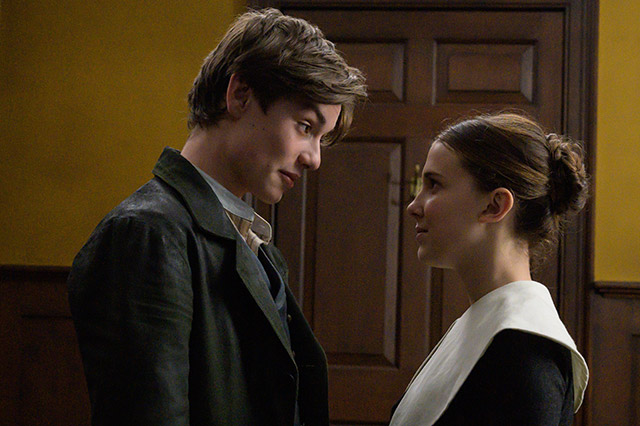 ADVERTISMENT - CONTINUE READING BELOW ↓
Millie: When getting into the film industry and working on Stranger Things, I started becoming more exposed to other projects...meeting new people, and I definitely found myself in situations where I felt like I wasn't getting equal opportunities as other people. I started to realize that it was because of my gender, because of my age, because of my experience, and I hated that that's what was holding me back, because I wanted to do what everyone else was doing...Filming this film gave me the empowerment to be able to talk about sexism, especially in this industry.
Louis: This was definitely my biggest project to date. It has taught me that you will never not be nervous. I thought when I was filming, "I can never be nervous, because I got this amazing part! People will know that I can act because I've done this part!" That's not the case. You go on to a film set and you're still nervous on the first day. I feel like no matter how many projects you do, it's quite humbling to start from a position that's sort of like square one. You have your experience to rely on, but always go back to the drawing board. It's a reminder that I'm nervous because I care about what I'm doing, and that I genuinely enjoy acting.
On Millie as a producer:
Millie: It was incredibly rewarding to be able to star in this film and also be part of the production. I had a great opportunity [to produce this film] and obviously, I took it...If I wasn't on set, I was probably at the production office talking with Harry [Bradbeer]...so I definitely felt like the producer, which was very exciting.
Louis: I didn't see Millie as a producer at all. I think if I had seen her as a producer, I would have been like, "You're with the producer, okay, gotta be good." No, I saw her as a friend, which I think was important for me.
On filming Enola Holmes as a period piece:
Millie: The red dress...the Sherlock look...the Widow outfit...Those are her disguises, and I loved that about the film. I loved that she dressed up and so our costume designer really dug deep in finding these looks that just kind of took my breath away when I first tried them on. But my favorite [outfit] was probably the Sherlock look, just because it was the most comfortable. And because I loved the fact that she was wearing something masculine, and that she enjoyed it.
Louis: I think often it's easy to think, "Oh, it's [a] period [piece]." I used to think like that, but now I think there's so much going for Enola Holmes and a lot of other period pieces that you wouldn't normally assume. I think it's easier to connect with the characters and the time than you might think.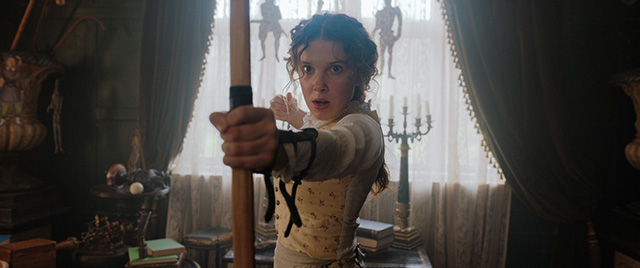 ADVERTISMENT - CONTINUE READING BELOW ↓
On what they want the audience to take away after watching Enola Holmes:
Millie: For me, this is my masterpiece. If you love it, I'm so happy. If you don't, I'm sorry, but this is genuinely one of the most exciting parts of my life...This is a coming-of-age story about a young girl finding her purpose in life. And as you all know, to be a young girl in an industry...it can be difficult to find your place. It's actually my coming-of-age story as well as Enola's, so we were both really going on a journey together.
Louis: A sense of empowerment, definitely. That you don't have to fit in, and you can be an Enola, basically. You can be a Tewksbury, who isn't a typical man, who loves his flowers and his treehouses. There's a lot going on in the film that relates to me as a person, and of course, to the wider society, with empowerment. Especially now, with your voting rights, and how important that is. That every vote matters.
Enola Holmes is currently streaming on Netflix.
***
What does your zodiac sign say about you? Subscribe to Cosmopolitan Philippines and find out!
Follow Andie on Instagram.