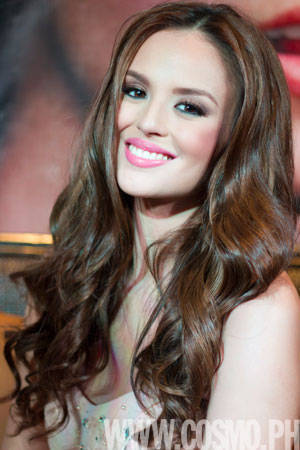 Even the most beautiful, successful women go through rough patches. Just ask former Cosmo cover girl Georgina Wilson, one of the busiest and most popular women we know. But, she has a trick for getting back on track: rewarding herself. It helps, too, that she has an understanding man by her side, who talks her out of stress: her boyfriend, Borgy Manotoc.

We recently caught up with Georgina to chat with her, not just about fashion and beauty this time, but also about her passions outside of work, her guilty pleasures, men, and her relationship with Borgy. Read on for our exclusive interview with this busy model and "it" girl.

What do you enjoy doing when you're not working?

I always try to keep up to date with what's happening in our economy, the stock market—that's what I studied in school so it's always gonna be an interest of mine. Another interest is...I'm so obsessed with makeup. I swear, my makeup collection is more than a makeup artist's! My favorite brand is MAC. I'm very into music, too. I download lots of music.

What's your biggest luxury?

I see traveling as a luxury. I just came from New York and L.A. [and] I'm going to Paris. When I go to Europe in two weeks with my friends, that's for vacation. I think those moments that I have to myself and share with the people that I love are very luxurious for me.

How do you maintain your figure?

My days are so busy that I really feel that I burn off most of the calories that I eat from my indulgences. I try to eat healthy, but I also know when to reward myself.

What are your beauty rituals before a date?

I get so nervous! I think of my outfit, I take a long shower, make sure my hair looks nice...I don't like being rushed. When I'm going on a date, I don't want pabilisan. I just want to take my time and enjoy the moment.

What are your five fashion must-haves?

Killer black heels. One functional designer bag, which is really beautiful and just puts an outfit together. A little black dress is very much a staple for me. A good pair of denim shorts and a plain white t-shirt that's flattering. Actually, you know what? I also want to say good underwear, because you won't get away with the rest of the outfit unless you have good underwear.

What's the sweetest thing anyone has done for you?

When you're really down, really stressed, if you have somebody who can talk you out of being stressed and make you feel better, that for me is the sweetest thing. That's all I need.

What do you love about Borgy?

Borgy is very intelligent and very patient, so he's the best person when I'm super stressed. He can totally talk me out of it and [remind me] to just relax and chill out. I love that, I really love that. With this lifestyle, I need somebody who gives me that perspective and who has experienced everything, too. So he's a very good partner for me.

What's the greatest lesson you've learned about men from your past relationships?

Don't try to change them. Just love them for what they are and appreciate them.


Launch the gallery to see photos from our interview with Georgina!
Continue reading below ↓
Recommended Videos
1493