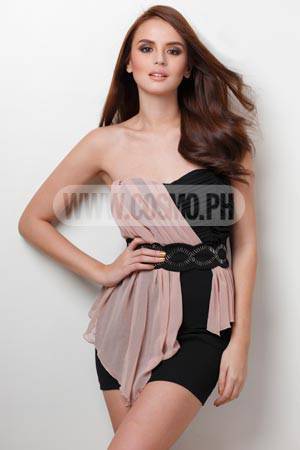 Love is in the air this February, and it's even influenced our fashion sense--and our very own back cover, where we feature the fashion industry's hottest couple, Georgina Wilson and Borgy Manotoc.

In the spirit of the season, we wanted our gorgeous cover girl to wear date-perfect outfits, so fashion director Ana Kalaw and associate fashion editor Happy Lopez picked out soft, flowy pieces and va-va-voom metallic numbers.

"[Since] this is for the Valentine's issue, we wanted something a bit dressy and, of course, sexy," Ana says.

Georgina effortlessly pulled off these date looks, which is no wonder, given her years of modeling experience. She's also proud to flaunt her sexier new figure in revealing clothes, thanks to the Sexy Solutions program she endorses. Besides, Georgina is used to Cosmo's sexy taste in cover outfits by now, since she's been on the cover of Cosmo before.

Launch the gallery to see all the date dresses we chose for Georgina's shoot. We also included the shoes Georgina brought to the shoot, straight from her own closet! If you've got a post-V-Day date this weekend, you just might find inspiration here.


Grab a copy of Cosmopolitan Philippines' February 2012 issue with Georgina Wilson on the cover--and with her beau Borgy Manotoc on the back cover. Turn to pp.26-32 to read her feature "The Bold And The Beautiful," and watch her behind-the-scenes video and interview on CosmoTV!

ADVERTISMENT - CONTINUE READING BELOW ↓
1817