K-pop idols Heechul and Momo shocked *everyone* last week when it was reported that they have already broken up. Both of their agencies have confirmed the news, and an industry source stated that their busy schedule is the reason for their split.
We're pretty sure you're curious about their love story and we have the details for you—from their first interaction to the dating rumors they denied.
A timeline of Heechul and Momo's relationship
July 2016 - TWICE made a guest appearance in Weekly Idol
Heechul is a recognized host and one of the programs where he became an MC is Weekly Idol. In an episode, K-pop groups like GOT7, BTOB, GFRIEND, and TWICE have appeared as guests. The Weekly Idol production team prepared various challenges for them and one is to raise Heechul's heart rate. TWICE's representative was Momo, who adorably imitated a Japanese character. Heechul can't help but be enchanted by her cute gesture and his heart rate increased to 136, the highest number out of all the idol contestants.
P.S.: Heechul also posted this clip on his Instagram account.
November 2016 - Heechul and Momo were featured in the music video of "Sweet Dreams"
Based on reports, Heechul personally asked Momo to star in the MV of "Sweet Dreams," a collab between him and his fellow Knowing Brothers cast member, Min Kyung Hoon. The video features the three of them in a *complicated* love story: Heechul likes Momo, but she's into Kyung Hoon. On the other hand, Kyung Hoon is in love with someone else.
Continue reading below ↓
Recommended Videos
In the same month, Heechul uploaded two photos of him with Momo: One was taken with the cast of SBS' Flower Crew, while the other is with Kyung Hoon from the set of the "Sweet Dreams" MV.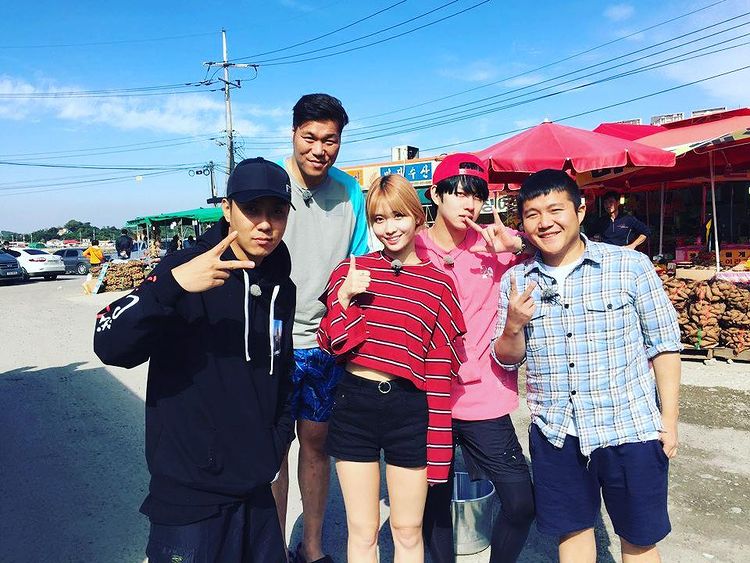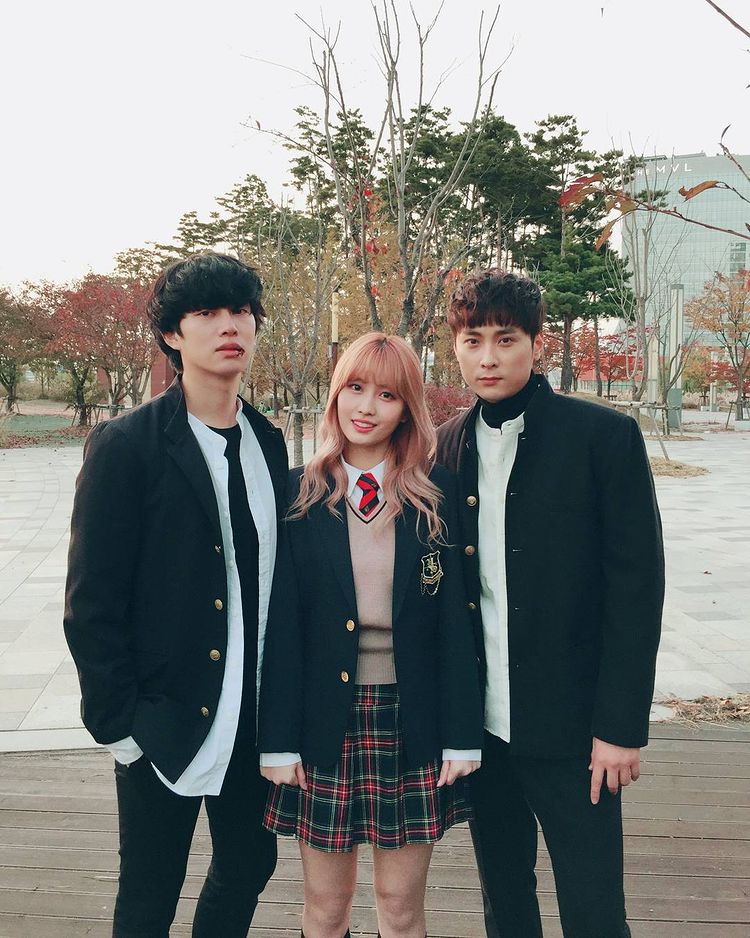 December 2016 - Heechul mentioned Momo in a variety show
Secretly Greatly is another program hosted by Heechul and its theme is to surprise Korean celebs in different situations using a hidden camera. Comedienne Lee Guk Joo told Heechul in one scene: "Don't do what you did last time if a girl group comes on again," a reference to a previous episode featuring AOA's Seolhyun. In response, Heechul said: "What if TWICE's Momo comes on? I can't trick her. How can you trick your little sister?".
November 2017 - Heechul uploaded a selfie with Momo on his IG account
Finally, Heechul posted a photo of him with Momo and it looks like Super Junior's Shindong was the one who captured the behind-the-scenes of their pic!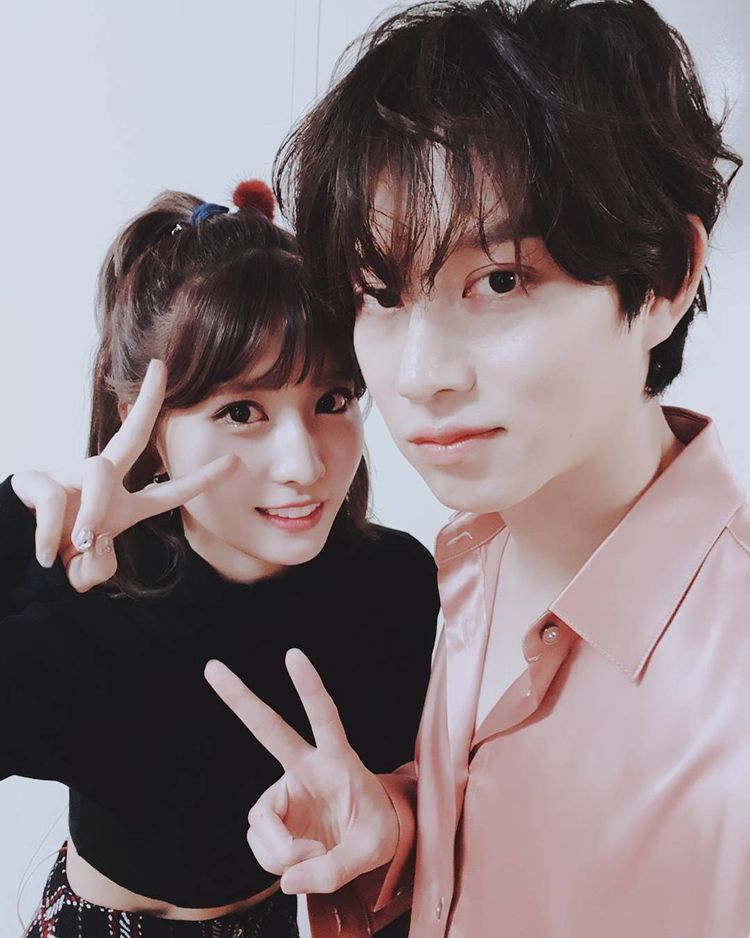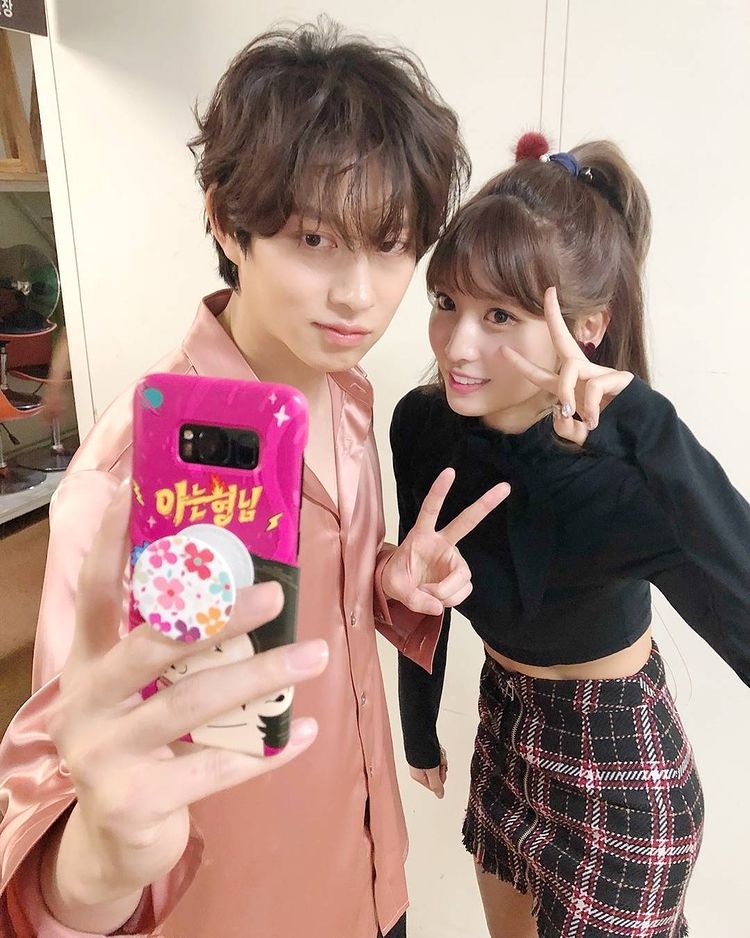 May 2017 - Heechul posted more photos of him with Momo
This time, our guy did not just upload one or two, but three different pictures of him with the dancing queen. He captioned it with: "#KnowingBros #TWICE #TWICE #MOMO #SIGNAL". If you can observe Momo's hand sign, it's actually an iconic dance step from TWICE's single, "Signal," which was released in the same month.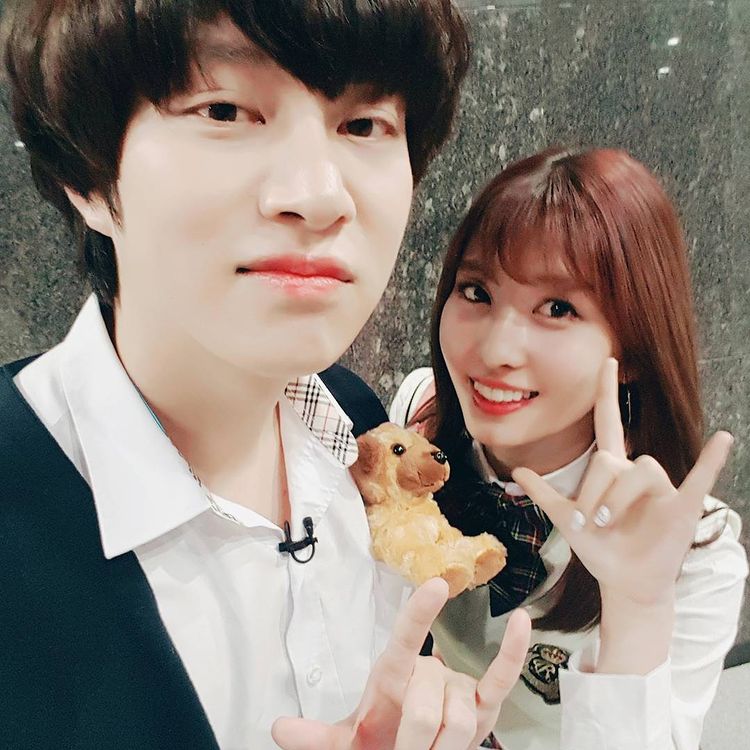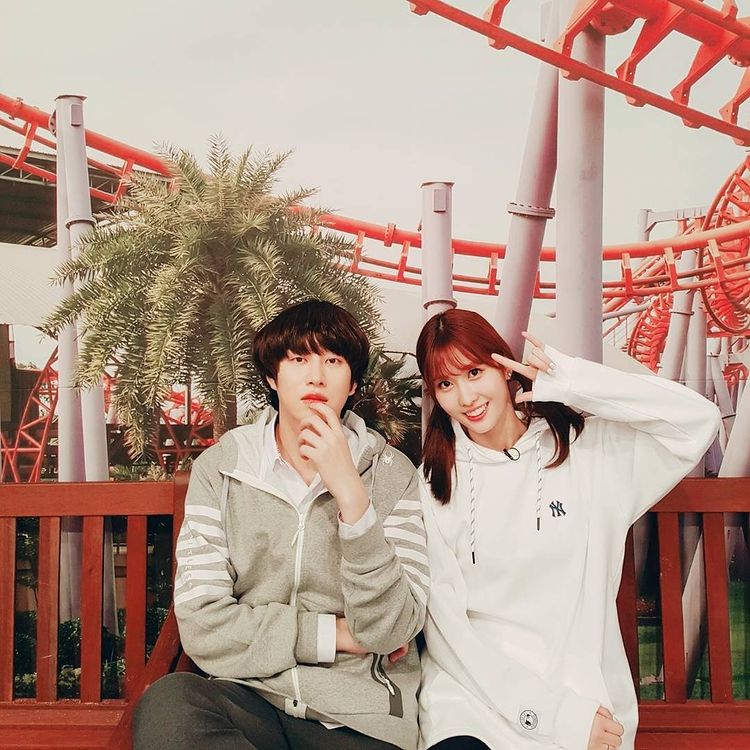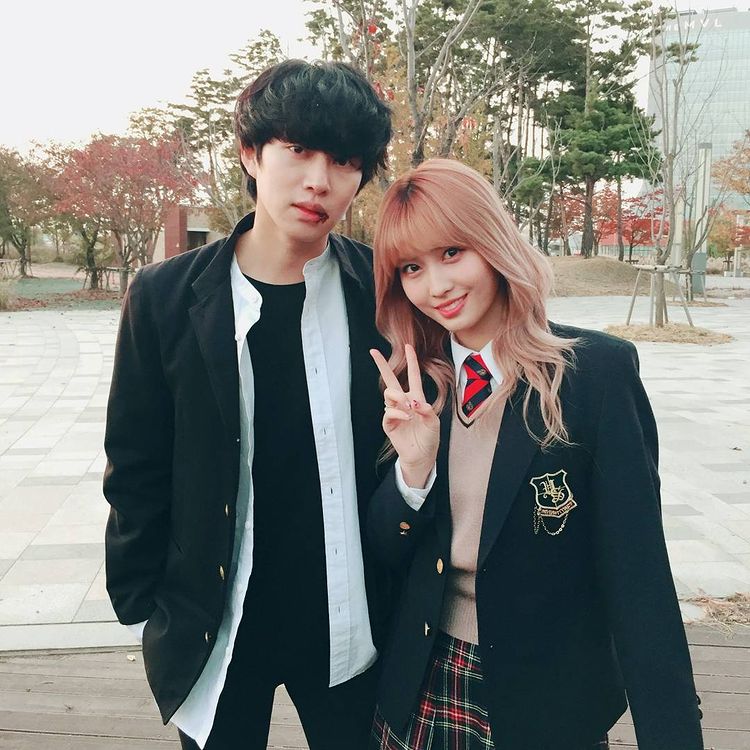 November 2018 - Heechul showed his support to TWICE's new song
November marks the K-pop girl group's comeback with the track "YES or YES." And once again, Heechul posted an IG content of him with Momo, but in the form of a short video.
P.S: An article by SBS Star featured this the following year and explained how fans have speculated that Heechul and Momo were holding hands in the said clip. One of the comments in the story reads: "They definitely are leaning way too close to one another. Look at how natural they look as well!".
August 2019  - Heechul and Momo's labels denied that they're dating
And the relationship rumors have started: Soompi wrote about an industry source's revelation who claimed that the two idols have been dating for two years already. But Heechul and Momo's entertainment agencies were quick to address the issue, saying that the reports are false and they're just "close friends with a senior-junior relationship." 
It was also during this month when Heechul himself discussed the rumor in Knowing Brothers. When Kyung Hoon asked him about the *truth,* the Super Junior member quipped: "I'm honestly not with her. I like you the most, Kyung Hoon."
January 2020 - Heechul and Momo were confirmed to be in a relationship
What a great way to start the year for MoChul fans! News outlet Market News reported about Heechul and Momo's romantic relationship, and both SM Entertainment and JYP Entertainment have confirmed the news. This made them the 2020 "New Year's Couple"— ICYDK, a new Korean celebrity couple is revealed at the start of the year and it's actually some sort of ~tradition~ in the Hallyu industry.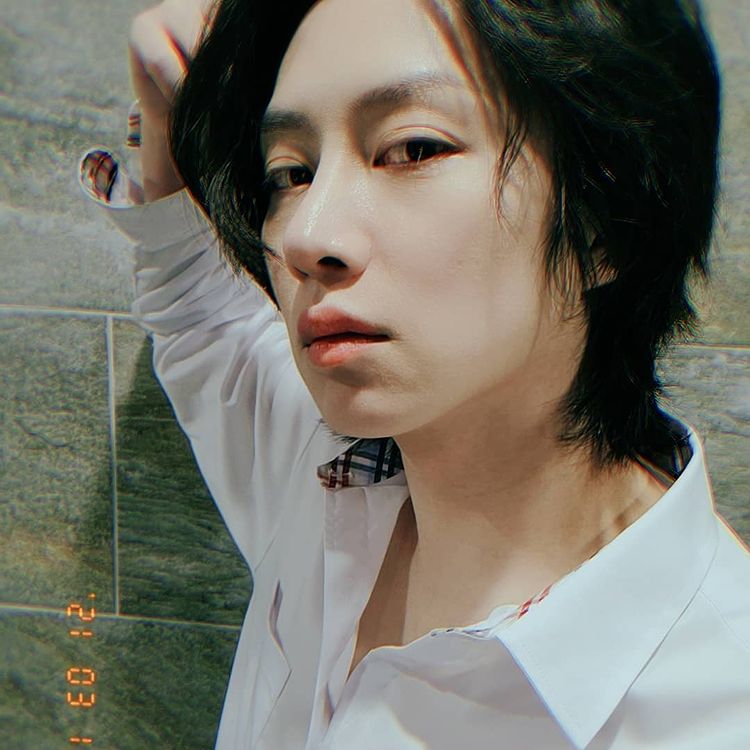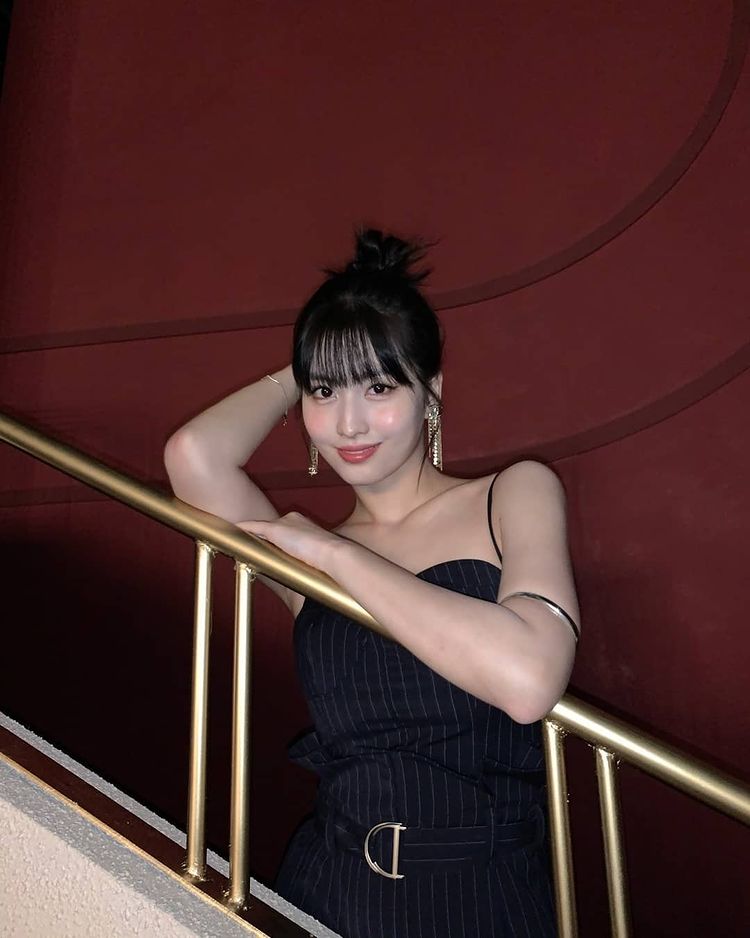 Following this announcement, Heechul apologized to his fans during a TV show and said: "I just feel horrible. I just want you guys to know that it hasn't been three years like what is going around on the Internet. That really isn't true." Momo echoed the same feelings and wrote a sincere letter to ONCE (TWICE's fans), and mentioned how she's "truly sorry" for surprising them.
In the same month, Heechul discussed more of his relationship with Momo in a V Live broadcast: "Many people are saying that we've been dating for three years, but that really isn't the case, you know. I didn't even know her then." The Super Junior member further explained the guilt he felt when the news broke since most of his fans were hurt. He also said that he postponed the release of his solo album because of this: "I could only take a certain amount of love and support at once, but I felt like I was receiving way more of them than I could take. It was just too much for me. At that time, what came to my mind was, 'Maybe being a celebrity is not right for me.'"
A lot has really happened during this time of the year, you guys: During the Seoul Music Awards (which Super Junior and TWICE have attended), Heechul was one of the hosts along with Shin Dong Yup and Jo Bo Ah. In the opening of the event, Dong Yup said: "Hey, Heechul. Do you see that person over there? You would be thrilled to see that person!". Heechul was taken by surprise and he initially thought his co-host was referring to Momo. Being the variety star that he is, Heechul smoothly changed the topic and exclaimed, "Ah yes, of course. I'm very thrilled to see Super Junior for sure. They look nice today." As for TWICE, you can watch their reaction here:
March 2020 - Song Ji Hyo revealed what Heechul thinks of Momo
The Running Man cast member made a guest appearance in an ep of Knowing Brothers and Heechul shared his close friendship with her in the show. Song Ji Hyo then remembered one of their conversations, and said that she texted him when his relationship with Momo was announced. His response? "Thank you. Momo is a very good person."
July 2021 - Heechul and Momo have broken up
After a year and a half of dating, Heechul and Momo have parted ways and this was announced by their respective agencies. According to an industry representative, the two idols have "returned to being colleagues and having a senior-and-junior relationship."
MORE KOREAN CELEBRITY RELATIONSHIPS, RIGHT THIS WAY:
A Timeline Of Hyeri And Ryu Jun Yeol's Relationship
8 Korean Celebrity Couples With An Age Gap Of More Than Six Years