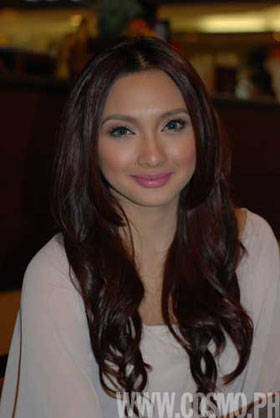 TV personality Iya Villania always seems to radiate the glow of one who is so fun and full of life. It probably helps that she's one of the prettiest faces in showbiz, what with her refreshing, wide-eyed look and flawless features.

Iya's anime-esque face is all over your TV screen: she hosts and performs in ASAP on ABS-CBN, she is a VJ on music channel MYX, and she co-hosts lifestyle show Us Girls on Studio 23 with Angel Aquino and Cheska Garcia-Kramer. She has also done a number of commercials, movies, and even theater plays.

Living under the spotlight as Iya does can be a challenge, since she has to look fresh and put together all the time, regardless of her hectic schedule. How does she do it? Cosmo asked Iya for tips and secrets on maintaining good skin, doing makeup, dressing up, and keeping fit. You'll learn that being beautiful takes more than using the best tips or products--it's something you actually do for yourself, whether you're a celebrity or not.
Continue reading below ↓
Recommended Videos
With reports from Trixie Reyna


What for you makes a woman beautiful?

Her confidence and personality. That's what, for me, makes a woman beautiful. 'Yung tamang kind of confidence, hindi over-confident.


What do you think is your most beautiful quality?

I think it's being kalog. Being so fun and free-spirited, that's what I'm like. Being game.


What do you think is your most beautiful physical feature?

They say my eyes, because they say I remind people of an anime [character]. E 'yung anime, best feature talaga nila, 'yung asset talaga nila, 'yung eyes nila, 'di ba? So I guess it's my eyes.


How do you stay beautiful?

Of course [with] good hygiene. I clean my face, stay clean, moisturize, apply sunblock, [and get] good sleep. As much as possible, I eat healthy. That is when I remember, e forgetful ako (laughs). I try. I do try to eat healthy.


Are there any beauty secrets or tips that you swear by?

Secret! (Laughs.) Well, none that I haven't shared with anyone. Good hygiene. Like what I said kanina, I take care of my skin. In terms of makeup, I stick to browns because that's what your face is [best] with. I've got a good selection of brown eyeshadows: you'll be able to brighten up your eyes with that, or make them dramatic with brown. Of course that would depend on what shade of brown to use. [Then] contour. [And a] good set of eyebrows. I never realized how important a nice set of eyebrows were until natuto na 'ko mag-eyebrows. And now I get a lot of compliments like, "Ang ganda ng kilay mo!" Now I understand, kasi I can also get away with light makeup, as long as I have nice eyebrows.


Do you have any particular favorite products?

Mascara. I think everybody knows that I am THE mascara girl. Mascara, eyeliner, eye brow pencil, cheek tint. Marami ba 'yun? And fake lashes! (Laughs.)


Do you wear makeup when you're not working?

Well, a little bit. I make sure I have [nice] eyebrows, cheek tint, and lip balm, that's it.


Can you describe your personal style?

I'm very random. There are times I dress androgynous, there are times I dress very pa-girl. There are times I'm uncoordinated but I feel good. And quite frankly, [even] if people think [my clothes] look off, as long as I feel good in it, that's how I should come off to people, that's all that really matters to me. You know, 'yung uncoordinated na, like, prints with prints, na hindi aakalain ng tao na, "Ay, puwede pala 'yun! Puwede pala 'yung polka dots and stripes." Mga gano'n. I like breaking rules.


Have you ever committed any style booboos in the past? What are they?

None that I remember, none that I'd like to remember either. But I'm very sure I have. There's been a time when I've been too "matchy." I don't know. It might be a fashion booboo now. Even if it might have seemed right at the time, to others it might have seemed like a booboo.


Okay, how about among women in general? What do you think are the worst fashion or beauty booboos that women commit?

Right now, it is that "matchy-matchy" [thing]. Like pink bag, pink this, pink that, pink everything--I see it as a fashion booboo. Another booboo is putting on makeup but not applying it correctly. Imbes na pagandahin mo 'yung sarili mo, you're just gonna make yourself look like a clown.

Another [booboo] is not being true to yourself in terms of dressing. [Being] true to yourself means knowing and accepting your body shape, [and] accepting what pieces of clothing complement your body and what don't complement your body. [Hindi maganda] 'yung pinipilit. So they can have a nice printed top but if it doesn't fit them well or if it doesn't complement their body, then it's not gonna work.


How do you maintain your figure?

Eat all you can! (Laughs.) I try to remember to eat healthy. Currently, I've been trying to eat a lot of fish, a lot of white meat. I try to stay away from red meat. I don't eat pork, but for other reasons. I'm not allergic, it's [because of my] religion.

When it comes to dessert, I can't help it--I have the sweetest of sweet tooths. When there are vegetables, I eat vegetables. If I can stop myself from eating all the fried stuff like fries, chicken, and all the other stuff I love, I really try to. I also go to the gym, when I remember to. I'm trying to work on my consistency.


You know how a lot of women have insecurities--about their bodies, their face; they hate everything. Have you ever felt that way? What could you tell these women?

Yes. I'm insecure about my legs. Yes, 'cause I have muscular legs and that's probably from all the running I used to do back in Australia. So yeah, I have muscular legs. And I was insecure about it. But then when I walk around, not just here in the Philippines but also in Australia, I've seen girls with bigger legs. They walk around with more confidence than I have. And so I thought, "Hey, kung hindi niya ikinahihiya 'yung legs niya, then mine aren't that bad." So yeah, I guess I've worked on my confidence.

So yeah, work on your confidence. Kung hindi ka talaga happy, do something about it. I'm against the unnatural thing, but I respect those who get it done because it makes them feel good. I mean, if you have the money, if it's gonna make you feel good, then okay. Just don't go overboard. Be in control pa rin. Stay true to yourself. As much as possible, do it the natural way. Also, be active. It'll make you feel healthy and good, and it'll definitely increase your confidence. 'Tsaka pwede mong ipagyabang. When people say, "Ay pumayat ka!" Puwede mong sabihin na, "I worked hard for it." At hindi lang 'yun e. When people know that you're into sports, when people know that you're active, alam nila na mentally, malakas ka rin. It takes a lot to be consistent and to get yourself up and do all those things—running, biking, getting into sports.

Who are the five most beautiful women for you?

Of course, Cheska Garcia and Angel Aquino. [Also] Kristine Hermosa, Angelina Jolie, and Nicole Kidman.
708