KC Concepcion has spent her whole life under the public eye, so she's used to people giving her unsolicited advice. Some good, and unfortunately, some bad as well. And because of social media, that type of negativity is more accessible than ever. Earlier this month, KC received comments about how wearing red lipstick makes her look like a clown and that she's apparently gained weight. Ugh.
In one of KC's most recent Instagram posts, she shared a cute smiling pic of herself with a fun caption of her wanting her long-ass week to be over. "Yung paggising ko akala ko Friday na. Lord, pahingi kami ng pasensya, inspiration and lakas kasi ang haba ng week na 'to e!"
But out of nowhere, a commenter went on to criticize the way she looked in the picture and accused her of having plastic surgery done on her face. The commenter even went as far as saying she looked like local fortuneteller Madam Auring, Michael Jackson, and Arci Munoz.
"Kala ko si MADAM AURING. Sa dami ng dagdag-bawas mo sa mukha, dami mo ng kamukha, Michael Jackson, Arci Munoz, ang lips hanggang tenga na. Sige, banat at hila pa hanggang umabot ang cheekbones mo sa noo."
KC chose the high road and injected her reply with her signature humor! "Nakaka-proud ka 'te effort talaga sa pag-enumerate."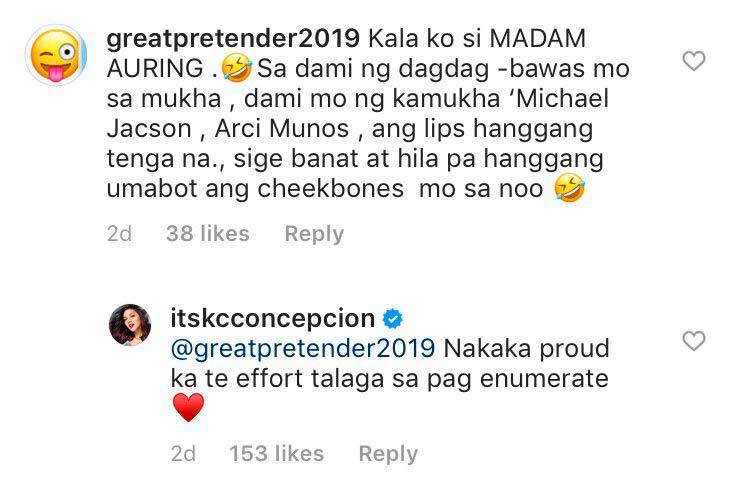 Continue reading below ↓
Recommended Videos
LO, KC! You just gotta love this girl!
Follow Jacinda on Instagram.