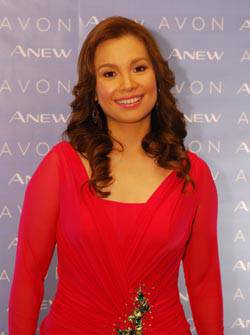 We don't think the superstar that is
Lea Salonga
ever experienced not having a lot on her plate since childhood. An unstoppable performer, Lea resumes her US and Canadian tours this month, and these will last until mid-November. While she rehearses and prepares for her concerts, she's busy managing her home and raising her 3-year-old daughter Nicole.
Just last month, Lea also started taking requests for her upcoming concert,
"Lea Salonga...Your Songs,"
which will be staged at the
PICC Plenary Hall on December 11 and 12, 2009
.
Knowing how hectic Lea's schedule could get, Cosmo grabbed the chance to have a quick chat with the singer-actress at the launch of Avon's Anew Rejuvenate line. If you've always wondered what kind of men she used to date or what she loves to do at her down time, read on.
Back when you were still dating, what qualities of men usually turned you on?
Intelligence and a sense of humor. You better be smart, and you better be funny. I don't care how handsome you are, if you are not intelligent and funny, you'll be the most boring person to me. Every single person I've dated has been intellectually challenging, stimulating, and really intelligent. That was the one thing I was always attracted to. It's not always the look. "Did you go to college? Yes? Ok, let's start!" You know, it has to be somebody who's hardworking; there's always other things I look for,
dapat mabango, dapat magaling magbihis
, but you'd better be smart, and you'd better be damn funny.
What qualities do you hate about men?

I don't think there's anything I really hate. If there's anything I'd dislike, it's that particular person's trait, but not a general thing. Like, you always leave the toilet seat up, what's that? But my husband (
Robert Chien
) never does that. We're square on that. If someone's messy, it's just because that person's messy. I've dated people who are neater than me! I don't think there's any one thing I would inherently dislike about men. I love the way they smell, I love the sound of a baritone voice, I like men. Men are fun! Men are actually a lot of fun! But I'd obviously hate certain men who abuse women. But I will hate individual things about individual men. Men are good, I like men. Men are good.
We found out from your blog that you love to play games on PSP and XBox. What are your favorite games?
I love PSP, I have an iPod touch...my husband suggests games for me to download, so I've been doing that and it's fun. Actually I like word games, like Scramble, Lexitron, also puzzle games like Bejewelled. And there's this game where you try to get the car out of the parking lot. For PSP, I like Final Fantasy Crisis Core, it's really, really good and addicting. And on XBox 360, I love BioShock. It's so beautifully designed! It's like an art-deco city under water but it's scary, don't ever play it in the dark. But I think a lot of guys who have played it will understand what I mean. My husband likes Fallout 3 but I can't be bothered, it's too long.  
Do you ever compete with Rob over these games?

I think there are games that he'll like more than I will like. He started liking BioShock but I ended up finishing the game and getting achievements. He has to catch up with me.
Would you ever want Nicole to be sporty?

I'd love it. Her father's kind of hoping she gets interested in golf because he's a major golfer. I hope she'll take an interest in any sport, be it basketball, soccer, gymnastics, martial arts, golf...my mother was athletic and my husband loves golf. So we'll see what she'll end up liking. Golf is probably one of the things she'll try.
Continue reading below ↓
Recommended Videos