Liza Soberano's Instagram comments section blew up yesterday, September 16, when she posted a picture of her wearing an afro wig while holding up fries from a fast food chain she's newly endorsing. In the the ad, Liza was channels all five members of the Spice Girls, one of whom is Mel B., an English woman of African descent.
One of Liza's commenters accused her of "blackface," which is defined by Merriam-Webster as "dark makeup worn in a caricature of the appearance of a black person… The wearing of blackface by white performers was, from the early 19th through the mid-20th centuries, a prominent feature of minstrel shows and similar forms of entertainment featuring exaggerated and inaccurate caricatures of black people. Its modern occurrence in imitation of such performers is considered deeply offensive."
She defended her appearance and said that it wasn't any form of blackface and was only a costume. "This is not any form of blackface. It's a costume just like how any other person would dress up if they were portraying a famous character. In this case, it's Mel B," she said. Her comments have since been deleted.
After her comments made the rounds online, many of her followers (those of African descent especially) aired out their thoughts about the issue and called her out for being part of an ad that was culturally insensitive and deeply upsetting.
One wrote, "[The] portrayal of a singer should be done without the need to wear an afro or [for] purely costume purposes and nothing more. Wear braids, wear an African wrapper, wear an afro, but the minute any of those start being used as a costume and not of cultural significance and respect, that's when it becomes disrespectful."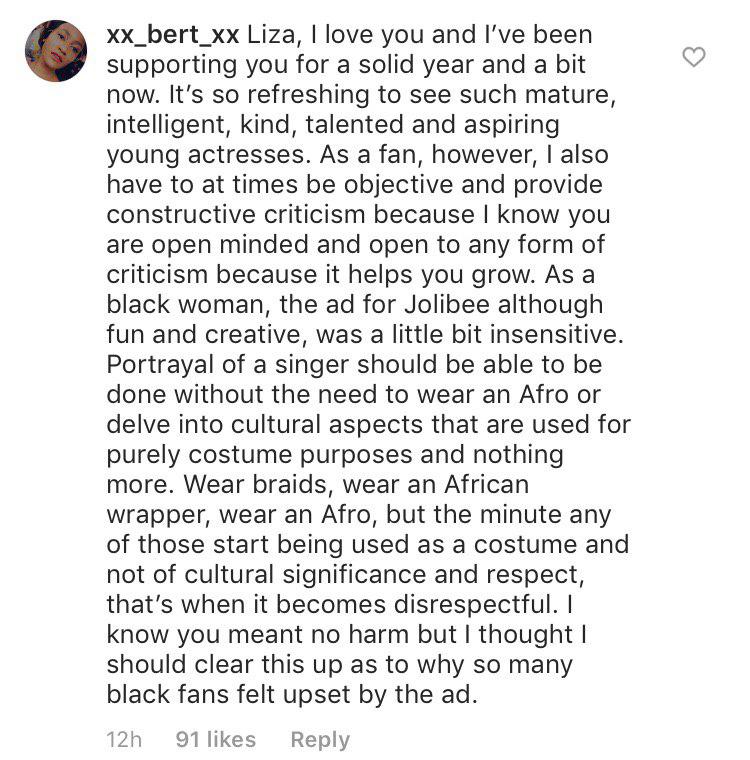 Continue reading below ↓
Recommended Videos
Another said, "An ensemble which should only [be] used for cultural purposes and promoting traditional African beauty is being showcased as a mere costume for a fries advertisement is incredibly disrespectful."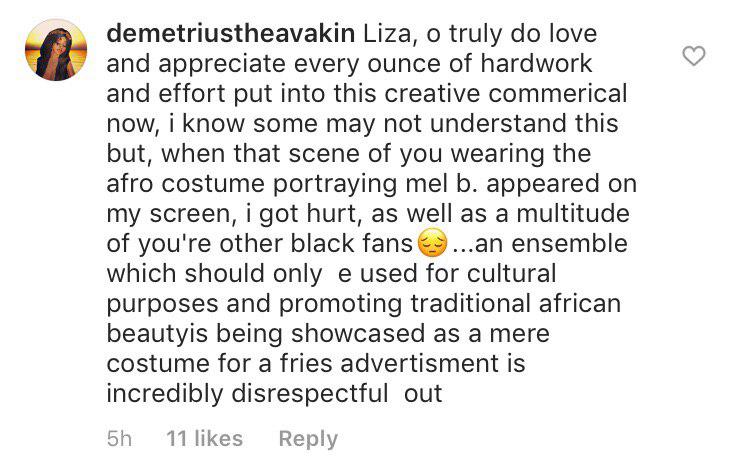 Liza then posted a series of tweets with her apologizing for her earlier comments, understanding where the backlash is coming from, and thanking her fans for educating her on the matter.
"Before everything gets out of hand I would like to apologize for those affected by my comments about the whole 'blackface' issue. It wasn't of my intention to mock anyone of any culture or ethnicity."
"I understand that this is a sensitive topic and that I should've kept my mouth shut. For now on I will try to be more educated about matters like this to make sure I don't make careless mistakes like this again in the future."
"Cultural appropriation is an issue that is [deep-rooted] in society which I am still educating myself on. I've read your comments and tweets and I honestly do understand where this backlash has come from."
"I am thankful to everyone educating me in the comments."
Even in 2019, Filipinos still have a lot to learn about racism and cultural appropriation and it's great we're keeping the conversation going with this issue. For those who *still* think using blackface as a costume (for Halloween, a commercial, or whatever form of entertainment) is no big deal, think twice. Teen Vogue puts it simply, "Blackface is offensive because it exaggerates and dehumanizes the Black experience while perpetuating racist stereotypes. Unless you were born with a brown face, please put down that foundation and find another costume."