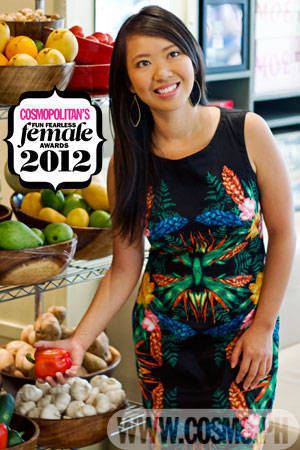 We've been told time and time again to watch what we eat. And while indulging in fast food every now and then isn't a bad thing, the best way to care for your body is to be aware of the food you consume. This is why one woman has made it her mission to promote healthy living in the Philippines.

Chef Marie Gonzalez started the gourmet food company Kitchen Revolution back in 2008 as a reaction to the limited local food options for vegans. Initially a vegan baking business, the Alabang-based company is now one of the more popular vegan hubs for health-conscious Pinays. Marie applies what she has learned from her culinary studies and restaurant work experience in New York, offering classes and workshops for foodies of all ages. She also spreads the word on veganism in our sister publication Yummy Magazine.

We recently met up with Marie for our Fun, Fearless Female Awards 2012 shoot at Serendra, where we got to chat about her vegan advocacy. Learn a thing or two from this trailblazing role model, who just might inspire you to live a healthier lifestyle.


Launch the gallery to see behind-the-scenes photos from our shoot with Marie Gonzalez!

To see the rest of the Fun, Fearless Female Awardees, grab the May 2012 issue of Cosmopolitan Magazine with ANNE CURTIS on the cover, in stands NOW! Virtually flip through our online teaser of this Collector's Edition!
Continue reading below ↓
Recommended Videos
1963