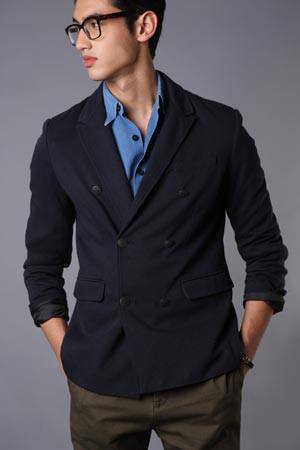 Oftentimes, when a man is called fashionable, metrosexual, maporma, and the like, for some unfortunate (and borderline annoying) reason, other so-called "manliest of men" automatically associate this with being gay or effeminate.

Newsflash: There is nothing manly about ignorance and intolerance.

In fact, these stylish men know that investing in their appearance by means of dressing well not only makes them visually pleasing; it also helps create a good impression of themselves.

Being in the fashion industry, we're surrounded by so-called fashionistas all the time. However, there are chosen few who flatteringly stick out like a thorn in the fashion shrubs. One person who caught our eye is DLSU Marketing student Mike Concepcion.

I met Mike at a photo shoot where I had to groom him--not that he needed it! This guy knows a thing or two about keeping up appearances, as he is the creative director and owner of the clothing label Greater Good.

Mike's dapper and sophisticated style makes him an ideal subject when discussing men's fashion. Read our interview with him below:

How would you describe your personal style?

Classic and unfussy.

Most men just don't know where to begin when it comes to dressing stylishly, so it's a matter of finding sources of inspiration. Who or what influences your style?

I love old Hollywood and sitcoms set in the '60s (have your take on Pan Am). [I look up to] to the likes of Cary Grant, Paul Newman, and Clark Gable. Or, it could just as easily be seeing how Mad Men's costume designer, Janie Bryant, decided well-tailored suits and skinny ties were the norm the entire cast had to abide by.

Where do you usually shop? Or do you prefer to have your clothes custom-made?

I do a lot of product development and sample-making for my business, so I usually end up having most of the things in my wardrobe custom-made. It's much more of an effort for most people, but it's all well worth it. Nothing beats a well-tailored shirt.

What would you say are the most essential fashion items for men? Do they need to be expensive?

Hardly! Fit is the most "essential" essential. There is nothing quite like the results of custom-fit clothing. I'd advise any guy to revisit his trusty mananahi and size down those baggy shirts.

Men are sometimes too proud to admit or even realize they need help in the fashion department. Why do you think it's important for men to look good, particularly when it comes to how they dress?

I don't think many men realize that your style is a mirror representation of you. What you wear, how you look, and how you put yourself together speak volumes about your character and personality. Skip the lame excuses and work your appearance to your advantage. First impressions last.

What do you think about girlfriends who try to dress their guy? When is it actually helpful and not just a girl trying to turn him into something he's not?

I can't speak from experience, but I think it's unnecessary for the better part of it, and hardly ends up with both parties smiling.

Let's talk about women. How important to a guy is a woman's dress sense? What does it say or not say about her?

I think it says a lot about the type of person she is and how she decides to carry herself. I wouldn't care for over-the-top frills, but it's nice to see a little effort.

When you check out women from head to toe, what would you consider a turn-on and a turn-off?

Her personality and well... yeah, her personality for the other, as well.

What advice can you give men who are trying to discover and master their personal style?

Mark Twain said: "Clothes make the man." Naked people have little or no influence on society, but I'm sure you can do a little better, lads!


Launch the gallery to see some of Mike's noteworthy looks!
Continue reading below ↓
Recommended Videos
1573