The world of criminal heist films has experienced such an oversaturation to the point that the unexpected has become so predictable. Cue voiceover explaining the inevitable double-cross twist (aka heistception) of stealing the plot's MacGuffin—an ancient artifact or maybe a giant metal globe in front of a mall—flashed in quick succession backed by music with a rocking bass line.
Red Notice acknowledges and deconstructs all these tried-and-tested and tired-out tropes and just has fun with it by having the main cast of Agent John Hartley (Dwayne Johnson), Nolan Booth (Ryan Reynolds), and The Bishop (Gal Gadot) constantly trying to one-up each other using overly complicated plans while snarking along the way.
Gal Gadot's sassy portrayal of The Bishop was definitely #goals—ignoring the whole crime spree part. She is the ultimate chessmaster who manages to outwit the boys at every turn and does so in killer (pun intended, maybe) style. Who else could do a sexy yet sinister rendition of the cute little ditty, "Downtown" while torturing her target?
We also appreciate a warrior queen who can elegantly kick off her heels to throw down against her male opponents. (Because running around in heels at the risk of breaking an ankle is so not worth the aesthetic!)
Continue reading below ↓
Recommended Videos
Amidst all the heisting, we were able to sit down with Gal Gadot and talk about the switch from superhero to mastermind villain. If you want to find out how The Bishop really plays, read on below!
1. Criminal activities aside, Gal Gadot felt that she could relate to The Bishop.
Gal: "She's cheeky and I'm cheeky, too! She has dry humor, can be sarcastic, and is such a teaser! Yeah, we share some stuff in common for sure!"
2. Gal high-key enjoyed playing the naughty role of The Bishop because she was playing against her usual type.
Gal: "[I was very] intrigued to be able to play a character who's a bit different [from] what I usually do. She's villainous, cheeky, and always a few steps ahead of the boys. She has this charm that I really, really liked!"
"As an actor, you want to be able to explore different colors and qualities in the characters that you play. And this [role] certainly gave me this opportunity and I super enjoyed playing The Bishop. Red Notice really opened up the appetite to play a villain. That's the truth!"
3. She was already pals with Dwayne Johnson and Ryan Reynolds way before filming Red Notice, which is why they have such great onscreen chemistry.
Gal: "I've got to say that I feel super grateful and lucky that I got to work with such amazing talents like Ryan and D.J. and enjoy the process. I just think that it always shows on the screen."
"Ryan, D.J., and I had been working together in the past and we were looking for the best opportunity to [collaborate again]. [And thanks to] Red Notice, we got to do so many different fun and funny sequences in the movie. I can't wait for everyone to watch it and I hope that you all like it!"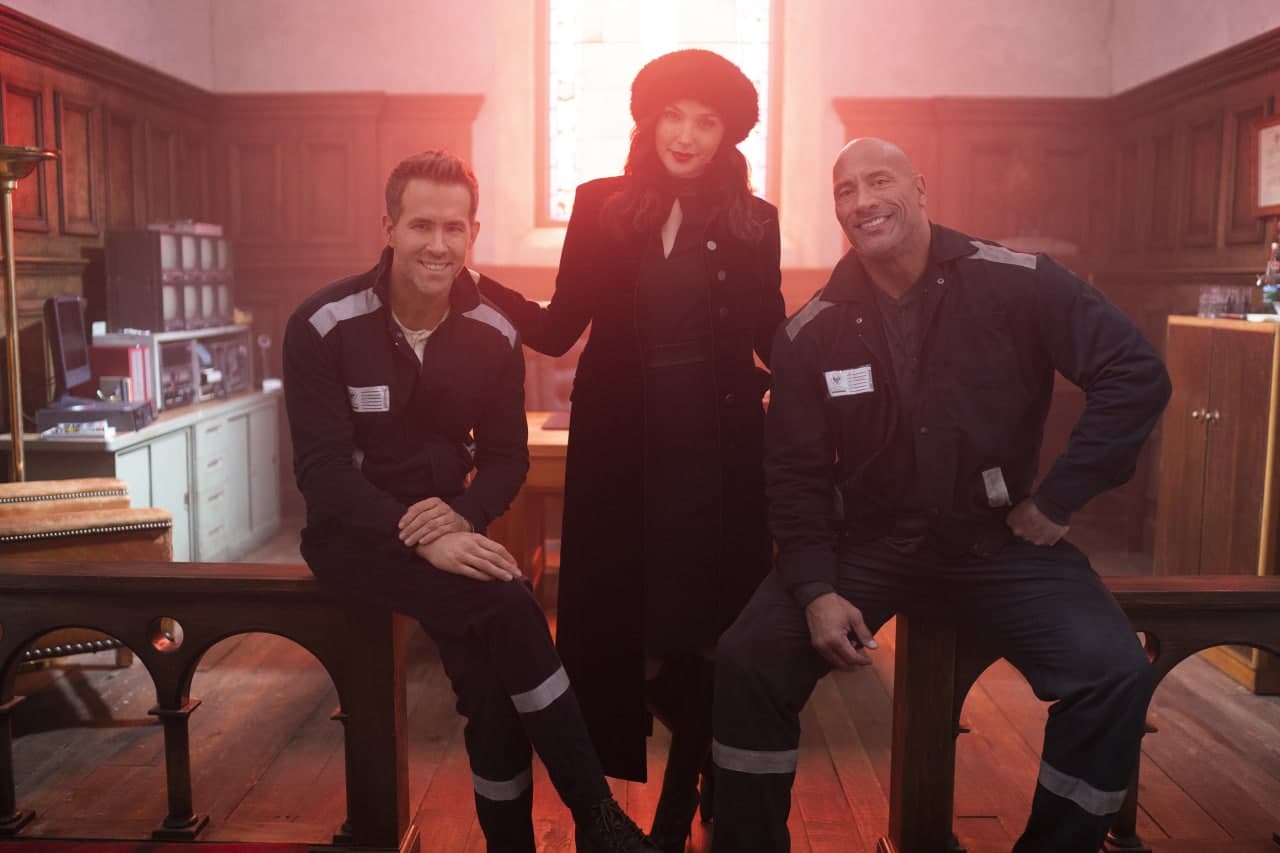 4. Red Notice was the first film where Gal had to execute a full-blown dance sequence.
Gal: "We had a dancing scene and that was new for me at least. We rehearsed for the dance and it was such a delightful scene to be able to work on with such an amazing partner like D.J. [Dwayne Johnson]."
5. While preparing for said spicy dance scene between Agent John Hartley and The Bishop, Gal initially had her worries. (You know, like the risk of getting her feet stepped on by a big hulking dude like The Rock?) Fortunately for the actress, Dwayne Johnson turned out to be a great dance partner!
Gal: "I'll tell you the truth. I was a bit nervous at the beginning just because, you know, D.J. is a giant man and I have feet down there, so I wasn't sure what was going to happen! And I kept telling D.J. that we're going to practice, we're going to rehearse. And he was super cool [about it,] and kept on calming me down and saying, 'Don't worry, this is going to be great!' And of course, that just made me [even] more nervous! But then he showed up and this guy is a freaking ballerina with the lightest feet. It was amazing!"
"I don't know how it works with [the laws of physics] and all that but he did and was so talented and such a good dancer. It was so much fun to shoot the scene with [D.J.]!"
6. If Gal was given the chance to swipe anything from her co-stars, it would be something from Dwayne Johnson. 
Gal: "I'll go cheesy [and say] that I would steal his smile." *cue Dwayne Johnson flashing his megawatt smile at the compliment*
7. Other than the dancing, Gal thinks that the boat scene, where she flawlessly emerges from the ocean, was also quite memorable.
Gal: "The boat was unbelievable! It was so darn sexy. I can't stop thinking about the boat! You should watch the movie for the boat."
8. Remember that scene where The Bishop kicked off her heels before her epic fight with John Hartley and Nolan Booth inside Sotto Voce's vault? She meant to do that!
Gal: "Oh yes! We knew it was going to be a crazy badass fight and we knew that I could not do that in stilettos so we had to let go of the shoes—GLADLY!"
9. She trained hard for her action-packed moments in the film.
Gal: "You gotta prepare, you gotta work with an amazing stunt team. [It doesn't get easier though, but] the more you do it, the more familiar you are with the movements."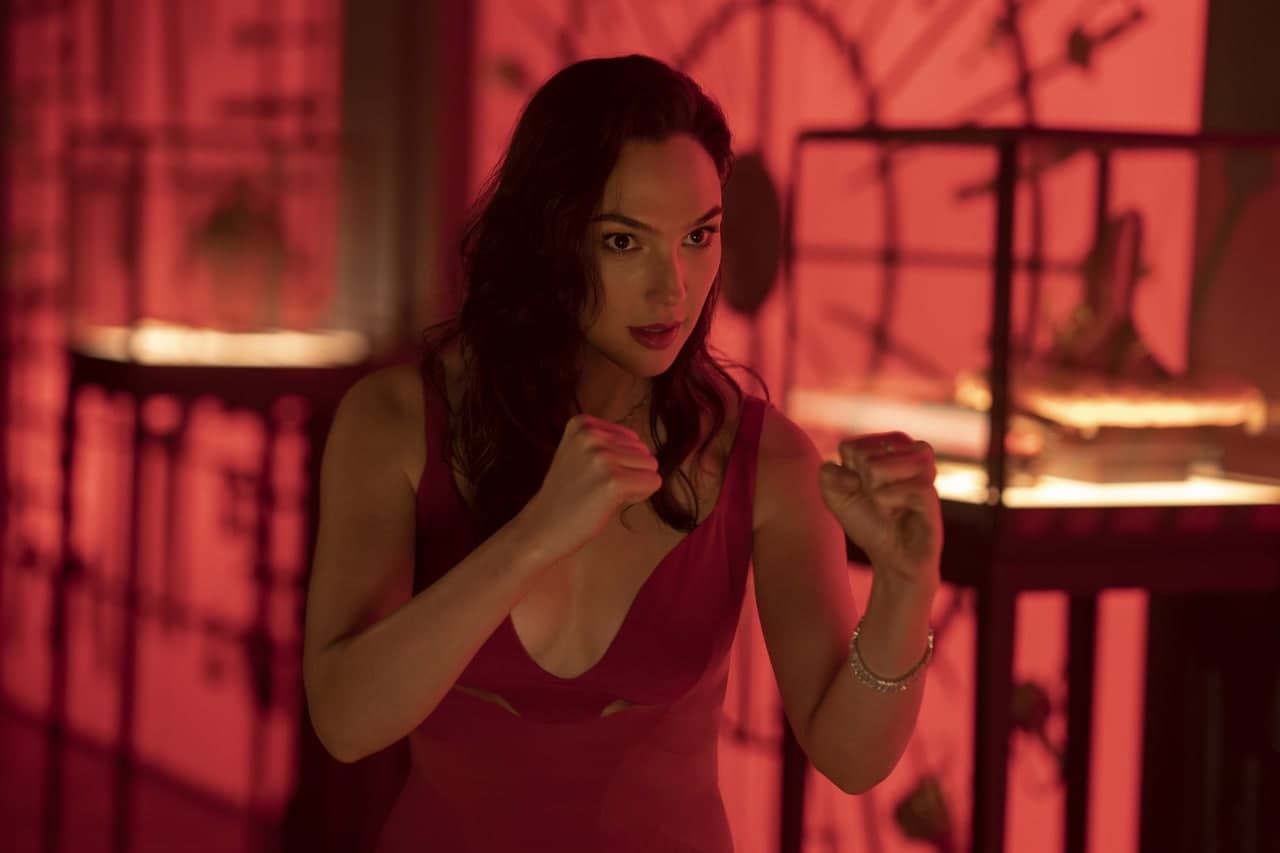 10. The biggest challenge wasn't a test of physical strength but mental fortitude as she struggled to maintain a poker face while filming with Ryan Reynolds.
Gal: "The biggest challenge that I've dealt with? Not to break during takes! Ryan would try so hard to make us laugh and I'm the easiest giggler around so I would break easily! He would see my eye twitching while I'm trying to hold in my laughter. I don't know why [the tell-tale sign of my laughter] comes out from the eye (Laughs). As soon as [Ryan] saw my eye [twitching], he would go all in so that was my hardest challenge. I think that it says a lot when you have such good energy on set because it makes everything worthwhile!"
11. The funniest scene to shoot was the moment Agent Hartley, Nolan Booth, and The Bishop met up at the—spoiler alert—Russian prison.
Gal: "We had many! (Laughs while trying to recall) You know, the first time for all of us to shoot together was in the Russian prison when [Agent Hartley and Nolan Booth] met The Bishop. Even just the first day, we were hugging our stomachs because we were laughing so much it was really fun! We were breaking so many takes. (Laughs)"
12. Even Gal didn't expect the plot twist while going through the script!
Gal: "It was amazing! I think that Rawson [Marshall Thurber] did an amazing job writing the script and directing this movie. I think that he really managed to re-engineer [the heist movie genre]. You know, there is so much to it. He managed to make it on its own as much as he got inspiration from different movies in the past. I think that the twists and turns are super smart and very strong. I think that the wit and the funny moments are [great] and the boys are in the movie. [What else could anyone] ask for?"
"It's so much fun [to get the] viewer engaged in the story, I feel like, by the second [viewing], there are going to be many easter eggs that they're going to pick out."
13. And she didn't expect—spoiler alert—Agent Hartley and The Bishop to be in cahoots together let alone have an actual romantic relationship.
Gal: "No, I didn't see it coming! I think that [The Bishop liked Hartley because] she finds trust in him and trust is a big thing for her. I think they're a very simple and low-key [couple]. I imagine them relaxing on the beach [while] watching the sunset [together] with nice speakers playing beautiful music. Something like that."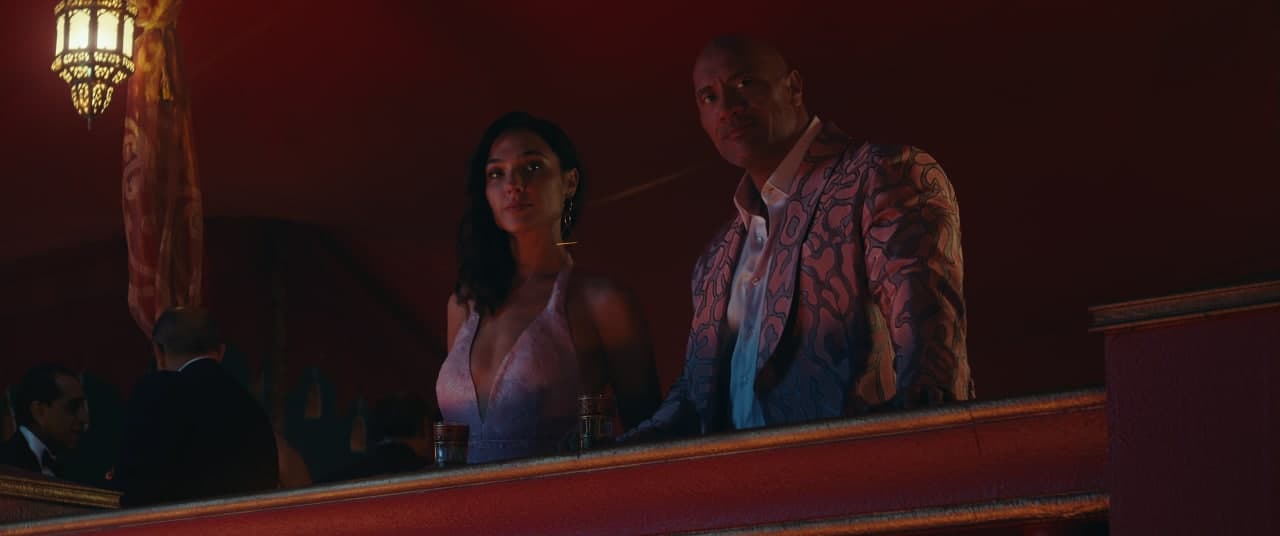 14. Spoiler alert! The last scene in the film shows Hartley, Nolan, and The Bishop in Paris, ready to pull off a heist in the Louvre. Should the actress really live out her best art thief life, Gal already has a target art piece in mind.
Gal: "The Mona Lisa. [I think it would be]easy to steal! Well, I mean it's not easy to steal but once you [get your hands on] it, you can hide it really well because it's not a big painting. I also like the fact that she's looking at you no matter where you're going."
15. Gal is hoping to see more roles like The Bishop in future action flicks.
Gal: "[When it comes to women in action films], I think we're headed in the right direction. There's gonna be more and more and more opportunities for female-driven stories to be told."
16. Gal is game for another round of heisting if there's a Red Notice sequel in the works.
Gal: "I would love for [The Bishop] to show more of her vulnerabilities next time. [I don't know if I would do a solo spin-off film just yet], I really enjoyed filming with us three [Ryan Reynolds and Dwayne Johnson]. So I think, for now, I'll keep the boys with me! (Laughs)"
P.S. It's also refreshing to see another action girl like Interpol's Inspector Das (Ritu Arya), replacing the usual white male archetype of the determined law enforcer constantly pursuing the criminals across different countries. We stan!
If you need to see more female badassery kicking where it hurts, check out Red Notice, which is currently streaming on Netflix.
***
What does your zodiac sign say about you? Subscribe to Cosmopolitan Philippines and find out!
Follow Karen on Instagram.