Nico Bolzico Opens Up About Being Thylane's Dad: 'The second she was born, I was crying nonstop'
In the past five years, Nico Bolzico has worn many hats. He first caught our attention as Solenn Heussaff's hilarious and makulit other half who would post snippets of their lives as newlyweds. We then got to learn more about his business side when he tied up with his brother-in-law Erwan Heussaff and launched Bolzico Beef. But the hat that fits best? It has got to be him being a dad.
On January 1, 2020, Solenn gave birth to their first child, a baby girl named Thylane Katana. She is beautiful, wild, carefree, and a lover of animals and art, and Nico documents most of her young life on his Instagram. Not a day goes by without a Baby Tili social update—may it be going on their morning walk with family dog Pochola or playing with her mama's many art materials (and possibly ruining a wall or piece of furniture at that). There needs no more proof that Thylane is the apple of her dad's eye and that Nico absolutely loves being her father.
He's opened up in the past about the changes he's made since becoming a dad, like cutting down his work hours to devote at least six hours a day with Thylane. "It's non-negotiable," he told his good friend Wil Dasovich. Earlier this year, Nico flew back home to Argentina to see his family, and because of this, spent his longest time apart from Thylane: three whole weeks. In a heartwarming video shot by Solenn, we saw a rare glimpse into Nico's vulnerability when he reunited with his daughter. The moment showed him cuddling, kissing, and yes, sniffing her all over.
One late afternoon in the middle of summer, we got to chat with Nico over Zoom where he hurriedly took our call right after finishing up a video with Wil. It was his day off from daddy duties but he was still so, so excited to talk about his daughter.  
***
How can you describe your relationship with your father and what are your best childhood memories with him?
With my dad, we were very close. Most of my learnings from life came from him. All my principles, all my values. Everything that I try to transfer to Thylane came from him—also from my mom—but I have a very close relationship with my dad. I think the best memories we have is always going to the farm. We normally go a lot to the farm when I was there. And we have very long hours of riding horses in the farm. So imagine when you're riding a horse in a farm, you're just going slow, just talking, having conversations. So I believe those are moments we have the deepest conversations because you're surrounded by nature, on a horse, and just talking with your dad.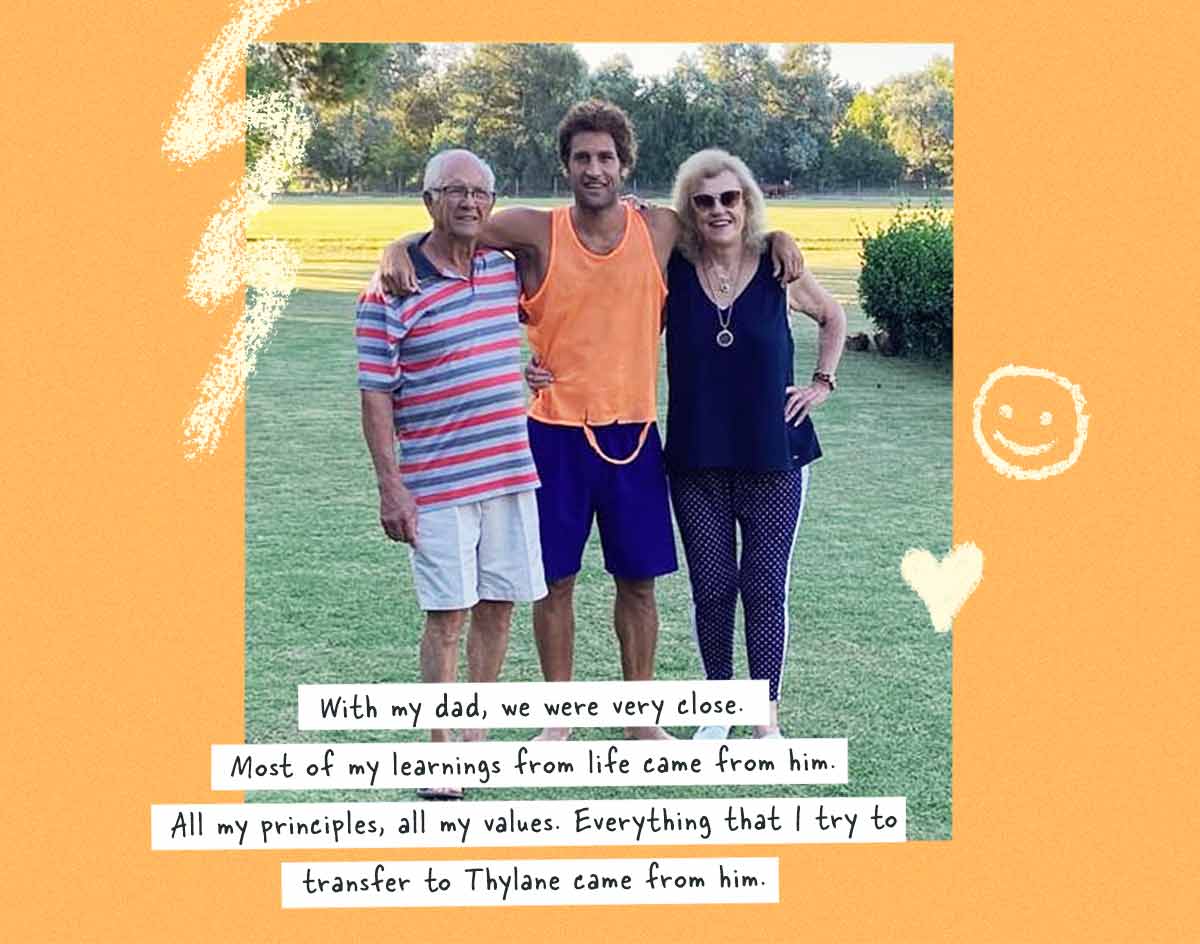 What's the biggest lesson you learned from your father?
Mostly it's about honesty and values and respecting other people. Something my dad always tells me is, "You respect everyone, no matter who they are. The only measure for you to know how much you respect them is how much they respect you. So if they give you the respect, you will give them the respect back." If someone doesn't respect you, just don't pay attention. But don't be disrespectful also. It's more like, we're all the same, regardless of color, regardless of race, regardless of religion, regardless of positions, wealth. Regardless of whatever, we're all the same. And respecting them no matter who they are was one of the main things that my dad always taught me.
Was it always an aspiration for you to become a father?
Yes, I definitely always wanted to be a father. Not too early! But of course, I was ready since I met Solenn.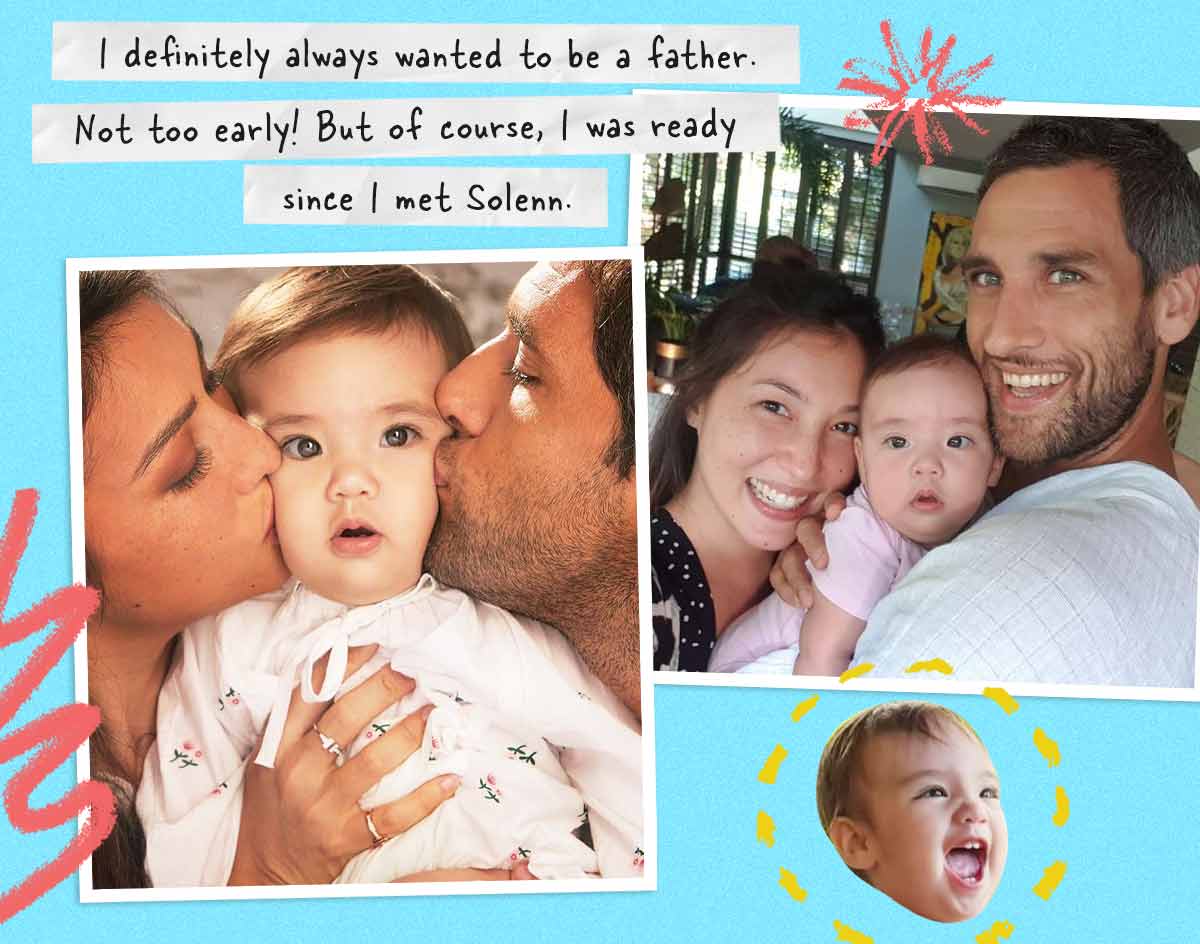 After trying for six months, how did you feel when Solenn told you she was finally pregnant?
I was super happy. She told me when I was in Japan. I was not with her when she told me. When you really look for something and you finally get it, and it's probably the most important thing of your life, it was really magical. It's something you really look forward to, and that's where the journey really starts—the moment you realize you're going to be a dad.
Of course, it's a mix of feelings. It's mostly happiness but you are scared. You don't know what to expect [as a] first time father. It's kind of like, "What's gonna happen? Am I gonna be a good father? Am I gonna be able to feel expectations as a dad?" I dunno. Everyone tells you the feeling of being a dad, but I don't think you really know what being a dad is until you're actually a dad.
Describe the moment you first met Thylane.
Before Thylane I never cried much. I remember crying maybe two to three times in my life. The second she was born, I was crying nonstop. And from the day she was born, just looking at her makes me cry sometimes. It's really something I still cannot understand. When I look at her, it's like I'm really her dad. It changes you so much. I'm much more sensitive. I used to care a lot about the environment, but now it's much more because I think about her. I may be dead, but what about her, her kids? So it's kind of like you change your whole perspective in life.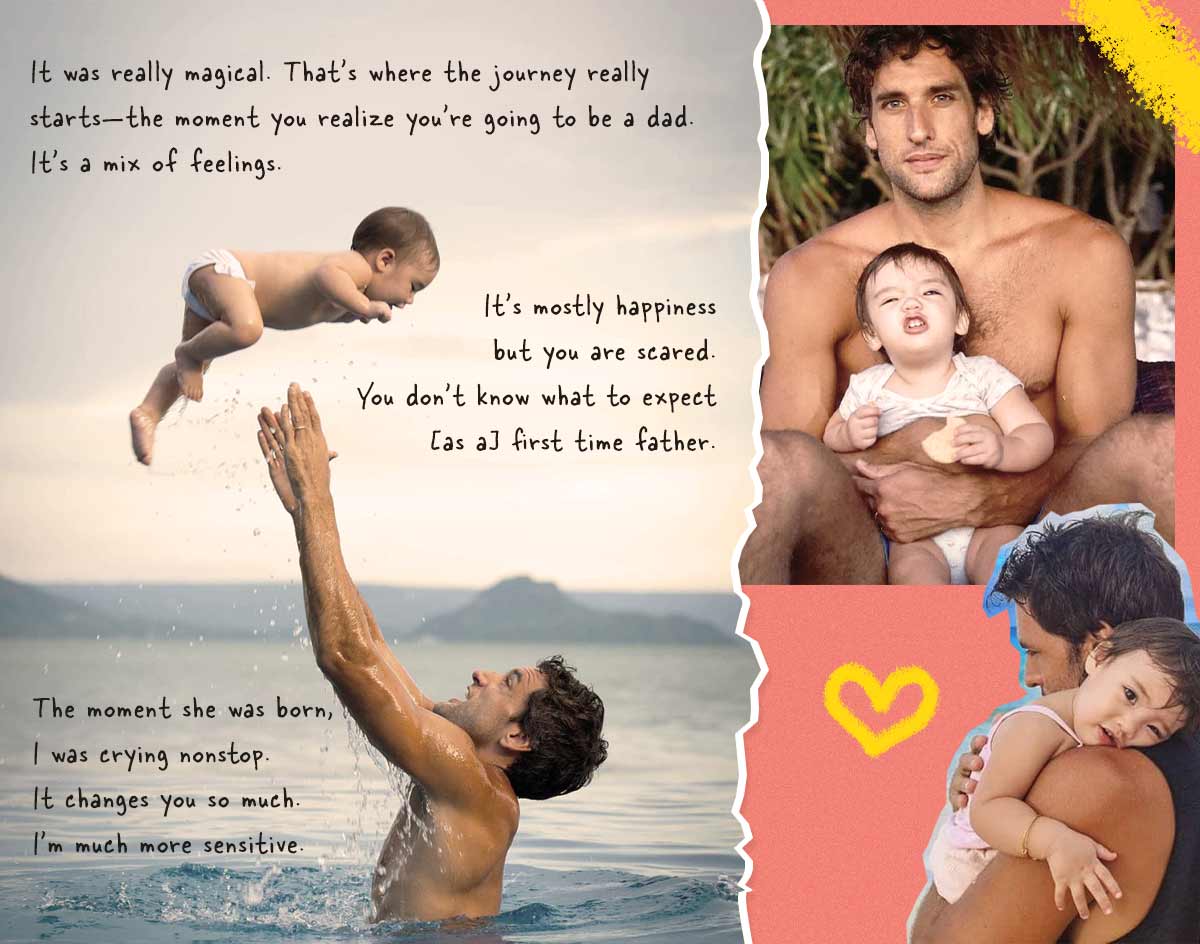 How did you decide to cut your work hours to spend more time with Thylane?
It was not planned, of course. But the pandemic hit when Thylane was born so we started working from home. And I realized the time I could have spent with her, I was spending at the office. And then now that I'm working from home, I have the opportunity to spend more time with her and I realized that that makes me really happy, and that's what life is about. And it was time for me to put a priority on her. So I decided to work a bit less and spend more time with her. And it's the best decision I ever made.
What new skills have you learned as a father?
You try to teach her but you're learning at the same time you teach her! So I really discovered I could be way more patient than I thought, with Thylane. I always would say when I have a kid, I would be very disciplined because I will educate them. *shakes head* Whatever she wants, I give her. There is nothing I cannot not give her when she wants it. I'm very, very, very soft when it comes to Thylane.
Describe your parenting style compared to Solenn's.
I think we complement each other. I think we're both very hands on and we make sure we support each other every day. Sometimes I'm busier than she is, and sometimes it's vice versa. So we really cover [for] each other. And we both want to be present for Thylane so we make sure at least one of us is there. I think Solenn is a bit more of a disciplinarian, because she can. I cannot. I love to see Thylane being dramatic. Everything is a big deal for her. And I kind of go [along] with that also. I will regret that for sure. *laughs* But I just love it so much and I love her so much.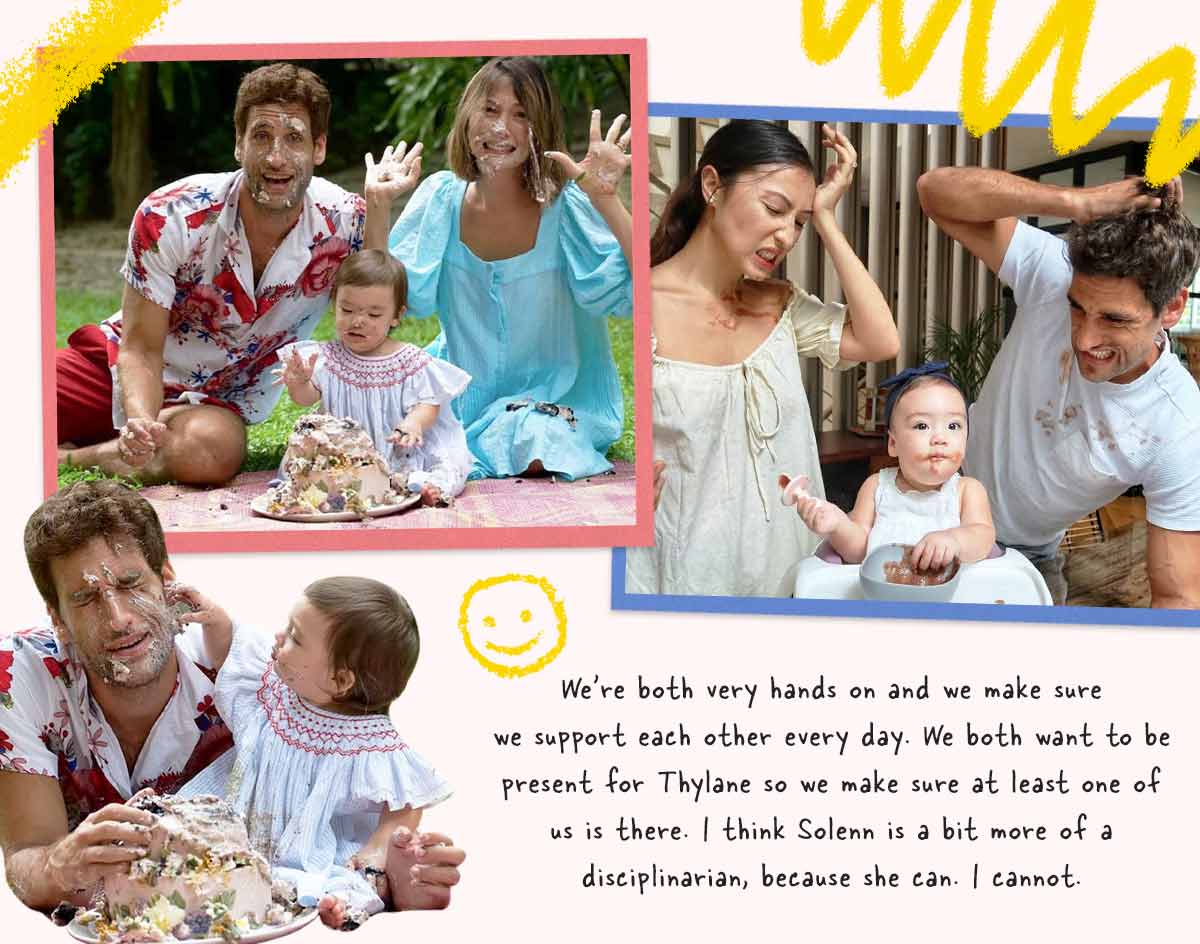 What's a typical day for your family of three?
I promised her a lot of things, Thylane, when she was born, and one of them was I would spend my first two hours of every day of my life with her until she doesn't want anymore. Maybe when she's 18. She will say, "Get out of my room." But I do wake up and the first thing is I go with her. We play a little bit in her room for at least 45 minutes to one hour. We change, we choose her clothes, we go down, we go wake up mama. Then we go down again—because our house has three floors—and then we have breakfast. After breakfast, we go for a walk with Pochola. And after we come back and play a little bit more, she might have 30 minutes of [watching] cartoons if she wants. One, but it has to be in Spanish. And then, it's when I pass it to [Solenn]. Solenn is the one taking over. But actually around 10:30 she takes a nap 'til 12:30. And that's when I go to my office that's here in my house. And then when she wakes up, we have lunch all together. Then Solenn spends mama time with her. And around 4:30, 5, I stop working and the three of us go for a walk again with Pochola. And when we come back, we have dinner, shower, and she goes to bed.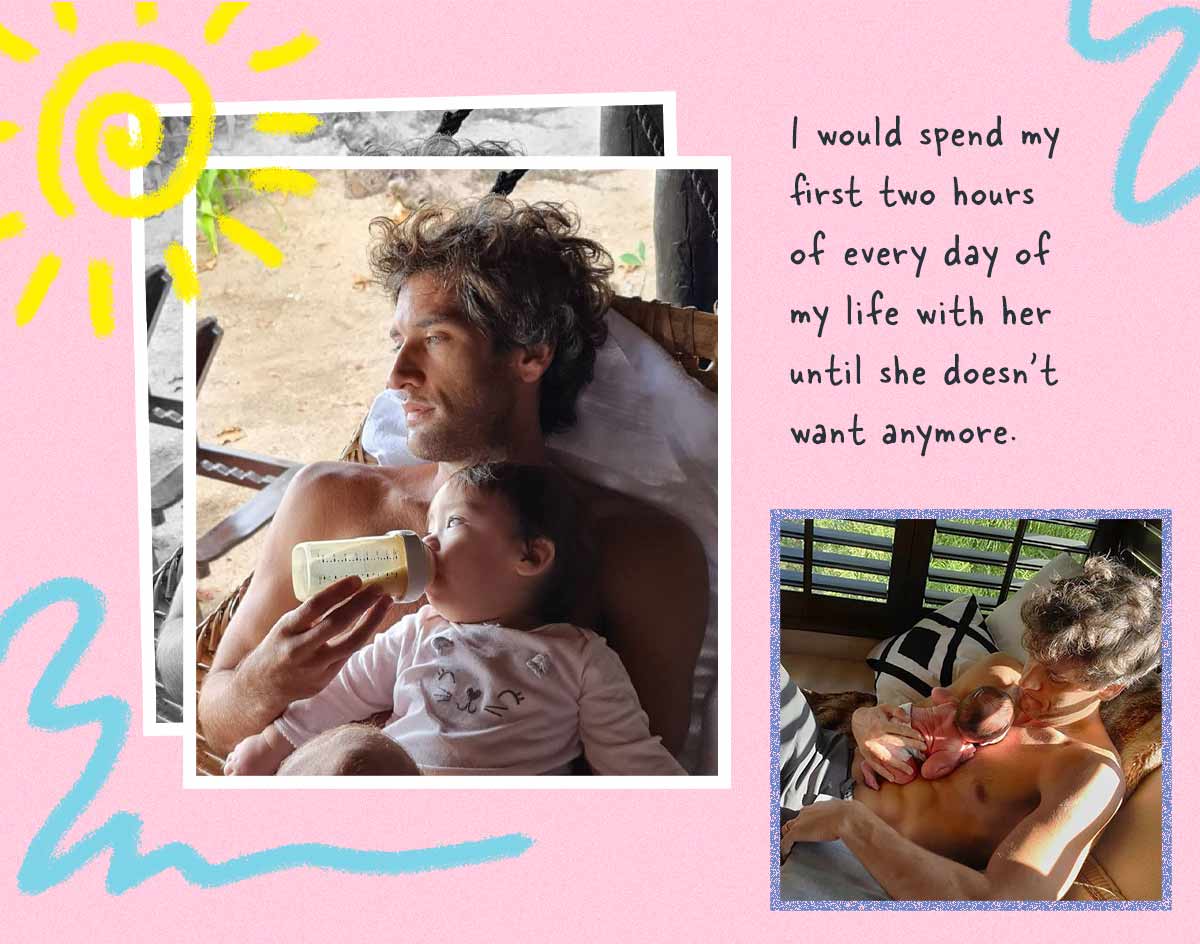 Do you have plans for more children?
Yes, we want one more. We just don't know when because it's not my call, it's Solenn's call. But we want at least one more. I think two is good. I don't want to have too many kids. I want to be able to give enough time to my kids. So too many kids, I think, I dunno how it would be. I think two is a good number.
Once Thylane is older and sees this old Cosmo video, what would you want to tell her?
So first, I'll say that of course, I love her so much. I'll apologize for the many mistakes that I will make as a dad. I hope she understands those because I'm gonna make many mistakes no matter how hard I try. It's a learning process for me. If she's 18 now, I hope you haven't brought any boyfriend home yet, and if you did, you know there is a very strict set of rules and challenges he needs to go through before he can sit down in the table today. And if you're watching this, and you're upset with me because I kicked out your boyfriend from the house, you need to understand that you cannot have that many—you cannot have a boyfriend yet. You know, you are 18. Actually, who am I kidding? She's gonna have a boyfriend at the age of 15. These kids are growing so fast. So basically, long story short is I love you so much and thank you for allowing me to be your dad. Every day that I spend next to you is a day that I'm thankful to God and to your mom for being able to spend [time] next to you. And I love you so much…But the boyfriend part is pretty serious also.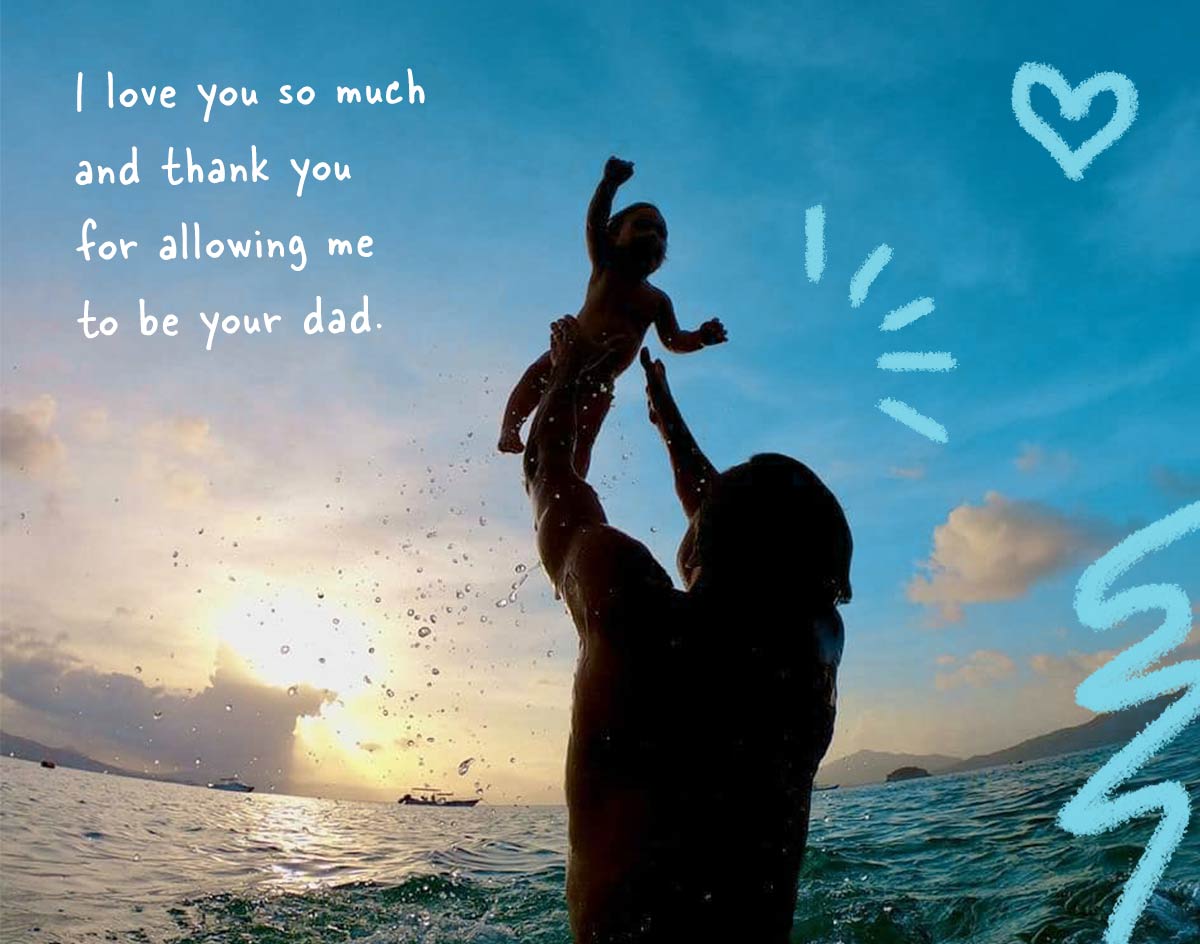 *Answers have been edited for clarity.
PRODUCED BY: Jacinda A. Lopez and Lily Grace Tabanera
ART DIRECTION BY: Cyrille Calderon
VIDEO BY: Alyza Angeles