Have you ever had a super kilig moment that deserved its own background music and slow-mo effect? One that felt like it belonged to a cheesy rom-com? I'd like to think that the time when I *got married* to my high school crush at a wedding booth + the moment when I discussed mystery novels with my cute college seatmate while the terror prof ranted in front of the class falls under this category. 
Because we're curious and we live for the chika, we asked Pinays to share their own real-life rom-com moments below: 
Dreamy First Boyfriend Moments
"My first boyfriend kissed me under an umbrella and it was raining. It was so romantic!"—Bianca
"My rom-com moment was with my first boyfriend, sa village nila. Alam mo yung K-drama feels na he lets you ride at the back of his bike, and nakayakap ako sa kanya while biking along the village streets."—Sabrina 
Super Dramatic Endings
"Five months after I moved to Los Angeles, one of my brother's close friends at the time also moved to the city and we got to talking. It took us a few months to schedule a date, but after Skype calls and talking every day, everything was...heightened. So, apart from touring all of LA, we also booked a room. I had a lot of my firsts that night. I met his mom the next day for brunch. She decided I was too young—and poor—so he stopped talking to me for a while. Initially, he paid for the room, but I was so offended that I didn't want him to think he was better than me so I mailed him my half in cash—para mas masakit."—V
Continue reading below ↓
Recommended Videos
"I experienced many cinematic moments in a previous relationship. From how we met (we spent the whole night singing karaoke together at a friend's party) to the first time he asked me to dance (it was at the balcony of some bar—he suddenly took my hand, whisked me next to him and sang 'The Moon Song' from the movie Her). But as with all movies, relationships, too, come to an end.
We broke up at the university where we both graduated from and where our love story started. It was a Saturday afternoon and we walked around the campus just like old times. We sat down at one of the benches. Students were walking past us. Then the bell rang—an all too familiar sound—signaling that it was five o'clock. He pointed out the sunset. It was beautiful, bright, and golden. We broke up there on that bench—stifled cries, long pauses, heavy sighs.
When I couldn't hold back my tears anymore, I asked to go to his car. We went inside and we both broke down and cried. We said we loved each other but it was what it was. In the middle of the swell of emotions, I couldn't help but blurt out, 'This is just like a movie.' And he couldn't agree more."—Sammie 
When Exes ~Cross Paths~
"I worked with my ex's ex. She was nice, though. I remembered when we were introduced to each other at work, I was so flustered. She doesn't know that we dated the same guy."—Chezca 
"There was a moment when I assumed my two exes didn't know each other. Ang ganda pa ng intro ko: 'Guy One, this is Guy Two. Guy Two, this is Guy One.' Tapos nagkangitian lang sila. Turned out that they were classmates in high school!"—Marjorie 
"Three years ago, I went to a friend's birthday dinner. Apparently, the girl my ex replaced me with and slept behind my back with while we were dating a year before this party was also friends with the birthday guy. I left with my friends and the girl and all of them got so drunk that I was forced to take care of the girl at some point! Grabe, I thought I deserved a spot in heaven at that point."—Gillian
Cuteness Overload 
"In university, I took up an optional power boxing class and our instructor had us warm up by jogging around the sports area. There were other sports classes going on within the covered courts, and it just so happened that someone from the futsal class kicked the ball the wrong way, and it hit me right in the face. This was the first time I was ever knocked off my feet. I remember being on the ground and opening my eyes and some guy was above me asking me if I was okay, kinda like how in the movies it's blurry for a quick second, and it slowly comes to focus and then you see him.

I just remember being embarrassed so I went straight back to the power boxing room. I told my coach what happened and why I didn't finish the laps, and he told me: "Nako! Dapat you stayed on the ground if he was cute!"—Cara
"I was performing in a play and everything was going well when my long-time crush (he was aware that I liked him but we were good friends) emerged from backstage and presented himself as if he's the one I'm choosing in the story, not my real partner. We were performing in front of our co-employees but everybody—including me—felt really kilig because we were too cute, I assume. Here's a photo of us during the instant kilig scene. Won't forget this ever!"—Merryl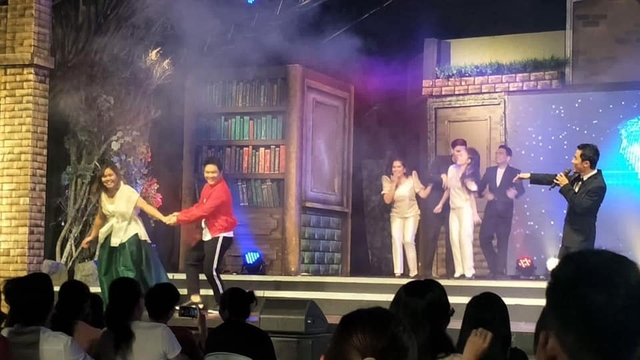 ~Fun~ First Dates 
"I was in the US for vacation, and it was my only 'free day' to go around the city and do whatever before going back home. Long story short, I met up with someone from a dating app. We had dinner and drinks at a sports bar, and toured the city together right after. While walking, my date pointed out the university where he was taking his Master's Degree. I told him going to college in the US has always been one of my 'What Ifs' and so he asked me if I wanted to check out his school. I said yes, LOL.
It was summer break then, so the campus was pretty much empty and quiet. I got so kilig 'cause it was really just the two of us, walking around, talking and getting to know each other. I know I'll never meet the guy again, but it's good to know I was able to make the most of out of my free time there. Before leaving, I got a message from him saying, 'Have a nice flight. Won't say it but I kinda miss you.'"—Nicole 
"I don't know if this is kilig-worthy, but I WAS KILIG AT THE TIME. I went out with this guy and it went really well—like the kind of date that starts out like, 'Nah, not in the mood to see anyone pero sige YOLO' then you end up clicking with him pala. So fast forward to morning LOL he offered to do a coffee run while I stayed at his place. Since this was the end of November, 'tis the season to get those planner stickers so I asked him if it was okay if I gave him my booklet to collect more stickers for the coffee, to which he agreed. After I showered and got dressed, he comes back with a BIG BROWN PAPER BAG. I got confused and he said, 'So I started getting food and drinks from the chiller but I didn't know the stickers were only for coffee."  HE BOUGHT ME A FREAKING BREAKFAST BUFFET SPREAD TO HELP ME GET MY PLANNER WTF."—Nikki 
"We'd been flirting for a week or so via chat. A little while later, we went out, but we quickly realized we didn't really click. We didn't have much to talk about and it was very...meh. So, he drove me home and we made small talk with the quiet acceptance that this was not going to be a relationship. There was an unspoken understanding naman. But when he pulled up to the front of the house, there was...~a vibe~.

Still in the passenger seat, I thanked him for the day. I was holding my keys when I said "Well..." And I hesitated. I swear to god, the tension was palpable. There was a silence that felt like an eternity but was probably just a breath. Then, he said, 'If you don't step out of the car right now, I am going to have to kiss you.' And I dropped my keys. I fully just let them fall to the floor! I turned around and his lips were there to catch mine. So we made out in the car for quite a bit. That was fun!"—Jewel 
Follow Lily on Instagram.