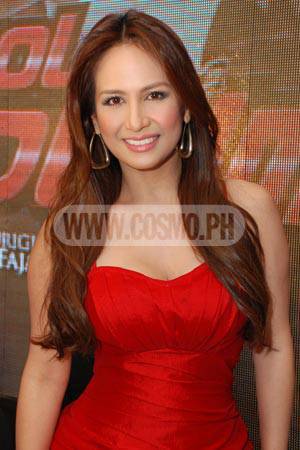 When you've got a busy work sched, trying to finish everything before the holiday break, on top of all the last-minute holiday gift and outfit shopping for parties, it's easy to find an excuse to look haggard and not bother fixing yourself up on a regular day. But, we wanted to show you that it's possible to look great, even if you're juggling so many responsibilities and deadlines. We talked to Regine Tolentino, who not only manages to look smashing everyday despite all the many commitments she attends to, she's also a pro at making other women look stunning.

The gorgeous actress is not only an in-demand dancer and host, she's also a very successful entrepreneur who has both a dance studio and a clothing boutique. As a supplier of clothes and costumes to the stars, this mother of two naturally has a keen eye for fashion and knows how to make a woman look her best.

We caught up with Regine at TV5 recently and got her to reveal her fashion and beauty essentials, which keep her looking fab and flawless everyday, in spite of her busy schedule. Read our exclusive interview with her below and be inspired to follow her example.

Describe your personal style.

Well, I'm really girly, I would say. I'm always in heels 'cause I go to the office--my shop. I love to wear dresses [with] big bags and big earrings.

What are your makeup essentials?

When I have my no-makeup look, I always have concealer, lip and cheek tint, and that's it. Normally, everyday I have makeup because I have work everyday, so [I always] moisturize and wash my face with YSA Skin Care Clinic stuff. Then [for] my makeup, I have a lot of Revlon makeup, but I'm also a big fan of Kryolan stage makeup, Make Up For Ever, and all the products from Sephora. But my most favorite makeup piece would have to be my curlash--I've been curling my lashes since I was 9 years old 'cause my mom bought me one when I was young. I [also] love blush, I love rosy cheeks 'cause it makes you look happy even though sometimes you're tired or stressed.

Name five fashion items you can't live without.

It would have to be my favorite shoes right now (gestures to her feet); these are Gianmarco Lorenzi from a trendy boutique in Las Vegas at the Venetian Hotel. I love these shoes and my LV bag that I always have everything in. [Another item is] a teasing comb. I like it when my hair is combed nicely and I tease it a little, add a little bit of curl. And a balabal--on a regular day I always have some type of a wrap because lamigin ako. And my maxi dresses since I'm pretty much always in a dress unless I'm dancing.

What are your fashion and beauty pet peeves?

Oversized clothing on women that don't accentuate their assets. Greasy hair. When clothes don't match--like when you mix sporty with something glamorous and it's just clashing. And over-accessorizing.

What are your tips for dressing for a particular body type?

I really research these type of things because I have a boutique and I design made-to-order formal wear, casual wear, and even dancewear and costumes. It's actually not just about the body type; it's also about their personality, their complexion, and the occasion that they're attending. So there really are a lot of factors, but my goal is to hide the flaws and accentuate the assets. If you've got great shoulders, that's what we'll focus on and we'll just downplay the other pieces, keep it dark. And then when it's somebody petite like myself--without the heels, I'm a small person (laughs)--I always try to make them look taller. And for curvy women like me also, I try to make them slimmer. So I really work on that a lot because I have a lot of clients who come to really work on making daya their formal wear.


Launch the gallery to see more photos of Regine.
Continue reading below ↓
Recommended Videos
1704