It was the year 2019 when I came across a fantasy drama titled Extraordinary You and instantly got recruited to the ~*Haru-ya*~ club. As most viewers often do after finishing a drama, I immediately looked each actor up online and was thrilled to know that the one who played Haru, Kim Seok Woo or better known as Rowoon, is a member of a K-pop group named SF9. Back then, I was on my two-year fangirling hiatus due to some *adulting* haps. But SF9's charm and talent quickly lured me back to the forgotten attic where I keep my dusty box of fangirling desire. And voila, I became Alice—falling into the rabbit hole leading to K-pop wonderland once again.
You have no idea how ecstatic I was when Globe announced a fan meeting event with the person who brought back the fangirl in me. But scoring tickets to the fan meet wasn't as easy as I expected. Since Globe will only let you score early tickets through a pre-registration and raffle draw system, I was one of the fans who expressed their kabado malala feels because NGL, I am quite unlucky when it comes to raffle draws.
ADVERTISMENT - CONTINUE READING BELOW ↓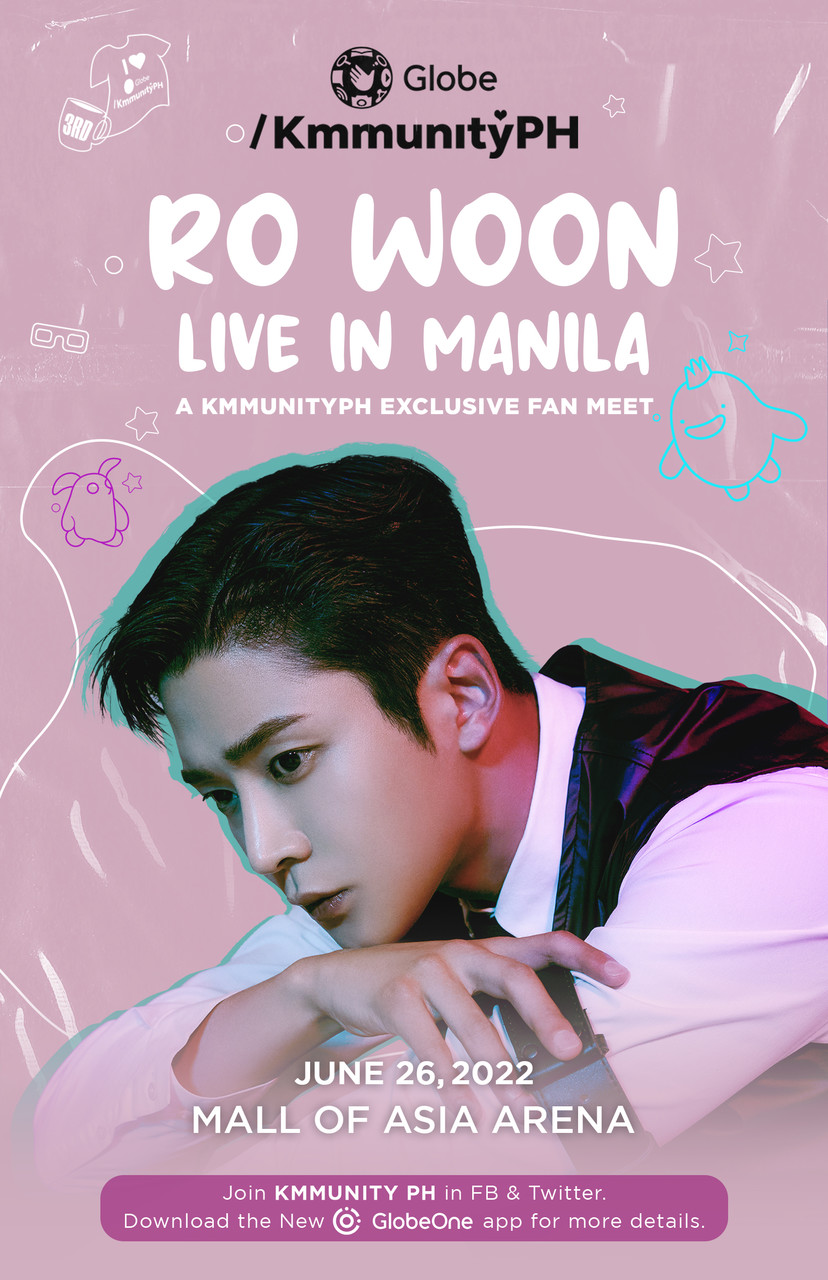 When I did receive a text message from Globe claiming that I was selected to join the exclusive fan meet, I flipped the house upside down because of my screams. I immediately claimed my ticket and made a game plan on how I'll fit the fan meet into my schedule (all working adults could relate).
ADVERTISMENT - CONTINUE READING BELOW ↓
Recommended Videos
When the most awaited day came, I was in high spirits despite the lack of sleep and looming anxiety about how I can make it back to work on time. But my worries instantly ebbed away when I met my fangirl friends hours before the event. We happily hunted for freebies that some Fantasy (SF9's fandom name) prepared and expressed our excitement to see Rowoon in the flesh (concert/fan meet tip: Come hours before the event because there are fans who love giving free merch like albums, photo cards, and more!)
The last time I attended an event in the SM Mall of Asia Arena was in 2019, so I was a bit emotional when I marched inside the venue. It feels sweet to once again attend a fan meeting after years of being deprived of it because of the pandemic. And it's even sweeter because it's with my ultimate bias wrecker, Rowoon! (Sorry Youngbin, but let me swerve to your dongsaeng's lane for a while)
ADVERTISMENT - CONTINUE READING BELOW ↓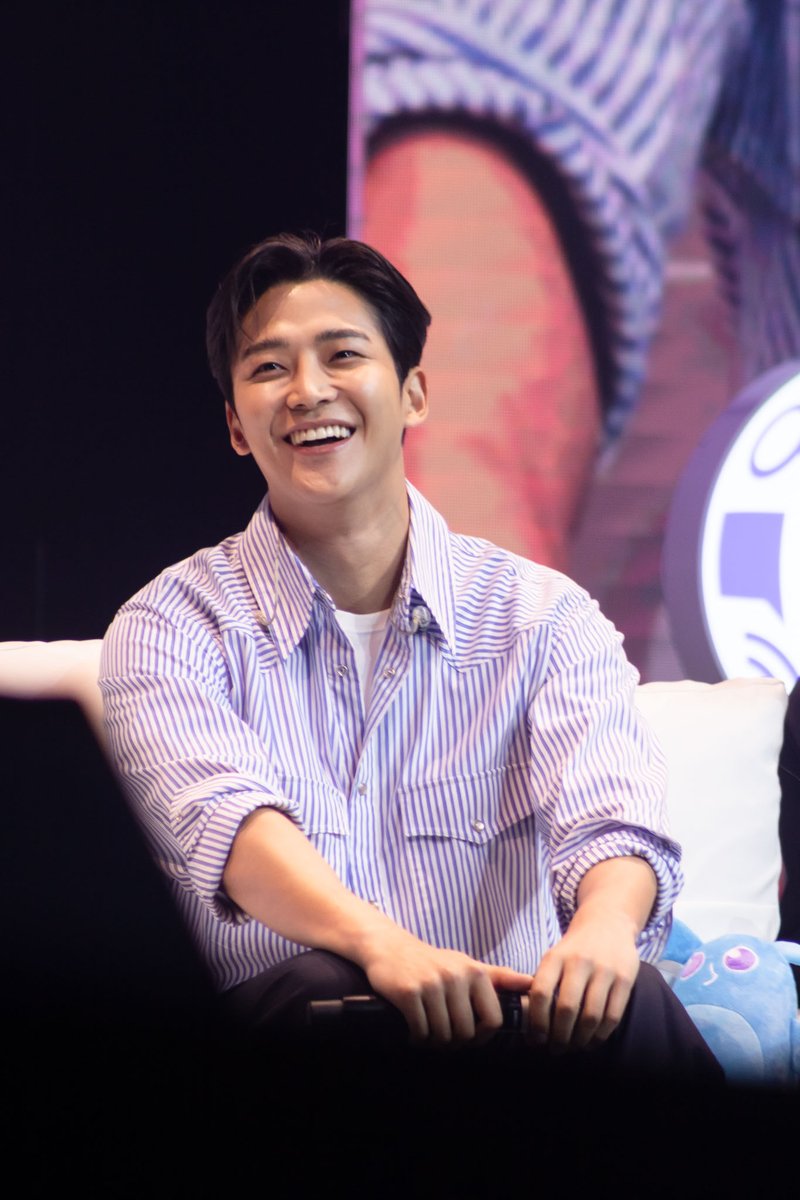 Everything that happened inside the arena before Rowoon came out was a blur and all I can remember is the exact moment he walked on stage. I was at the edge of my seat and felt my heart pound like a drum when he emerged from backstage looking like a dream come true. The spotlight shone on him like he was the only person in the world worth looking at. And at that exact moment, I really felt that the planet stopped revolving just to watch him smile. I saw how his face couldn't hide the fact that he was in awe seeing the huge crowd cheering for him—and it made me quite emotional. As a fan who saw his hard work in the K-pop scene as well as in acting, I felt thankful that he's finally getting the recognition he deserves.
ADVERTISMENT - CONTINUE READING BELOW ↓
Rowoon drove the crowd wild with his jaw-dropping looks and even wilder with his charming antics. There was a segment where he played Pinoy Henyo with the audience openly coaching him, to which he responded with a playful act of pretending that he still doesn't know the answers— which was so adorable! He was also game with learning new Filipino words and playing the Filipino counterpart of the Korean game Jegichagi: Sipa, which Rowoon admits is harder than the former.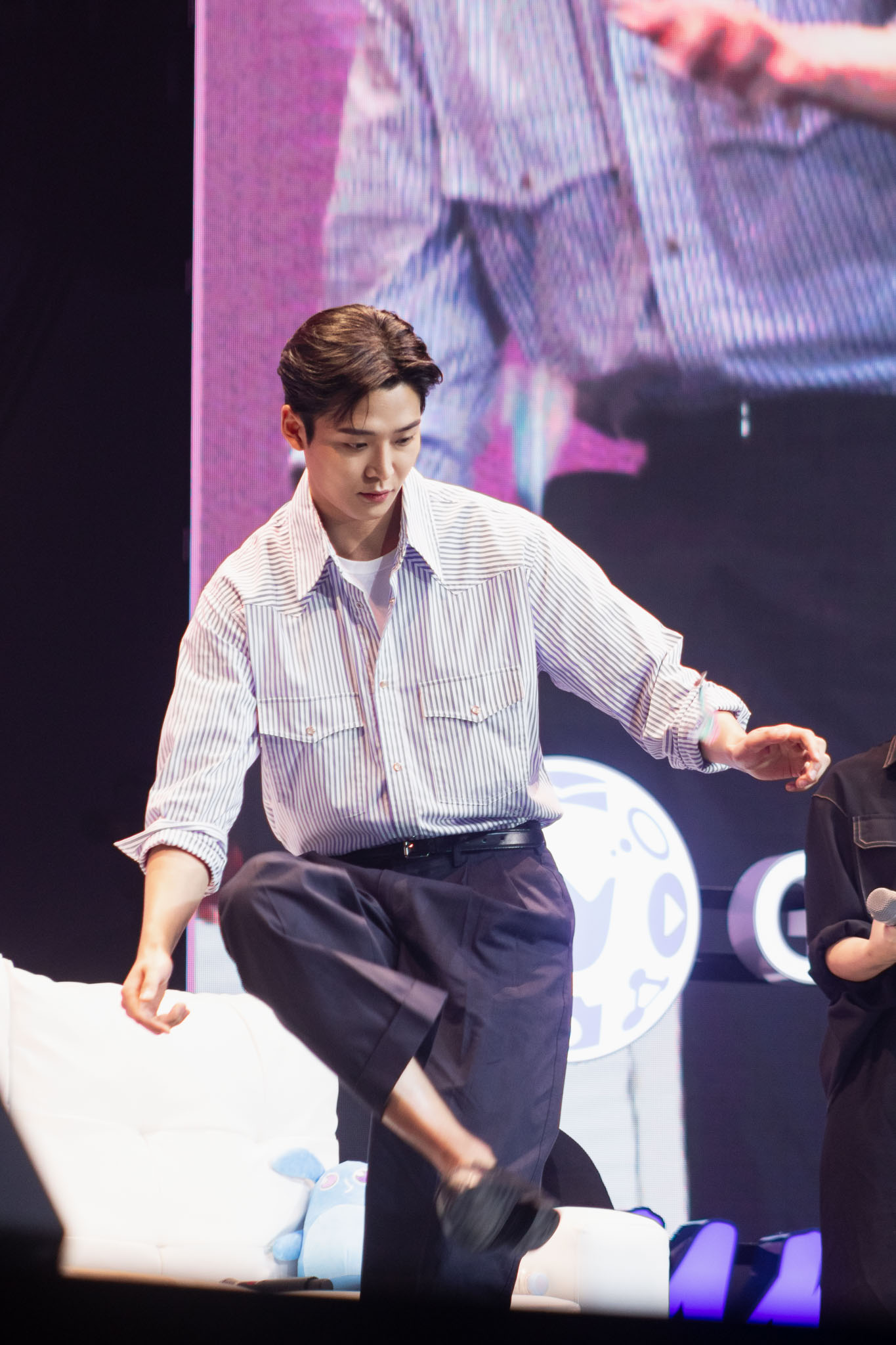 ADVERTISMENT - CONTINUE READING BELOW ↓
And of course, a fan meet in PH won't be complete without the artist trying some local dishes! He tried turon and puto bumbong, but fell most in love with our favorite pre-breakfast treat, taho. The idol-actor seemed to can't have enough of it that he even said that he needs to take it back to South Korea. I'm sure at that exact moment, everyone wanted to turn into taho!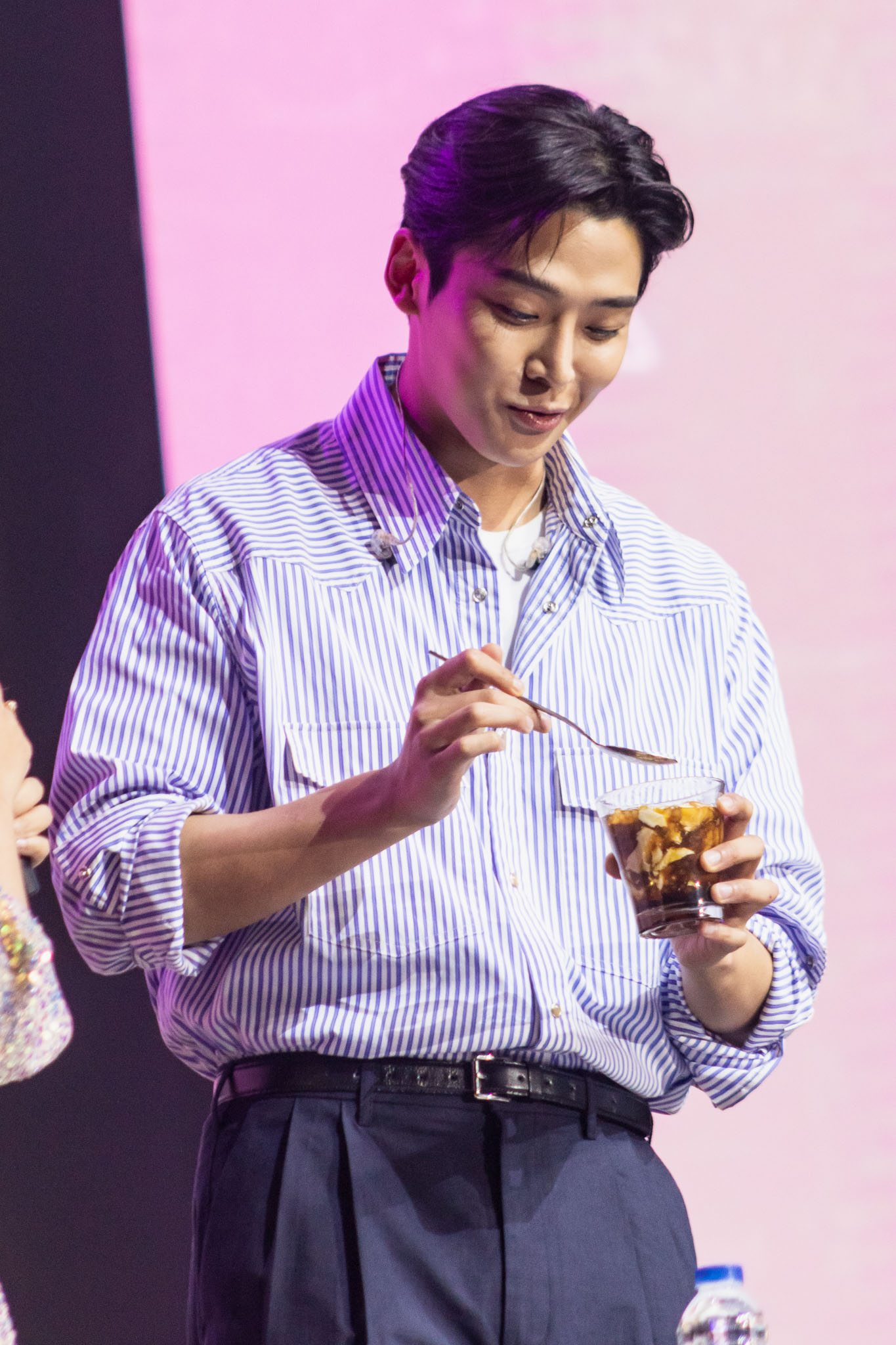 ADVERTISMENT - CONTINUE READING BELOW ↓
One of the most striking parts of the fan meet (and I still can't get over it to this day) is when Rowoon was asked to wear a barong tagalog. The crowd broke into a good kind of chaos when he slowly slipped the barong over his shirt. Rowoon turned the stage into an instant runway as he posed for the fans and I remember my seatmate and I passionately pushing each other (note that we've only just met that day, LOL) because of how delighted we were to see it all live.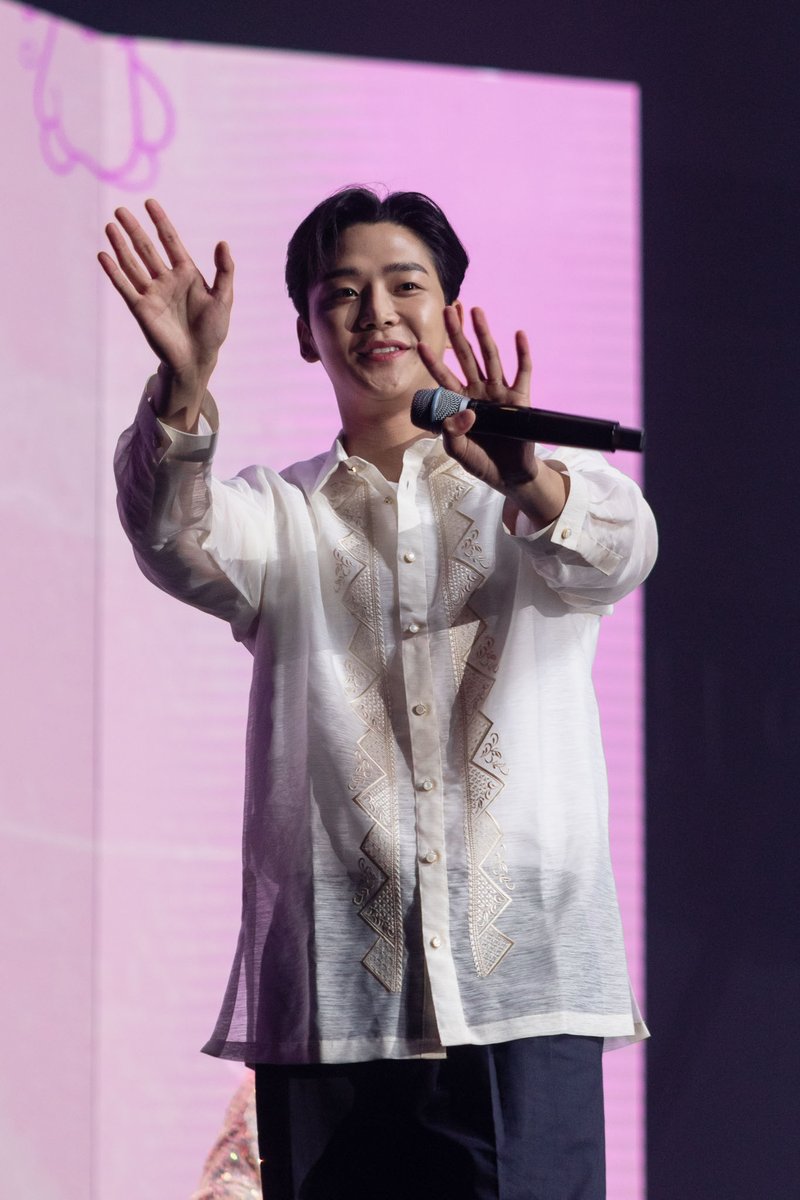 ADVERTISMENT - CONTINUE READING BELOW ↓
Another highlight of the event that made the night even more memorable was when Rowoon answered some lucky fans' questions. One fan asked about how he copes with stress to which he answered, "If I have stress, I just accept it. Because even when you want to break free from it, it just won't disappear easily. So I just go with the flow." Rowoon also shared the three things outside his comfort zone that he wanted to pursue: Meaning, growth, and love.
He also gave a reflective statement about the thought of giving up on dreams. "I think there is more meaning in failure than in success. That's why I am more fascinated with the stories of challenges and failures. I think I can learn more in failing than in winning," he shared.
When asked to share a piece of advice for people who sometimes lose their confidence, he claimed that he also gets scared when introduced to new projects. But he makes sure not to regret anything and to just go with the flow. "I think we can overcome anything if we just trust in ourselves and allow life to take us to where we're meant to be." The arena was filled with oohs and awws after that. And it was indeed swoon-worthy to know that even a rising star like him could still share the same fears we have and yet still chooses to see the sunny side of life.
ADVERTISMENT - CONTINUE READING BELOW ↓
A talented artist oozing with both charisma and humility, a certified ball of sunshine, and a wise guru at times, can Rowoon be more? Yes! The swoons and highs didn't stop there as Rowoon prepared signed gifts straight from South Korea—what a *good guy* indeed! He even made a customized bayong topped with his signature and message for a lucky fan. Talk about effort! Rowoon truly set the bar high that night that we all just ended up praying, "Lord, isang Rowoon lang, please." LOL!
And of course, hindi papatalo ang Pinoy fans sa effort. The Filo Fantasys prepared a surprise video message for him towards the end of the program. And upon seeing Rowoon's face filled with awe and gratitude, we couldn't stop ourselves from tearing up.
After the fastest two hours of my life, the fan meeting finally comes to a bittersweet close. To seal the extraordinary night, Rowoon sings one of the soundtracks from his drama, The King's Affection. He owned the stage for the last time and proved why he's the main vocalist of SF9. It was the most magical way to end the night and my fangirl heart was beyond satisfied.
ADVERTISMENT - CONTINUE READING BELOW ↓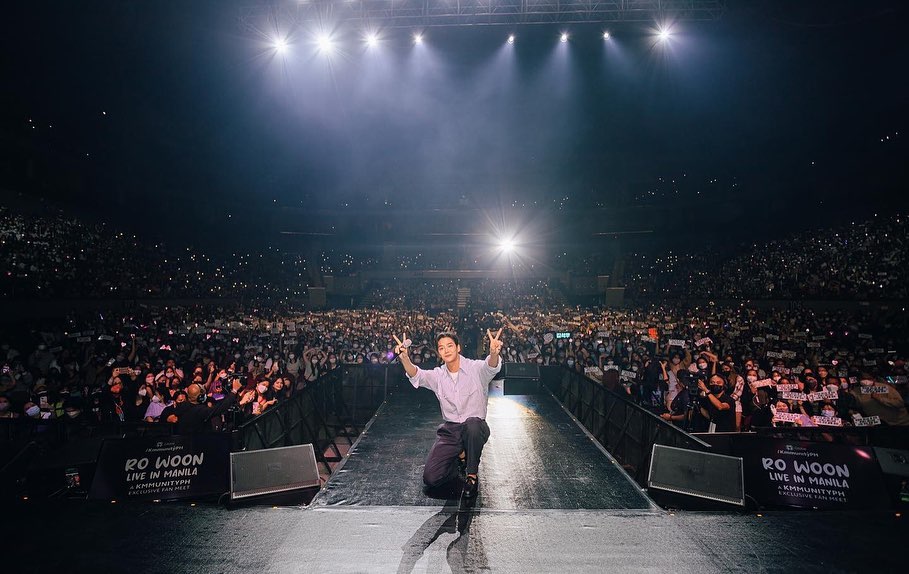 As I ride the bus going back to Bicol a few hours after the fan meet, I couldn't deny the fact that I was dead tired. I lost a whole lot of sleep (and money, too) but what I gained was worth it all. I remember leaning back in my seat and dozing off to a memory I was happy to take home: Rowoon and the sweetest words he uttered that night, "Ipagdarasal ko ang munti mong kaligayahan."
ADVERTISMENT - CONTINUE READING BELOW ↓
MORE FANGIRL STORIES HERE:
I Attended My First Korean Fan Meeting And It Was *With* Hwang In Yeop
I Attended the 'Begin Again' K-Pop Concert And Ended Up Having a New ~Bias~
I Went To BTS' Manila Concert In 2017 And It Was *The Most Beautiful Moment In My Life*
K-UPDATES