If you have been waiting for new episodes of the K-drama Joseon Exorcist, it looks like you won't be seeing any—the series' broadcasting channel, SBS, just released a statement about its cancellation, even though it has already finished 80 percent of its filming.
What is the K-drama Joseon Exorcist?
The fantasy historical drama is a story of how people from the Joseon dynasty fight evil spirits who are filled with greed. Joseon Exorcist shows us how humans are possessed and become a saengsi who can control anyone's mind. There are a lot of visually-horrifying creatures involved, and the show was lauded by netizens for its unique storyline and cinematography. According to its director, Shin Kyung Soo, their "point of reference" for this series is the hit Netflix series Kingdom. But what makes Joseon Exorcist different is that it "features evil spirits and demons in various shapes and forms", and it goes beyond "the physical aspect and into the psychological and religious aspects." Joseon Exorcist stars Jang Dong Yoon, Gam Woo Sung, Park Sung Hoon, Kim Dong Jun, Seo Young Hee, Jung Hye Sung, Lee Yoo Bi, and Geum Sae Rok.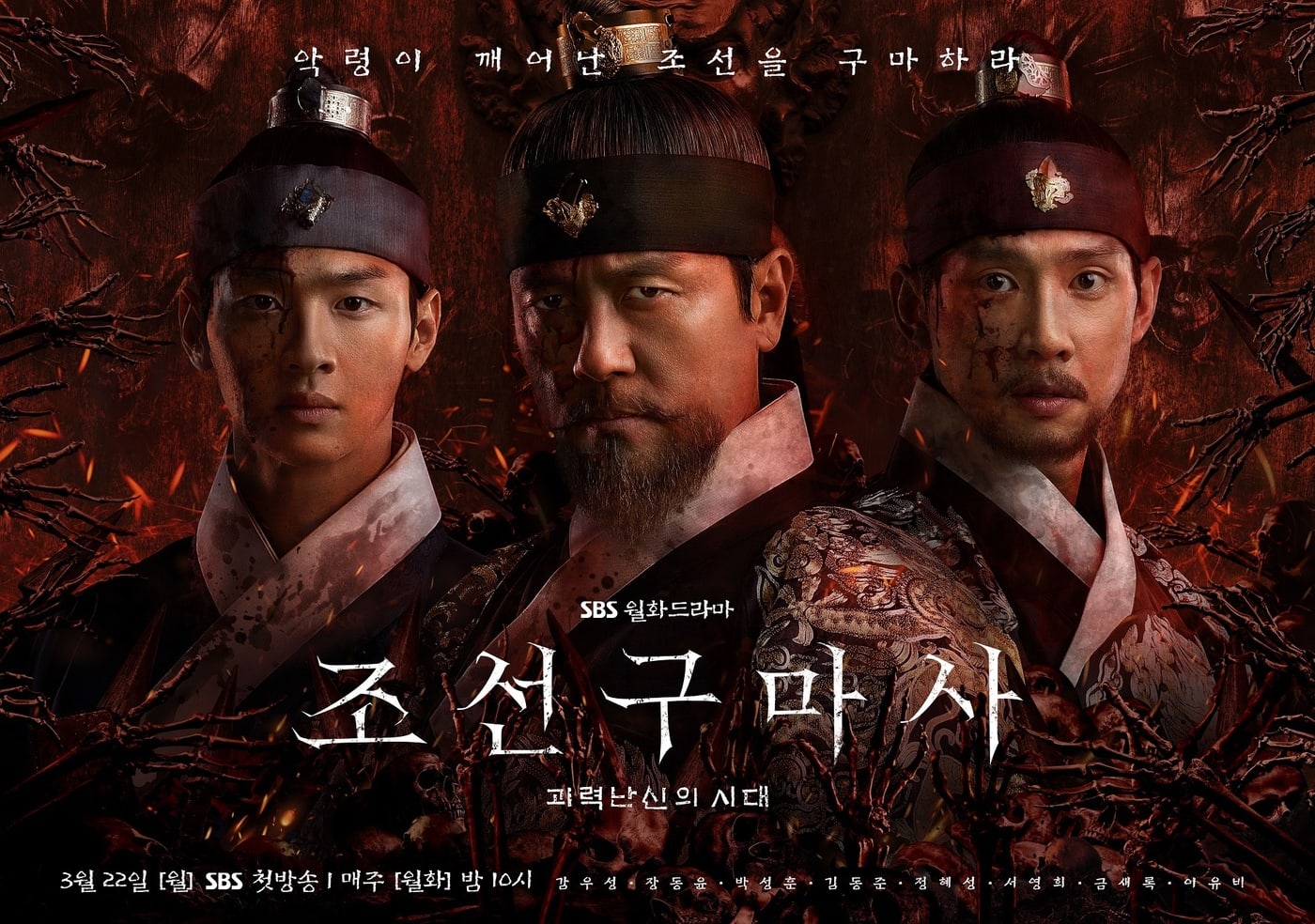 What are the issues Joseon Exorcist faced?
During its premiere on March 22, Joseon Exorcist garnered high viewership ratings in South Korea and showed high potential as a K-drama hit. However, a controversy surfaced when the audience detected a misrepresentation of Korean history. According to Soompi, the first episode of the drama included Chinese-style props which didn't sit well with viewers: "In the scene, viewers noticed the Chinese mooncakes and the Chinese pidan (century eggs) on the drinking table. Besides those were also Chinese dumplings and what appeared to be a Chinese-style liquor bottle with the Chinese character for liquor written on it." The Korea Times also wrote that the viewers have noticed how Joseon Exorcist created scenes without historical basis.
Continue reading below ↓
Recommended Videos
Following the issue, SBS apologized and explained that it "was just a setup to explain the location of these characters who were in a remote area far from Hanyang (Seoul) in the story, and there were no special intentions behind this at all."

On its second episode, Joseon Exorcist's ratings saw a significant drop and it received further adverse reactions from the viewers, after more Chinese-style props were seen on set. SBS then announced that the K-drama will halt its broadcasting for a week. They also shared that Joseon Exorcist is purely funded by South Korea and there was no Chinese funding involved, contrary to rumors.
SBS also said that Joseon Exorcist is a "fantasy fusion historical drama," but Korean viewers are not having any of it. In fact, it was reported that more than 156,000 people signed a petition and asked the drama to be canceled via the Blue House (South Korea's equivalent to our Malacanang Palace) website. Advertisers of the show, including Samsung Electronics and LG Household & Health Care, have also withdrawn their ads following the issue.
Joseon Exorcist's writer, Park Gye Ok, is reportedly criticized for tampering with Korean history. This is not the first time that he faced an issue because his previous work, Mr. Queen, also sparked controversies because of historical inaccuracies.
The ongoing feud between South Korea and China
The two Asian countries are tangled in a decades-long dispute and the issue was reignited when it was reported that China claimed kimchi as its own. In an article by Yonhap News Agency, university professor Seo Kyung Duk, further explained this: "Sensitive public reactions are expected from such controversial scenes amid China's growing claims to Korean culture. The producers should have paid more attention to making the historical TV series."
SBS issues an apology and confirms the cancellation of Joseon Exorcist
Earlier today, SBS announced that they will take the responsibility and Joseon Exorcist will be terminated. This means that no more episodes will be aired, despite the fact that they have filmed almost all of it and paid most of the broadcasting rights. On SBS' social media accounts, you will also see that materials related to the drama have been deleted.
As for local viewers of Joseon Exorcist, many have expressed their sentiments over the efforts and financial losses incurred by the controversy, including how Jang Dong Yoon fell off a horse while filming the series and Lee Yoo Bi's knee injury.
Follow Hanna on Instagram.
K-UPDATES