Shin Hyun Bin might have just entered the radar of K-drama fans in 2020 as third-year resident Jang Gyeo Wool in the hit medical drama Hospital Playlist, but did you know that she already has 11 years of acting experience under her belt? Dubbed as an "actress chameleon" by Korean media, the 35-year old actress' filmography spans genres—from crime movies to historical dramas—you name it, she's done it.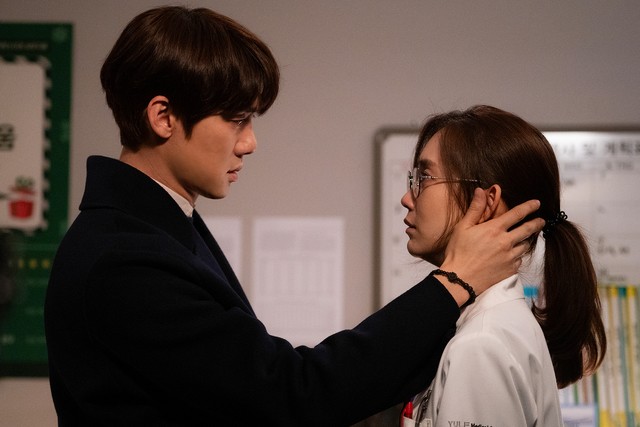 ADVERTISMENT - CONTINUE READING BELOW ↓
To know more about her acting credits, here are eight must-watch Shin Hyun Bin movies and TV shows: 
Early career projects
1. He's On Duty (2010)
The plot: This dark comedy film tells the story of Bang Tae Sik (Kim In Kwon), a desperate unemployed Korean man who pretends to be a migrant worker from Bhutan to land a factory job. There he meets Vietnamese Jang Mi (Shin Hyun Bin) and other illegal immigrants who experience hardships at the hands of their Korean employer. Hyun Bin won the Best New Actress award at the prestigious Baeksang Arts Awards in 2011 for her first-ever film role.
2. Warrior Baek Dong Soo (2011)
Where to watch it: Viu
The plot: In Warrior Baek Dong Soo, Ji Chang Wook plays the titular character Baek Dong Soo, a Joseon swordsman who is tasked to protect the king from assassins. The cast, who by now are all super familiar, includes I'm Not A Robot actor Yoo Seung Ho, Suspicious Partner's Nam Ji Hyun, and Hotel Del Luna star Yeo Jin Goo. Shin Hyun Bin made her television debut as Yoo Ji Sun, Dong Soo's love interest.
ADVERTISMENT - CONTINUE READING BELOW ↓
Recommended Videos
3. Argon (2017)
Where to watch it: Netflix
The plot: The eight-episode drama follows a team of investigative journalists for a news program called Argon. Passionate news anchor Kim Baek Jin (late actor Kim Joo Hyuk) leads the team and enlists the help of his long-time friend and lawyer Chae Soo Min (Shin Hyun Bin) who has a not-so-secret crush on him.
ADVERTISMENT - CONTINUE READING BELOW ↓
Recent projects
4. Mistress (2018)
The plot: Mistress is a Korean remake of the British series Mistresses about four female friends who live very scandalous lives. Shin Hyun Bin stars as Kim Eun Soo, a psychiatrist whose life gets a bit more complicated when the son of her late lover becomes her patient, especially since he is convinced his father's mistress is the killer. The drama also stars Han Ga In, Choi Hee Soo, and Goo Jae Yee.
ADVERTISMENT - CONTINUE READING BELOW ↓
5. Beasts Clawing At Straws (2020)
Where to watch it: Vimeo
The plot: The crime thriller film, based on a Japanese novel of the same name, follows the story of various money-hungry characters who at one point in the film, all get tempted by an abandoned bag full of cash. After getting scammed, Mi Ran (Shin Hyun Bin) is forced to work as a bar hostess for money in order to leave her abusive husband.
6. Hospital Playlist Season One (2020)
Where to watch it: Netflix
The plot: Hospital Playlist revolves around the story of five doctors and long-time friends who met in medical school. 20 years later, their friendship is as strong as ever as they meet to practice as a band after a day's work in the hospital. It stars Jo Jung Suk, Jung Kyung Ho, Jeon Mi Do, Kim Dae Myung, and Yoo Yeon Seok as pediatric surgery professor Ahn Jung Won. Hyun Bin plays the role of Jang Gyeo Ul, a general surgery resident who had a one-sided crush on Jung Won.
ADVERTISMENT - CONTINUE READING BELOW ↓
Upcoming projects
7. Hospital Playlist Season Two (2021)
Where to watch it: Netflix
The plot: Season two of the popular slice-of-life medical drama will pick up after the events of the first season—still exploring the simple but special stories of doctors and patients of Yulje Medical Center. ***Spoiler Alert*** As for our Winter Garden couple (ICYDK, in Korean, Gyeo Ul means winter and Jung Won means garden), the crush might not be one-sided after all following that confession scene in last season's finale.
ADVERTISMENT - CONTINUE READING BELOW ↓
8. A Person Similar To You (Coming Soon)
The plot: A Person Similar To You is an upcoming drama centered around two opposite yet similar women. Hee Joo (Go Hyun Jung) grew up poor but is now a successful painter and writer with a happy family. Despite her seemingly perfect life, she feels life is meaningless, even more so when she meets Hae Won (Shin Hyun Bin), a poor woman who is full of life despite her circumstances.
***
We're officially on Viber! Be part of our growing community and subscribe to Cosmopolitan Philippines now!
EXPLORE COSMO