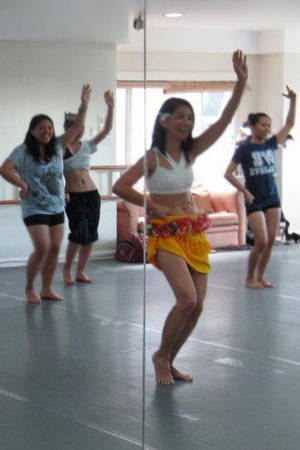 Let's face it, we all want a killer summer bod, but most of us aren't exactly rushing off to the gym to shed those unwanted pounds. We often associate working out with, well, working! One thing we want to learn this summer is how to lose weight without losing our minds and motivation. Luckily, we just discovered the latest exercise that sounds like a whole lot of fun: Hot Hula Fitness, created by Anna Rita Sloss.

We spoke to the first and only certified Hot Hula Fitness instructors in Asia, Vikki de Joya-Santos and Minnie de Joya-Puno, and found out why everyone's talking about this fun fitness program:

1. It's the first Polynesian fitness program that offers a total body workout inspired by dances of the Pacific Islands. The moves are set to the sounds of Polynesian drum beats fused with funky reggae and hip-hop music.

2. All you need is a lava-lava or sarong, bare feet, and hips that want to move. Put a flower in your hair for that Polynesian vibe.

3. The island-style attire adds to the hula party atmosphere. Who doesn't want to party while burning some serious sweat? The lava-lava also helps accentuate your hip actions as you perform the various dance movements.

4. Grinding those hips not only helps you lose inches, but it certainly also helps you lose a lot of inhibitions--especially in the bedroom. Erotic movements help you get in touch with your sexuality, which means hotter sessions in between the sheets!

5. It may be a low-impact workout, but you are really going to sweat! Think of it as going on the usual treadmill, but instead of walking or running, you dance Polynesian-style non-stop for 25-30 minutes.

6. It's a total body workout with total core isolation. The whole time you are engaged, your legs are always bent as you go down low. The lower you go, the more advanced and intense it is.

7. The drumbeats and music will take you to the islands as you burn calories while strengthening your core, arms, and legs.

It's always healthy and invigorating to try new things, so why not give this hip, fun, and different workout a shot? Who knows, you could break out some Hot Hula moves not only in the gym but in the bedroom, too!


Hot Hula Fitness is offered in Rockwell and Alabang Country Club. Check out their Facebook fan page for more info!

Recommended Videos