Google "Versa Climber" and you'll read up on celebs raving about this fitness machine. Lady Gaga sang while using it to train for her Super Bowl halftime show in 2017. Jennifer Aniston says "it's such a great workout," and Mandy Moore uses it whenever she can. Even Captain Marvel herself, Brie Larson, got on it to train for the film. So what is this workout all these gorgeous, strong women are into?
Rise Nation: "The first true 30-minute full-body workout"
Celebrity fitness trainer Jason Walsh launched the 30-minute high-intensity interval training (HIIT) workout called Rise Nation in West Hollywood, LA in 2015. In a 2018 interview, Jason shared that the Rise Nation concept came up after too many clients with lower back injuries got referred to him. "I tried to correct the issue at hand which was almost always spinal flexion—the act of bending forward. A lot of them were young girls and they thought the newest, trendiest workout was going to get them in shape. But they weren't strong enough to do the exercises they were doing." Enter the Versa Climber.
ADVERTISMENT - CONTINUE READING BELOW ↓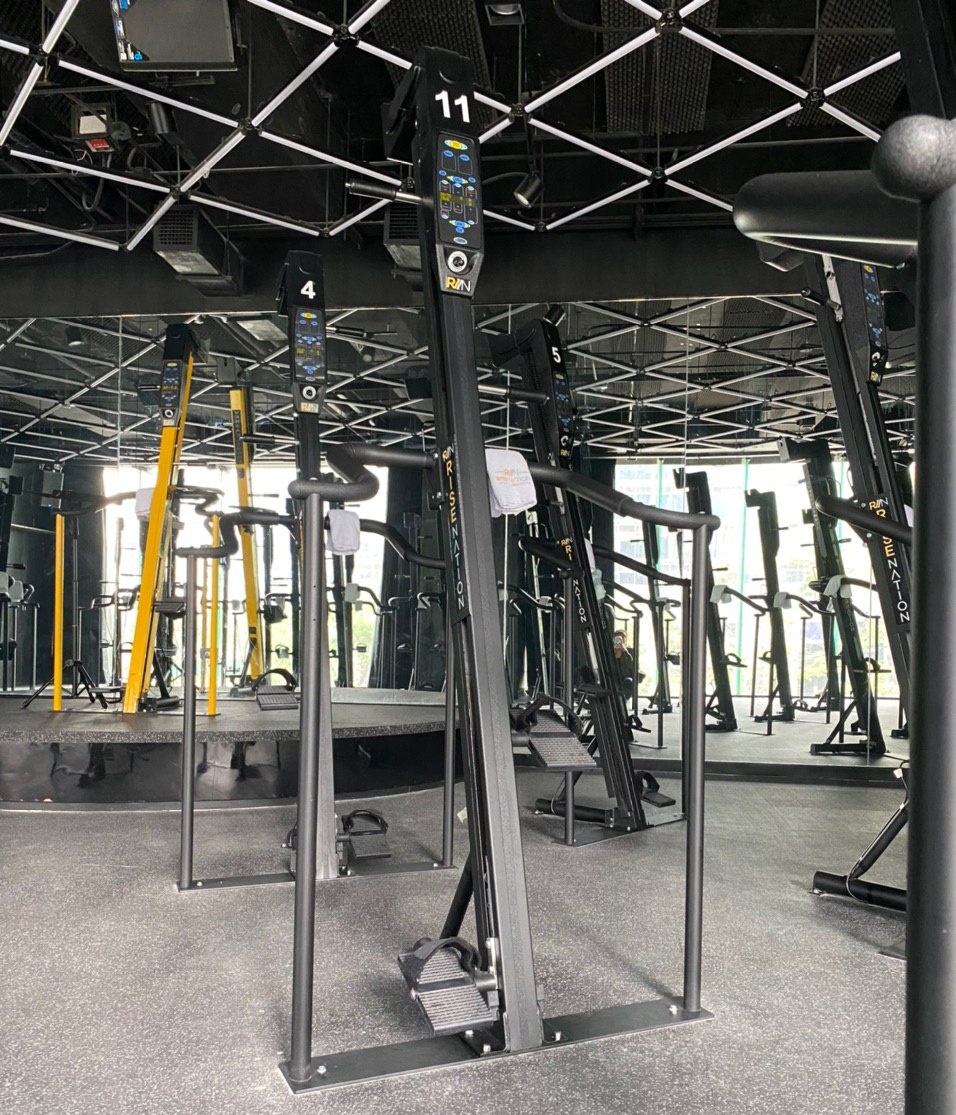 What is the Versa Climber?
I'm not going to lie: At first look, the tall cardio machine with a handlebar and pedals doesn't exactly look motivating (it looks like a BDSM prop from Fifty Shades, tbh, lol), but it's surprisingly easy to use, once you're all set up. Now, imagine you're crawling horizontally like a baby—then visualize that in a vertical position, standing up. That is the exact movement you're doing on a Versa Climber.
"When we were babies, we were doing that movement—crawling. It's a natural movement that we never really utilized because we're now standing on our two legs. So now, when we do that, it actually engages a lot of muscles that we sometimes tend to not notice," explains Gigo De Guzman, a Rise Nation Philippines Instructor.
ADVERTISMENT - CONTINUE READING BELOW ↓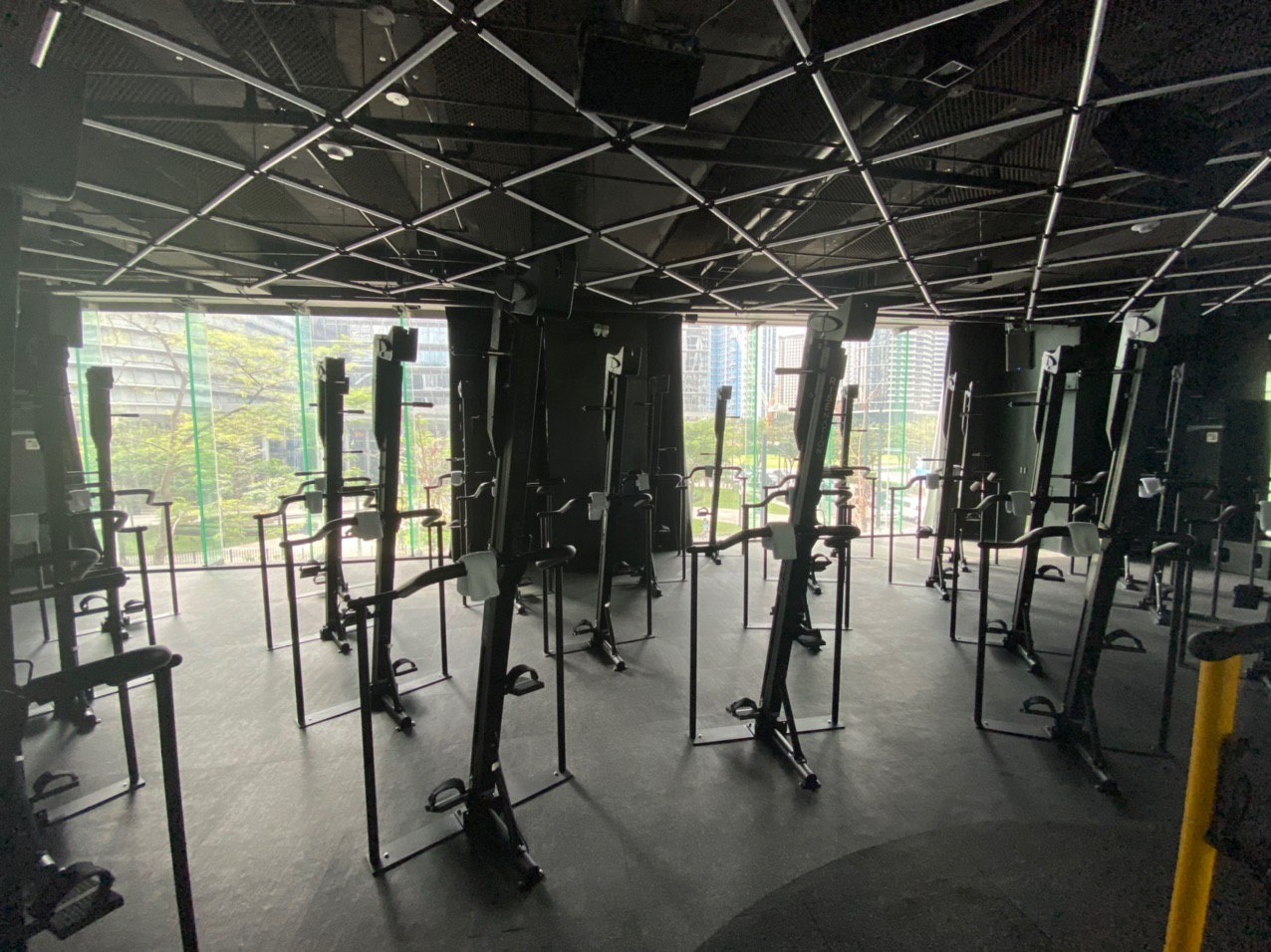 Here are some things you need to know about the Versa Climber:
It doesn't store momentum, meaning if you stop moving, it stops too. So every bit of effort you put in, you also get. No cheating allowed!
It measures your progress in "feet climbed." Yes, as if you're climbing a mountain!
You can adjust the handlebars so you have a more comfortable climb. 
Using it activates all major muscle groups in the human body with zero impact (it's not hard on your joints!)
The Versa Climber is designed to fit all height ranges and body types. 
The machine is self-regulated, meaning you are the one in charge of building up its intensity. That's why most people, regardless of fitness level, can give it a shot.
ADVERTISMENT - CONTINUE READING BELOW ↓
Where is Rise Nation Philippines?
Rise Nation Philippines launched in BGC in September 2019. It's the eighth studio in the world and the first in Asia. You can visit the BGC branch at:
Level 2 High street South Corporate Plaza, Tower 1,
26th street corner 9th Avenue, BGC, Taguig City, Philippines
Contact: (027) 795-4256
What can you expect from a Rise Nation class?
Visit risenation.ph to book a class at the first studio in Bonifacio Global City. The entire duration of the 30-minute class will be done on the Versa Climber, using movements choreographed to the beat of the music. The workout room is dark, with laser lights similar to what you'd expect from a club. There's also a podium in front where the instructor stays so everyone will see the movements. Most instructors will go around and assist or motivate you throughout the class. The best part? Did I mention that it's dark? This means no one can really judge you for making mistakes or not keeping up with the rest of class, especially if it's your first time!
ADVERTISMENT - CONTINUE READING BELOW ↓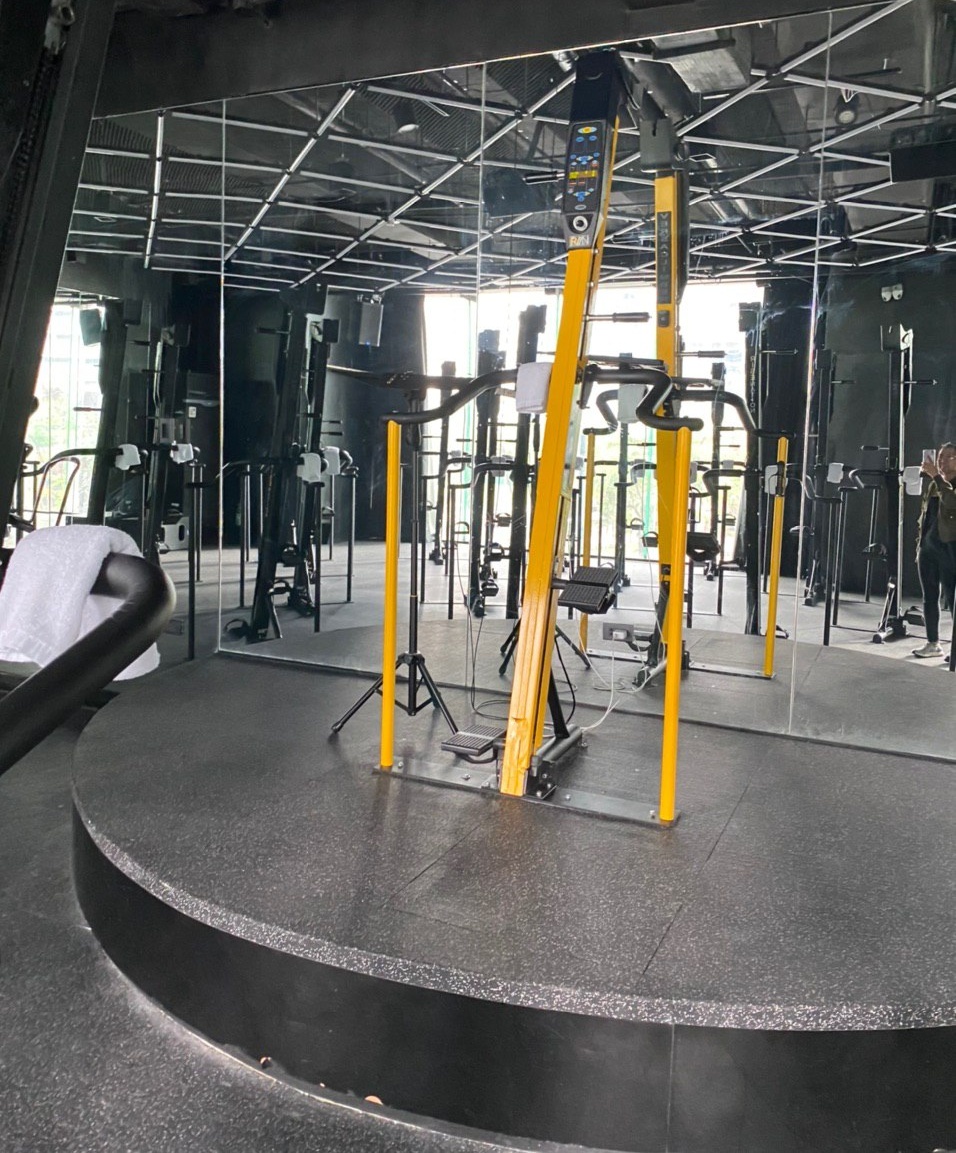 Pre-class:
Bring your own water bottle! The studio has a water station for refills. 
Wear comfortable workout clothes (with sneakers) that don't ride up when you move. Cycling shorts or leggings paired with a sports bra and tank top will do the trick.
Have a healthy snack an hour or two before class. You'll be moving a lot, so pick your fuel wisely—nothing oily that would make you feel sluggish.
Workout and bath towels are available at the studio, along with toiletries and a blowdryer. No need to pack these! Do bring rubber slippers for when you shower (the bathroom floor can get a little wet and messy).
ADVERTISMENT - CONTINUE READING BELOW ↓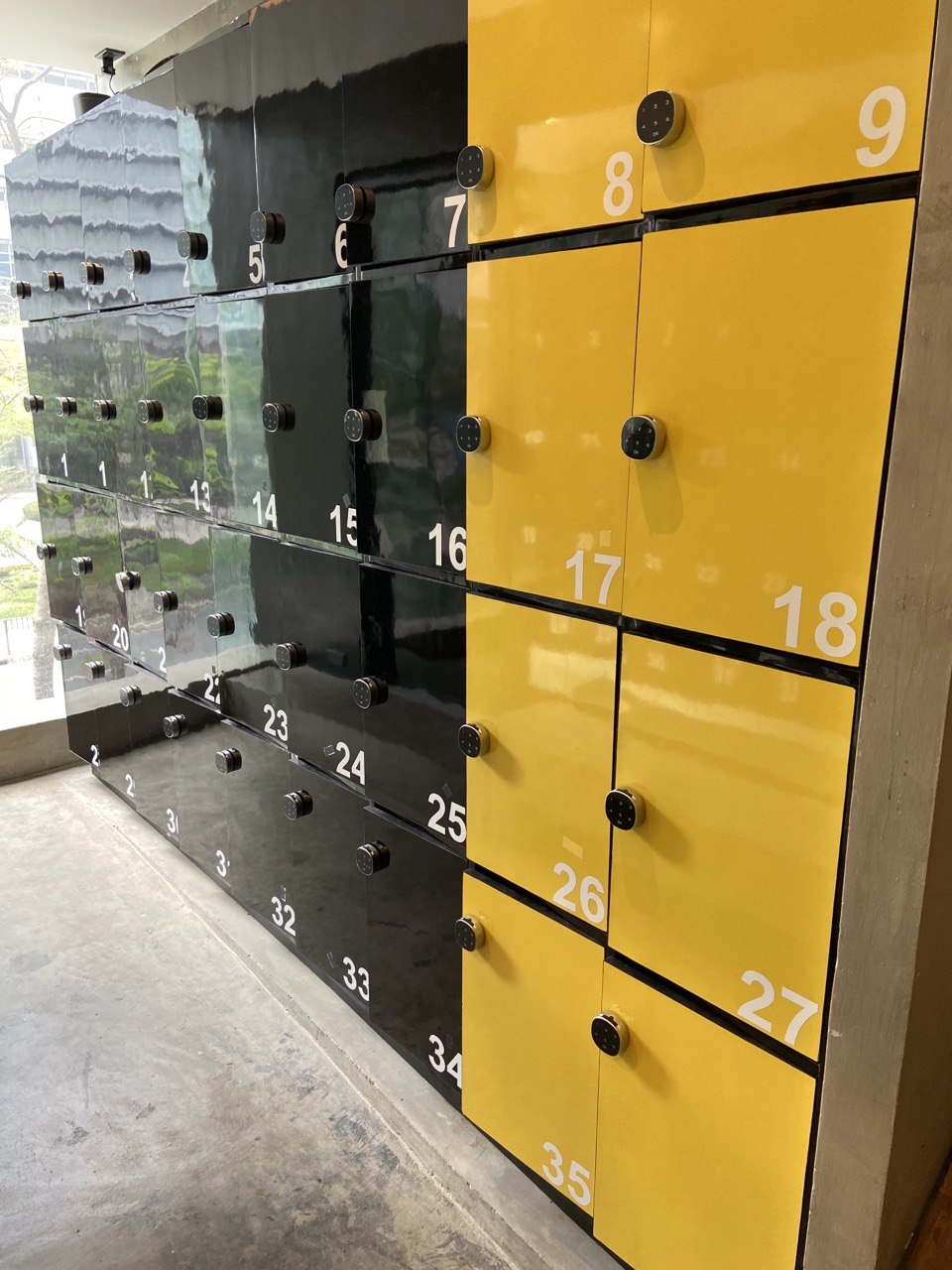 Are there different types of classes?
Yes. There are three levels:
LEVEL 1: 700 to 2,500 Feet Climbed
If you're a first-timer, definitely pick this one. This class introduces the basic Versa Climber movements and a couple of combos, to get you prepped for Level 2. 
ADVERTISMENT - CONTINUE READING BELOW ↓
LEVEL 2: 1,500 to 3,500 Feet Climbed
It gets more interesting with more movement combinations, still done to the beat of the music. Expect the songs played to have faster beats, too. 
LEVEL 3: 2,500 to 6,000 Feet Climbed
Right now, these classes are not being offered at the Rise Nation BGC branch. But judging from the feet climbed, you can guess that this level is for more experienced climbers!
During class:
If you are a first-timer, arrive at the studio 15 to 30 minutes before class, so you can have your Versa Climber set up. There's one by the lobby, so you can definitely get a feel of the machine before the class proper. Don't hesitate to ask for assistance! 
You'll be asked to sign a waiver if you're a first-timer. Anyone under 18 will need a guardian or parent to sign on their behalf.
Leave your bag and cellphone in the lockers provided at the studio.
HAVE FUN! Take it from Gigo: "What you're supposed to be doing is to get to know the workout itself first. With any workout that you try, it's a matter of getting your body familiar with the movements so you can attack them perfectly. So no pressure first. Get a feel of it, take a break if you need to, it's all good!"
You may rest at any point in the class. You can even get off the Versa Climber and walk in place to give your legs a break. Rest is part of the workout, too. The most important thing is to listen to your body. 
Each class' vibe depends on the instructor you choose. We took Kyo's Level 1 class (Bonus: It was a Zedd themed climb!), and we highly recommend taking him! Kyo, like Gigo, is not only a Rise Nation instructor but an Electric Studio indoor spinning instructor as well. Both of them are very informed about safety measures and will give you such a fun workout.
ADVERTISMENT - CONTINUE READING BELOW ↓
After class:
There's a cooldown sesh after the workout, and you'll most probably have a class picture taken after. 
Don't forget to hydrate again!
If you experience cramps, follow Gigo's advice: "Take your time, slowly move your muscle. Don't keep it still; it tends to stay cramped longer if you keep it still. The number one cause of cramping is the lack of oxygen in the muscle, slightly followed by dehydration. Drinking water is the fastest way to let oxygen to travel in your bloodstream. Hydrate as much as possible!"
Eat a good meal. At this point, your body is still burning calories. Take advantage of it!
What we thought of the workout
I climbed with Ira (Cosmopolitan Beauty Editor) and Retty (Cosmopolitan Managing Editor) for the first time, and here's what we all thought of the workout!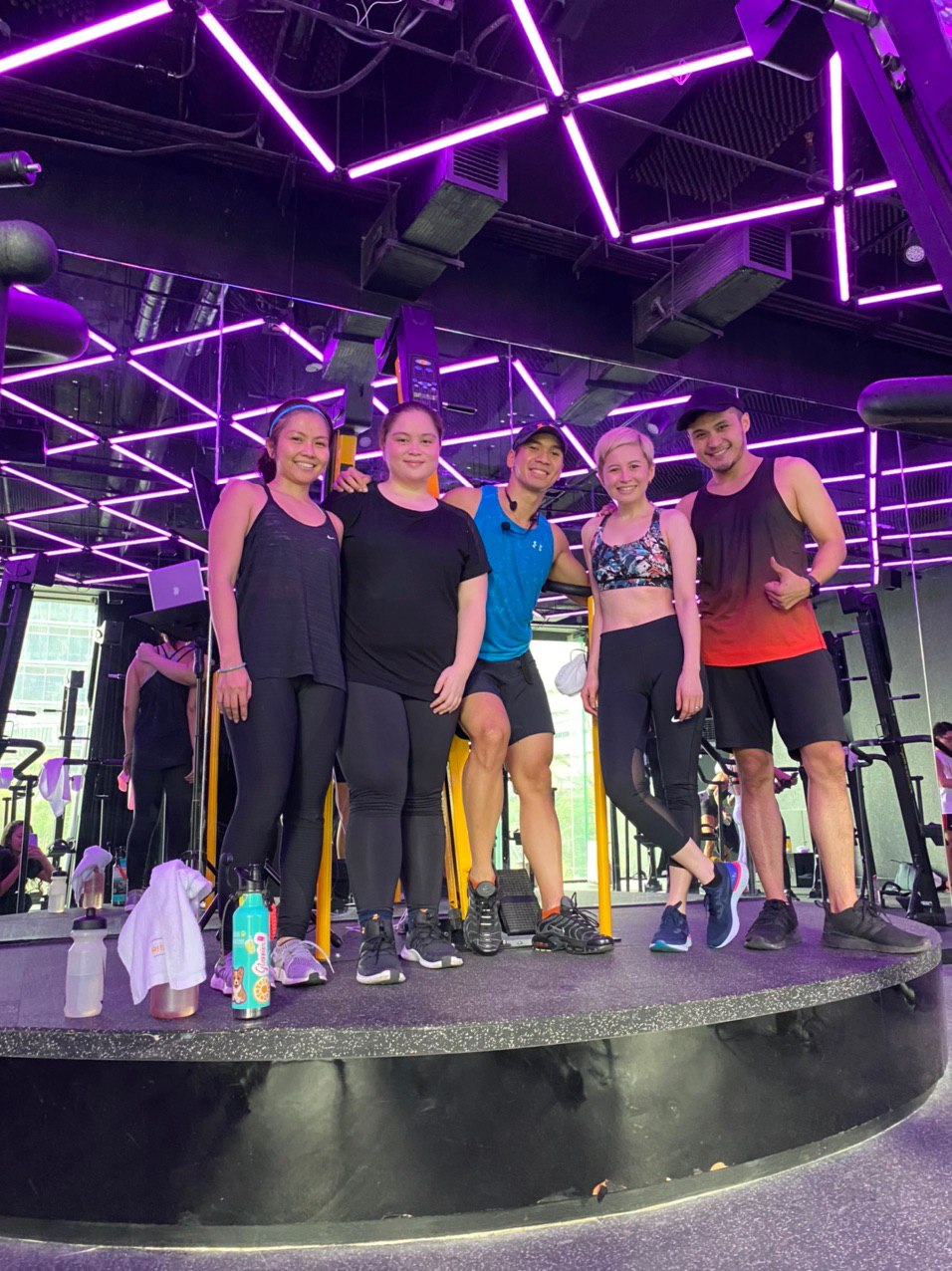 ADVERTISMENT - CONTINUE READING BELOW ↓

Ira, Beauty Editor:

"I loved that the workout only lasted 30 minutes. I get impatient and sometimes zone out during workout classes. It was fast-paced, but not to the point that I felt like dying. If you're a beginner, definitely hydrate before and during the workout. I also recommend that you do the class before eating anything—studies show that fasted cardio workouts burn more fat. Lastly, take it easy! It's not a race. Just focus on your form and breathing. Don't mind the number of steps displayed on the machine's screen yet. You'll eventually get to your goal with every class you'll take. If I worked in BGC, I would go again. It just sucks that my office is sooo far (TYVM, Manila traffic) from the studio!"
ADVERTISMENT - CONTINUE READING BELOW ↓
Retty, Managing Editor:

"I liked the environment. The room was dark, so I didn't feel so self-conscious while working out. Group classes can be a little intimidating especially when you're a beginner, so I appreciated that you couldn't really see other people while climbing—you could actually focus on yourself. I also loved that the instructor was really encouraging. I'm not gonna lie, it was such a tough workout (I could barely walk after LOL), but it was actually rewarding to finish the session. My tips? Bring a towel and a water bottle! Also, don't force yourself because you might end up with an injury. It's perfectly OKAY to take breaks. Listen to your body and have fun. I'd definitely go again if only the studio were near my office or home. A session only lasts for 30 minutes, so it's definitely doable, even if you have a busy schedule."
ADVERTISMENT - CONTINUE READING BELOW ↓
Jillian, Editor-in-Chief:

"I hate brightly-lit gyms where it's so easy to be self-conscious, so I love workouts where you can stay inside your bubble. This is definitely one of them. The dark studio, upbeat music, and party lights take the fun to a whole new level, that you might even forget you're there to exercise. The instructor, Kyo, made sure the class knew all the controls on the Versa Climber, and he made us feel like we were all in a safe space to make the most of the workout, even if we struggled a bit. Okay, a lot. Haha! My tips for newbies: Nobody's watching, so just enjoy! Even if you aren't climbing to the beat of the music, everyone starts somewhere, and nobody's judging. Would I go again? Yes! Please put up a studio near Mandaluyong, stat!
ADVERTISMENT - CONTINUE READING BELOW ↓
How much are Rise Nation classes?
It's cheaper if you buy in bulk. Everything except the first-time package is transferrable, so it's best to share it with a friend or two—and get fit together!
1st Time Package (5 sessions, non-transferrable) - P1,500 (good for 14 days)
1 Session - P1,000 (good for 7 days)
5 Sessions - P4,800 (good for 45 days)
10 Sessions - P9,000 (good for 90 days)
30 Sessions - P24,000 (good for 180 days)
50 Sessions - P35,000 (good for 365 days)
Should you try Rise Nation?
"It's for people looking for something different or more intense," Gigo shares. "Basically the next challenge. Because right now, the fitness industry is booming. It's a great thing—people find the benefits of working out, and they're actually having fun while doing it. This is the next phase or level of that trend. It's fun and music-based, and it's like partying."
ADVERTISMENT - CONTINUE READING BELOW ↓
P.S. Did you know that the lights in the workout studio were made by the people who did the lights in Xylo? 
Yeah, these lights: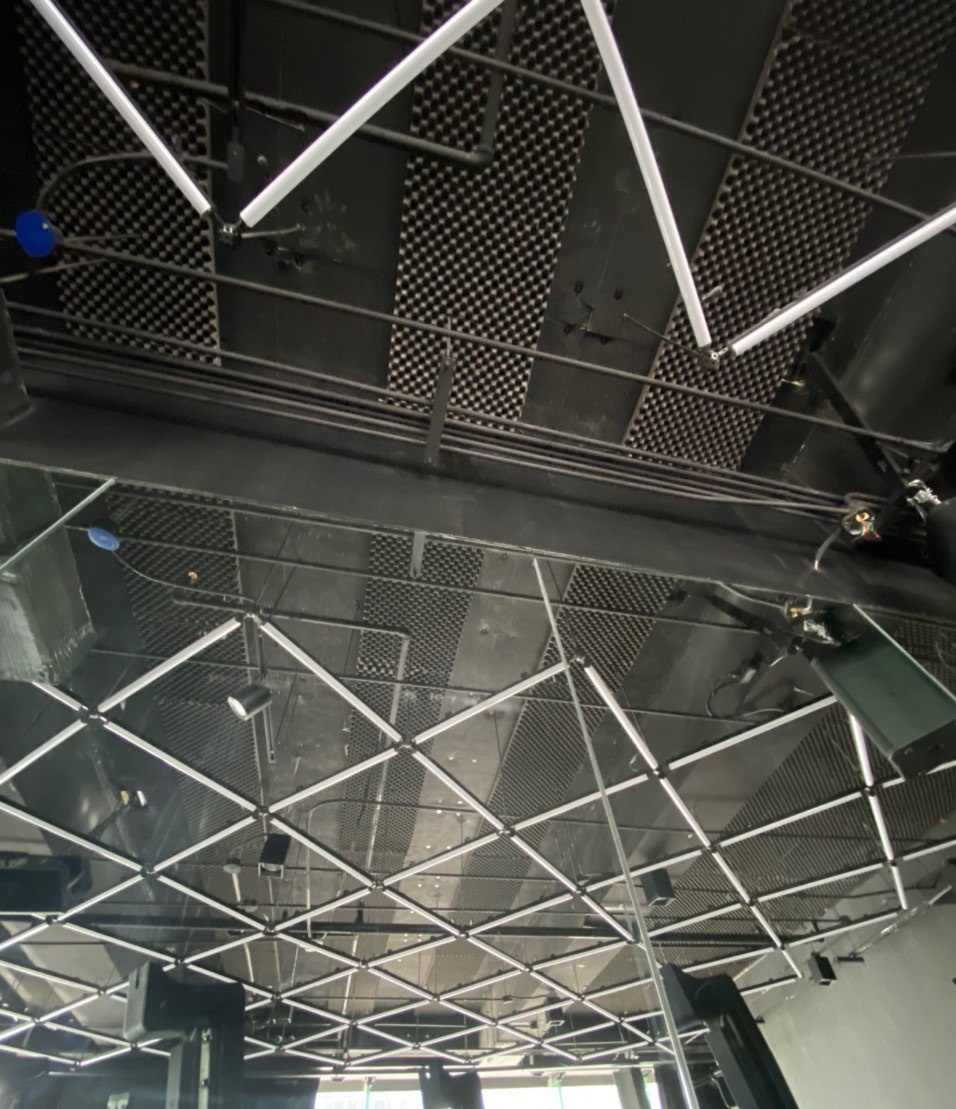 ADVERTISMENT - CONTINUE READING BELOW ↓
Gigo adds, "We have people here loving the challenge of reaching a certain number of feet every time. Some see it as a fun workout with the music, or the vibe, so they come back for that. There's always something for everybody."
Follow Jillian on Instagram.