Like most people, one of my goals this year is to become more fit and so far, I've been keeping up with it. Just last month, I tried four different workouts. One of those workouts was indoor cycling, and I really enjoyed it. I've been meaning to try it again, I just haven't found the right time to do it, so when I heard about Electric Studio's annual Rooftop Ride, I knew I had to go.
What is the Electric Rooftop Ride?
It's an annual indoor cycling event organized by the first and largest indoor cycling studio in Manila, Electric Studio. This is their fourth year of bringing their 45-minute total-body workout to a rooftop where riders can enjoy cycling and a killer view at the same time.
My Electric Rooftop Ride experience:
On February 22, 2020, I woke up excited about my agenda for the day. Before leaving for the event, I made sure to eat a healthy pre-cycling lunch and prepare my rooftop ride essentials: a cute workout outfit, my trusty water bottle, and a cap. On the way to the venue, I watched last year's recap video to get myself pumped for the afternoon.
ADVERTISMENT - CONTINUE READING BELOW ↓
When I got there, I was welcomed by upbeat music and an excited vibe from my fellow riders. I saw that they had already set up the bikes by the open area, and there were fun booths all around. I claimed my cycling cleats, dropped my bag off, and took in the scenery—the view from 30 stories up was exhilarating!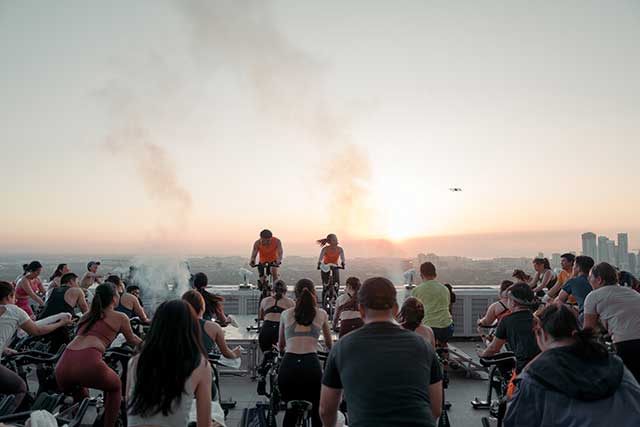 At around 5:00 p.m., the staff told us that the doors were open, and we could start prepping for the ride. I went to my bike, which was stationed at the last row. This was actually a blessing in disguise—I knew I would be surrounded by seasoned riders aka people who do this regularly and can actually follow the instructor's moves. This was only my second time to cycle so I was still trying to get the hang of it. 
ADVERTISMENT - CONTINUE READING BELOW ↓
"...my legs were sore but my heart was happy."
At exactly 5:10 p.m., they dropped the first beat and we started riding. I loved our instructors' (Gigo and Jam) energy! From the beginning, I knew that it would be a ride to remember. 
What I love the most about cycling is the music! I was once a dancer, so I really enjoy workouts that would allow me to move along to tunes. For this class, I felt like their playlist was carefully curated and filled with songs that any rider could enjoy. I remember they even played Beyonce's "Single Ladies" and when I heard it, I honestly FREAKED out. 
Thankfully, I was able to follow the instructions with more ease, and I didn't sit on the saddle as much as I did during the first time. I felt like I was able to maximize this workout. Plus, the whole 45-minute class didn't feel like a workout—it felt like a rooftop party!
ADVERTISMENT - CONTINUE READING BELOW ↓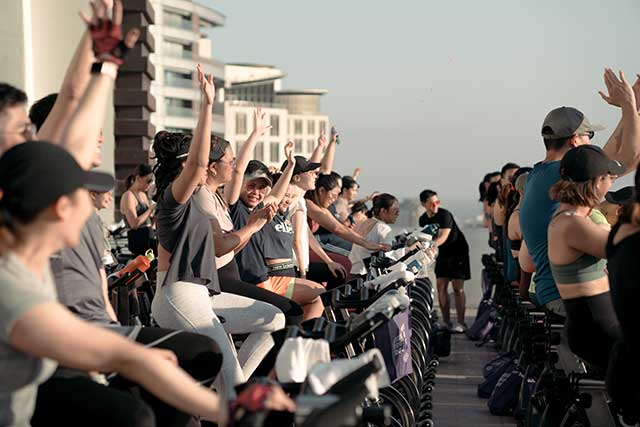 There's honestly something cathartic about cycling classes; I always get teary-eyed towards the end of each session. I found myself getting emotional while Gigo talked about the ~*journey*~. His words made me look back at all the steps I've taken towards my goals—one of which was attending this class. I was very grateful to be there, surrounded by people who were also on their respective journeys. We all had different goals but knowing that we were all motivated made me thankful to be a part of the ride.
ADVERTISMENT - CONTINUE READING BELOW ↓
After the class, my legs were sore but my heart was happy. It felt so good to push through and take one step towards my goal of becoming more fit and healthy. They also served post-ride grub from SaladStop—so I guess my tummy was happy, too. LOL!
All in all, it was a fun experience that I will never forget. I had so much fun, and I can't wait for my next ride!
To book classes and for their list of branches, you can visit Electric Studio's website.
***
We are officially on Viber! Be part of the Cosmo Viber Community by clicking here! You can also visit the Sticker Market and download the "Cosmo Girl Sticker Set" here to be automatically part of the group. The stickers will only be available until April 27, so don't miss out on the fun!

Follow Karla on Instagram.