If you've ever dreamt of living and working abroad, even for a little while, there are plenty of routes to take to make that happen. An option you might want to consider is finding work through New Zealand's Work Holiday Visa, which is exactly what Lara De Jesus did. 
How did you hear about the Work Holiday Visa in New Zealand?
In 2014, I graduated from my associate degree course in Australia. I wanted to keep traveling overseas, but I only had a few months left in my student visa to look for a full-time job in Australia and get sponsored for a work visa. Anyone who has ever had to apply for a job as a fresh graduate knows how difficult it is to get that first "real" job. But on top of that, my application was accompanied by a request for visa sponsorship; needless to say, potential employers ran for the hills.
A month before I was scheduled to leave Australia, one of my friends on Facebook reposted a news article stating that New Zealand will be accepting applications for a Working Holiday Visa for Filipinos for the first time ever. I did my research and found out that it was actually legit.
Continue reading below ↓
Recommended Videos
When did you apply?
I applied in February 2014. Not a lot of people knew about it at the time, which was really good for me because there was a quota of only 100 spots available annually. Rumor has it that the quota gets filled minutes after the website opens for applications, and you have to wait another year to apply if you do not get a spot.
The Working Holiday Visa allows you to live and work in New Zealand for up to 12 months. It is a multiple entry visa so you can come and go as you please within the 12-month period. They understand that you might need to make some preparations before you actually leave for New Zealand, so they give you 12 months from your visa approval to enter the country; your Working Holiday Visa officially starts as soon as you first arrive in New Zealand. For example, my Working Holiday Visa was stamped onto my passport in March 2014 with a note that says "first entry before 18 March 2015." I did not enter New Zealand until March 2015 so my Work Holiday Visa expired on March 2016.
What was the application process like?
You can only apply for the Working Holiday Visa online which is great because every Filipino has an opportunity to apply wherever they are! The website usually opens around February, but if you miss it, you'll know when it'll open again the following year. Please note that the time stated is local New Zealand time and due to the number of applicants and small quota, you really have to be in front of the computer beforehand. The website asks you regular tourist visa questions—just like any application. You find out right away if you got a spot or not. If you're lucky enough to get in, the website will take you to a payment page, where you'll have to shell out around NZD $208 (or P7,240).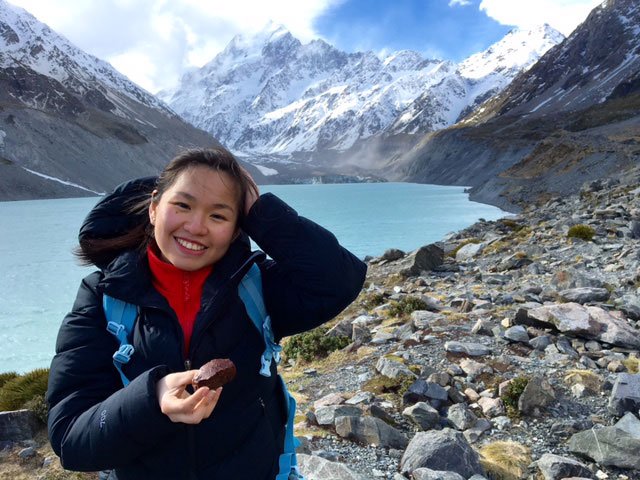 What documents did you have to prepare?
For the online application, you just need your passport and a valid Visa or MasterCard for payment.
After payment, you will get an automated email confirming that they've received your application; they'll ask for additional documents, which you'll need to submit to their branch within 20 calendar days. I checked the email they sent me and these are the documents they required from my application:
A valid original passport or certified true copy of the biographical page of my passport;
Evidence of available funds for maintenance during my period of stay in New Zealand, amounting to a minimum of NZD 4,200.00;
Chest X-Ray Certificate (INZ 1096) and film/CD, accomplished through an Immigration New Zealand-accredited Panel Doctor;
A written agreement to hold medical and comprehensive hospitalization insurance, to remain in force throughout my stay in New Zealand;
Evidence of being granted a tertiary qualification, granted in respect of a minimum of three years' full-time university study, and;
Evidence of English proficiency, that may either be:
a) Evidence that your tertiary qualification was gained from an institution where all instruction is in English, or;
b) Certificate from the International English Language Testing Systems (IELTS), showing you have achieved an average level of 4.5 over the four components of the test.
In addition to these general requirements, they also requested a Letter of Authorization allowing Immigration New Zealand to verify all documents submitted in support of my application.
Can anyone do it? Are there special conditions?
Not really. There is an age restriction of 18 to 30 years old, which is fine, but there is also a requirement that you have to have a minimum of NZD $4,200 (around P148,000) under your name. That is a serious amount of money, and I seriously doubt that most 18 year olds or fresh grads have that amount. I was really lucky to have the support of my parents (who transferred funds to my account for show money).  Otherwise, I wouldn't have been able to do it as well! 
There is also a requirement of three years of full-time university study, and if you cannot provide any evidence that your studies are taught purely in English, you will have to submit an IELTS certificate to prove that you are competent in the language. This will have to be done in advance because it takes more than 20 days to get the IELTS certificate.  
Talk about the first job you landed when you got there.
What people don't realize is there is a work condition for the Working Holiday Visa—you can work in any job and in any industry that you like, but you can't work for the same employer for more than three months. This is because it is expected that your main purpose for getting the visa is to go on an extended holiday in New Zealand and work is just a means to fund your holiday. This is also why they require a huge amount as show money in your application, so that they can be assured that you can meet the minimum living expenses here in case you are not able to find work.
I studied Fashion Design in Australia, and I was also a part-time retail sales assistant while I was studying so naturally, I wanted to get a job in fashion. I did get called for interviews but as soon as they found out about my visa restriction, they lost interest. Employers didn't want to go through the hassle of having to replace me. The hospitality and farming industries are more open to contract workers, but I really wanted to pursue fashion retail. I was so down and worried after one month of constant interviews and rejections. It really taught me a lot about keeping your head up through failure—I was in a new country without family or friends to support me!
Eventually, I got called into an interview for an Apparel Planner/Designer position. It was a perfect match! They are a tourist t-shirt company, and they needed someone to fill in for an employee on maternity leave, but who also knew something about fashion design. I was given a 3-month contract for that job with a salary that translates to a weekly pay of NZD $729 (P26,000).
How was the rest of your work experience in New Zealand?
When my contract ended, my boss informed me that the company wanted to offer me a permanent position as the person I was filling in for was no longer interested in coming back. I couldn't accept the offer right away because of my visa restriction, but they told me that they were willing to sponsor me for a full work visa. Because I needed a few months to compile my documents and apply for a full work visa, I had to get another job until the new visa got sorted.
I got another office job as a Marketing Assistant for an online retail company. I was in charge of taking note of sales and stock of clothing items; I also had to keep the flow of supply and demand going. I found that as soon as you get that first job and experience, companies became more willing to consider you. You just need that first company to give you a chance and more opportunities will follow afterwards! I am now on a two-year work visa with the first company that hired me. I am getting paid more than my previous salary as I now have a permanent position in the company as Product Manager.
What are your tips for getting hired in New Zealand?
I am based in Auckland, which is a very multicultural city. I find that employers are happy to consider someone without any previous experience in New Zealand as long as you have a positive attitude. They don't care so much about the visa restriction because so many people here are on a Working Holiday Visa. However, they do care about the three-month work condition. Companies tend to go for people who can work with them long-term.
The best tip I can give when it comes to job hunting is just go for it. Kick the door wide open. You really have to sell yourself—keep sending your applications, talk to people or other travelers, join Facebook and Meet Up groups. Travelers come and go and someone needs to fill the job that they are leaving. I've met so many people here who just take on their friends' jobs or got references from fellow travelers.
Also, keep saying yes—even if it's a one-day gig or a job description with a challenging, unfamiliar task. Make "yes" your automatic response. A job is a job and when you are on a Working Holiday Visa, no job is beneath you. Most people who are on a Working Holiday Visa here work in retail, hospitality, cleaning services, farming, childcare, and construction. A job while on this visa is a means to pay for your extended holiday, and there are very few office jobs available for Work Holiday Visa holders.
What's the community like? Did you have a hard time adjusting?
New Zealand has a population of around 4.5 million people. That's less than half of the population in Metro Manila! Even though there are few locals, New Zealand is a destination country so there are heaps of tourists, international students, and new migrants. I live in Auckland, which is the biggest city in New Zealand. The Council is really proactive in promoting and protecting diversity. I did not have a hard time adjusting when I first got here. Local people are used to foreigners, and I find that they are very friendly and helpful if you need anything.  
What are you doing now?
As previously mentioned, I am now on a full work visa. It expires this October, but I've already applied for a Residence Visa, so I'm hoping to get a positive response soon.
Follow Ysa on Instagram.