As a TV writer, she's written for shows starring Marian Rivera and Solenn Heussaff. As a film writer, she's penned lines for Iñigo Pascual and Maris Racal. As an events director, she's directed your celebrity boyfriend, Alden Richards.
Flo Francisco Reyes, a writer and director for TV, film, and live events, enjoys working in different media because to her, ultimately, it's about the story. "I love hearing stories, I love watching stories, and I love sharing stories," she gushes. "And TV, film, and events allow me to do that in different media, platforms, and styles."
Standing just five feet tall, Flo loves proving people who underestimate her wrong. "I look small, but I talk and act big. I don't get intimidated," Flo says. "Many times when I first meet clients who are presidents of companies, they have this look on their face that says, 'What is this little girl doing here?' Once I share my thoughts and let them know how I will solve their problems, the change in their expression is priceless."
In live events particularly, Flo started at the bottom of the ladder—her PA days are still fresh in her mind—but she's since pushed her way to the top in productions. "It was tough at first being small and being a woman," Flo says. "But it's always fun seeing people's reactions when I deliver."
Get to know this go-getting Pinay and heed her advice on making it not just in media, but in any field you choose.
What keeps her busy:
At the moment, I am a writer for GMA 7, specifically All Out Sundays. I also write for Mars Pa More! from time to time. I was also the head writer for Taste Buddies, and I used to write for other reality, musical, and talk shows such as Protégé, Nay-1-1, Basta Every Day Happy, Party Pilipinas, Bet ng Bayan, 'Yan ang Morning!, Sarap 'Di Ba?, and All Star Videoke.
Continue reading below ↓
Recommended Videos
For live events, I am a writer-director. I start with meeting the client and understanding the need they have for an event and the specific message they want to impart to the audience. The best part is when I watch the audience during the show and I see that exact emotion I want to elicit in their eyes.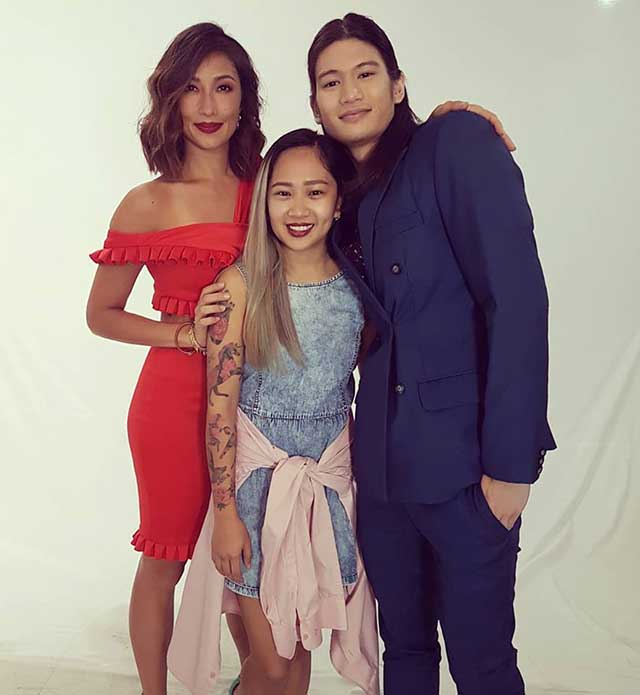 I recently started my filmmaking journey. I'm one of the writers of I'm Ellenya L., which was directed by Boy 2 Quizon and starred Iñigo Pascual and Maris Racal. It was a finalist in Pista ng Pelikulang Pilipino 2019. I'm also one of the finalists of Cinemalaya 2020 with my film, Bakit Di Mo Sabihin.
How she got started in media and events:
I graduated magna cum laude in BA Broadcast Communication from the College of Mass Communication in UP Diliman. After graduation, I first worked for a PR company, and then a production house, but as part of the marketing team.
I got an opportunity to write for VIVA for their cable channel shows Stop, Talk and Listen and Daily Top Five. While doing this, I got to work as a freelance project manager for a TV ad, and then as a PA for live events. I had neither experience nor knowledge in both, but I learned. As a PA, I did work in all areas of the production, and most of the time, it meant being the first one to realize a problem and having the chance to solve it right away. Some of these problems involved resequencing and editing scripts on-the-spot.
Eventually, I started writing for events. Since I knew a show by heart, it was convenient for my superiors to assign me as floor director as well so I could manage the stage, and at the same time, assist the director. While I was writing for events, I had an opportunity to work for a reality show under GMA, Protégé. Thankfully, I've continuously been given TV writing projects at GMA since then.
Since most young events groups start out small, they would hire people who could multi-function. That's how I started getting hired as a director for events as well. I started with doing a small convention for a pharmaceutical brand with 200 guests. Now I've directed between 80 to 100 live events, some with up to 10,000 guests, many of them with repeat clients.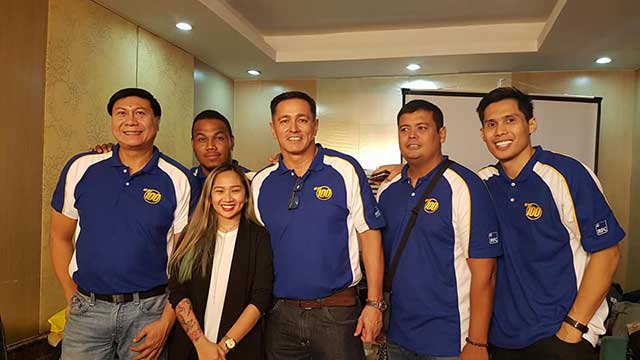 How she got into filmmaking:
On Bakit Di Mo Sabihin: One of my former colleagues from GMA, Real Florido, now has his own production company and directs films. One night in 2018, we were catching up, and he told me I should write a film with him. I laughed and said I knew nothing about filmmaking. But he kept suggesting it, and ayun, nadala ako sa pangungulit niya. I think it was also because I was at a time in my life when I was ready for another creative journey. By that time, I had been working in events and writing for TV for 10 years.
My first-ever screenplay, Bakit Di Mo Sabihin, is a story about a deaf-mute couple who, despite having the same language to communicate, find themselves unable to understand each other. It is inspired by the story of my parents, who are both deaf-mute. It is very personal. That is the reason why I agreed to write it, and also the reason why I was so terrified to write it.
We submitted our script to Cinemalaya 2020, got into the shortlist, and got to present the film to the panel. After a few months, we received a call from them. We were one of the finalists. I could not stop crying. It was surreal.
On I'm Ellenya L: A few months after Real asked me to write a script for him, I was talking with friends and had the chance to share ideas with Boy 2 Quizon. We were all just having a laugh, until he shared that he was making a film and would like to hear a woman's perspective on it. That's how I got on board with I'm Ellenya L.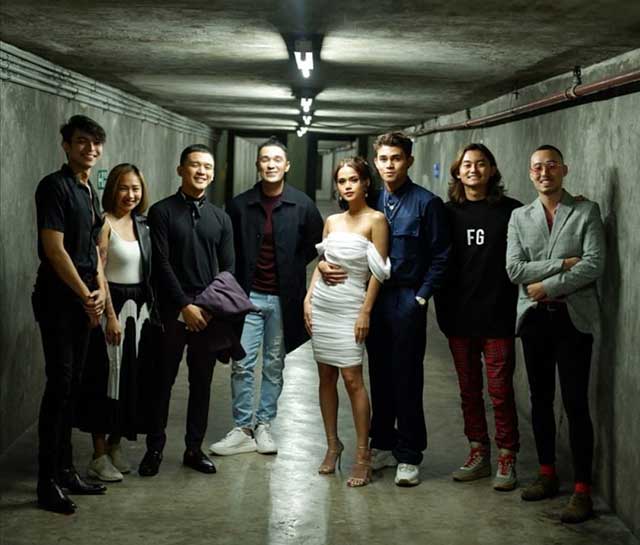 I'll never forget one afternoon when we met at their office and Direk Joyce Bernal, who was one of the producers, was there. It was just her, me, and Boy2. I tried my best to look normal, but the fangirl inside me was screaming.
On celebs she loves working with:
On Alden Richards: I first started working with Alden in 2014 for Bet ng Bayan. As host for the reality segments, he would travel with us to remote areas around the country. But he made it really easy. He never complained, he did his best, and he was really, genuinely nice. He talks to everyone—from utility personnel, to staff, to directors—the same way. And he remembers not just names, but actual stories and conversations that he shared with people. And even if you hadn't seen him for a long time, he would hug you like no time had passed.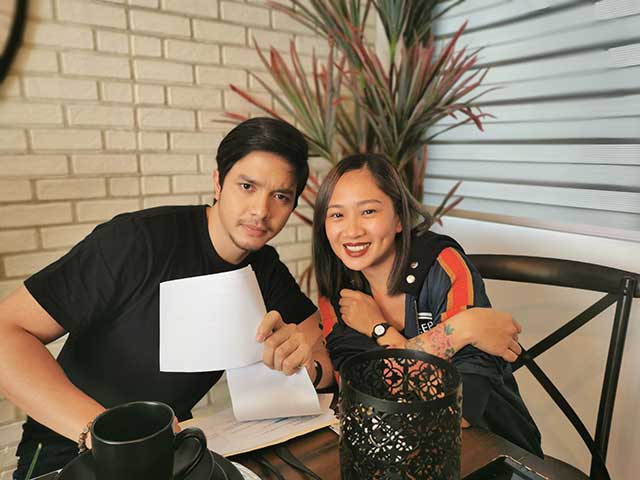 On Solenn Heussaff: She is one of the most professional artists I know. She is never late, never complains, and would always make sure that she does not cause any inconvenience. And she is so nice. I haven't met anyone who's had anything negative to say about her.
One time, we were shooting for Taste Buddies when Solenn received news that their house had been broken into. I expected her not to come to work. But after making sure her family was okay and arranging the necessary details, she still came to the shoot. I was briefing her about the balut dish that she was going to taste. Right before we rolled, she casually said, "Balut. Cool, I've never tried one." Ganun lang. Walang arte, walang reklamo.
On still being a fangirl at heart:
When directing events, I usually find myself working with artists na nakaka-starstruck. But of course, hindi muna ako nagpapahalata. I try my best to look professional and in control. But after briefing, or after the show, ilalabas ko na ang kilig ko sabay sabi ng, "Pwede po pa-picture?" This happened with Edu Manzano, who is such a funny guy! And he found it funny na kinilig ako. Same with Giselle Sanchez and James Deakin, also great hosts.
Another time I'll never forget was when we had Ginebra legends as a guest for an event. We went through their lines and mock blocking thoroughly. But my god, I could hardly breathe. In front of me were Noli Locsin, Marlou Aquino, and Vince Hizon. My Ginebra fan heart went crazy.      
Why she believes chika will get you far:
Almost all, if not all, of the jobs I have now are because of chika. For instance, how I got to write for I'm Ellenya L. Another example, I was waiting for my ride when I got to chat with someone: Direk Noel Maximo, who would give me my first job in events.
You don't have to go out of your way and purposely talk to people to find a job. But when you are out, and when you are with people, share your thoughts. Your brain is your best CV.
How fear drives her in her work:
I wouldn't be here today if it wasn't for fear. Fear brings out the best in me. Sometimes I hear people say they want to do something, but they don't do it because they are afraid. And I always tell them, that's one of the best feelings! It keeps you on your toes, it makes you feel alive! Ang sarap makaramdam ng takot. Kaysa maging manhid. If you're doing something you love, that fear turns into excitement.
In this industry, you will never learn by reading something; everything is experiential. But first, you have to say yes. All of the opportunities I was presented with, wala din akong alam.
Other people would turn down opportunities because they feel they don't know how to do something. In this industry, you will never learn by reading something; everything is experiential. But first, you have to say yes. All of the opportunities I was presented with, wala din akong alam. But when I was asked if I wanted to be a PA, a writer, a project manager, or a director, I said yes.