Picture this: You're about to meet a friend for a catch-up session, and you arrive in the area earlier than anticipated. There's no rush, so you allow yourself to slow down. Something catches your eye—a gorgeous mural outside a nearby restaurant, a huge wall covered in so many cool designs. It's easy to lose yourself while you try to take it all in. Murals just have that effect on people. But what exactly does it take to create one? In an exclusive interview, Cosmopolitan Philippines spoke to Avin del Rosario, a Pinay artist who found her life purpose through painting murals.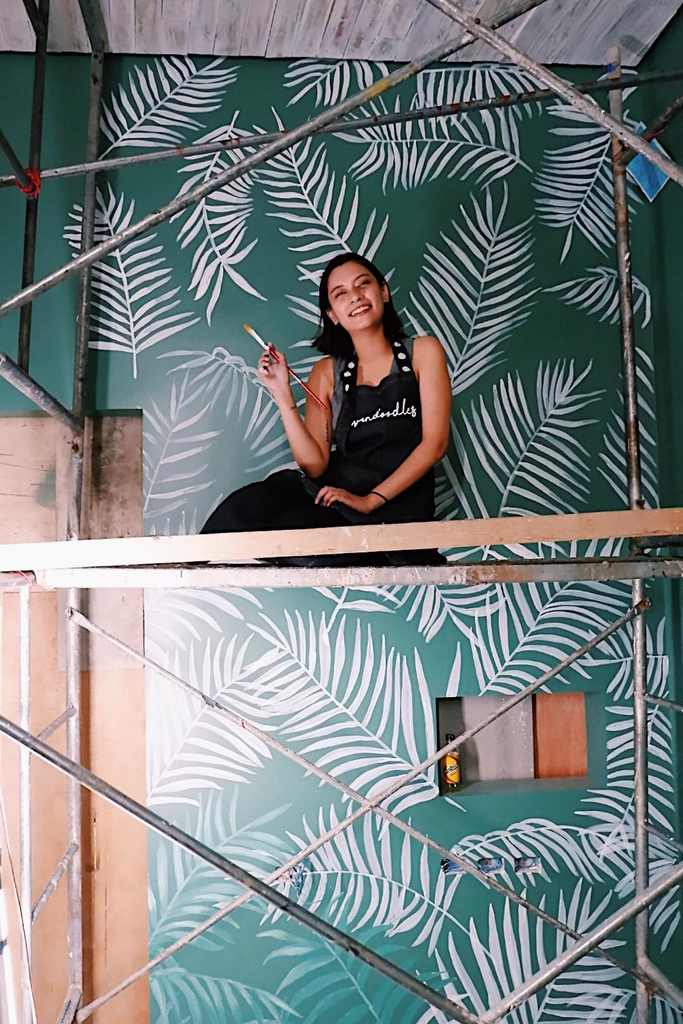 ADVERTISMENT - CONTINUE READING BELOW ↓
When did you know you wanted to be an artist?
Avin: "Ever since I can remember, I've always loved creating art or pretty much doing anything that has to do with art for that matter. I remember when I was four years old, I would always draw cartoon characters, like Sailor Moon and Barbie, haha. I enjoyed coloring books and doodling. I actually studied Theatre Arts. However, I loved drawing more than performing so I pursued a career in Visual Arts instead. I just knew what I wanted to do. I wanted to create art."
When and how did you start doing murals?
A: "I started doing murals back in 2015, when my grandmother, who was like my second mom, passed away. When she got sick, I quit my job to help take care of her, so when she succumbed to her illness, it felt like I was just drifting. I felt lost and I really didn't know what my next step should be. Then one day, I decided to paint my room, and then a wall in my mom's farm. After that people started inquiring about my murals and if I could do one for them too and that's pretty much how it all started."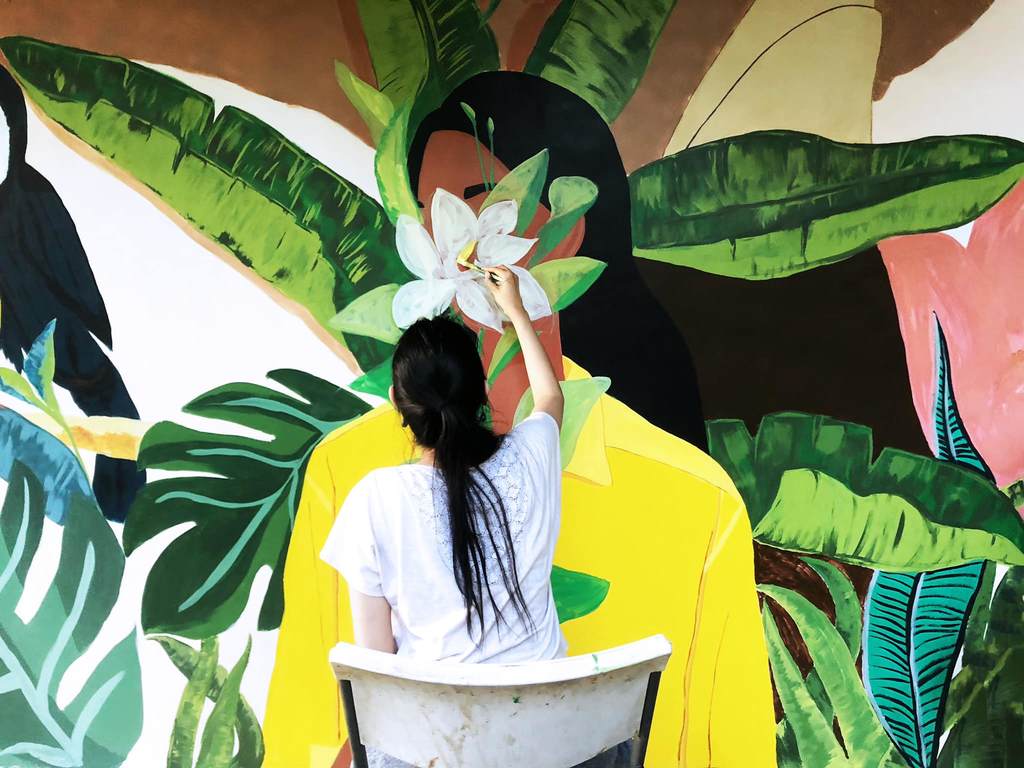 "My first project was very dear to me: It was for Beefalo, a restaurant in Marikina. I remember being so nervous and excited because I never thought someone would actually hire me to paint their wall. Aside from myself and my family, they were the first ones to actually believe in my art. Back then, I was just doing doodles with markers. I had zero knowledge in painting; everything I know now, I learned through experience and other artists. All I had back then were doodles on my notebook and two doodle murals on walls, which were not great for a portfolio, by the way. It was a blessing that someone asked me to paint their wall. After that, clients came pouring in. It felt like God was finally telling me what I should do."
ADVERTISMENT - CONTINUE READING BELOW ↓
What kind of murals are your favorite?
A: "Anything really. Small or big scale murals. As long as I get to paint, I'm happy. But if I have to pick a favorite, I'd say murals that have botanical or animal themes. Botanical, because unlike my mom, I can't grow plants, so all I can do is paint them. Animals, because I've always loved them. I grew up with 10 dogs and two cats! I also like painting murals where I get to do the design or brainstorm with the owners for the design—like the ones I made for U Hotels Makati, Nenita's Place Tagaytay, and Bag O Shrimps in Ayala Malls Manila Bay. In addition to that, I really enjoyed painting modern minimalist abstract paintings as well as collage styles. Usually, there are clients who already have a chosen design and I don't mind. It's nice, in a way, because I get to explore different painting styles. But of course it's more fulfilling when you see your own design on a wall."
ADVERTISMENT - CONTINUE READING BELOW ↓
How long does it take to complete one? What's the process like with a customer?
A: "It actually varies. It could take a day or it could take weeks. Like in my recent mural for a residential place, I did it in a day, but when I did a mural for a boutique hotel, it took me weeks to finish because I had to paint eight floors, including the lobby. It depends on the number and size of the walls and how complex the design is. When it comes to the number of working days, I always like to give an allowance because you never know, sometimes, there could be challenges during the mural process, especially if the establishment is still under construction or if it's an outdoor mural, you never know if it's going to rain. So it's best to be prepared. As much as possible, I also don't like to rush any project because I want to give my clients the best painting results. As for the process, it also depends on each customer, they would usually inquire or I would submit a proposal. But my first step would always be to start everything with a contract."
ADVERTISMENT - CONTINUE READING BELOW ↓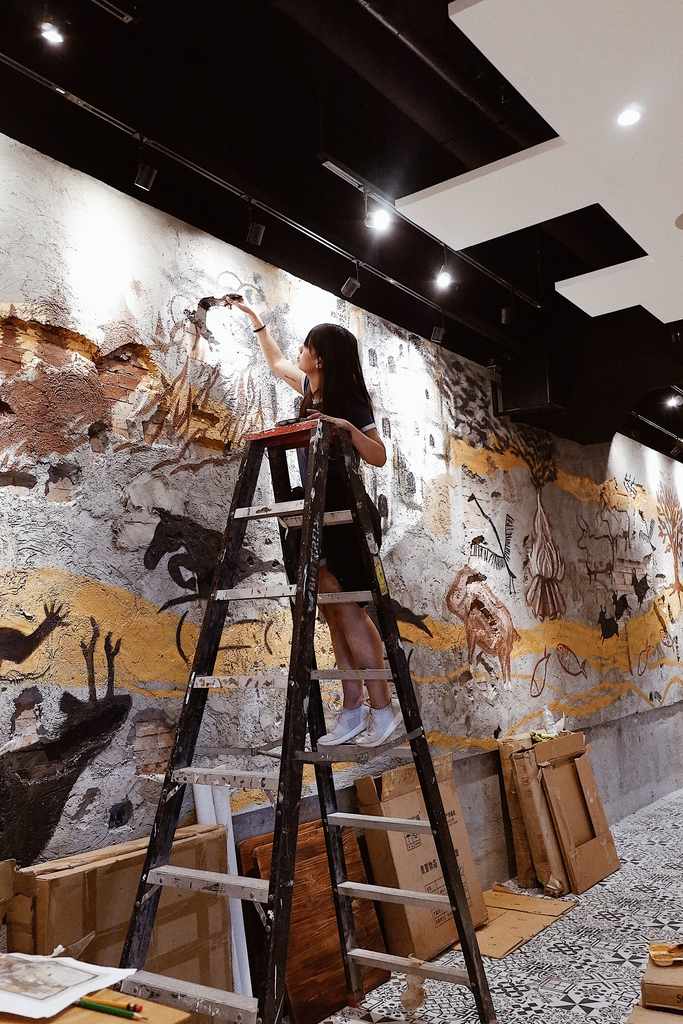 How much can people expect to earn from painting murals?
A: "It would depend on how you price your murals. For me, it's enough to make a living. So you should always put value in your work because you should be the first one to believe in yourself. Also, explore other outlets because you can't always paint on walls. So it's best to have other outlets, too, so that you have areas where you can showcase your work using different mediums."
ADVERTISMENT - CONTINUE READING BELOW ↓
What are your other artistic outlets?
A: "I currently do graphic design work for different companies and I also have other hand painted products, like bags, wallets, and coasters. I even do pet portraits on floating frames and other commissioned paintings on canvas or on paper. On top of that, I also have a partnership with Tokyo Finds (Artist Launchbox kits) and Crazy About Paper. However, what I truly love doing the most, aside from murals, is teaching art. Right now, I'm teaching online. I actually did workshops prior to the pandemic. I would also volunteer as an art teacher for church activities or outreach programs for other orgs. If given the chance to do that again, once the pandemic is over, I would. I believe that we are blessed to be a blessing, that's why I'm very passionate when it comes to teaching and sharing what I've learned, especially if it's going to inspire and help others."
ADVERTISMENT - CONTINUE READING BELOW ↓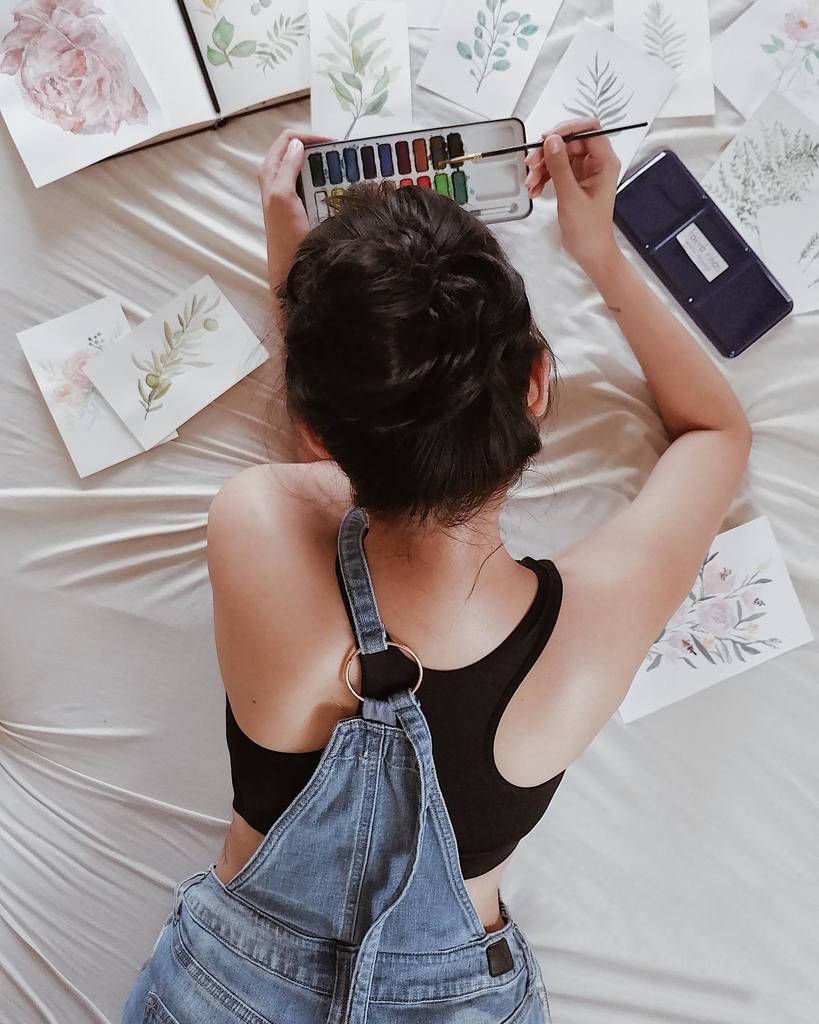 ***Answers have been edited for clarity.
PINAYS WE LOVE:
10 Things You Probably Didn't Know About Pinay Skateboarder Margielyn Didal
10 *Essential* Facts About Olympic Gold Medalist Hidilyn Diaz
10 Things You *Absolutely* Need To Know About Pinay Boxer Nesthy Petecio
***
Follow Ysa on Instagram.
ADVERTISMENT - CONTINUE READING BELOW ↓