Therese Castillo first thought of the idea for Camp Coco while she was working at an addiction treatment center, but it wasn't just the severe cases of addiction and mental health disorders she faced on the daily that got the wheels in her mind turning.
For the longest time, the psychologist had been the go-to sounding board of people around her. They came to her seeking advice on everything—work stress, relationship woes, sleep problems, your run-of-the-mill anxieties when life gets to be too much.
All these conversations with friends and acquaintances got her thinking about what she could do with what she knew. "Most of these people just need to take a step back from their lives and do something for their mental health," Therese says.
In 2018, Therese launched her namesake company ("Coco" is her nickname), a lifestyle and wellness service provider that offers curated experiences such as themed wellness classes, spartan adventures, workplace-themed adventures, and wellness retreats, as well as well-being consultations and program development for organizations and groups. Camp Coco calls on a tribe of psychologists, adventure facilitators, recovery coaches, mindfulness coaches, yoga instructors, and wellness advocates who all come together to build a Collaborative Community—another meaning for "Coco."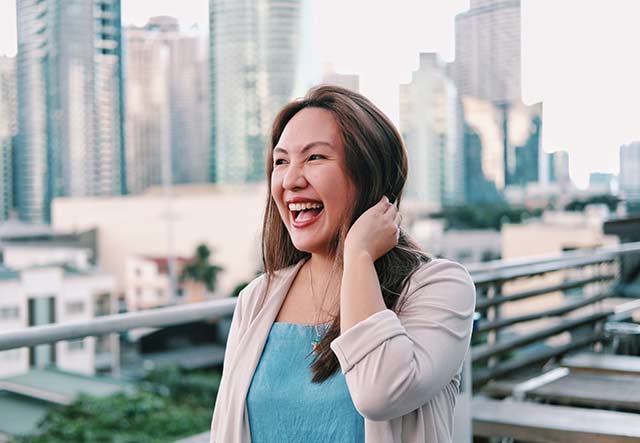 ADVERTISMENT - CONTINUE READING BELOW ↓
Learn more about Therese's movement below, and be inspired to make your own mental wellness a top priority.
Her educational and work background:
 I studied BS Psychology at St. Scholastica's College Manila and pursued my master's degree in Psychology major in Clinical Psychology at De La Salle University Manila.
In 2012, I joined my family's addiction treatment center in Tagaytay, Seagulls Flight Foundation, Inc., and started with doing facilitation work for clients while I was still in grad school. Eventually, as I gained more knowledge, experience, and trainings, I ended up leading the clinical team and implemented interventions for addiction and mental health issues for our in-patient clients. Because our center was based in Tagaytay, I lived in the Tagaytay area on weekdays. My everyday view was the Taal Lake since we were based along the Tagaytay Ridge.
Entering clinical practice has opened the door for me to be part of the Global Master Trainers under the Colombo Plan Drug Advisory Programme, an international organization founded in Sri Lanka. Starting in 2012, I was able to travel to different parts of Southeast Asia, East Africa, and recently, Austria to attend and conduct trainings on addiction treatment and recovery.
How she got into psychology:
I've always been interested in people, in human behavior, ever since I was much younger. Even when I was a teen, I was the go-to person of many of my friends. I can listen to others without judgment, deal with others' uncomfortable emotions, and simply be there for people who need me.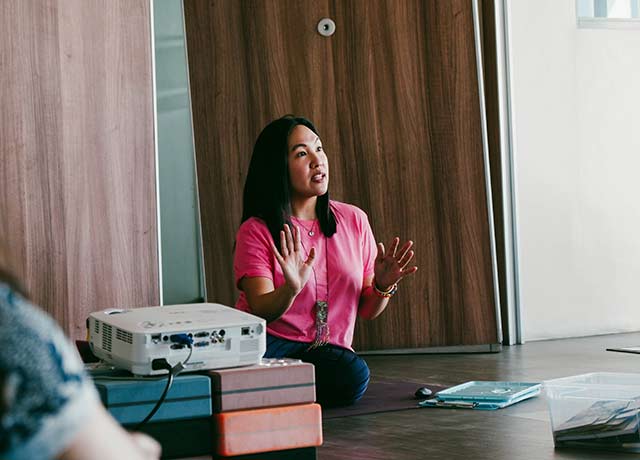 My parents are in the field of helping people, helping families. My dad is considered one of the pillars in addiction treatment and rehabilitation here in the Philippines and even internationally. My mom, who worked in tandem with my dad, is an HR executive/girl boss and a psychologist. Because of them, Seagulls provided addiction treatment services in Tagaytay for 20 years.
I guess in a way, my parents inspired me to always pursue my passion and put my heart into everything that I do, like they did. I never really planned to be part of Seagulls, nor did my parents ask me to join them, but when I started graduate school, I knew that the best place I could practice what I was learning was at our facility.
On being everyone's sounding board:
When people find out what I do, including friends and even in non-work settings, they are usually amused. I would typically get messages that start with "Help!" or "Omg…I need to ask something sort of about mental health" or something to that effect.
ADVERTISMENT - CONTINUE READING BELOW ↓
Some common problems that friends ask help for are stress from work, handling relationships, experiencing feelings of sadness, feeling overwhelmed, sleep problems, and facing major changes and transitions in life. Most of the cases actually seem to be everyday struggles with adjustment or difficulties in coping with life situations.
How she came up with Camp Coco:
In 2017, maybe it was because people were learning more about mental health in the media as well, I began to get more and more inquiries that were basically about "what to do" and "how to deal with things." I realized that most of these people may not even need individual counseling and psychotherapy. So I asked myself, where could they get some sort of support that they WILL actually try? Because for some people, emotional support is not readily available.
We need to ask ourselves questions like, "How am I doing?" "Is this getting a little bit too much for me?" "When was the last time I took a break for myself?" "How much sleep am I really getting?" "Do I need to take a step back?"
I started to think about what was out there—was there anyone offering activities or events that I myself would be interested enough to join to address my socio-emotional needs?  At the time, I had seen some, but they weren't the type that would make me go, "Yes! I'm not missing out on that!" I played around with the idea while I was working full-time at Seagulls.
In 2018, I got my license as a psychologist. That's when I asked myself, "So…what's next?" I wanted to create a brand that was accessible even to people who did not come to see me for treatment, because we don't need to be in treatment to actively do things for our mental health. I wanted to create a brand that packages experiences for well-being and mental health, eventually helping people understand that mental health needs maintenance and we need to be conscious of that. We need to ask ourselves questions like, "How am I doing?" "Is this getting a little bit too much for me?" "When was the last time I took a break for myself?" "How much sleep am I really getting?" "Do I need to take a step back?"
Camp Coco was officially born around the same time in 2018; that's when I registered my business and got my first client. In the beginning, it was only a side hustle for me since I was still working full-time at Seagulls.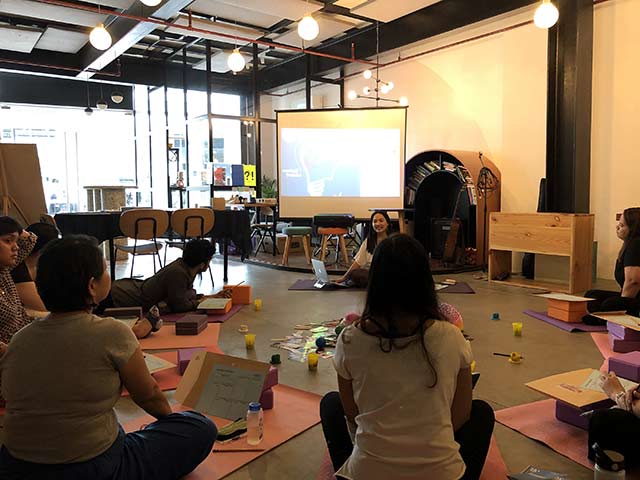 Bringing Camp Coco's programs to the public:
ADVERTISMENT - CONTINUE READING BELOW ↓
Last year, 2019, everything changed for me personally and professionally. Seagulls was forced to close treatment operations (which is a blessing now because of the recent Taal eruption). It was heartbreaking for me and my family. Around the same time, a long-term relationship suddenly ended for me. All of this happened in January 2019, one after the other, so it was not exactly a "happy new year." In a way though, I think experiencing my own personal struggles pushed me to pour pain and struggle into creativity and passion with Camp Coco.
Before I knew it, I had launched my first wellness class, Sleep Well, a three-hour class integrating psychology techniques and movement practice at Surya Fitness in Makati. We had a second run at Nook Coworking Studio in Molito, Alabang. Our partners for the Sleep Well class were Carina Silerio, Pure Essentials, and Zola. We also did a lot of wellness sessions on Basic Mental Health and Wellness and Chill Skills: Managing Stress and Anxiety for schools and offices.
This year, our first event was a wellness session in Makati for entrepreneurs and freelancers called Keeping Up with the Hustle. It was a two-hour session on aligning productivity with rest, reflection, and recovery.
Our upcoming program is our first wellness retreat, Mindful Days, to be held at Zambawood Boutique Resort, San Narciso, Zambales on February 8–9. This includes creative and therapeutic activities for self-reflection: looking back, letting go, and looking ahead; quiet time with walking meditation; sunset moving meditations; sunrise stretches and a mindful morning practice; activities on finding strength in vulnerability; a gratitude bonfire; a sunset dinner party, and many more.
The most fulfilling thing about her job:
Seeing my ideas come to life is one of the best things! I know that what I'm offering with Camp Coco is still quite new and different to most people. It still doesn't come naturally for the market to just go ahead and book a wellness class or a wellness retreat. It will take an internal process for them to actually go through it because mental health is not always the priority—a lot of other things get in the way. When I launched wellness classes, I had doubts about how it would be received, but thankfully, so far, so good.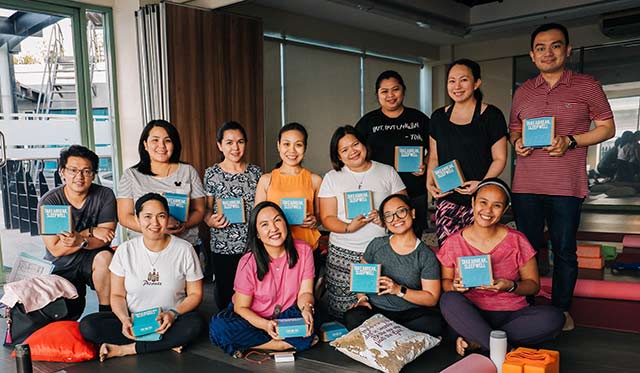 ADVERTISMENT - CONTINUE READING BELOW ↓
The state of mental health in the Philippines today:
With the Mental Health Law in place, organizations are now given a big push to work towards implementing programs and policies in their own settings. I think we have made great strides in mental health in terms of having a law in place, a growing population of licensed mental health professionals, and a lot of organizations focused on promoting and advocating for mental health. The future is bright for mental health in the Philippines.
A growing number of social media accounts and websites promoting awareness can be a step towards reflecting on one's mental health. I usually hold clinic for individual counseling and psychotherapy at least two to three days a week at ChildFam Possibilities in Makati, and I'm glad to see young people coming to seek treatment for themselves. I see that as a good thing because that may mean that we are learning that seeking professional help is okay, that coming to see a psychologist is similar to you coming to see your dentist for a toothache. Long way to go, but asking for help is always the most difficult step.
What you can do to take care of your everyday mental health:
First, the way we speak to ourselves matters a lot. So take time to reflect on how you are speaking to yourself lately and see how that has been affecting your mood and behaviors.
Second, examine your relationship boundaries. Are there clear or blurry lines in your relationships—may it be with your boyfriend, parents, or siblings? Having healthy boundaries (for example, saying no when you want to, being mindful of your emotions, knowing when you are comfortable or uncomfortable) has great value in protecting your mental health and maintaining good relationships. Expressing what you want and what you need helps to level expectations between people.
Third, breathwork does wonders in moments when you are feeling stressed, anxious, angry, or frustrated. Taking deep breaths while counting is good, too, until you feel calmer.
For more information on Camp Coco's programs and events, visit them online at www.campcocowellness.com, on Facebook, and on Instagram.