We know you can't wait to reward yourself for working so hard. In line with our budget theme for October, we give you more tips to score cool rewards and freebies and maximize your hard-earned cash!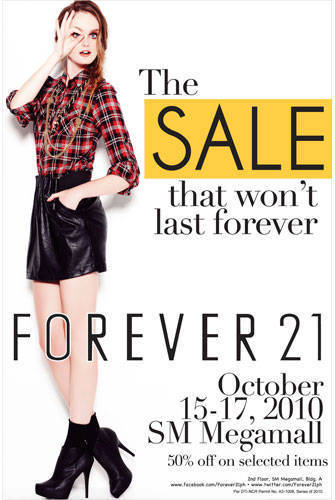 1. Shop only when you've got the resources and take advantage of payday sales.

Most malls have sales right around payday, usually on the weekend closest to it. SM Megamall, for example, will have a mall-wide sale this weekend, October 15-17, with discounts of up to 70% off.

Also within Megamall, you'll find one of your current favorite shopping haunts, Forever 21, where you can get up to 50% off on selected items this weekend. You can also get 10% off on all regular items if you bring your SM Advantage, SM Prestige Card, or BDO Rewards Card. Credit card holders can also take advantage of the 0% interest six-month installment plans, which will be available until the end of the year. Dress up in your comfiest clothes and put on your most foot-friendly flats, because it's definitely going to be one big shopping adventure!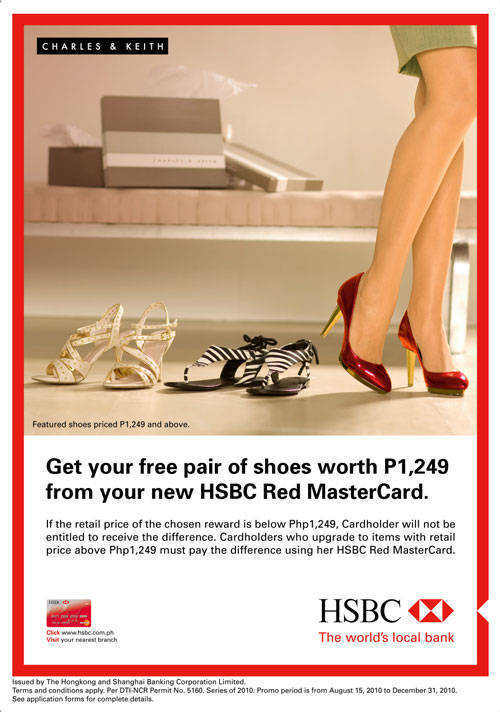 2. Take advantage of freebies from your credit card.

With great (purchasing) power comes great responsibility. A credit card can be your wallet's best friend, if you use it responsibly (read: don't swipe like there's no tomorrow). Get a credit card that can score you freebies you can actually use, and you may even end up saving thousands of pesos. The HSBC RED MasterCard, for instance, gives new cardholders three claim vouchers. You can use each of these to get a FREE pair of Charles and Keith shoes worth P1,249 for every P3,000 transaction within a specified period. Promo runs until December 31, 2010, so log on to www.hsbc.com.ph or call (02) 85-800 or (02) 976-8000 for more info!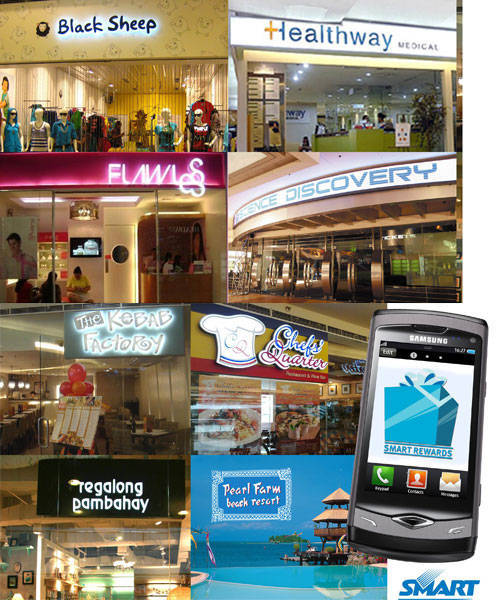 3. Consume products and services that actually reward your spending.

A lot of establishments offer reward systems these days. With these, for a specific amount purchased, you can earn reward points, which you can use for discounts, freebies, or even rebates. But wouldn't it be cool if you can also get reward points for things you pay for regularly, like your phone or Internet bill? If you're an existing Smart subscriber, whether it's Smart Gold, Smart Buddy, or Smart Bro, you can take advantage of the new Smart Rewards, and get amazing discounts at your favorite restaurants, salons, spas, hotels, shops, and more! Visit smart.com.ph/rewards for more info.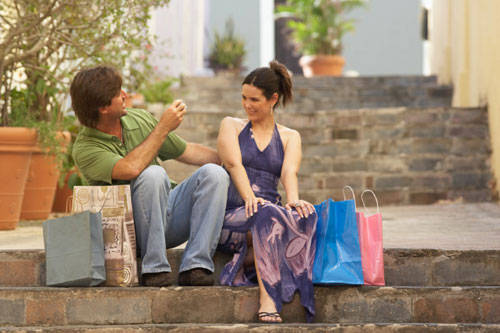 4. Give up little everyday luxuries for big, long-term investments.

Frugality doesn't necessarily entail having to sacrifice comfort. You can also significantly trim down expenses on phone bills or prepaid cellphone load by taking advantage of unlimited call and text promos instead of paying for calls by the minute. Second-hand items such as books, games, or bags sell for significantly lower prices, and they can be just as good as new even if they're "pre-loved." Bring your own baon to work, and imagine how much you'll save in a month by skipping the everyday P60 meals (at the very least). Here's another challenge: Keep a stash of instant coffee on your office desk, instead of buying from a coffee shop, which instantly saves you a P100 (or more) a day! Add up all your savings, and you just might be able to afford your own independence. That's right! Condo units at SMDC's MyPlace, for instance, can cost as low as P5,000 a month.

"(It's) a very affordable price for the fulfillment of their independence. Every month, they can actually set aside the accumulated value of two blended coffee drinks a day to buy a unit," said Imee Landicho, SMDC assistant vice president and project director. Check out www.smmyplace.com or call (02) 858-0300 for details.
Continue reading below ↓
Recommended Videos