Metro Manila might still be under GCQ until the end of December, but it looks like restrictions are starting to loosen up—especially in terms of the capacity at which businesses can operate. For instance, hotel staycations are now allowed, as long as the establishment isn't being used as an isolation facility for returning overseas Filipino workers (OFWs) or quarters for health workers. They also need to have a four- or five- star rating from the Department of Tourism (DOT). But of course, these places still need to comply to the rules of their local government rules. 
More than that, restaurants in areas under GCQ are now allowed to be open for 24 hours for dine-in, takeout, and delivery at 50 percent (and higher) capacity. And if you've been missing buffets—because, hard same—here's what the set-up is like at some of our faves. 
Spiral
Spiral reopened its doors on October 2. Their parent company, Accor, launched the ALLSAFE Cleanliness and Prevention Label, which details a set of global guidelines on cleanliness and prevention. The seating capacity at Spiral, for instance, is only at 30 percent, with a one-meter spacing between guests. Transparent dividers are installed at reception desks and culinary ateliers, and private rooms are available for exclusivity. All staff members are also equipped with safety apparel. There is also a one-dish-per-plate policy to avoid cross-contamination. Spiral will be open for the first three weeks of October during specific meal periods: Thursday dinner, Friday lunch and dinner, Saturday lunch and dinner, and Sunday brunch. The rates are: P2,850 for lunch, P3,500 for dinner, and P4,350 for brunch.
ADVERTISMENT - CONTINUE READING BELOW ↓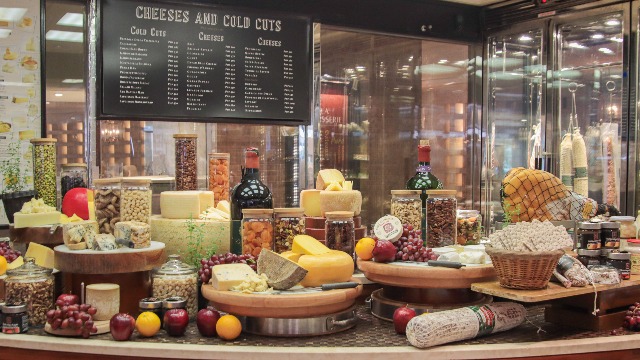 S Kitchen
Over at Sheraton Manila, S Kitchen offers an unlimited set menu to ensure the safety of their guests. Complying with Marriott International and the local government's protocols, customers have to fill out an online health declaration form before entering. Social distancing rules are put in place and associates are required to wear protective gear. Everything is disinfected after use and every two hours. Tables have been rearranged to promote physical distancing, and every table has acrylic dividers. Guests can still enjoy the same spread of local and international dishes by ordering through a digital menu. From Monday to Thursday, lunch and dinner are priced at P2,100/person NET; and P2,350/person NET from Friday to Sunday. 
Seven Corners
For a unique experience, try Crowne Plaza's Seven Corners! For the month of December, you can try their upgraded menu from Wednesday to Sunday. You'll be able to order from a minimum of four stations, and prices range from P1,100 to P1,700/person NET.  
Medley Buffet
Okada Manila's Medley Buffet has reopened! And if you're not sure what exactly you're craving, don't worry: You'll have seven buffet stations to choose from. The lunch rate is still at P1,850/person NET and the dinner rate is at at P2,700/person NET. They're open from 6:00 a.m. to 11:00 p.m.
ADVERTISMENT - CONTINUE READING BELOW ↓
HEAT
Edsa Shangri-La's HEAT is also ready to accommodate guests! Available for lunch and dinner, get ready for a whole new (and safe) dining experience. Book a reservation for only P1,985/person NET. 
Cafe Ilang-Ilang
The Manila Hotel is ready to welcome you back to Cafe Ilang-Ilang. According to their Facebook announcement, the restaurant "adheres to the health and hygiene guidelines set by the DOH." It's open for lunch (11:30 a.m. to 2:30 p.m.) and dinner (5:30 p.m. to 9:00 p.m.). Last call is at 8:00 p.m. 
The Pantry
The Pantry at Dusit Thani Manila is another place we badly miss, and it looks like the wait will be over soon. Starting October 31, you'll be able to eat all you can but this time, there will be trolleys of fresh meat, sides, and desserts wheeled around the restaurant, with chefs preparing the food for you.